An Employers' Guide to MPF in Hong Kong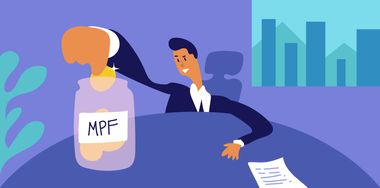 Crowned as Asia's premier financial hub, Hong Kong is a popular business destination. As a new employer in Hong Kong, you need to be aware of different regulations and schemes - especially the Mandatory Provident Fund (MPF) - before you kickstart your hiring process. Along the way, should you have any questions regarding MPF, drop us a chat and our professional accountants in Hong Kong will help you.  Let's get you started with our guide to MPF in Hong Kong.
What is MPF in Hong Kong?
MPF stands for Mandatory Provident Fund, which is a compulsory savings scheme that covers all employees and self-employed persons aged 18-64 in Hong Kong. You can think of it as a safety net for retirement.
The Mandatory Provident Fund Schemes Ordinance (MPFSO) was initiated by the Hong Kong government in response to the rapidly ageing workforce back in 1995. The MPFSO creates the framework for implementing employment-related MPF schemes for workers in the labour force to receive financial benefits when they retire.
Following the move, the Mandatory Provident Fund Schemes Authority (MPFA) was set up in 1998 to administer the operation of the MPF System which was eventually launched in 2000. As of 2015, over 85% of the labour force in Hong Kong was safeguarded with some form of retirement protection compared to only 33% in 2000.
Now that you have a basic understanding of MPF, let's deep dive into your must do's (also known as your legal obligations), and things you get as an employer in Hong Kong (your entitlements), including: opening an MPF account, making MPF contributions and MPF tax deduction.
What are the different types of MPF Schemes?
There are three types of MPF schemes:
1. Master Trust Schemes
2. Employer-sponsored Schemes
3. Industry Schemes
Master Trust Scheme is the most common type of MPF scheme. It operates by pooling together contributions from different participating employers and their employees, as well as self-employed persons, to achieve economies of scale in investments. It is open to workers whose employers are participating in the Master Trust Scheme, as well as self-employed persons and persons with accrued benefits, like sick pay and personal time off, to be transferred from other schemes.
The Employer-sponsored Scheme, on the other hand, is limited to employees of a single employer and its affiliated companies. Due to membership restriction, the scheme is more cost-effective for large corporations.
Industry Scheme is only applicable for employees where labour mobility is high, especially in the catering and construction industries, and particularly casual employees (hired for short-term engagement of less than 60 days or on an ad-hoc basis). Casual employees are not required to change schemes when they change jobs as long as they remain in these two industries, provided the old and new employers have registered under the same industry scheme.
How to choose which MPF scheme is best for you
Since MPF is meant to provide retirement benefits for your employees, you may want to consider factors such as company stability, risk level of funds, miscellaneous charges and customer support when it comes to choosing your trustee.
For instance, choosing a bank is relatively low-risk while opting for an insurance firm may provide you with a more diversified investment portfolio. You can refer to the list of MPF approved trustees to help you make an informed decision.
How do I enroll my employees in an MPF Scheme?
Enrolling your full-time and part-time employees into an MPF scheme within the first 60 calendar days of employment (note: not working days) is your legal obligation as an employer. Your employee's probation period is included within the  60-day employment rule.
To help you better understand the 60-day employment rule, let's assume you have an incoming employee Janet.
Janet starts her first day of employment at your company on 31 July. She has a 4-month probation period that will be completed on 30 November. You are required to enroll her into your MPF scheme by 28 September, the 60th calendar day counting from 31 July (i.e. her first day of employment) even though she has yet to complete her probation. However, if Janet terminates her employment contract with your company (or vice versa) before 28 September (i.e. the 60th calendar day of employment), you do not need to make any MPF arrangement for her.
The process to enroll your employees in an MPF scheme is pretty straightforward.
1. Provide your employee with an enrolment form for your MPF scheme.
2. They will indicate their investment portfolio (types of funds), personal particulars, a self-certification which includes tax residency (i.e. declaring whether he/she is a tax resident outside Hong Kong) and sign the form.
3. Submit the completed form to your trustee to set up an MPF account.
If your employee is unable to return the completed enrolment form to you on time, you are still required to submit the form to your trustee before the 60-day deadline to fulfill your obligation as an employer. Yes, even if it is incomplete.
What is the employer contribution to MPF?
Both you (the employer) and your employee must contribute 5% of the employee's relevant income as mandatory contribution unless they are exempted under the MPF Schemes Ordinance (MPFSO).  You are required to contribute to your worker's income, even if it falls below the minimum monthly relevant income ($7,100). It is capped at $1,500 if your worker's  income exceeds the maximum income level ($30,000). Refer to our table below for employer MPF contribution scale.  
Employer Contribution for Non-Casual Employee under Master Trust Scheme
Monthly Relevant Income
Employer Contribution
Employee Contribution
Less than $7,100
Relevant income x 5%
Not required
$7,100 to $30,000
Relevant income x 5%
More than $30,000
Capped at $1,500
Say Janet's monthly gross income is $4,000, your employer contribution is $4000 x 5% = $200. If she draws a monthly gross income of $31,000, your employer contribution is capped at $1,500.
If you have chosen to enroll your casual employees in the Industry Scheme, your employer contribution will be based on their daily income, not monthly income. Refer to our table below for employer MPF contribution scale.
Employer Contribution for Casual Employee under Industry Scheme
Daily Relevant Income
Employer Contribution
Employee Contribution
Less than $280
$10
Not required
$280 to less than $350
$15
$350 to less than $450
$20
$450 to less than $550
$25
$550 to less than $650
$30
$650 to less than $750
$35
$750 to less than $850
$40
$850 to less than $950
$45
More than $950
Capped at $50
In this case if Janet's daily gross income is $400, your contribution as an employer is $20.
If she draws a daily gross income of $1000, your employer contribution is capped at $50.
If you want to improve your workers' retirement protection, you can make additional voluntary MPF contributions on top of the mandatory 5%. Arrangements of such voluntary contribution are defined by the scheme, which you can find out from your designated trustee.
When do I start making MPF contributions for my workers?
By now, you are already aware of the need to make MPF contributions. You will need to remit contributions to your employees once every contribution period, which usually coincides with the salary period.
Here is a general overview of the steps you will take.
1. Calculate your employee's relevant income
2. Calculate your mandatory contribution for each salary period with MPF Calculator.
3. Deduct the employee's mandatory contribution from their income
4. Remit the combined total of yours and your employee's contribution to the MPF trustee by 10th calendar day of each month. You can refer to the 2020 MPF Contribution Calendar
If you are making a first-time contribution for your new staff, it will fall on or before the 10th calendar day after the last day of the calendar month on which the 60th day of employment falls. Let's continue using Janet's case as an example.
Janet starts her first day of employment at your company on 31 July. Her 60th calendar day of employment is 28 September. Your first-time contribution will fall on or before the 10th calendar day of October (i.e. the following calendar month) which is 10 October.
If the contribution day falls on a non-weekday or public holiday, the contribution day is extended to the next following weekday which is not a public holiday.
If 10 October is a Saturday, you can remit to your trustee by 12 October (Monday).
If 12 October is a public holiday, you can remit to your trustee by 13 October.  
Filing Tax Deductions for MPF Contribution
An entrepreneur's favourite topic, tax deductions. You can claim tax deductions for your mandatory and voluntary contributions under Profits Tax to the extent that you do not exceed 15% of your employee's annual income.
Depending on the nature of your business, you will need to file the profits tax return and supplementary form(s) to the Inland Revenue Department (IRD).  Corporations should refer to BIR51, Partnership Business / Persons Other Than Corporations should refer to BIR52 while Non-Resident Persons should refer to BIR54.
If your business is newly registered, you will receive your first profits tax return about 18 months after the date of commencement or incorporation. Subsequent profile tax returns issuance falls on the first working day of April each year. You will need to file the profits tax return and required supplementary form(s) within 1 month from the date of issue.
Employers who are eligible for profit tax returns e-filing service and choose to do so will be given a 2-week extension from the default due date.

Need some help with this? We can assist you with incorporating your business in Hong Kong from anywhere in the world, along with any questions you may have on MPF.
Useful MPF Sites for Employers
Below are some of the official government sites that you can access for MPF-related information.
Mandatory Provident Fund Authority - Employers' Handbook on MPF Obligations
Mandatory Provident Fund Authority - Handling MPF Contribution
Mandatory Provident Fund Authority - Frequently Asked Questions by Employers
Inland Revenue Department - Filing Profile Tax Returns