Using a Virtual Office as My Registered Physical Address
As companies work remotely and borders are restricted, would virtual offices fulfil the requirement to open a company?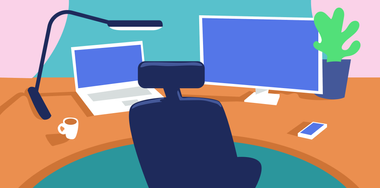 Have you ever thought of registering your own company but was intimidated by the huge capital required to do so? If you have, you would be glad to hear that those days are long gone!
Today, you don't have to spend a bulk of your capital on office rent, manpower and even essentials like furniture and renovations. The barrier of entry for starting your own business is getting much lower these years, and you can certainly craft a professional business image without having to step into a physical office.
Difference between Virtual and traditional offices
A virtual office is basically having a registered office address (a requirement when starting a company in Hong Kong) and phone number in the country of choice, but actually working remotely from someplace else. It could be in the comfort of your home, or even in another country.
Benjamin's company, The Bee's and Co., is a digital marketing company, and has an office address on their website which reads 43 Cheung Sha Wan, RUC Business Centre, Unit 04-234, Hong Kong. That address is valid and is a physical office space, but there is only one or two staff in the office. Benjamin and other staff, on the other hand, are working from their own homes either locally or overseas.
Is your business suitable for a virtual office?
One important point to note is whether having a virtual office will suit the nature of your business, before making a decision.
Thus, before you decide, you may wish to consider the following points:
●      Will you need a large number of on-site staff?
●      Can daily processes be sufficiently handled online?
●      Would you prefer to have a globalised team?
●      Do you see employee benefits as an important aspect of your company?
●      Is work-life balance preferred for your staff?
Sophia is considering starting an e-commerce business. She needs a small team of five staff to handle administrative, purchasing, invoicing and shipping related matters. In Sophia's case, a virtual office is optimal, as her daily activities can be handled online, and her staff would probably be on the go most of the time instead of being desk-bound.
Timothy's company focuses on the printing and manufacturing of soft toys. The nature of his business would defer him from having a virtual office, as his daily processes require physical work and heavy machinery. In Timothy's case, a traditional office is a much effective choice to run his business.
Advantages of a virtual office
Having a virtual office has its advantages, which are slowly outweighing its disadvantages in recent years. If you are considering a lower-cost option when starting your business, this may be the right track for you.
Professional company image
For one, imagine having a registered address at one of the districts with the highest rent prices in Hong Kong, but not having to pay the hefty sum of the office space rent. These highly sought after business districts could include Sheung Wan, Causeway Bay, Central, Kwun Tong, Tsim Sha Tsui, Mongkok and more. On the other hand, if your office address is listed as your home address, it would seem much less professional.
To allow your business to stay ahead of the tough competition, a professional image should be complemented with good service and products. Having a business address and space can give potential clients the impression that your business, no matter how small or new, is trustworthy and accomplished.
Optional services
What about snail mail and phone calls you would receive from potential clients? Would you miss them and lose out on business opportunities?
Not to worry, mail and phone calls can still be sent as per usual to the registered virtual address. There would be reception services to handle them through mail and call forwarding services. You could either hire an on-site staff or engage the services of your virtual office company, who will then provide these services at an additional cost.
Being a digital marketing company, Benjamin would sometimes receive calls to enquire about his services. The calls will be directed to the phone number listed on their website. Nonetheless, Benjamin could opt for a reception service, which will either answer or forward the call to him. This eliminates the need for Benjamin to publicise his personal phone number on his business's website.
You could also opt to rent meeting rooms, in the case when you have to invite a client down to your office to discuss business. It would definitely portray a better company image than inviting your potential client to your house.
Benjamin has been in touch with a client for the past month through emails and calls, and the client finally decides to engage Benjamin's services for marketing their products online. Both parties now need to sign the contract to close the deal. Benjamin can make a reservation to book a meeting room space that is available for use, and invite his client down. However, that meeting room space may not belong to Benjamin, but is just a room that he rented for a few hours to entertain his client.
Productivity of manpower and cost-efficiency
In traditional offices, staff are confined to their desks the entire time they are required to be 'working'. Being desk-bound brings the focus to the staff being at their desks for the required hours in a day, instead of whether work is actually being done. Having a virtual office setup shifts the attention to how much work is getting done, with the staff not being restricted to a desk. Furthermore, with less or no staff in the office, essentials that come with a traditional office can be eliminated.
Benjamin's virtual office is simply a small space with a desk, limited stationery supplies, a small water dispensary machine and a stable Internet connection. He is then able to move his expenses towards better staff benefits, motivating his staff to work more productively and effectively for the company. His staff can also work remotely from their home, a local cafe, the library or any place with an Internet connection. This will bring in positive profits for Benjamin's company in the long run.
How has Covid-19 affected work life?
Needless to say, the recent outbreak of Covid-19 has affected our daily lives, from work life to business or recreational travel. In cases of a traditional office, business owners will face a period of down time, where they will have to make drastic arrangements for staff who are unable to come into the office for work.
On the other hand, remote work is nothing new for virtual office owners. Even with a pandemic going on, work and businesses will not be affected, as it was the norm for all staff to be working from home. Travel limitations are also in place, which would also not cause much disruption for virtual business owners. Hiring talent from all around the world can be done when you have a virtual office. Interviews, staff hiring process, integration into the company, can all be facilitated through electronic communication.
The Bee's and Co. is a digital marketing company. Benjamin, the business owner, has recently secured the rights to market a global product based in Korea. Due to the travel restrictions, he is unable to make a trip to Korea personally to collect information or do his research, and neither can his existing staff. With a virtual office, Benjamin can hire a staff who is based in Korea to gather intel for him to build his marketing plan, without having to leave the country.
What to consider when choosing your virtual office
Once you've decided to open your business in Hong Kong, the next step is how to go about choosing your ideal virtual office that would suit your needs better. We have listed some questions to ask yourself before making that big decision.
●      Where do you want your registered address to be in?
●      Do you need a receptionist on-site to arrange meetings, open mail or scan documents?
●      Will you require call answering and forwarding services?
●      Do you need to meet up with clients once in a while?
●      What is your total office budget?
●      Is there a plan or package that satisfies all your requirements?
These points can help you in picking the plan and package that best suits your interests, without incurring extra costs for services you actually do not require.
Company formation in Hong Kong
Company formation in Hong Kong can be considered as straightforward and simple. Similar to traditional offices, virtual offices must comply with the regulations of Hong Kong. For example, there is a need for a corporate secretary, a registered office address, and a business registration certificate, to name a few.
The best part is that Hong Kong allows for virtual offices, which means foreigners are fully welcome to start their businesses in the country. Furthermore, there is no need to fly to Hong Kong personally, as companies like Osome exist to help entrepreneurs worldwide incorporate their companies, providing extra services to make the process much easier as well.
It does not matter if you are based in Hong Kong or overseas, you can still open a company in Hong Kong from wherever you are.
Nonetheless. the Hong Kong government requires a physical address before approving your application, which means they need to know where your company will be based.
Samantha is in the process of registering and incorporating her company. After contemplating choosing a virtual or traditional office, she decides to go with a virtual office. In this case, she has to contact the virtual office provider, choose her office location and get approval for the desired address before she can continue her company registration process.
Summing Up
To sum up, a virtual office is a viable option for companies with the ability and flexibility to work from home on a daily basis. Giving business owners the benefits of a 'brick and mortar' location at a much lower cost price is definitely an attractive choice.
Although it is not suited for all kinds of businesses, having an option to a virtual office opens many doors of opportunity for aspiring entrepreneurs, especially those with limited capital and are still starting out.