Statistics on E-commerce in the United Kingdom in 2021
E-commerce now accounts for more than one quarter of all retail sales in the UK. This number is expected to steadily increase in the years ahead, and would reach nearly one-third of all retail sales by 2024.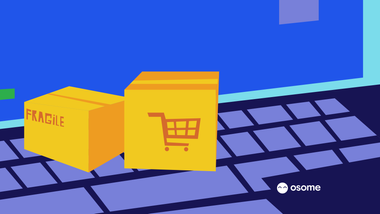 More than one quarter of UK retail sales are now generated by e-commerce. The share of online retail sales is expected to grow steadily over the next few years, reaching nearly one-third of total sales by 2024.

Online shopping has become a daily norm for millions of UK consumers. Which means, UK shoppers are well familiar with receiving (and returning) merchandise bought online. With such a high level of online shopping experience, UK consumers have great expectations when it comes to delivery speed, user experience and smooth returns procedures. To succeed in this thriving market, e-commerce companies set up in the UK must take these expectations into account.
Expected Market Size in 2021
| | |
| --- | --- |
| Expected Revenue | Number of Users |
| £80,678 | 58.8m |
In the United Kingdom, revenue in the e-commerce market is projected to reach £80,678 million in 2021 according to Statista. Revenue is expected to show an annual growth rate (CAGR 2021-2025) of 3.5%, resulting in a projected market volume of £92,464 million by 2025. The UK e-commerce market's largest segment is Fashion with a projected market volume of £27,060 million in 2021.
How Covid-19 Has Impacted UK's E-commerce
When the UK government enforced the closure of nonessential retail stores as part of strict lockdown measures mid 2020 and again this year in 2021, UK consumers who wanted to purchase anything other than groceries or medications could not do so in-store.
Even when the high street opened back up, things were far from normal: Social-distancing measures meant queues were commonplace and footfall in stores was limited. In-store mask wearing was strictly enforced. Large proportions of the population continued to shelter at home, while many went without physical shopping altogether out of caution. It's little wonder, then, that retail e-commerce had a bumper year in 2020.
Last year, it was forecasted that UK consumers will spend £141.33 billion ($180.39 billion) online this year, up a massive 34.7% from 2019. This significant increase will see e-commerce account for more than 30% of total retail sales in the UK for the first time. In 2019, that share stood at just 21.8%.
Amazon is expected to benefit the most from this surge in demand for online retail, adding an extra £2 billion in UK sales, totalling £31.1 billion by the end of 2020, up from analysts' initial £29.1 billion prediction prior to the pandemic.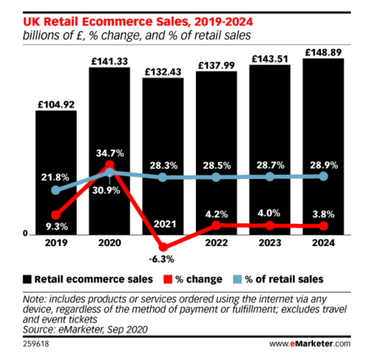 UK Retail E-commerce Sales, 2019-2024 (billions of £, % change, and % of retail sales)
This pandemic bump won't carry over into next year, though, and a more normal outlook will resume through the end of the forecast period in 2024. In fact, as the market rights itself, 2021 will see a 6.3% decline in UK retail e-commerce sales according to eMarketer's prediction. It will take a few years for the retail e-commerce sales total to reach 2020's height, but when they do in 2023, the numbers will be well in excess of anything pre-pandemic, at £143.51 billion ($183.17 billion).
UK's E-commerce Conversion Rate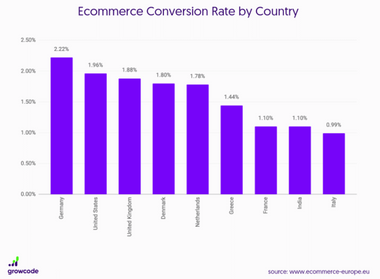 According to Growcode, Germany leads with an average conversion rate of 2.22% while Italy lags behind at 0.99%. Typical e-commerce conversion rate in countries: Germany: 2.22%; United States: 1.96%; United Kingdom: 1.88%; Denmark: 1.80%; Netherlands: 1.78%; Greece: 1.44%; France: 1.10%; India: 1.10%; Italy: 0.99%
What about the UK? E-commerce websites in the UK have an average conversion rate of 1.88%. While this is a high conversion rate in a global context, surpassing Asian and South American markets (along with most other European markets), it still lags behind the US and Germany.
User penetration will be 86.2% in 2021 in the UK and is expected to hit 89.6% by 2025, while the average revenue per user (ARPU) is expected to amount to £1,372.82.
Most Popular Goods Purchased Online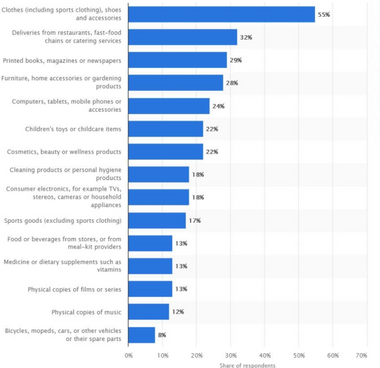 According to Statista, in the UK, 55% of the population shop online and the consumers' favorite item to buy online were clothes and sports goods. According to the 2020 interview conducted by the Office for National Statistics, 32% of UK online shoppers purchased deliveries from restaurants, fast-food chains or catering services. Services and products least popular with online consumers were bicycles, mopeds, cars or other spare parts, where less than 10% of households choose to purchase them online.
Most Popular Payment Methods
In the United Kingdom (UK), PayPal was the most used online payment method in 2019. According to the 2019 survey by Attest, 49% of shoppers were using their PayPal accounts to make payments, while 37% used a credit or debit card.
AI Benefits Both Shops and Shoppers
In e-commerce, AI (Artificial Intelligence) helps shoppers find the products or services that they need via an intelligent, automated system. E-commerce companies collect behavioral and transactional data (e.g. data from receipts, viewed products, time spent browsing, etc.) from customers browsing or shopping online, and then the data is processed by an AI software which leverages on machine learning. The AI software is able to, for example, identify, categorize, tag, and search through contents of images or videos visually after being taught a certain concept (e.g. logo, aesthetic or product).
An example of AI in e-commerce is Amazon's "AR View", an augmented reality digital shopping assistant which lets shoppers position products in their homes before purchasing them. Through the Amazon app, the shopper aligns her smartphone to the spot in her home where she intends to place the item, and the item would appear via AR on her phone's screen. The shopper could even move around, turn, and look at the product from different angles.
Ultimately, AI helps e-commerce businesses to learn more about their customers in order to offer them authentic and bespoke services, anticipate their needs, and elevate their shopping experiences. In turn, customers would feel that the brands are attentive and in-tune with their needs and expectations, which translates into long-term customer loyalty and increased sales.
Videos Over Photos
A December 2020 survey by Wyzowl found that 84% of people purchased a product or service after watching a brand's video. Videos have an edge over photos because they showcase products in a clear and compelling way. They give a 'feel' of the products or services before a customer decides on buying, thus minimising exchanges and returns after purchase. Videos increase conversion rates, especially if the video has a share-to-social media button and a purchase URL which redirects viewers to the e-commerce store.
High quality, and short (30 - 60 secs) videos, with 360-degree view of products engage viewers the best. Voice-overs and subtitles are useful too.
There are different types of videos to showcase your products, such as:
Product demonstration video:
Videos where you demonstrate how to assemble, operate, and use the product. This video type works best for products that require installation, or for product tutorials, such as for make-up and skincare.
Story video:
Videos that explain the story behind a product, what drove its creation, and the challenge or problem that the product offers a solution for. This method is great for products that have a unique story, and also to introduce and humanize a brand by featuring their owners and founders.
Testimonial video:
Videos which highlight the positive experiences that your current customers enjoy. Testimonial videos add authenticity to your brand, show how others are benefitting from your products and invite the video viewers to experience your products themselves.
Subscriptions Retain Customers
Subscriptions are a smart way to turn one-off purchases into repeat ones. Subscriptions help forge long-term relationships between online stores and shoppers. Over time, businesses could learn more of the profiles of their most ardent supporters, and then craft marketing and promotional strategies accordingly.
This translates into lower acquisition costs in the long run. Spotify and Netflix are popular examples of the Software-as-a-Service (SaaS) subscription models. Product-based subscriptions, such as subscription boxes (e.g. Weekly flower deliveries) are gaining popularity too.
Social Media's New Role in E-commerce
Alongside an e-commerce store's own website, the store should also create and maintain social media accounts like Facebook, Twitter, Instagram, TikTok and WhatsApp. Besides being platforms for marketing and interaction with a brand's customer base, social media has evolved into an all-in-one e-commerce tool, where users discover, choose, and buy products and services in-app.
Facebook has call-to-action buttons that businesses could use on their pages, such as the "Shop Now" and "Buy" buttons, and they could also promote their products with Facebook Ads and on the Facebook Marketplace. Instagram has the Shops tab too where users can discover and shop directly on Instagram without leaving the app.
Earlier this year, Facebook and Instagram partnered with Shopify to incorporate Shopify's Pay button into Instagram Shops. Facebook, which owns Instagram (and also WhatsApp) has announced in June 2021 that it will roll out a visual search feature on Instagram. Suggestions of similar products would come up if we tap on an image (e.g. polka-dot skirt) with visual search. Ratings and reviews would be integrated in Instagram Shops too, to aid shoppers in their decision making process.
TikTok, a short videos-sharing app, has also launched its own in-app Shop recently last month. Shopify merchants who have TikTok for Business accounts can now add a shopping tab on their TikTok profiles. On top of that, businesses can include a link to their online stores and sync their product catalogues on TikTok. Product placements in videos could be tagged, and viewers could click on them directly to shop.
Social media platform operators and shops are banking on the ease of impulse-buying on social media, and are streamlining the swipe-to-checkout process. Brands should ramp up their social media marketing strategies, invest in paid advertising and private messaging tools, and smoothen the checkout experience.
Be Sustainable and Green
Nielsen's 2018 research on sustainability claims' impact on sales found that sales of products with sustainable claims chalked up higher sales than its category average. In that study, sustainable chocolates noted a 16% increase in sales, as compared to 5% for all other chocolates. Sustainable-labeled chocolates fared better than those labelled fair-trade or with all-natural ingredients.
Sustainable, fair-trade, vegan, cruelty-free, durable and environmentally-friendly products are becoming the base standards of customers' expectations, and businesses need to match up with their offerings. Some customers are even willing to pay more for these green products.
Other than the sustainable products themselves, e-commerce businesses could improve their supply chain to reduce carbon footprint by improving on shipping and packaging. Try to ship as many products together to reduce multiple deliveries for the same order, and use biodegradable and recyclable packaging -avoid styrofoam as much as possible.
At the end of the day, these green initiatives would only benefit you as a business. It reduces the strain on the environment, and gives positive associations for your brand among prospective customers. Being environmentally or fair-trade might even be the sole reason a customer chose your brand over others.
Advanced Customisation
According to a 2018 Harvard Business Review, giving customers the option of customization would endow them with a psychological ownership of a brand, which would turn customers into advocates of the brand, as well as driving them to buy more and making pricier purchases.
Nike is at the forefront of customization with its Nike By You website, where shoppers decide on the colors, design, and fit of their shoes, and even embroider their names or inspirational messages on their shoes. Being able to customise quickly gains Nike an edge. Product customization adds a personal touch to generic products, and increases customer satisfaction and retention. 3D-printing technology too, could help businesses offer more product customizations, faster.

Where UK's Online Customers Are Shopping From
The majority of purchases (73%) are made within the UK according to E-commerce News EU. 16% of purchases come from EU markets and 11% from outside the EU. The biggest export market is the US, with sales totalling USD $58.4 billion, followed closely by Germany, with sales totalling USD $46.6 billion.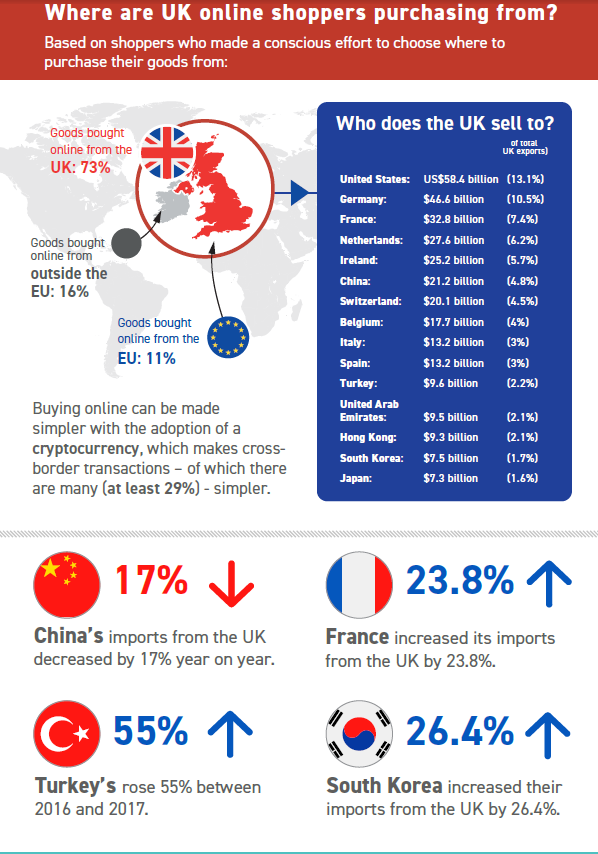 How UK's Retail E-commerce Compares to Other Countries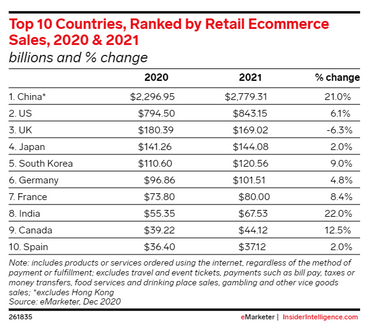 2020 saw record retail e-commerce sales for the UK, with a total of USD $180.39 billion in sales, only third behind China (USD $2,296.95 billion) and the US (USD $794.50 billion). However, as the market rights itself post initial Covid peak, 2021 will see a 6.3% decline in UK retail e-commerce sales, to USD $169.02 billion according to eMarketer.
The UK leads in Europe for retail e-commerce sales, with Germany and France lagging behind at spots number 6 and 7. This year, India is projected to see the biggest percentage change in e-commerce revenue, up 22% from 2020.
Trend 1: More UK Customers Buy Digitally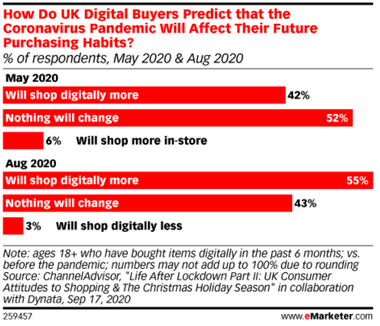 There has been a reinforcement of digital shopping trends among UK consumers, over 65 and otherwise, as the year has progressed. According to a September 2020 report from ChannelAdvisor, this intent to shop digitally strengthened even once shops had opened again. In May 2020, during the height of lockdown, 42% of UK digital buyers said they'd shop digitally more in future. By August, the month after nonessential stores reopened, that proportion had risen to 55%.
ChannelAdvisor polled those who had bought items online in the past six months, which could have caused response rates for shopping digitally to skew higher. Nonetheless, that online shopping will be a significant trend in 2020, with 45.4 million digital buyers in the UK this year, accounting for 81.1% of the population.
An accelerated digital shift is clearly underway, and though this shift won't be sufficient to maintain 2020's bumper levels of e-commerce sales, the post-pandemic retail landscape in the UK will be more weighted toward digital than ever before.
UK Ecommerce Trend 2:
Majority of E-commerce Purchases Will Be Made on Mobile
In the UK, 2020 was the biggest mobile shopping year to date, with consumers collectively spending 82 billion hours in shopping apps – 30% up from 2019.
Breakout retail apps in the UK included Amazon, with a 55% year on year (YoY) growth, Tesco Groceries with 150% YoY growth and SHEIN with a 490% YoY growth.
More shoppers regularly use their mobile devices for many tasks, including checking email and paying bills. Using a smartphone to make purchases is getting more comfortable, especially with dedicated apps and 'buy now' buttons on social media platforms.
As many as 59% of shoppers surveyed by Google said that being able to shop on mobile is essential when deciding which brand or retailer to buy from.
According to Statista, mobile commerce is set to outpace other digital business in 2021.
UK Ecommerce Trend 3:
Customer Experience Becomes a Driving Force in Development
As many as 57% of online shoppers say they've stopped buying from a merchant because of a bad experience, or because of a competitor that offered a better one. Providing an excellent customer experience creates brand loyalty, and gives online retailers a competitive advantage.
Personalisation
Personalised shopping experiences lead to greater customer satisfaction, and it all starts with data collection to better understand the consumer's needs and wants. According to Google, people are 40% more likely to spend more than planned when they identify the shopping experience to be highly personalised.
Some of the ways e-commerce companies can offer that personal experience online include showing recently viewed items and product recommendations to returning customers or offering a discount coupon for first-time shoppers.
Customer Service and Chatbots
Chatbots allow your business to provide access to solutions, even when your customer service team is offline. In a survey from Drift, 34% of online shoppers utilise a chatbot as a way to get connected with a human. As many as 33% of e-commerce customers want to use a chatbot to make reservations or place online orders.
Augmented Reality
Tools to create augmented reality (AR) experiences are becoming more accessible, and brands are implementing elements to improve business. Through photography, graphics and sound, AR can create unique e-commerce experiences that simulate an in-store experience, such as a virtual dressing room to try on clothes or a 360-degree model demo.
Tip
The UK's e-commerce sector will only continue to grow in the next few years. We support online entrepreneurs going into this market. If you want to grow faster by delegating your accounting tasks to professional accountants familiar with e-commerce businesses, drop us a message!