Statistics on E-commerce in the United Kingdom in 2021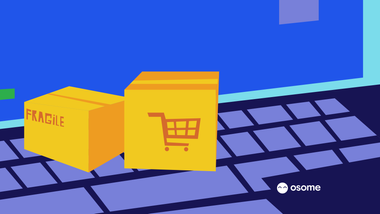 Analysts have noted that e-commerce now accounts for more than one quarter of all retail sales in the UK. This number is expected to steadily increase in the years ahead, and would reach nearly one-third of all retail sales by 2024.

Online shopping has become a daily norm for millions of UK consumers. Which means, UK shoppers are well familiar with receiving (and returning) merchandise bought online. With such a high level of online shopping experience, UK consumers have great expectations when it comes to delivery speed, user experience and smooth returns procedures. To succeed in this thriving market, e-commerce companies set up in the UK must take these expectations into account.
Expected Market Size in 2021
| | |
| --- | --- |
| Expected Revenue | Number of Users |
| £80,678 | 58.8m |
In the United Kingdom, revenue in the e-commerce market is projected to reach £80,678 million in 2021 according to Statista. Revenue is expected to show an annual growth rate (CAGR 2021-2025) of 3.5%, resulting in a projected market volume of £92,464 million by 2025. The UK e-commerce market's largest segment is Fashion with a projected market volume of £27,060 million in 2021.
How Covid-19 Has Impacted UK's E-commerce
When the UK government enforced the closure of nonessential retail stores as part of strict lockdown measures mid 2020 and again this year in 2021, UK consumers who wanted to purchase anything other than groceries or medications could not do so in-store.
Even when the high street opened back up, things were far from normal: Social-distancing measures meant queues were commonplace and footfall in stores was limited. In-store mask wearing was strictly enforced. Large proportions of the population continued to shelter at home, while many went without physical shopping altogether out of caution. It's little wonder, then, that retail e-commerce had a bumper year in 2020.
Last year, it was forecasted that UK consumers will spend £141.33 billion ($180.39 billion) online this year, up a massive 34.7% from 2019. This significant increase will see e-commerce account for more than 30% of total retail sales in the UK for the first time. In 2019, that share stood at just 21.8%.
Amazon is expected to benefit the most from this surge in demand for online retail, adding an extra £2 billion in UK sales, totalling £31.1 billion by the end of 2020, up from analysts' initial £29.1 billion prediction prior to the pandemic.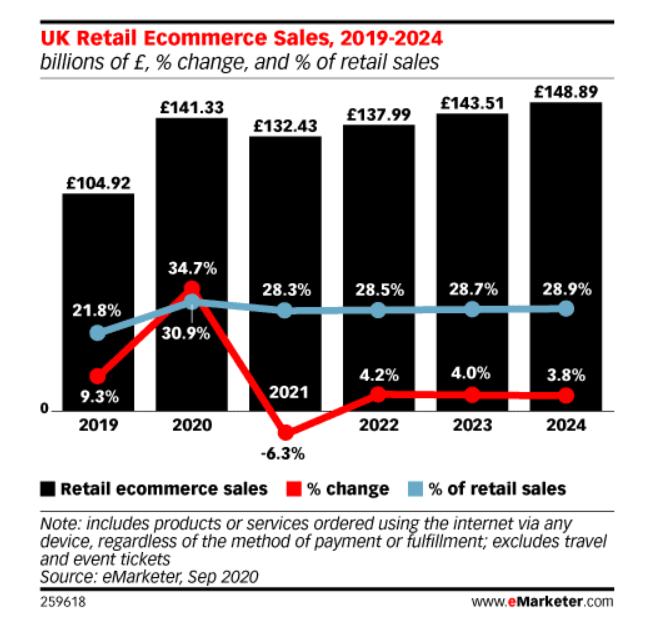 UK Retail E-commerce Sales, 2019-2024 (billions of £, % change, and % of retail sales)
This pandemic bump won't carry over into next year, though, and a more normal outlook will resume through the end of the forecast period in 2024. In fact, as the market rights itself, 2021 will see a 6.3% decline in UK retail e-commerce sales according to eMarketer's prediction. It will take a few years for the retail e-commerce sales total to reach 2020's height, but when they do in 2023, the numbers will be well in excess of anything pre-pandemic, at £143.51 billion ($183.17 billion).
UK's E-commerce Conversion Rate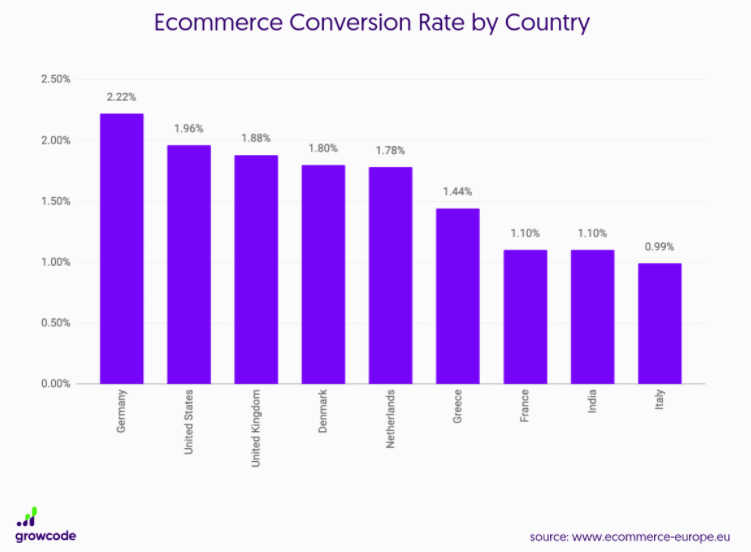 According to Growcode, Germany leads with an average conversion rate of 2.22% while Italy lags behind at 0.99%. Typical e-commerce conversion rate in countries: Germany: 2.22%; United States: 1.96%; United Kingdom: 1.88%; Denmark: 1.80%; Netherlands: 1.78%; Greece: 1.44%; France: 1.10%; India: 1.10%; Italy: 0.99%
What about the UK? E-commerce websites in the UK have an average conversion rate of 1.88%. While this is a high conversion rate in a global context, surpassing Asian and South American markets (along with most other European markets), it still lags behind the US and Germany.
User penetration will be 86.2% in 2021 in the UK and is expected to hit 89.6% by 2025, while the average revenue per user (ARPU) is expected to amount to £1,372.82.
Most Popular Goods Purchased Online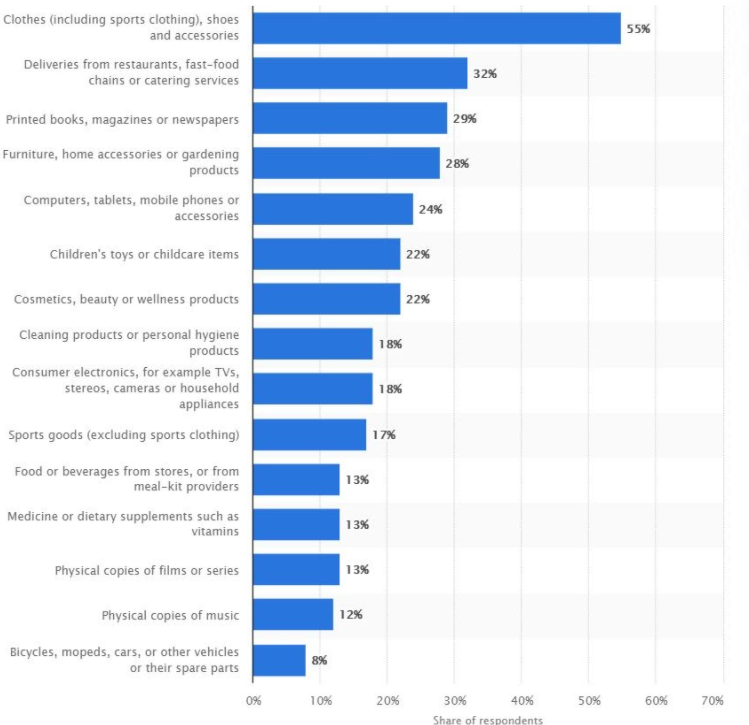 According to Statista, in the UK, 55% of the population shop online and the consumers' favorite item to buy online were clothes and sports goods. According to the 2020 interview conducted by the Office for National Statistics, 32% of UK online shoppers purchased deliveries from restaurants, fast-food chains or catering services. Services and products least popular with online consumers were bicycles, mopeds, cars or other spare parts, where less than 10% of households choose to purchase them online.
Most Popular Payment Methods
In the United Kingdom (UK), PayPal was the most used online payment method in 2019. According to the 2019 survey by Attest, 49% of shoppers were using their PayPal accounts to make payments, while 37% used a credit or debit card.
Where UK's Online Customers are Shopping From
The majority of purchases (73%) are made within the UK according to E-commerce News EU. 16% of purchases come from EU markets and 11% from outside the EU. The biggest export market is the US, with sales totalling USD $58.4 billion, followed closely by Germany, with sales totalling USD $46.6 billion.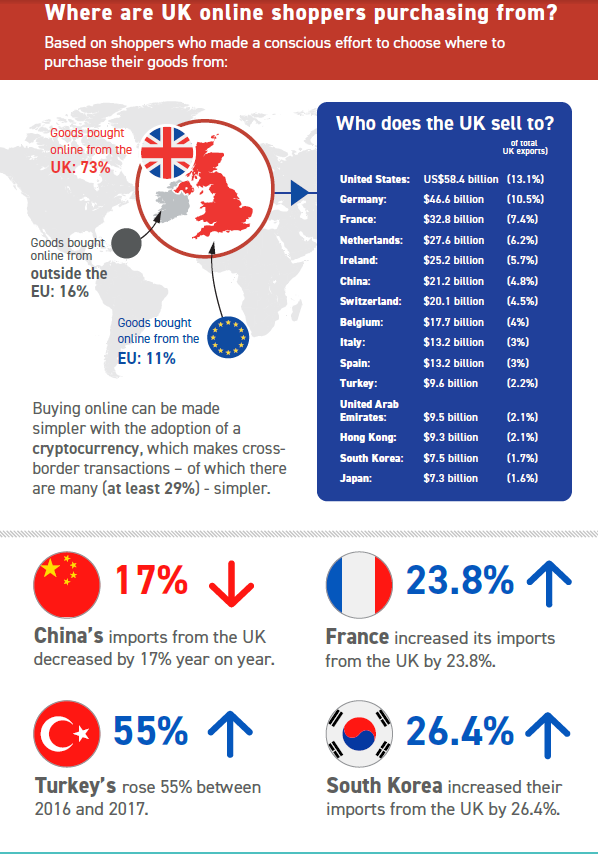 How UK's Retail E-commerce Compares to Other Countries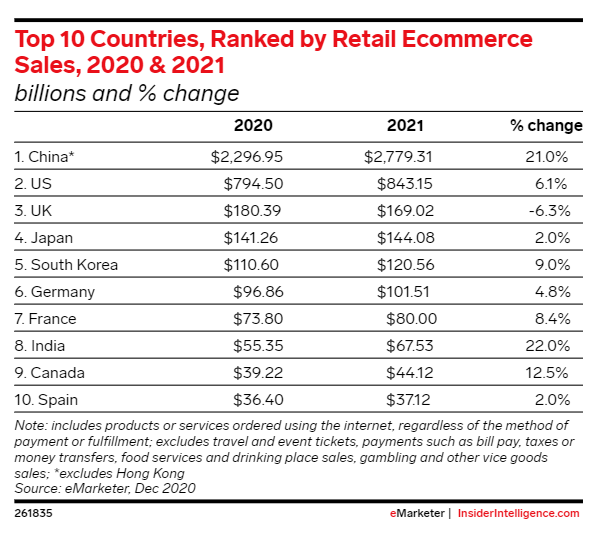 2020 saw record retail e-commerce sales for the UK, with a total of USD $180.39 billion in sales, only third behind China (USD $2,296.95 billion) and the US (USD $794.50 billion). However, as the market rights itself post initial Covid peak, 2021 will see a 6.3% decline in UK retail e-commerce sales, to USD $169.02 billion according to eMarketer.
The UK leads in Europe for retail e-commerce sales, with Germany and France lagging behind at spots number 6 and 7. This year, India is projected to see the biggest percentage change in e-commerce revenue, up 22% from 2020.
Trend 1: More UK Customers Buy Digitally
There has been a reinforcement of digital shopping trends among UK consumers, over 65 and otherwise, as the year has progressed. According to a September 2020 report from ChannelAdvisor, this intent to shop digitally strengthened even once shops had opened again. In May 2020, during the height of lockdown, 42% of UK digital buyers said they'd shop digitally more in future. By August, the month after nonessential stores reopened, that proportion had risen to 55%.
ChannelAdvisor polled those who had bought items online in the past six months, which could have caused response rates for shopping digitally to skew higher. Nonetheless, that online shopping will be a significant trend in 2020, with 45.4 million digital buyers in the UK this year, accounting for 81.1% of the population.
An accelerated digital shift is clearly underway, and though this shift won't be sufficient to maintain 2020's bumper levels of e-commerce sales, the post-pandemic retail landscape in the UK will be more weighted toward digital than ever before.
UK Ecommerce Trend 2:
Majority of E-commerce Purchases Will Be Made on Mobile
In the UK, 2020 was the biggest mobile shopping year to date, with consumers collectively spending 82 billion hours in shopping apps – 30% up from 2019.
Breakout retail apps in the UK included Amazon, with a 55% year on year (YoY) growth, Tesco Groceries with 150% YoY growth and SHEIN with a 490% YoY growth.
More shoppers regularly use their mobile devices for many tasks, including checking email and paying bills. Using a smartphone to make purchases is getting more comfortable, especially with dedicated apps and 'buy now' buttons on social media platforms.
As many as 59% of shoppers surveyed by Google said that being able to shop on mobile is essential when deciding which brand or retailer to buy from.
According to Statista, mobile commerce is set to outpace other digital business in 2021.
UK Ecommerce Trend 3:
Customer Experience Becomes a Driving Force in Development
As many as 57% of online shoppers say they've stopped buying from a merchant because of a bad experience, or because of a competitor that offered a better one. Providing an excellent customer experience creates brand loyalty, and gives online retailers a competitive advantage.
Personalisation
Personalised shopping experiences lead to greater customer satisfaction, and it all starts with data collection to better understand the consumer's needs and wants. According to Google, people are 40% more likely to spend more than planned when they identify the shopping experience to be highly personalised.
Some of the ways e-commerce companies can offer that personal experience online include showing recently viewed items and product recommendations to returning customers or offering a discount coupon for first-time shoppers.
Customer Service and Chatbots
Chatbots allow your business to provide access to solutions, even when your customer service team is offline. In a survey from Drift, 34% of online shoppers utilise a chatbot as a way to get connected with a human. As many as 33% of e-commerce customers want to use a chatbot to make reservations or place online orders.
Augmented Reality
Tools to create augmented reality (AR) experiences are becoming more accessible, and brands are implementing elements to improve business. Through photography, graphics and sound, AR can create unique e-commerce experiences that simulate an in-store experience, such as a virtual dressing room to try on clothes or a 360-degree model demo.
Tip
The UK's e-commerce sector will only continue to grow in the next few years. We support online entrepreneurs going into this market. If you want to grow faster by delegating your accounting tasks to professional accountants familiar with e-commerce businesses, drop us a message!