Business Records: A Guide for New E-commerce Owners
While recordkeeping can be challenging, having clear records of your employees, expenses, income, accounts and tax documents can help you monitor your company's progress and give you peace of mind.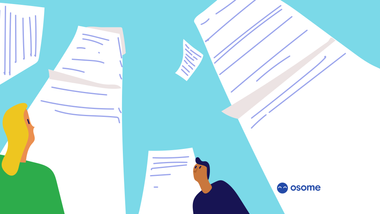 Good business recordkeeping is key to managing a successful business. If you are a new business owner, the first year might be challenging for you after you have incorporated your company in the UK, as you decide which business records you have to keep. While recordkeeping can be challenging, having clear records of your employees, expenses, income, accounts and tax documents can help you monitor your company's progress and give you peace of mind.
Read on as we delve into the importance of maintaining good business records, and the necessary records that e-commerce companies must keep.
What Is Recordkeeping?
Recordkeeping is a basic foundation in accounting to guide you in maintaining a record of financial business transactions. Its objective is to permanently keep tabs on all your transactions, with a view to minimising your expenses and to readily have important information available for legal and tax purposes.
Why Should I Maintain Good Business Records?
Pay Taxes
Maintaining good business records is crucial when it comes to tax season, with the documentation required to support the filing. Failure to do so may result in potential fees and taxes. Additionally, the HM Revenue & Customs (HMRC) may request to view your company's past records if there are any tax-related issues. Generally, you are required to keep your records for Value-Added Tax (VAT) for a minimum of six years, or five years from your tax return's last filing date.
Comply With Laws
Maintaining organised records means that you can effortlessly retrieve information whenever it is required. Although you may not necessarily refer to invoices from years ago, there may be situations that require past paperwork. For instance, if you are audited by the HMRC, you will be asked to gather the necessary information.
Prevent Theft Or Fraud
Small and mid-sized businesses are more prone to fall prey to fraud compared to big organisations, and the consequences can be far more damaging. The types of fraud that you should be aware of include theft, asset misuse and financial statement fraud. To prevent any of this from happening, do a regular audit of your business records, which can help you to detect theft or fraud to prevent losses.
What Records Must Be Kept?
Accounting
It is important to keep accounting records, otherwise, HMRC can penalise you with a fine of £3,000 or disqualify you as a company director. The required information for your accounting records include:
All the money your business has received and spent
Information of all assets owned by the company
Debts the company is owed or owes
Stock
To make sure that your e-commerce business always has enough stock on hand, you should maintain the details of your stock. Trust us -- this will make your job a lot easier especially when it comes to the end of the financial year. Additionally, maintain records of:
All the stocks you have purchased and sold
Details of your purchasing and selling history
The stock takings you used to calculate your stock figure
Other financial records
In order to file your accounts and tax returns, you have to keep these financial information:
Information on all the money your business has received through sales books, contacts, invoices, and till rolls
Information on all the expenses your business has spent, including petty cash books, receipts, orders and delivery notes
Any other relevant documents, including bank statements and correspondence
VAT Records and Returns If The Business Is VAT Registered
On 1 April 2021, VAT-registered businesses in the United Kingdom over the VAT registration threshold of £85,000 are required to keep relevant VAT records digitally under the Making Tax Digital (MTD) rules. This rule applies to the first complete VAT return from or after 1 April 2021.
To avoid penalties, you are required to store the following digitally:
Designatory data:
Business trading name
Business address
VAT registration number
VAT accounting schemes used
Supplies made and received
Supplies by third parties
Reverse charge transactions
For details of your company's obligations to maintain a digital version of VAT records, refer to the regulations and HMRC notices or directions issued to you. You will be required to preserve the digital records in the functional compatible software, for at least 6 years. In the case of deregistration, you will have to preserve your records for up to 6 years. If your business is in scope for MTD, the records that are relevant to the period between mandation and deregistration must be kept digitally for up to 6 years.
Employment Records
As a business owner, you are required to maintain the following employment records:
The amount you pay your employees and the deductions you make
The reports and payments you make to HMRC
Employee sickness absences and leave
Tax code notices
Taxable benefits or expenses
Documents under the Payroll Giving Scheme, including the employee authorisation forms and agency contract.
You are required to report accurately in your records, and maintain them for three years from the end of the corresponding tax year as HMRC may run a check on your records to ensure you are paying the correct amount of tax. Failure to maintain full records may result in HMRC working out an estimate of the amount you have to pay, on top of a penalty of up to £3,000.
You should also preserve any documents related to employees' benefits including:
Jobseeker's Allowance
Statutory sick pay
Social security benefits
Statutory maternity
Paternity pay
Adoption pay
How Should You Keep Business Records?
There are no hard and fast rules to dictate how you maintain your records, as long as they are complete, accurate and readable by HMRC. You can store your records on paper or digitally.
However, storing your business records on paper may make it susceptible to incidents such as coffee spills or accidentally clearing them out. In the age of digital advancement, the most efficient storing method would be to store them digitally or part of a software program.
Paper Method
For records that are on paper, consider making digital copies as backup. You can easily scan paper records to your computer, download documents that are already digital, or simply take photos and upload them to your computer for storage.
Digital Method
To store digital copies of your invoices with an accounting transaction, you can use accounting software. However, you should make security arrangements to make sure that your records are kept safe and cannot be tampered with. Since these records are kept electronically, there is no need for you to maintain the physical copies of source documents to support your business transactions when it comes to tax season.
If you don't have time, you can simply leave it to us at Osome, with an accounting service for your e-commerce business.
How Long Should Company Records be Kept For?
Limited Companies
For limited companies, you are required to maintain records for a minimum of six years from the end of the last company financial year the records correspond to, or an even longer period if:
Your company has purchased something you expect to last for over six years, such as machinery or equipment
Your records show a transaction that covers more than one of your business's accounting periods
You submitted your Company Tax Return late
HMRC has embarked on a compliance check into your Company Tax Return
Self-Employed
If you are self-employed, you are required to maintain records for a minimum of five years after the relevant tax year's submission deadline on 31 January.
Stephanie sent her 2018 to 2019 tax return online by 31 January 2020, so she is required to maintain her records until at least the end of January 2025.
Need help? Outsource your Accounting
We know how challenging it can be to run an online business, but we are here to help.
If you need to focus on the core business at hand and find yourself searching for tips on how to do accounting for your e-commerce business, consider letting experienced professionals in the UK, which Osome can offer. We convert statements from e-commerce platforms into books, provide accounting services, tax filings, and profitability reports, so you don't have to do it yourself. We know how to read docs from any platform, consolidate numbers for each SKU, product group, and market, and show you where your money comes from.