A 2021 Holiday Sales Checklist for E-commerce
Although the sales period will mean that your customers' shopping carts will be busier, this also brings about its own set of challenges for your online business. Follow our holiday season checklist to ensure your business is well equipped for the shopper surge.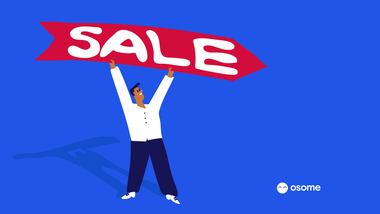 With 2021 passing in the blink of an eye, the holiday season is just around the corner.
Although the busiest time of the year typically means that your customers' shopping carts will be more robust, this also brings about its own set of challenges for your online business.
Fret not – simply follow our holiday season checklist to ensure your business is well equipped for the shopper surge and increase holiday retail sales.

By the way, if you're been looking around for an accountant to help you with your books, and especially an accountant who understands e-commerce, look no further. Osome has accountants with years of e-commerce experience to take over your accounting documents and convert them into actionable numbers, tax filings and reports. Otherwise, do read on.
Plan Ahead of Time
The year-end period is where customers tend to loosen their purse strings to reward themselves after a well-deserved year of labour, or to treat their friends and family. The last thing you want is for your website to crash and cause you to potentially lose sales. To make sure everything goes well, plan ahead and do the following:
Make use of historical data to predict popular shopping days and times and prepare for demand surges to make sure your website can handle peak traffic
Test your website and make sure that it can handle a surge in traffic
Run tests on both your front-end customer experience and back-end payment processing and fine-tune aspects that need improvement to avoid losing your buyer to a competitor
Testing your technology can help your shoppers avoid a major pet peeve of any potential e-commerce payment failures. These errors can lead to a negative shopping experience, and this bad interaction may even result in you losing this shopper permanently.
Keep tabs on your competition and monitor if they are having sales so you can tweak your sales strategy accordingly
Have a contingency plan in place in the event that your website crashes. For instance, it would be handy to have your vendors' contact details close at hand so you can reach out and resolve any issues immediately
Make Sure You Have Enough Supply of Products
When it comes to running an e-commerce business, you should always spend extra resources to prepare for potential order fulfilment, as well as shipping delays. For instance, use your historical data to forecast stock inventory to prepare for demand surges. This can minimise delays. If you know that specific products are seasonally popular, you can allocate more resources to effectively brace yourself for the peaks in demand.
Secondly, consider pandemic product trends. Products such as masks and hand sanitisers may not be as popular during pre-covid times but these products have skyrocketed in popularity during the age of a pandemic. As such, think about whether you need to stock up on these products to cater to your customers' needs.
Additionally, you should have a detailed product list and holiday product SKUs on hand, including their predicted shipment schedule and anticipated inventory levels. For products that are expected to be back ordered or out-of-stock, make sure you set expectations with your shoppers so they know how long they will have to wait. With an honest and open line of communication, customers can have a positive shopping experience and faith in your brand.
Cultivate a Positive Relationship With Vendors
To have your business up and running smoothly, your vendors play an important role. Cultivating positive relationships with your vendors is a strategic step that will benefit your business in the long run.
Consider working with experts with experience in your specific market, such as Osome. Our experts have got your back when it comes to compliance considerations you should be aware of. With strong partners in your ecosystem, you can free up your mind and focus on your core business. Since time is money, those wasted minutes of you trying to comprehend local complexities could result in a loss of revenue. As your relationship with your vendors grows, you can leverage operational efficiencies and continue building onto the partnership to best complement each other.
Consider Your Holiday Marketing Strategies
Did your marketing strategy for the previous year work well? If it did, great! Note down what are some of the strategies that helped maximise your revenue, and if you wish to replicate that strategy again this year.
Further, discovering the marketing strategies that succeeded for the previous year's holiday season will be a brilliant opportunity to magnify sales and revenue from your e-commerce store this year.
If your past marketing strategy did not work, ask yourself why. Look into possible reasons for its failure, and implement changes or adopt another strategy so history doesn't repeat itself.
To get your creative juices flowing, here are some tactics you can adopt:
Tap Into Festive Emotions
Let your shoppers bask in a jolly holiday mood when they visit your online store. Similar to an offline shopping experience where customers wander in malls decked out in festive decorations, translate this experience online by creating an immersive environment for your shoppers.
This encourages your shoppers to stay and interact with your online store. As such, your web pages should be designed in a memorable way with festive elements in the form of announcements, discounts, offers, CTAs or reminders at the header or footer section. You'd be surprised how customer experience can help garner higher website visits.
Create Urgency And Keep Your Customers Engaged
Show your customers what they need by keeping them engaged, so they will eventually think of your store as the go-to platform. One way to do this would be to create a sense of urgency through holiday discounts, freebies and limited-stock offerings to entice your customers. These measures will inculcate a fear of missing out on a value-for-money deal in your shoppers, and even possibly encourage bulk purchases.
Make Use of Online Marketing Campaigns to Spur Impulse-Driven Purchases
Make use of the power of online marketing platforms to retain your existing customer base, as well as discover new audiences. Online ads (e.g. festive pay-per-click ads), social media posts, surveys, events or services advertised through online channels can help you nurture quality leads and help you sail smoothly into the busiest time of the year. Furthermore, frequently communicating with your shoppers can help to build top-of-mind recall, so they will remember to visit your store for their holiday shopping.
With ready-to-go marketing campaigns in place, things will be much easier and you can avoid the holiday rush.
Track Campaign Performance
Understanding how your consumers shop on your e-commerce platform is critical to your business's success. Blindly executing campaigns after campaigns without evaluating their performance will only set you up for failure eventually. Fortunately, there are many tools today to make sure that your online store can increase sales.
Implement Heatmaps and Relevant Tools
To further understand your shoppers' behaviours, consider implementing heatmaps and other relevant tools. This helps you have a better idea of where customers are navigating towards, and how that particular pages perform better than the rest.
Set Up Google Analytics
Data is no doubt crucial to any business. With Google Analytics being a free tool, there's no reason for you not to install it. In fact, most e-commerce and website platforms make it seamless to install Google Analytics on your online store simply by just copying and pasting some codes. Once you have done so, you will get access to dozens of reporting tools, ranging from your customers' location to the duration they are spending on your landing pages.
Reflection and Retention
Retain your seasonal shoppers and turn them into year-round consumers. After all, you have already spent so much time, money and effort driving your year-end sales. Continue to engage your customers all year round by posting frequently on social media and keeping your customers in the loop via email list. For seasonal shoppers who did not follow your social media account or sign up for your mailing list, try retargeting them through other ad buys instead. Make use of what you have learnt during the holiday sale season and reflect on the strategies that worked, as well as those that did not.
Upcoming Shopping Holidays and Milestones
With so many big shopping holidays and milestones upcoming, it can be easy to lose track of what's next. Fret not, for we have combined a handy list for you to refer to:
| Shopping Holiday | When |
| --- | --- |
| Singles' Day or 11.11 | Thursday, 11 November |
| Black Friday | Friday, 26 November |
| Cyber Monday | Monday, 29 November |
| Giving Tuesday | Tuesday, 30 November |
| Double Twelve, or 12.12 | Sunday, 12 December |
| Christmas Day | Saturday, 25 December |
| Boxing Day | Sunday, 26 December |
| New Year's Day | Saturday, January 1 |
Summing Up
The pandemic has inevitably changed the way people discover, shop, and buy. As the coronavirus becomes endemic, many shopping behaviours that have been adopted are here to stay as shoppers have recognised the advantages and convenience brought about by digital advancements. As such, online business owners have to ensure they are able to meet shoppers' demands and cater a superb shopping experience to them at every touchpoint. Early preparation can help you steer clear of the holiday frenzy and allow you to have peace of mind with the knowledge that you are set up for success this peak season.
It's never too early to ​start planning your holiday marketing strategy, so you can kickstart your online store's sale season with a more significant piece of the pie.
Need To Focus on Your Sales? Outsource Your Bookkeeping and Accounting
We know how challenging it can be to run an online business especially during peak season, but we are here to help.
Over the next few years, it's no doubt that the e-commerce sector will only continue to grow. At Osome, we support online entrepreneurs and their foray into the market. If you need to focus on the core business at hand and find yourself searching for tips on how to do accounting for your e-commerce business, consider letting experienced professionals in the UK, which Osome can offer.
We convert statements from e-commerce platforms into books, provide accounting services in the UK, tax filings, and profitability reports, so you don't have to do it yourself. We know how to read docs from any platform, consolidate numbers for each SKU, product group, and market, and show you where your money comes from. Talk to us and finally put an end to your paperwork woes.