How a Multi-Channel E-commerce Seller Saves 25h/month Working With the Right Accountant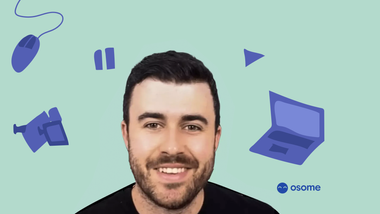 This is a part of a series on Osome Seller Spotlight where we get a little glimpse of businesses powered by our accounting software.
Name:: Christos Fellas
Business Name:: CK Trading Group Ltd
Osome Package:: Accounting and Bookkeeping
Member Since: October 2020
Amazon Seller & Entrepreneur, Christos Fellas
Meet Christos Fellas, an entrepreneur, investor, multi-channel e-commerce seller and YouTuber based in Norwich, United Kingdom.
The multi-hyphenate revealed to us how he started his YouTube channel two years ago with one purpose, to document his progress as an entrepreneur and investor in the world of business and to help as many people as he can by sharing his knowledge and learning along the way. In this short period, he has created hundreds of videos, built a small but solid following and helped thousands of businesses to set up and create a new stream of income.
"I started my business over 4 years ago where I found a book at a Carboot sale for 50p and sold it online for 42 pounds."
"Being able to quit my job to work on my businesses full time & live life on my terms is worth the hard work it takes to build multiple streams of incomes across different industries."
How a Reliable Accounting Partner Helps To Save 25 Hours a Month
As someone who wears many hats, Christos Fellas knows the importance of working efficiently. Since working with Osome's e-commerce accounting package, he has saved 25 hours a month, especially from spending time getting overwhelmed from trying to figure out how to put his books in order.
Previously, he had worked with general accountants with no experience in the field of e-commerce and got into trouble as they had no knowledge in the industry.

"I realised that it is vital to have someone that understands the business that I run inside out. The bad experience also opened my eyes to the savings that working with the right accountant can give me in the long term through the right advice."
"Osome has 100% helped me understand the world of e-commerce accounting. In the past, when I had meetings with my accountants, I would always walk away more confused and overwhelmed. I have not felt that once so far with Osome."
Fellas also appreciates how Osome helps him to save time and money as if there was an additional headcount to help him out.
"Time. Time. Time… Having someone who reconciles your payments is almost like having an extra member of staff. I used to spend hours on my accounts every week before hiring Osome. Nowadays, I spend a maximum of one hour on my accounts.I used to do 90% of the work and the accountant I worked with did 10% of the work. For the same price, Osome now does 90% of the work and I do 10% of it."
Osome also has an app handy for busy professionals like Christos Fellas, who recognises the convenience of the app.
"Being able to upload receipts on the go with the app is very efficient."
Advice for E-commerce Entrepreneurs Out There
"Try your best if possible to reinvest as much money as you can into your business at the start. This will help you grow as quickly as possible. Taking money out will only halt your growth. If you have a 9-5 job alongside running your business, try to stay in that job for as long as you can."
On the hunt for hassle-free accounting for your e-commerce? Look no further, learn more about how you can outsource the bookkeeping and accounting work to our trusted e-commerce accountants in the UK so you can sit back, relax and focus on your core business.