Seller Spotlight on Christos Fellas: How a Multi-Channel E-commerce Seller Gets More Done With Accounting Help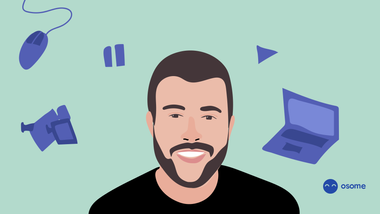 This is a part of a series on Osome Seller Spotlight where we get a little glimpse of businesses powered by our accounting software.
Who Is Christos Fellas?
Meet Christos Fellas, an entrepreneur, investor, multi-channel e-commerce seller and YouTuber based in Norwich, United Kingdom.
The multi-hyphenate revealed to us how he started his YouTube channel two years ago with one purpose, to document his progress as an entrepreneur and investor in the world of business and to help as many people as he can by sharing his knowledge and learning along the way. In this short period, he has created hundreds of videos, built a small but solid following and helped thousands of businesses to set up and create a new stream of income.
How a Multi-Hyphen Career Can Lead to Success
Success does not come overnight, it took Christos Fellas perseverance and sacrifice to get to where he is today.
Fellas shared with us some of his most significant achievements:
"Being able to quit my job to work on my businesses full time & live life on my terms is worth the hard work it takes to build multiple streams of incomes across different industries."
How a Reliable Accounting Partner Helps Resolve Pain Points
As someone who wears many hats, Christos Fellas knows the importance of working efficiently.
To assist him with his accounting, he has engaged Osome's e-commerce accounting service to provide him with guidance and meet his accounting needs.
"Osome has 100% helped me understand the world of e-commerce accounting. In the past, when I had meetings with my accountants, I would always walk away more confused and overwhelmed. I have not felt that once so far with Osome."
Fellas also appreciates how Osome helps to save him time as if there was an additional headcount to help him out.
"Time. Time. Time… Having someone who reconciles your payments is almost like having an extra member of staff. I used to spend hours on my accounts every week before hiring Osome. Nowadays, I spend a maximum of one hour on my accounts."
Osome also has an app handy for busy professionals like Christos Fellas, who recognises the convenience of the app.
"Being able to upload receipts on the go with the app is very efficient."
On the hunt for hassle-free accounting for your e-commerce? Look no further, learn more about how you can outsource the bookkeeping and accounting work to our trusted e-commerce accountants in the UK so you can sit back, relax and focus on your core business.