What to Do If You Want To Change Your Financial Year End Date
A company's financial year-end is usually determined by its tax year-end, which runs from 6 April to 5 April of the following year. You do not have to use a specific year-end date. The date of your business year-end is up to you.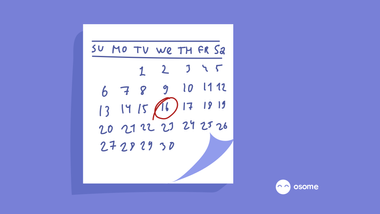 After setting up a company in the UK most business owners choose their financial year-end date based on the tax year, which runs from 6 April to 5 April of the following year in the UK. Nevertheless, there is no hard rule that you have to use a stipulated year-end date. You have the power to choose any other date for your business year-end.
In this guide, we go through how your financial end date affects your business, things to consider, and when to change your year-end date.
What Is a Financial Year-End in the UK?
A financial year-end is often referred to the company's fiscal year, also known as tax year or accounting period. This is a 12-month period that runs from 6 April to 5 April of the next year in the UK.
For your first accounting period, you will receive a letter from HMRC after you register your company for corporation tax. If you're unsure about this part, Osome can help! We not only help business owners like yourself register and incorporate their businesses, we also help with accounting, bookkeeping and other matters.
How Do I Determine My Financial Year-End Date?
Since the tax year runs from 6 April to 5 April, most entrepreneurs opt for fiscal accounting, which means you set your business year the same as the tax (or fiscal) year. A popular financial year-end date for business owners in the UK  is normally 5 April or 31 March, as this is the simplest way to assess taxes payable.
While the choice of date is entirely up to you, there are some factors to consider before you make up your mind.
Your chosen date will affect when your tax is due.
The date you choose as your year-end directly affects when you have to pay tax on your company's earnings. What this means is that your incorporated company should have enough cash flow to pay the tax liability when it is due.
The earlier the date you choose, the longer you have to pay tax on profits.
The Corporation Tax deadline is always 9 months and 1 day from the accounting year end date, except the company in the first accounting year, which is 9 month plus 1 day from the incorporation date. The difference for the earlier year-end date is that the accounting period will be shorter and with potentially less profit, thus you would have lower corporation tax due.
If you choose an early tax date in the year, in January or February for instance, the longer you will have to pay tax on your profits. This can lead to some issues when your profit earnings are not that stable.
For a growing business such as a startup whose profits are rising, having an earlier accounting date can potentially help keep your tax bills low, and prevent your tax amount from increasing too fast. Conversely, if you find your profits decreasing, choosing a later year-end may help.
Tip
Having a later year-end would mean you have less time to pay the tax bill. Remember to always take note of the cut off date so that you do not incur late tax payment penalties.
What happens when your business folds?
The company will still have to pay the full tax bill for the whole profit before winding up. A change of year-end would be beneficial if they would like to close it done quicker, but there's no tax advantage of doing so.
Choose a non-peak date
If your business is seasonal, meaning it is usually more busy during certain periods such as Christmas or New Year's, you can consider setting your year-end date towards the end of the year. Finalising year-end accounts is a very time-consuming and long process that should not clash with your business's busiest period. This way, your staff will not be tied up with stock taking and accounting matters when they need to be dealing with customer requests.
Gwendoline owns a toy store in the UK, and her store gets really busy nearing Christmas time, where everyone is out and about buying presents. If she sets her financial year-end date as 31 January, she will have to calculate and do her accounting by January the next year. This would probably mean her accounting team will be busy with two large operations: calculating tax payable and settling increased store purchases.
On the other hand, if Gwendoline sets her year-end date as 31 June instead, she can buy herself another 12 months till June the next year. This would mean her accounting team can have ample time to file a tax return during the less busy months of the year.
Optimal Financial Year-End Dates for My New Company
Well, if you're new to the business scene, you will probably expect to make more money after your first year of operating. Your first year should be focused on breaking even and cleaning up various operation costs. Thus, having a financial year-end early in the tax year, April 30 for instance, can help to keep initial tax bills lower.
How Do I Know When My Year-End Is?
When you first start up your new company, an incorrect assumption is that your year-end date will follow the UK tax dates. Most new entrepreneurs would think that the year-end for their company is 5 April, 31 March or a year from the date the company is formed. While these assumptions are valid, there is a way you can check your financial year-end date to be absolutely sure.
Visit the Companies House website here
Enter your company's name used for incorporation
Click on the right name under the list
You will arrive at the page where you can see all information about your company
Your year-end date should appear under the "Accounts" tab  
When Should You Consider Changing Your Financial Year-End Date?
This may be difficult to determine if you're not well experienced in accounting and business operations yet. Of course, you cannot change your financial year-end date an infinite number of times, but it is worth taking the time to look into if changing to an earlier or later date can help you cope with profit changes.
If your company made a huge profit for the first 12 months, due to unforeseen circumstances, and you made a huge loss after that, extending your year end date, you could use that loss to offset the profit, thus paying less tax bill during the low seasons.
How Do I Change My Company's Financial Year-End Date?
For whatever reason you need to change your company's financial year-end date, take note of the following pointers.
You can shorten your company's financial year as many times as you like. The minimum period for shortening is by one day.
You can lengthen your company's financial year only once every five years. You can lengthen the year to a

maximum of 18 months

, unless you meet the below exceptions.
You can only apply to lengthen the financial year more than once every five years if:
Your company is in administration
You are aligning year-end dates with your subsidiary or parent company
You have obtained special permission from the Companies House
Remeber:
You cannot change your company's year-end date if its accounts are overdue. Therefore, always ensure your cash flow stays ahead of the tax date, so that you will not face penalties for late tax payments.
Steps to take:
Apply online through Companies House online service. You will be required to submit information about the changes, your login credentials to the online service.
Download and fill in the application form and mail it to the address stated on the form.
Where Can I Ask for Advice About My Company's Financial Year-End Date?
Don't fret if you are unable to sort out your accounting dates. Our experienced corporate service bookkeepers in Osome UK can help you settle your questions so you do not have to figure it out yourself. Feel free to contact us for more information or an instant callback!