Digital Payment Trends To Take Note Of
Digitising payment methods will help you take payments quickly. Many entrepreneurs are now running an online business and it's not possible to make offline payments or cash on delivery every time. At the same time, you have to stay on top of current trends and meet your customer's needs.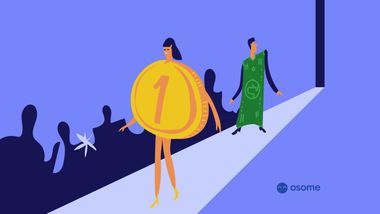 As technology advances, different means of doing business and increasing your revenue sources keep developing. With the pandemic, it's more important to digitize your processes to be more efficient.
Digitising payment methods will help you take payments quickly. Many entrepreneurs are now running an online business and it's not possible to make offline payments or cash on delivery every time. At the same time, you have to stay on top of current trends and meet your customer's needs.

If you're ready to take your processes digital, work with Osome and be free of paperwork. Osome also specialise in accounting for e-commerce businesses.
Let's take a look at some of the popular digital trends for 2021.
Trend 1: Biometrics to Authenticate Payments
Biometric authentication is a verification method that includes the structural and biological characteristics of a person.
In this form of payment authentication, different parts of the body are used for recognition such as: retina, veins, fingerprint and heartbeat.
Biometric authentication is becoming popular because it's a safe and reliable option to securely identify theft and fraud and complete payment. According to Biometric Update.com, approx. 2.5 million payment cards are being issued in 2021, making it more necessary to use a safe means to make payments.
Many online merchants are losing out on business as consumers cannot remember their passwords. It's not surprising because according to a joint report by MasterCard and the University of Oxford, the average person is linked to about 90 online accounts that need passwords. This number will just keep growing. Some shoppers will attempt to reset their passwords, but become frustrated having to go through tedious steps before waiting a minute or two for a reset email to reach their inbox.

Biometric technologies could ease the burden for users in remembering passwords and make the shopping and payment experience frictionless.
Trend 2: Gen Z- The Tech-Savvy Generation
Gen Z, or the generation of the digital world, makes up to 31% of the global population in 2021 – which has a huge significance in the world. The shift indicates that the majority of the world's population will be technologically advanced or tech-savvy. The shift will be more towards finding easier, quicker, efficient and automated technologies and services, which will increase the demand for digital payments in upcoming times.
Trend 3: From Plastic Cards to Virtual Codes
A few years back, bank accounts were only identified by the random combination of unique digits present on the card. Now, the EMV technology (Europay, Mastercard and Visa) has come up with more computerized and secured methods for payment.
The EMV technology uses a different code every time a transaction takes place. A temporary code is generated to increase the security in the bank accounts by leaps and bounds, which is a good example of how technology can be used to make secure payments.
The use of plastic cards will soon be overpowered by other cutting-edge payment services that offer more advanced transactions features.
Trend 4: Increasing Demand for Mobile Point of Sale
Mobile-point-of-sale (MpOS) is an advanced technology as it lets all business owners accept payments from anywhere. The mPOS technology has made a huge difference in the payment process by making it more flexible and streamlined by introducing the mPOS in their stores. It's an emerging technology. According to Global Market Insights, mPOS will have a CAGR of 19% (Approx.) between 2020 to 2026.
Trend 5: Smart Speaker Payments
The home assistants devices allow users to give voice commands and receive a voice response in return. Users can give voice commands for different things, like, making a phone call, sending a message, ordering from Zomato, booking a cab, getting weather and traffic updates.
Home assistants devices are also an emerging technology, which is now being used to make payments. According to Statista, 35% of users use smart speakers for buying products like clothing, home care and groceries. Around 28% of people use smart speakers to receive and send payments. However, due to current security reasons, many people don't use smart speakers to make payments.
The future of making payments over smart speakers is bright. BI has estimated that smart speakers will grow rapidly from 18.4 million users in 2017 to a whopping 77.9 million users by 2022.
Trend 6: Top-rated Security Powered by AI and Machine Learning

Security is one of the major concerns when it comes to making digital payments. All of us will prefer to choose a method which has high security. That's why many payment companies focus on making the process as secure as possible. Most of them use machine learning to make it more secure. The banks use the same technology to detect any possible fraud or threat within seconds.
Machine learning is the first step to properly achieving artificial intelligence. Banks continuously add new and different data into their software. The software takes a set of limited transactions and studies them to detect any fraud or threat. As the software gets more and more data, it gets better at finding out the fraud transactions.
A good example of machine learning is when you get a text message from your bank asking if the payment was made by you or not. This cautionary message helps the bank and informs the user about any possible mishap.
Trend 7: Contactless Payments
Contactless payments are another emerging trend which you can see getting more popular in upcoming times. It allows the customer to just wave their card or smartphone across the reader to make payment, and this is a convenient and quicker way to make any transactions.
The technology is more secure than the PIN technology as it transfers the encrypted data to the point-of-sale device instantly.
Companies like Google, Samsung, Visa and Apple are already using the contactless payment systems. To make a payment, customers only have to wave their card or download the respective app, add card details and wave their phone across any reader.
Contactless payments use NFC (near-field communication) technology. That's why they are also called NFC payments.
The Dominance Of Mobile Wallets
According to a study by RetailDrive, around 2.1 billion customers were using mobile wallets in 2019, which is supposed to increase in subsequent years.
A mobile wallet is quite similar to a physical wallet. Using a mobile wallet, you can store money and send/receive money to other people. You can also pay bills, get rewards and buy tickets.
Big companies like Google, Samsung and Apple are providing mobile wallets to enhance the transaction. Different companies provide various features for mobile wallets, like, cards and wallets, to make the process seamless.
Conclusion
With all the digital trends, it's clear that digital payments will be a part of our future. In upcoming times, we will be witnessing different trends. Some will disappear, some will be with us for a long time, and others will evolve as time changes. Whatever happens, it's all going to be with us to shape our future.
Tip
Keep up with the trends and take your business into the future by digitising the way you do your accounting too. Osome's expert accountants in the UK can help you with this. Find out more today.