Top 10 Best Logo Generators for E-commerce Sellers in 2021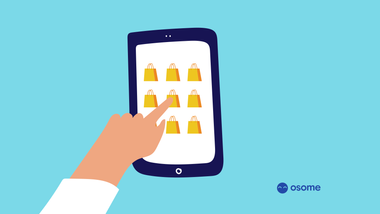 Unlike contrary beliefs, branding is not just for big organisations. Even if you are a freelancer or the owner of a SME set up in the UK, branding is just as important. With the prevalence of brands and branding in our everyday lives, your brand's logo has the ability to make or break the brand.
Branding may be a challenge, but working with the right tools can make the job a lot easier. There are many factors to consider when it comes to designing a logo, and logo makers and generators can help provide some visual inspiration for you.
3 Things to Start Doing For Your Brand
Before you get your creative juices flowing, save yourself some time and maximise your efficiency by considering the following:
Decide on your company name
Have you already come up with your company name? This will likely be the crux of your logo and appear in the logo design itself.
Determine your company's mission and vision
How do you envision your company to be? What is your company's stance, who does it serve and who is it as a company? This will help to set the tone and let your consumers know whether you are a mainstream or luxe brand, and whether you are a serious or fun brand.
Establish your visual identity
Once you have decided on the above two points, take some time to ponder over how your company's personality could be conveyed through visual elements including logo type, font, colour, and shape. The best logos tell a good story and are memorable, which is effective in building customer's brand recall.
Ready to dive in? Here are the 10 best logo makers and generators that will have you creating creative logos in seconds. Best of all, most of these options allow you to download a low resolution version of your logo for free, although some will require a reasonable remuneration for the vector option.
Logo Genie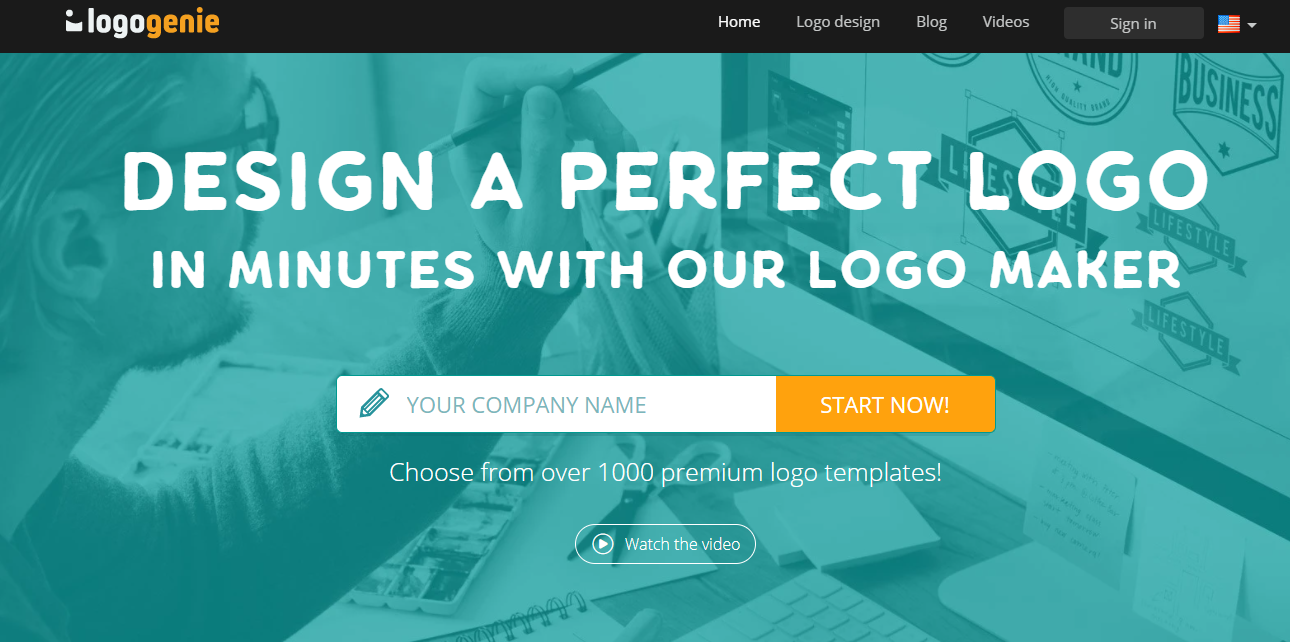 As one of the leading logo makers on the web, Logogenie offers a versatile and easy to use logo design tool that does not require any design skills. You can design an awesome logo in just a few minutes by choosing amongst a range of logo templates. The online logo design tools allow you to personalise your logo template to your likings by changing shapes, colors, fonts and much more. Logogenie will send you a mockup of your logo by email that you can show your friends, associates and partners before purchasing. Download your logo in high resolution multiformats (including vector formats) instantly.
Pricing:
One-time payment of $24.90
Brandmark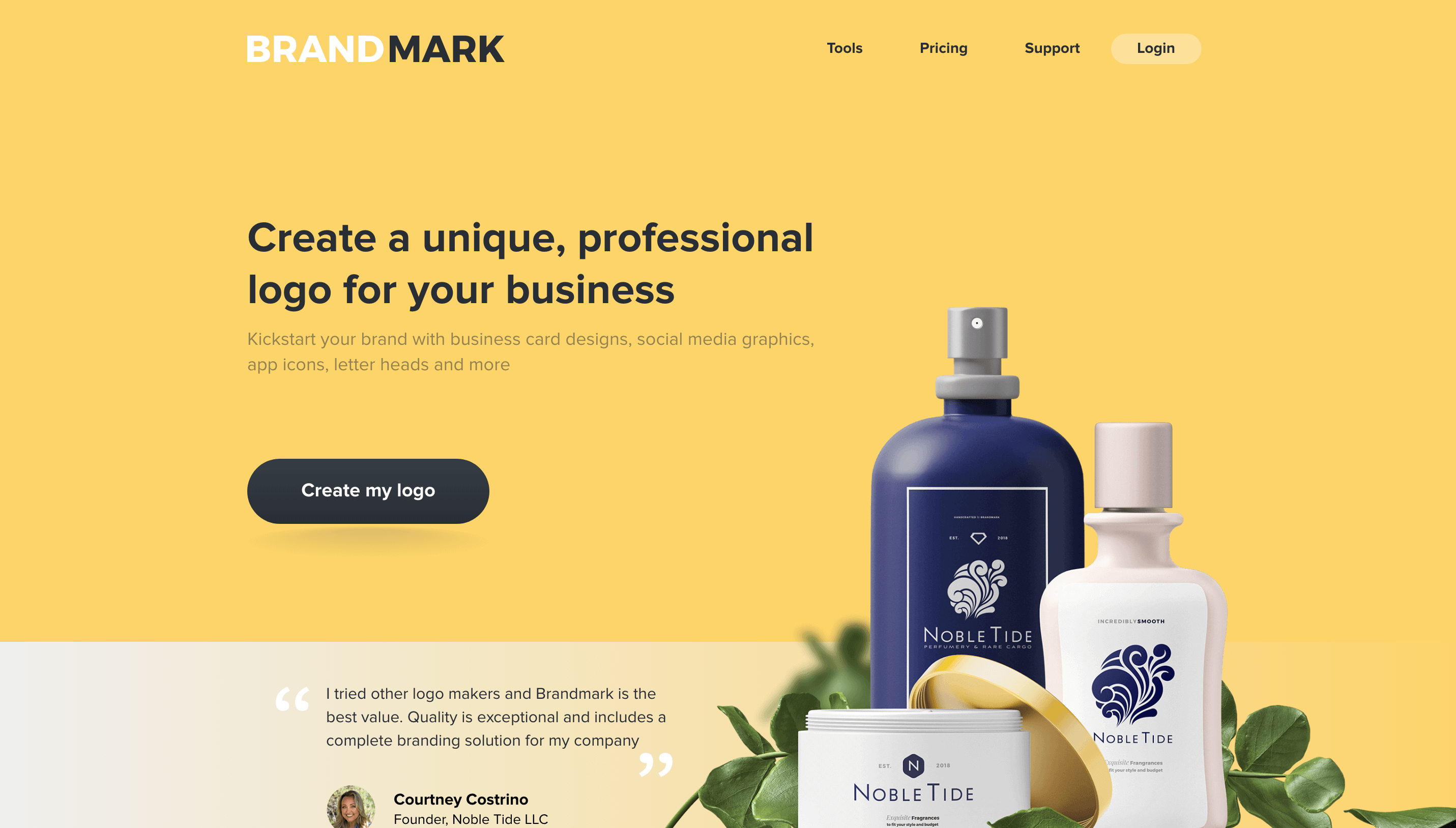 In search of a customised logo? Brandmark prides itself as the only logo maker that offers free customisation, upon the purchase of any package. With thousands of ready-to-use design assets, you can effortlessly create a professional and unique logo for your company. If you intend to rely on a tool for your long term design needs, Brandmark is worth the consideration since there are no monthly charges. You simply have to pay once and get lifetime access to their branding tools. In the event that you're unhappy with your logo after purchase, you can still modify your logo since they allow for unlimited revisions.
Pricing:
£17.72 for a basic package that comes with a one-time logo in PNG format
£46 for a designer package that includes logo source files and assets for your other design needs including business card and letterheads
£124 for an enterprise package that comes with everything in the designer package and up to 10 fully original concepts created by their design team
Placeit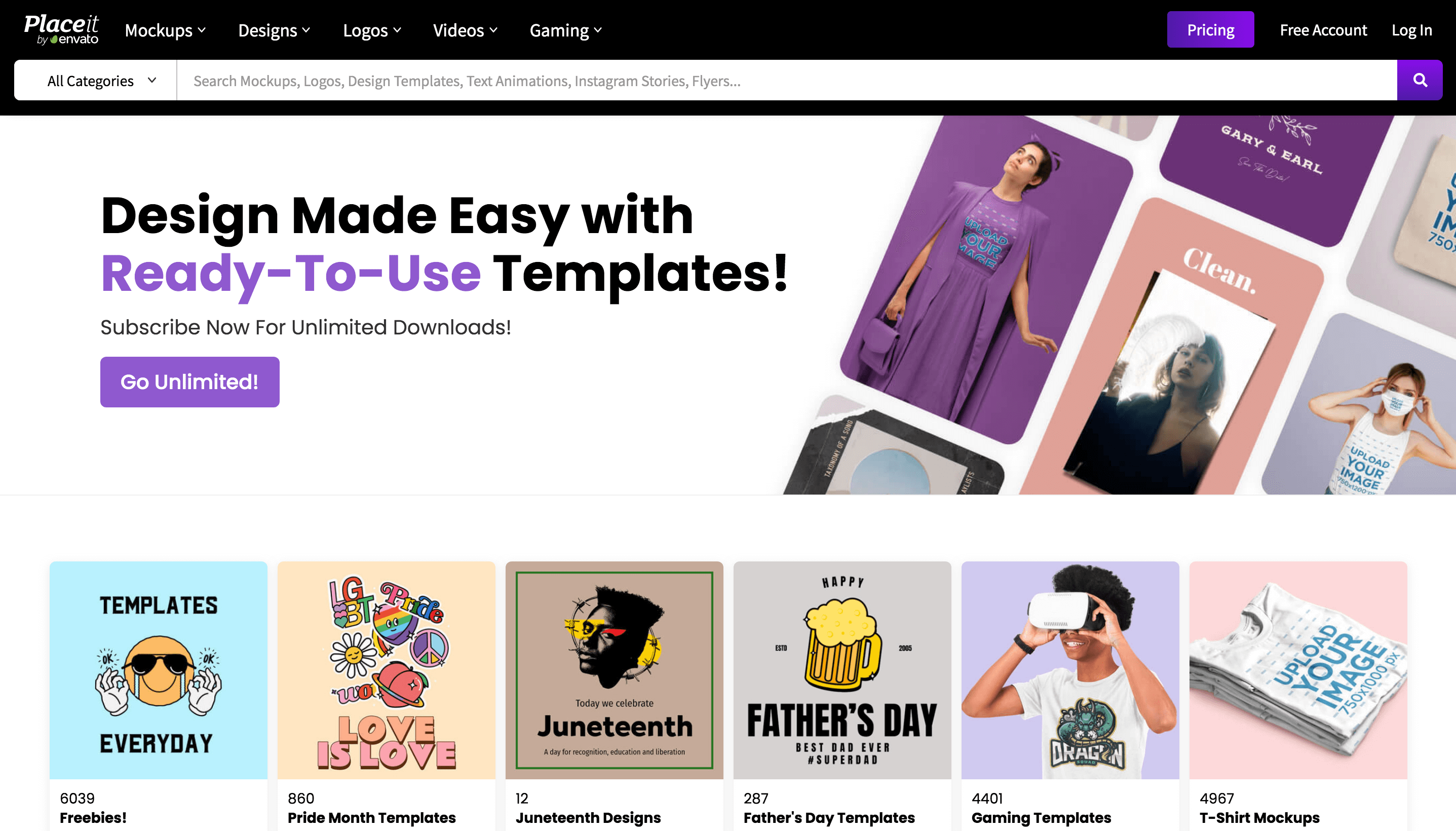 Owned by Envato, Placeit offers design assets such as an everchanging library of logo templates, mockups and videos. Upon keying in your business's name and industry, Placeit will generate sample designs for you. You can then take your pick or experiment with your own icons and colours. Placeit offers downloads in both PNG and PDF format, suitable for use on print and web.  
Pricing:
£10.60/ month or  £63.58/ year
Subscription includes access to all Designs, Mockups, Logos & Videos templates, and users are allowed to cancel anytime.
99designs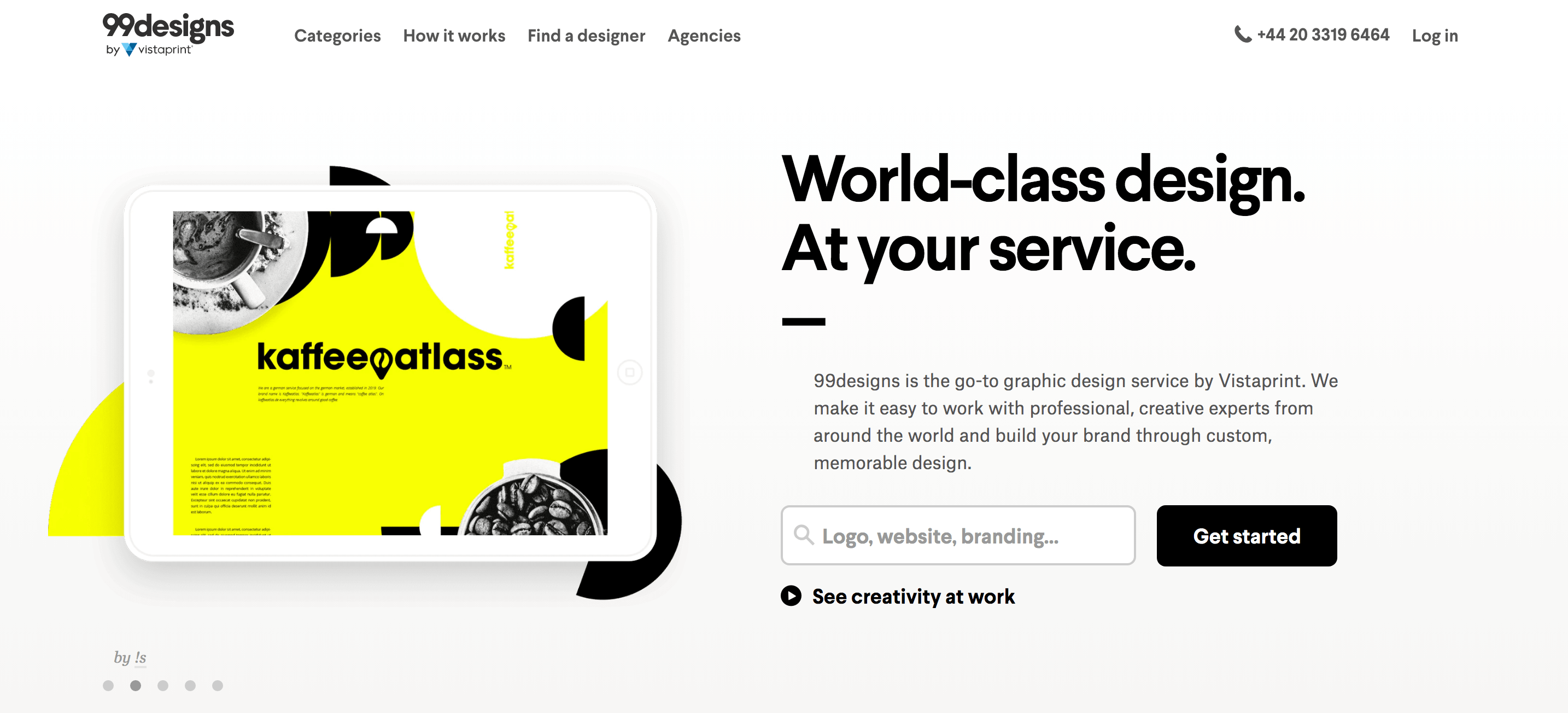 Work with creative experts and professionals from around the world to design a memorable logo that's suitable for your business. There are two ways you can get a design with 99designs. The first would be to work directly with a designer, and you can collaborate with them one-on-one on your project. Alternatively, you can even start a contest and invite 99design's entire creative community to take part in your contest. Designers will submit their ideas to you and you can pick your favourite.
Pricing:
Logo design from £239
Logo & social media pack from £319
Logo & business card from £359
Logo & brand identity pack from £469
Tailor Brands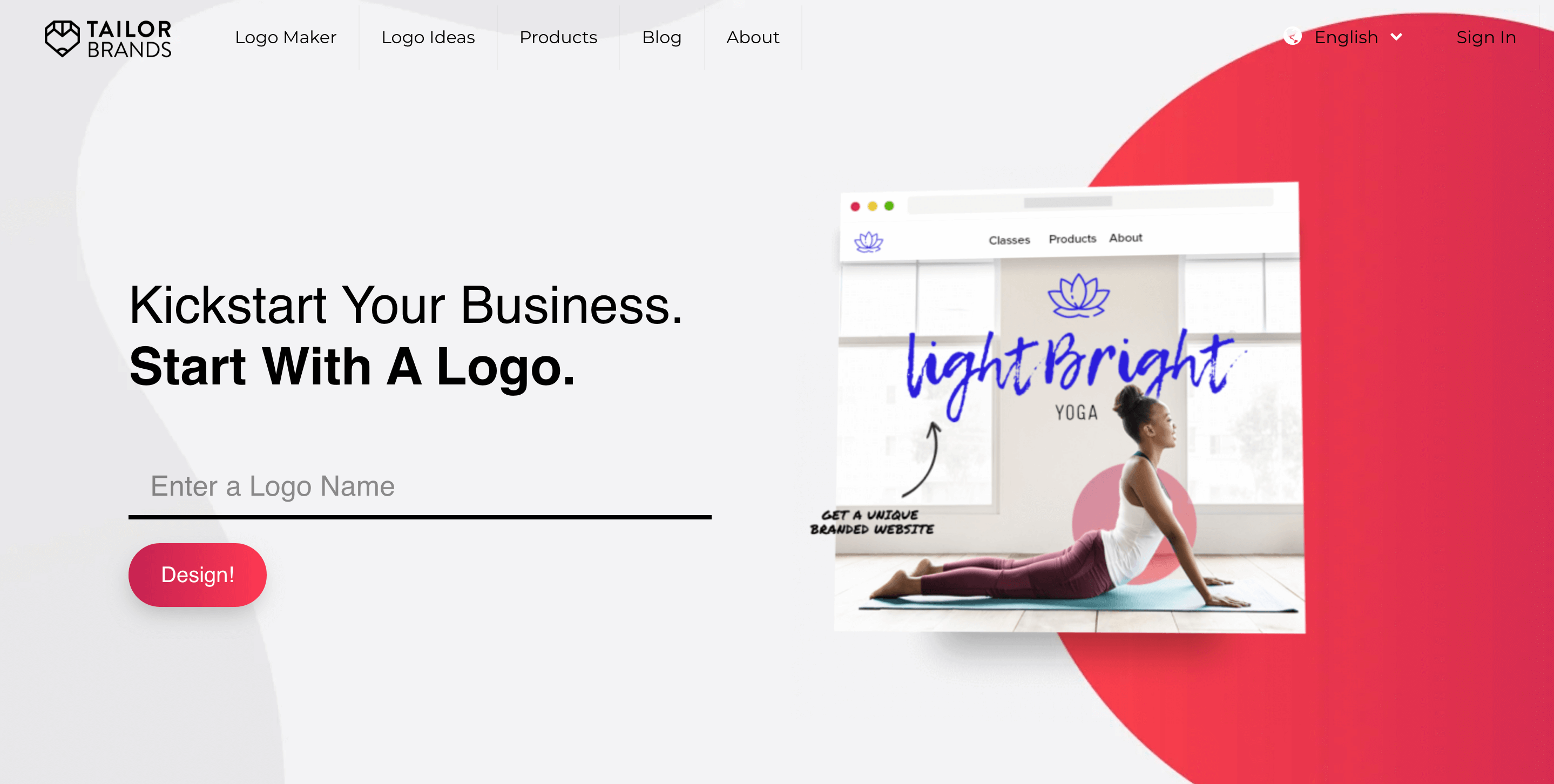 The world's first AI-powered logo design and branding platform, Tailor Brands is the ideal platform for those who want to achieve the perfect logo design without the hassle of scrolling through an overwhelming library of templates. Instead, Tailor Brands asks for your company's name and industry, as well as your preferred style. With all this information, they will generate a logo for you in less than three minutes. The result? A logo that is high quality, professional and unique to you so your business can stay on brand every time.
Tailor Brand allows you to download a low-resolution version of your logo for free. However, if you are looking for a high-res Vector file, you will have to pay.
Pricing:
Packages range from £2.83/month – £9.21/month, with a discount if you pay annually.
Canva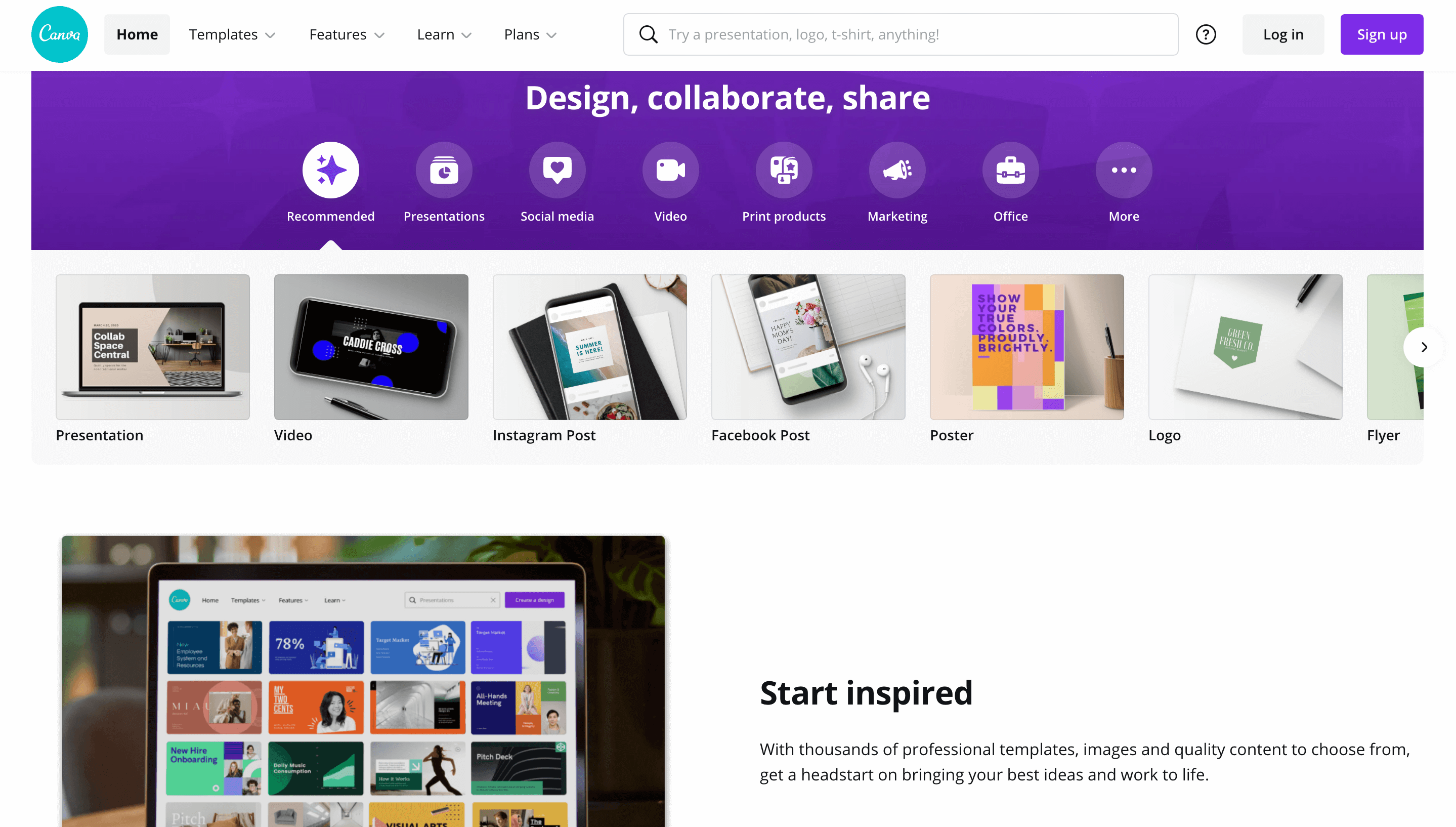 Canva offers more than just its logo maker, with a full suite of design templates for flyers, posters to even social media posts. If you only require a logo, you can browse through their template logos based on industry type, or make use of their canvas interface to create your own logo with their drag and drop elements such as shapes, icons, gradients, lines and background details. However, note that Canva's graphics do lack variation in terms of style, and gravitate towards the cartoonish style which may not be appropriate for all industries. If your company falls under their categories of Band, Cafe, Restaurants, Beauty, Fashion and the like, Canva is still a great tool to work with! While vector files are not supported, you can still download a PDF version for printing.
Pricing:
Free to download PNG and PDF file
Templates and icons are priced at varying rates, depending on your subscription
LogoMaker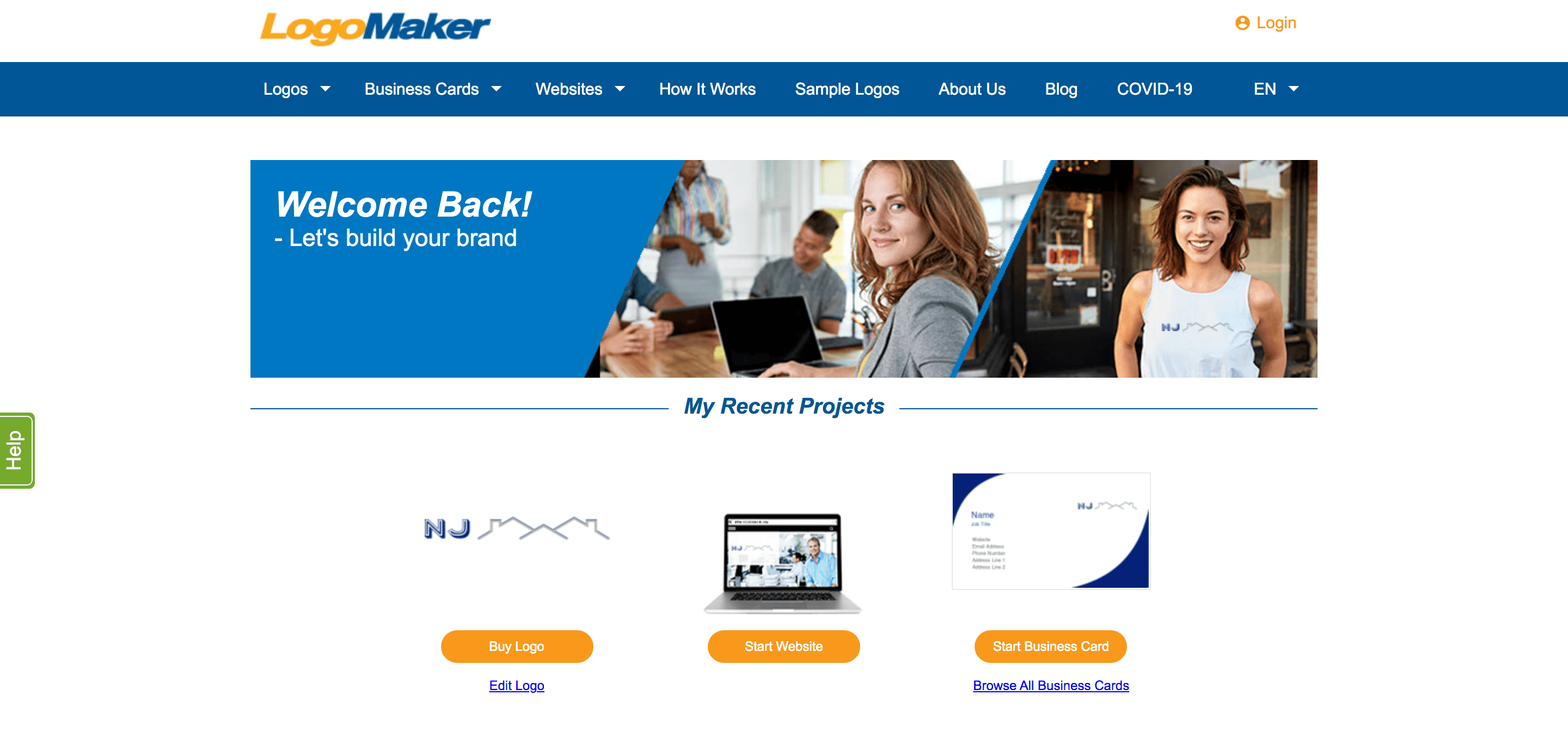 Making your own logo design within minutes with LogoMaker. With 10,000 logo design templates created by a team of award-winning designers, you can choose your perfect logo and create it in 5 minutes. Making your own logo design within minutes with Logo Maker. With 10,000 logo design templates created by a team of award-winning designers, you can choose your perfect logo and create it in 5 minutes.
Pricing:
Download a low resolution version of your logo for free
Custom logo packages start from £70
FreeLogoDesign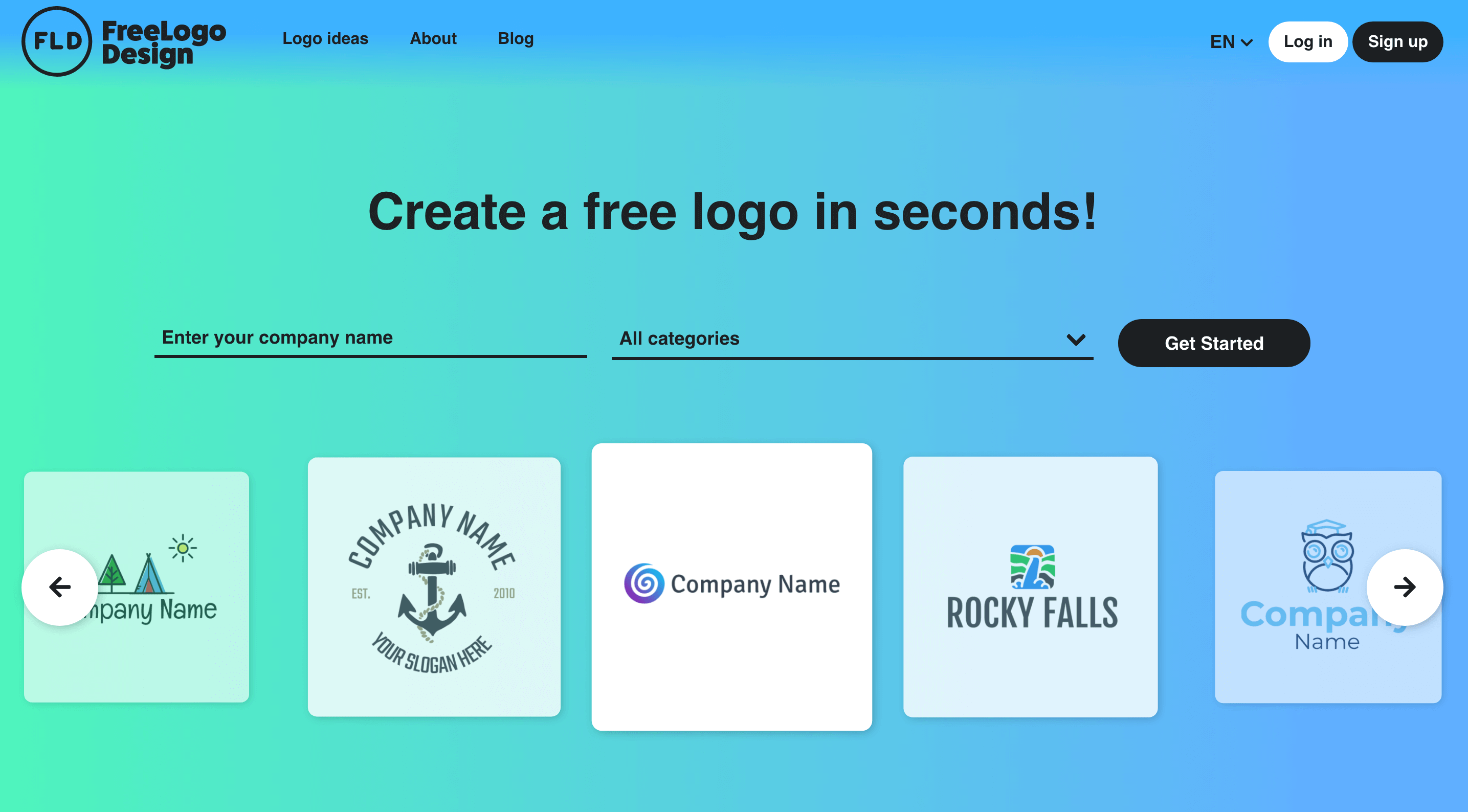 Create your desired logo in just a few clicks with FreeLogoDesign's user-friendly editor. Simply choose a template from thousands of templates available, edit your logo and customize by changing the colour, font and shape until you are completely satisfied, and download your logo free of charge, or purchase a high resolution version. If you are in need of logo design inspiration, you can even browse through their 'Logo Ideas' section and look through hundreds of cool logo ideas.
Pricing:
Download a low resolution version of your logo for free
High resolution packages available from £28.35 including high resolution files in PNG and JPG formats and resizable vector SVG files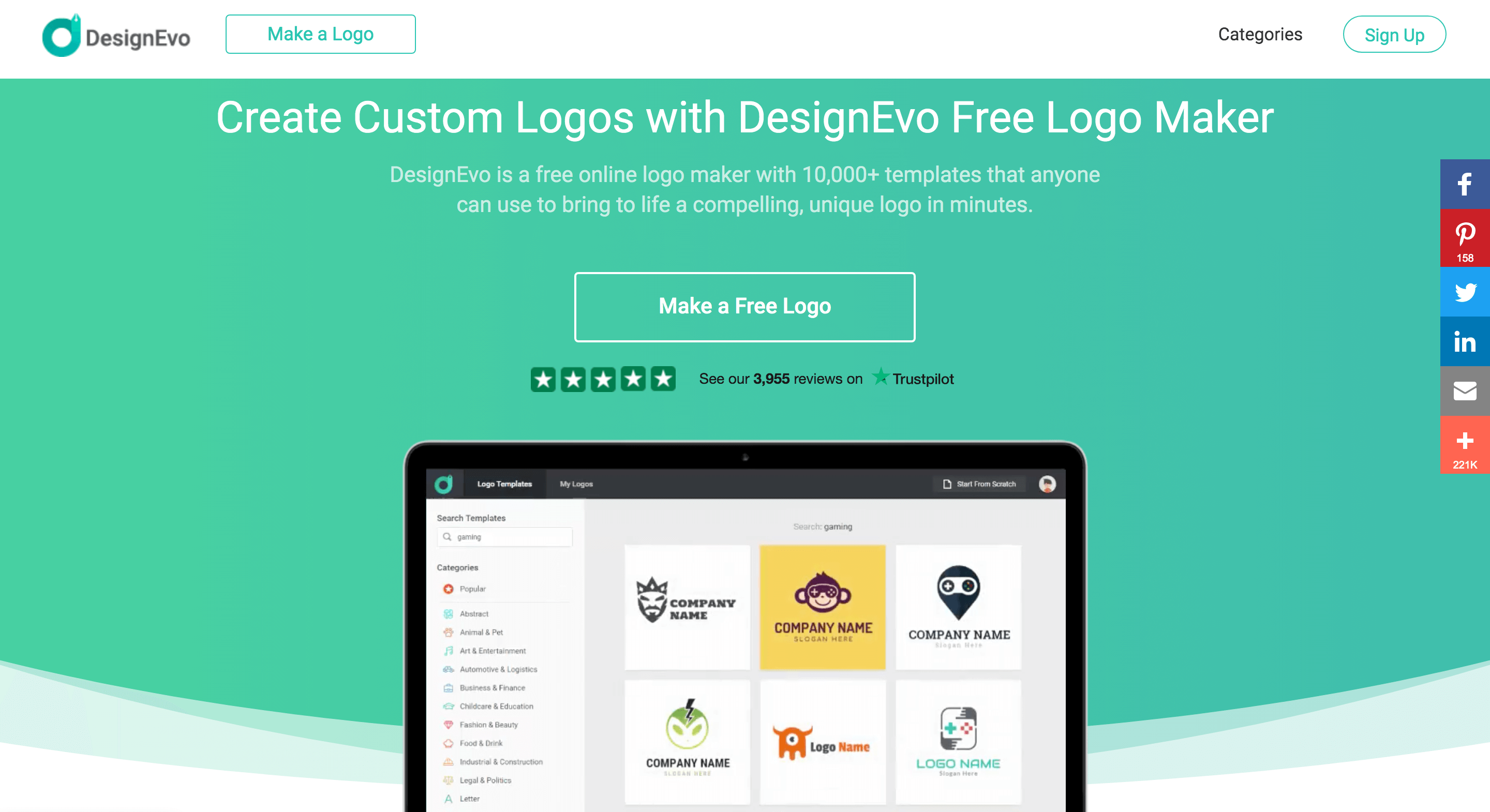 Regardless of whether you are looking to create a logo from scratch or choose from a ready-made template, DesignEvo's Logo Maker can assist you. With a wide selection of over 10,000+ professional grade logo designs, you can easily look for inspiration or base it as a starting point for your logo. Otherwise, build your own logo with a blank canvas and explore shapes, symbols and fonts and customise to your heart's delight.
Pricing:
Download a low resolution version of your logo for free
Scalable vector versions prices start at £17.71
Hatchful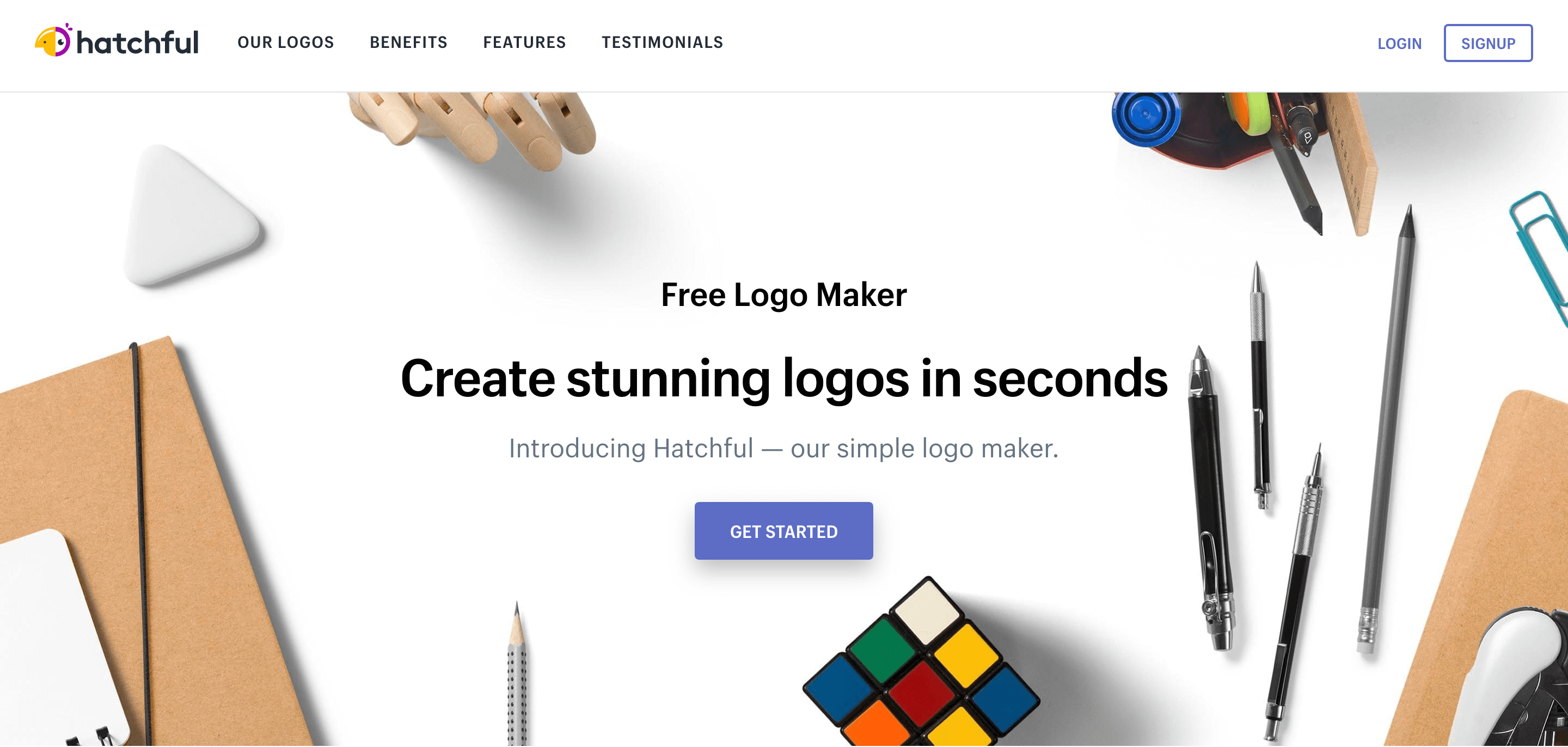 One of the easiest free logo makers around, hatchful's logo maker is especially optimised for mobile use, although it still works perfectly on your desktop.
While most logo makers prompt you to start with your business's name, hatchful is more concerned with your brand, with questions revolving around your business space and visual style. You can then input your company's name and browse through the available logo options.. Once you've picked one that hits the spot, you can edit the font, icon, palette and layout until you are happy with the results, and then download your logo in your required formats. However, hatchful does not provide vector files, which means that your logos will not be scalable or printable. Their logos come in 1200x1200 pixels, so if all you need right now is a small logo to test the water, hatchful comes in handy as a free interim solution for you to work with.
Pricing:
Download a low resolution version of your logo for free, in PNG format only
Pros And Cons Of Logo Makers And Logo Generators
| Pros | Cons |
| --- | --- |
| Affordable option in the market, with most being free to use or available at a low cost | Designs are generic |
| Available 24/7, so you can get your logo whenever you need one | Require some design sensibilities to create one that is unique |
| Fast and easy to use, does not require much time to design one | Risk of having a logo that is similar to your competitors, since many businesses use the same logo makers |
Grow Your Business Fast, Without The Stress
We know how stressful it can be to handle a business, from creating a logo to executing other marketing campaigns. However, you don't have to take it all upon yourself.
At Osome, we are always here for you. Work with dedicated accountants who specialises in e-commerce, so you can simply focus on your core marketing needs. We help you with your filing deadlines, finding reliefs for your company, and arranging documents perfectly.
We also connect directly to all your marketplaces and upload financial statements from there. We then transform them into books, reports, and tax filings. If you sell outside the UK, we help you file VAT there too.