Billing
Billing
When you sell your goods and services, you want money for them — and bill your customers. Billing works like this: you provide a service, you issue an invoice, the customer makes the payment, you issue a receipt.
For the customer it looks like this: they receive your invoice, they pay and then they get a receipt.
Online bookkeeping saves you the time of gathering and guiding all the billing invoices of your company.
What's the difference between a bill and an invoice?
When an invoice is sent to a client, it defines the conditions and the time frame for the payment to be made. This works both ways: either you invoice someone or your employee sends you an invoice for the services that you get. As for the bill, it is used to collect the payment for services immediately.
Jack offers business consulting services. He fulfils the service and sends to his client Andrew an invoice, stating that Andrew must pay him £5,000 in 10 days.
At the same time, Jack hires Amy the designer to create a new website style. After the work is done, Amy sends Jack an invoice, stating that he is to pay her £1,000 in 30 days.
Jack goes for a date and does a haircut before. Both the hair salon and the restaurant give him bills he is to pay immediately.
An invoice and a bill examples
Both an invoice and a bill are a part of the billing process, but let's have a look at how they differ on paper.
An invoice would include:
The date;
Names and addresses of you and the client;
The goods or services charged;
The amount you charge;
Terms of payment;
Invoice number.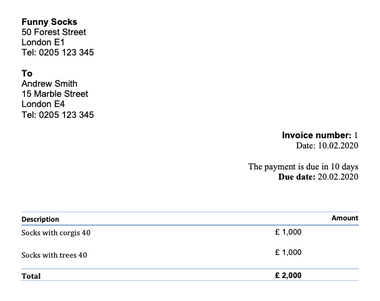 A bill would include:
The date;
Only your name and address;
The goods or services charged;
The amount you charge.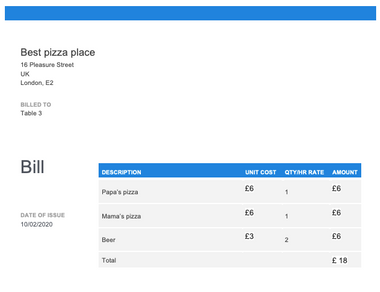 What is the difference between a billing and a shipping address?
A billing address is an address you use to send the customer your invoices.
A shipping address is a destination your client wants the goods to be delivered to. One customer can have several ship-to addresses. For example, if your customer is a chain of coffee points, and you are the supplier of coffee.