Petty Cash
Petty Cash
Petty cash is a certain sum of money (obviously, in cash) that your business keeps at hand, in case you need to pay for some small and not expected expenses. It is better to keep it in a special petty cash box or cash register and keep track of it — in a petty cash book.
Osome can help at keeping track of all your finances. Check out our bookkeeping and accounting services.
There is no fixed range of what is kept for the petty cash needs, though, majorly, the sum varies between £25-£100, with you defining the scope for your own business.
What is petty cash used for?
Here is what you might need your petty cash for:
Office supplies (like stationery);
Coffee and snacks (or a catered lunch for a small group of your employees);
Postage;
Work trips fuel and parking;
Flowers;
Any reimbursements for your employees for any small expenses (like a payment for a taxi).
Petty cash policy
To keep your petty cash spendings in order, it is better to define the policy of its usage, which can include:
What expenses your employees can reimburse from petty cash;
What expenses your petty cash can be used to cover;
Who has a right to use your petty cash;
Who will keep track of all the petty cash spendings;
Who will authorise the petty cash spendings;
And of course, the range for the petty cash spendings.
Petty cash book
To keep your petty cash spendings neat and tight, a special book (online or bought in a stationery store) is designed to help you. You use it for registering all the receipts and payments coming in and going out of your petty cash reserve. For one particular purchase, any petty cash book usually includes the description of the purchase, the date of the purchase and the amount used for the purchase.
Petty cash voucher example
A petty cash voucher or petty cash receipt is a form that you use to register the payment from the petty cash fund. A typical petty cash voucher would include:
The date;
The amount taken from the fund;
The name of the person who gets the money;
The reason for the payment;
The name or initials of the person giving the money.
Here is a petty cash voucher example: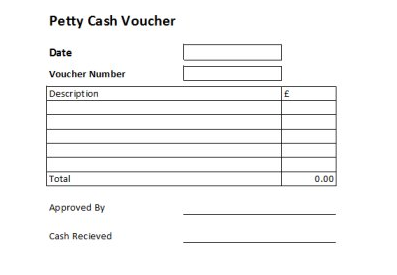 Want to start your company in the UK online? Osome will help you!