Invoice
Invoice
An invoice is a way to get payment from your client, for example, if you sell coffee beans to the coffee shops — you issue invoices for them to pay.
Or if you have a freelance designer or a copywriter working for you, they send you invoices to get paid.
So, it is a document generated after the goods or services are delivered, but before they are paid for. Outsourcing your bookkeeping helps you to keep your invoice records neat and correct.
Invoice example
An invoice usually specifies when the payment is expected to be done and gives the details of the counterparts. A typical invoice would include:
The date when it is issued. You need it to track the payment, the customer needs it to know how long they have to fulfil the payment.
Names and addresses of you and the client. Postcodes can also be included — it is useful if the client needs to send you a physical copy of any document back (for example, tax form). Or telephone and fax numbers can also be mentioned, in case you need to contact each other quickly.
The goods or services charged. These are usually listed, with each item entered in a separate line, with its price and quantity.
The amount you charge. An invoice shows both the price for each item and the total amount that is to be paid.
Terms of payment. This is a date by which the payment should be done or in what period of time it is expected or both.
An invoice number should be unique and can be a combination of letters and digits. It is needed for the company's and client's proper bookkeeping and accounting.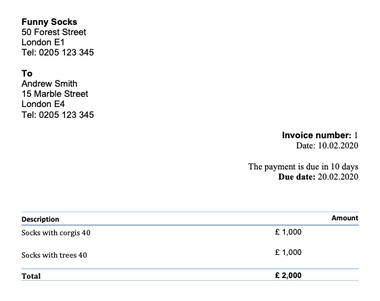 Invoice template
There is no universal rule for making an invoice — you can make it your own way. There are many invoice templates available online, or you can turn to google docs samples. You can also turn to an online invoice service, like Xero, where you can design your own invoice and generate them automatically.
Invoice factoring
When you have unpaid invoices and you need to get the cash immediately, you can sell them to a third party — invoice factoring company, which will partially cover your invoices for a fee. This is how it works: a third party covers a part of the bill straight away and gives you the money, then collects the sum from the customer and then gives you the remaining part of the sum (minus the fee).
Invoice factoring gives quick cash and is easier to get than dealing with banks. However, you might run higher costs (if several different fees applied) and lose trust of your clients, who would know you are not working with them directly.
Here are some of the UK invoice factoring companies: Ashley Business Finance, Skipton Business Finance, Metro Bank SME Finance, etc.
Want to start your company in the UK online? Osome will help you!