How To Set Up a Hawker Stall Business in Hong Kong
Discover the exciting journey of setting up a hawker stall in Hong Kong. From licensing and regulations to choosing the perfect location, learn all about maximising profitability and becoming part of this vibrant food culture. Start serving delicious dishes today!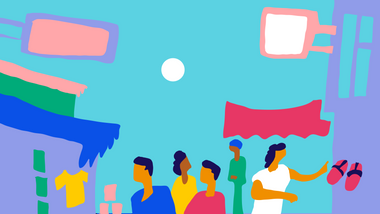 Are you looking to start a hawker stall business in Hong Kong? This bustling city is the perfect place to showcase your culinary skills and earn a good income. However, setting up a hawker stall requires more than just passion for cooking.
In this article, we will guide you through the process of getting started, from understanding the regulations to identifying the right location.
How To Get Permission to Start a Hawker Stall Business in Hong Kong

Make sure you understand the legal framework of how to operate by getting to grips with the Hong Kong companies ordinance.
Getting permission to start a hawker stall business in Hong Kong can be challenging, but with the right approach and knowledge, you can navigate the process efficiently.
Let's go through the necessary steps:
Step 1: Apply for the Relevant Licence from the Hong Kong Food and Environmental Hygiene Department (FEHD)
The first step to starting your hawker stall business is to apply for a hawker licence. This involves submitting a filled application form to the FEHD along with your business plan. It's advisable to ensure that your startup business plan is detailed and well-structured, as it increases your chances of getting approval.
Step 2: Submit the Application Form With Supporting Documents to FEHD
Once you've filled out your application form, you'll need to submit it to the FEHD office along with supporting documents. These include your food business registration certificate, proof of completion of a food safety course, proposed menus, and pictures of your hawker stall.
Not going to run your hawker stall from Hong Kong? No problem, we'll handle your offshore company setup for you.
Step 3: Pay the Licence Fee
Once your application is approved, you'll be required to pay a licence fee. The fee varies depending on the type of food you're planning to sell and the location of your stall. Ensure that you factor this into your start-up costs.
Step 4: Wait for the Licensing Status of Your Hawker Stall Business
After submitting your application and paying the licence fee, you'll need to wait for the FEHD to review your application. This could take several weeks or even months, so it's important to be patient and stay positive during this period.
Step 5: Collect the Licence from a FEHD Office or an Appointed Post Office
Once your application is approved, you can collect your licence from the FEHD office or an appointed post office. With this licence in hand, you're now ready to start your hawker stall business!
How Much Can I Earn from a Hawker Stall Business?
The earning potential of a hawker stall business in Hong Kong varies greatly depending on a number of factors. These include the location of your stall, the type of food you sell, and the quality of your service. Some hawker stalls can earn a comfortable income of HK$20,000 to HK$30,000 per month, while others may earn less. Remember, being innovative with your food offerings and providing excellent customer service can greatly increase your earning potential.
What Are Food Stalls in Hong Kong?
Food stalls, also known as Dai Pai Dongs, are a quintessential part of Hong Kong's culture and cuisine. These open-air food stalls offer a wide variety of local street food, from dim sum and noodles to seafood and barbecue meats. Despite their popularity, Dai Pai Dongs have faced numerous challenges in recent years, including regulatory changes, increased competition, and hygiene concerns. However, they remain an integral part of Hong Kong's culinary scene and a must-try for visitors.
Understanding the Regulations and Rules for Operating a Hawker Stall
Operating a hawker stall in Hong Kong requires complying with various regulations and rules. These include hygiene and safety standards, food labelling regulations, and proper disposal of waste and cooking oil. Failure to comply can result in fines or closure of your business. It is important to stay updated on any changes to the regulations and to ensure that your stall adheres to them.
Optimising Your Hawker Stall for Maximum Profitability
When it comes to running a hawker stall, location is key. By choosing the right location, you can attract a steady stream of customers and build a successful business. So take the time to research different areas, consider your target customer base, and think outside the box when it comes to choosing the perfect location for your hawker stall.
Once you have chosen a location, it is important to design your hawker stall in a way that maximises profitability. Display your menu prominently, offer a variety of dishes and drinks, and ensure that your stall is clean and well-maintained. Providing free samples can also entice customers to try your food. Additionally, consider adjusting your prices according to demand or offering combo deals to encourage customers to try multiple dishes.
Ready To Set Up Your Stall?
Setting up a hawker stall business in Hong Kong can be a rewarding but challenging experience. It requires a significant financial investment, diligent research, and a passion for cooking. By understanding the licensing requirements, identifying the right location, and optimising your stall, you can increase your chances of success.
Remember to stay innovative, follow the regulations, and provide excellent customer service to stand out in the competitive Hong Kong market. And, remember to have the right people taking care of your accounting.