Top 15 Best Dropshipping Websites
Dropshipping isn't a new concept, but its popularity has risen in the last 5-10 years. Dropshipping allows an online retailer to sell products without keeping an inventory of those products.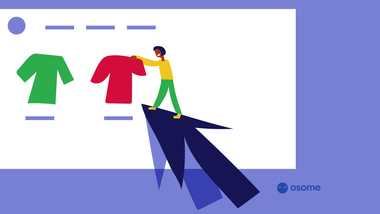 Dropshipping isn't a new concept, but its popularity has risen in the last 5-10 years. Dropshipping allows an online retailer (a large corporation or a single man in his living room) to sell products without keeping an inventory of those products.
When an online seller sells an item, they have the option of shipping it from their inventory or having it sent directly to the customer from another location.
The product's manufacturer or a large warehouse that stocks the item could be this other location. Dropshipping is defined as any shipment that originates from an area other than the seller's original location. By the way, we help e-commerce companies, including dropshipping companies to manage their accounting when it gets overwhelming and unmanageable. Talk to us to find out more.
Oberlo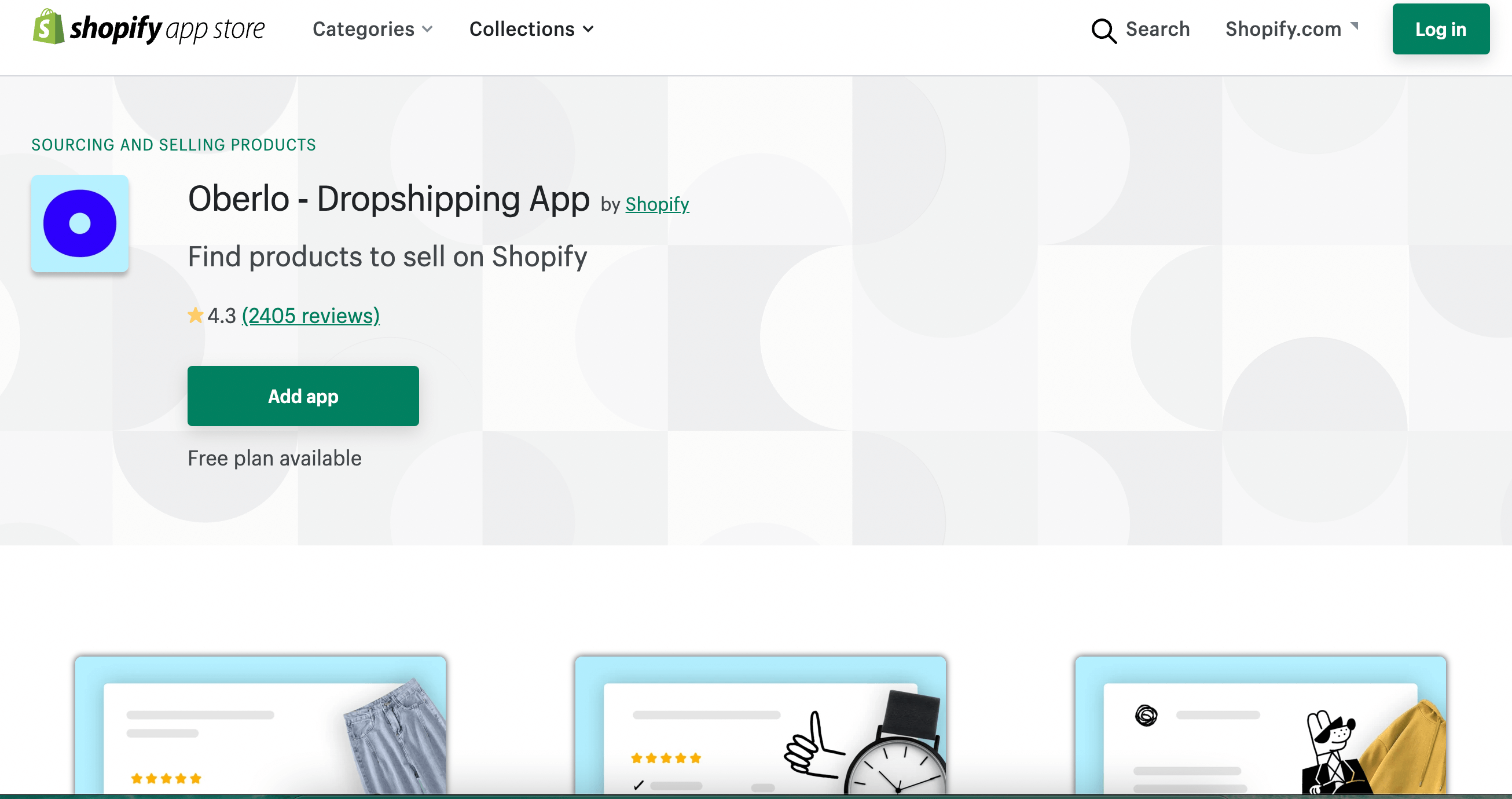 Import thousands of AliExpress products into your existing Shopify store with Oberlo. Thanks to its powerful features and ease of use, it has quickly become a leading dropshipping app in the Shopify app marketplace, with nearly 7,000 active Shopify stores and over $36 million in sales to date.
Let's take a look at some of Oberlo's most notable features:
Add AliExpress products with ease.
You can switch product suppliers whenever you want.
The inventory of products is automatically updated.
Pricing:
Oberlo currently offers a 30-day free trial that gives you access to its main features. The $4.90 per month Starter Plan is designed for new users who want to sell online and run a small web store.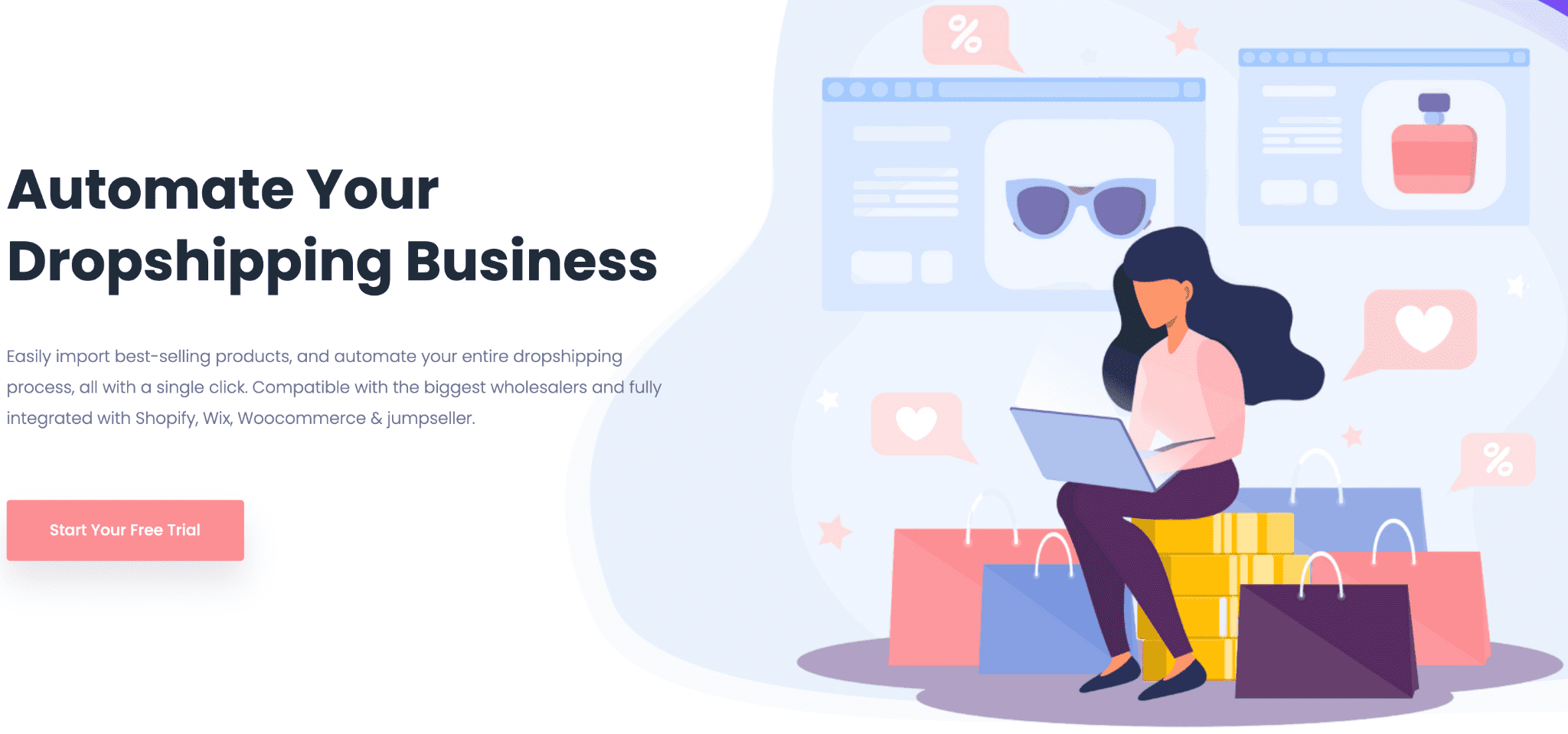 Importify is the leading platform for eCommerce sellers looking to import and sell dropshipping products in their stores.

The company fully integrates with top e-commerce platforms like Shopify, Wix, and WooCommerce, and you can import products from hundreds of popular suppliers like AliExpress, Alibaba, Amazon, Etsy, Walmart, Banggood, Dhgate, Gearbest, Taobao, and many more. Importify will save you time and let you focus on making more sales and manage your business. It offers a solution to help dropshippers automate their daily tasks by easily importing products and fulfilling orders in just a few clicks.
Pricing:
Importify offers three plans: Basic ($14.95 per month), Premium ($27.95 per month), and Gold ($37.95 per month). These plans allow you to import unlimited products, customize products, set up pricing rules, and change product suppliers.
EPROLO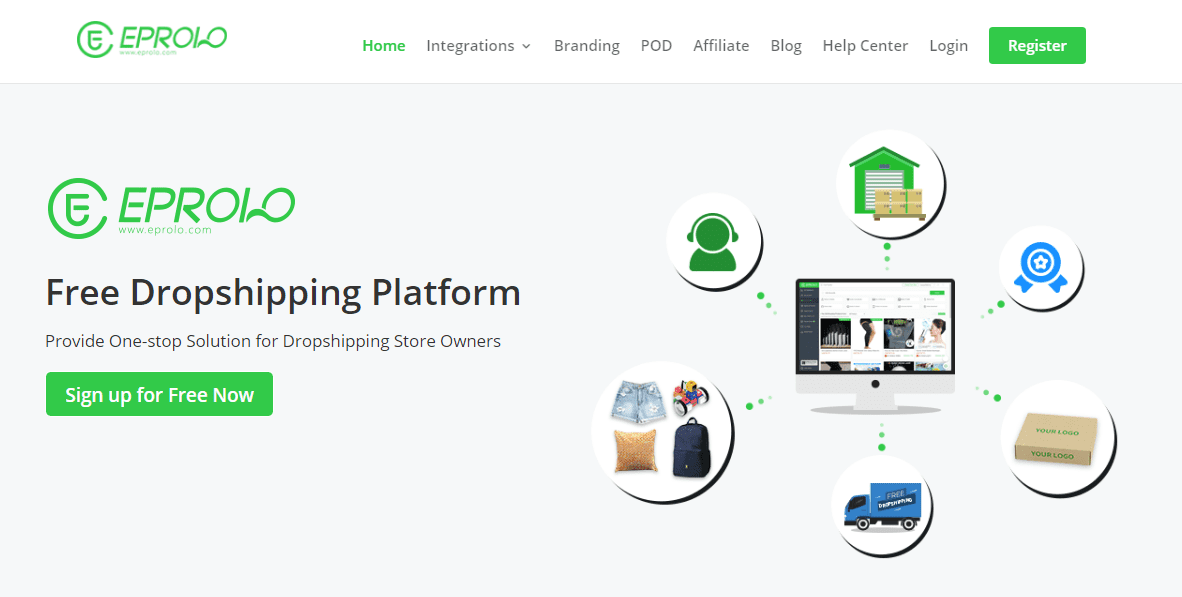 EPROLO  is a forever-free dropshipping platform that deals with all dropshipping
matters from product sourcing, quality control, warehouse, packing, and shipping. It specializes in helping dropshippers build their independent brands. EPROLO has helped over 300,000 users fulfill their orders. There are more than 300 thousand products on the ERP system. EPROLO users are all kinds of e-commerce business owners.

ERPOLO Features:
All-in-one solution for eCommerce business
10 product categories & 107 product subcategories
Product Sourcing & Quality Control
Fast Worldwide Shipping
Inventory Management
Branding, Custom Packing & POD
24/7 customer support
Integration: Shopify; Woocommerce; eBay; Aliexpress; Shoplazza

Pricing:

Forever Free
Megagoods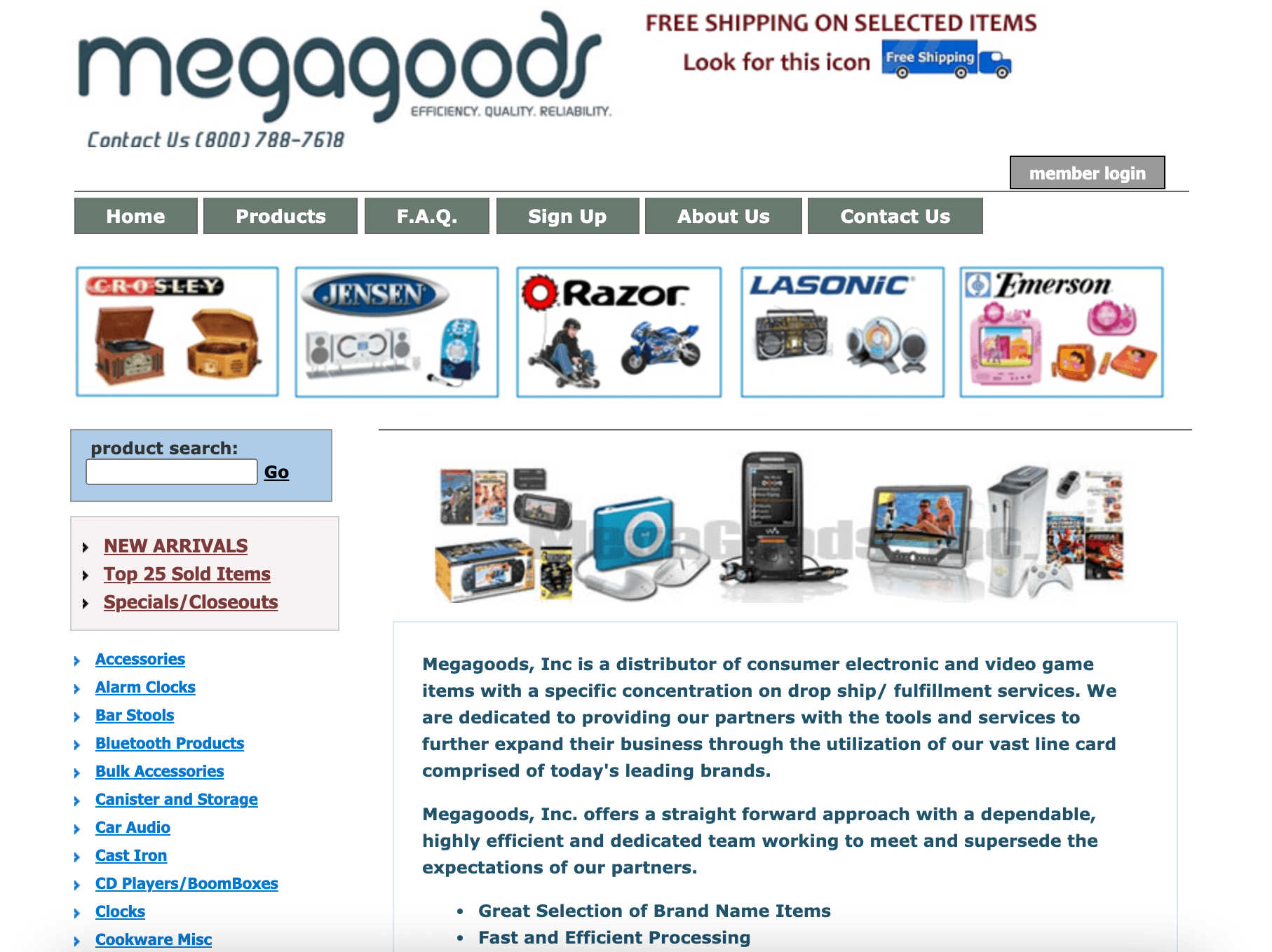 Megagoods is a consumer electronics and video game distributor with a focus on dropshipping and fulfilment services. straightforward approach with a dependable, highly efficient, and dedicated team dedicated to exceeding their partners' expectations.
Megagoods Features
A large selection of name-brand items
Quick processing and efficient
Shipping with a private label
PCI DSS Compliant
Compliance with EDI
If you want to take a look around and see what Megagoods has to offer, you can sign up for a 30-day free trial, after which you'll have to pay $14.99 per month to keep your membership. Also, if the limited free shipping does not cover an item, they charge $1.50 per order plus shipping costs on top of the monthly membership fee. If a customer decides to return an item, they will be charged a 20% merchandise restocking fee. Megagoods' fee requirements and membership terms, on the other hand, are relatively straightforward.
Worldwide Brands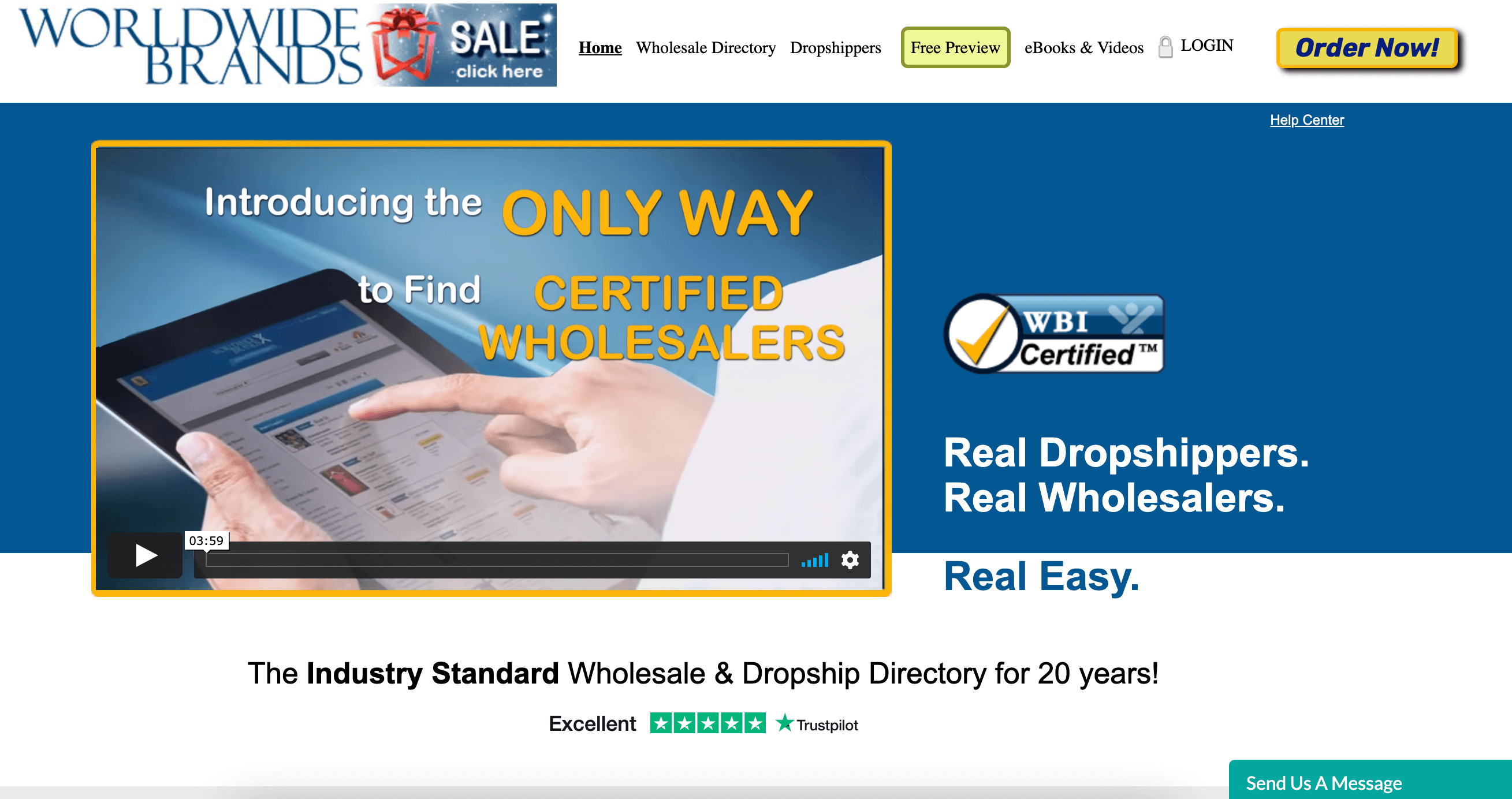 The Worldwide Brand's wholesale directory connects you to millions of products and thousands of suppliers. They're the only wholesale product sources publisher that is exclusively certified by eBay.
For a one-time fee, Worldwide Brands connects you to 16 million products and 8,000 suppliers. After gaining access to the service, you'll be able to work with any of the suppliers without restrictions. You can opt to have products delivered directly to your customers or buy in bulk and ship them yourself.
Pricing:
Worldwide Brands offers a lifetime membership for $299.
Sunrise Wholesale Merchandise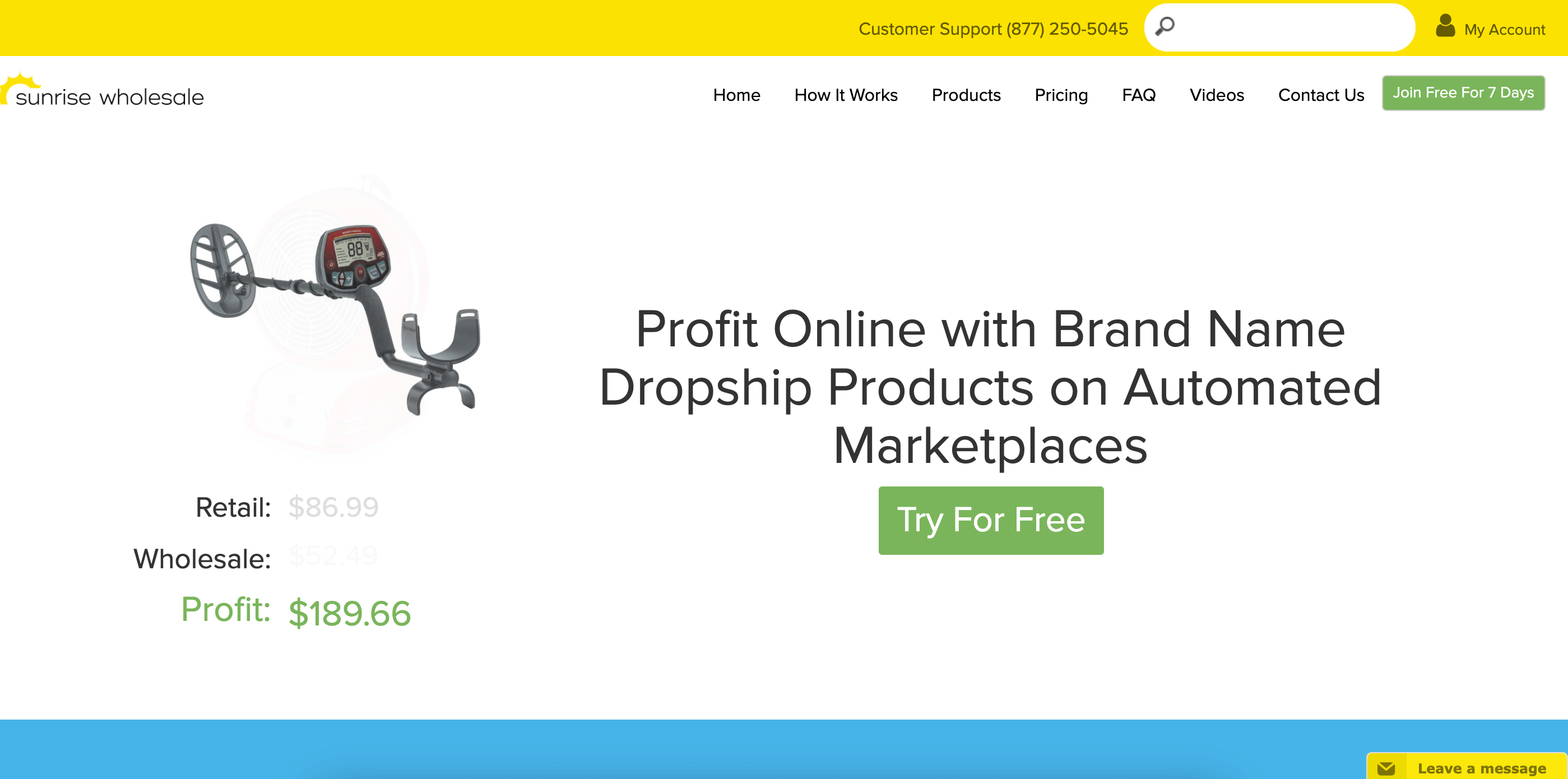 Despite having a smaller inventory than its competitors, Sunrise Wholesale offers products in a variety of categories, including home décor and electronics. This dropshipping website lets you export your products to eBay, Amazon, and your website, complete with images and descriptions.
Sunrise Wholesale provides access to a website-building app with easy integration to automatically populate it with their products if you prefer to sell products from your website. You can purchase a domain name from them and have your website hosted there.
Pricing:
Sunrise Wholesale, like most dropshipping services, charges a membership fee to use their services. You have the option of paying $29.95 monthly or $99 annually.
Inventory Source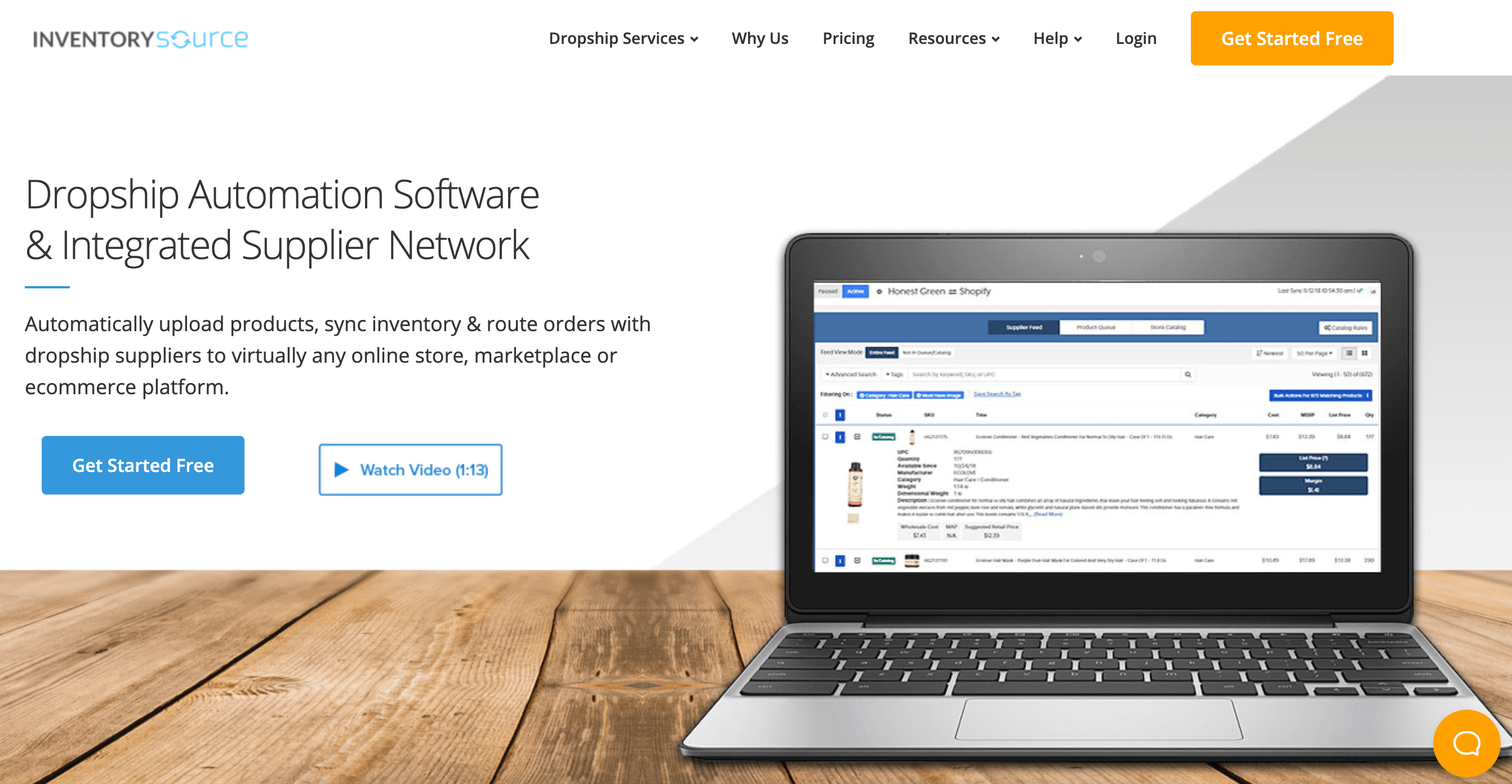 Upload products, sync inventory, and route orders to dropship suppliers from virtually any online store, marketplace, or e-commerce platform. Connect to a 180+ dropship supplier network, add your product data, and keep inventory in sync — no manual file imports, auto-route orders, and sync shipment tracking.
Pricing:
It starts at $99.00 per feature per month. A free trial and free version are available.
Doba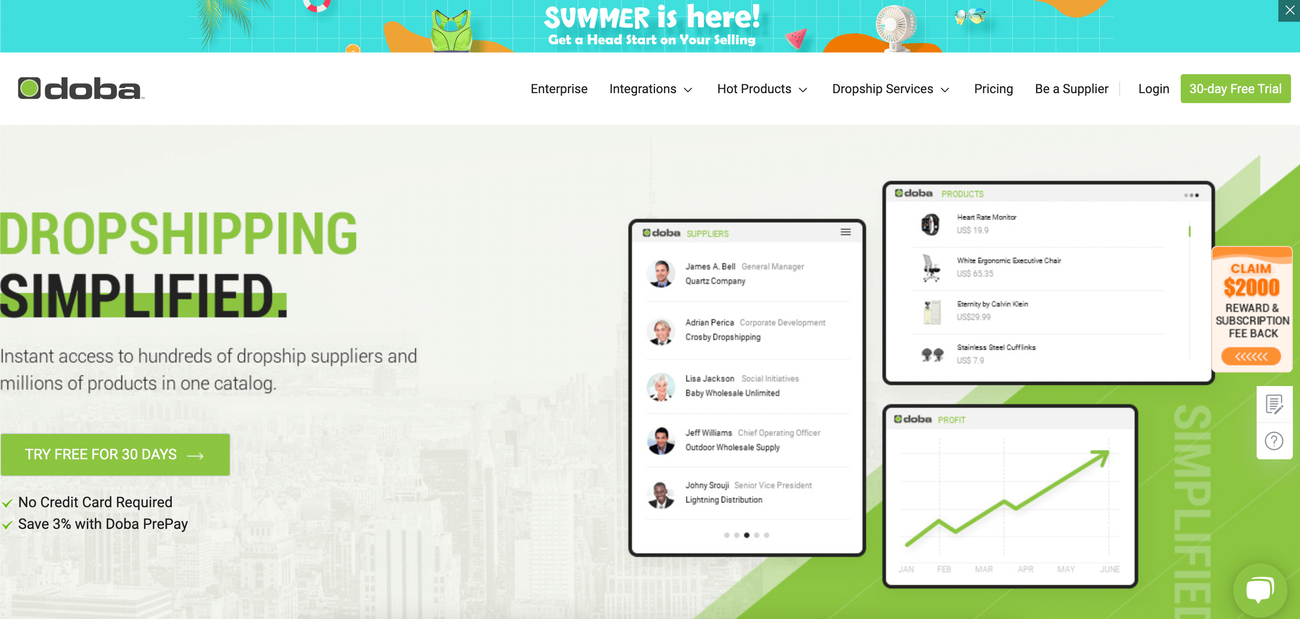 Doba is a dropshipping service provider that acts as a link between retailers and drop-shippers. Finding a dropshipping website with profitable and reliable products to market is difficult enough. However, Doba has a staggering 2+ million products to choose from when it comes to dropshipping.
Pricing and the marketplace are two of Doba's most distinctive features. The Doba marketplace has millions of products, some of which ship from the United States, so your customers won't have to wait long. Furthermore, many of the products have low enough prices that you can compete with Amazon and pass on some savings to your customers.
Pricing:
Individual product pricing comes close to what you'd expect from a wholesale supplier. As a result, you'll be able to compete with other businesses selling similar goods. For example, while searching for camping equipment on Doba, we came across some camping cookware sets. Doba's current price is $10.09, which does not include shipping costs. Also, they're shipped from the United States, and most of these sets are priced between $25 and $40 on Amazon.
Dropified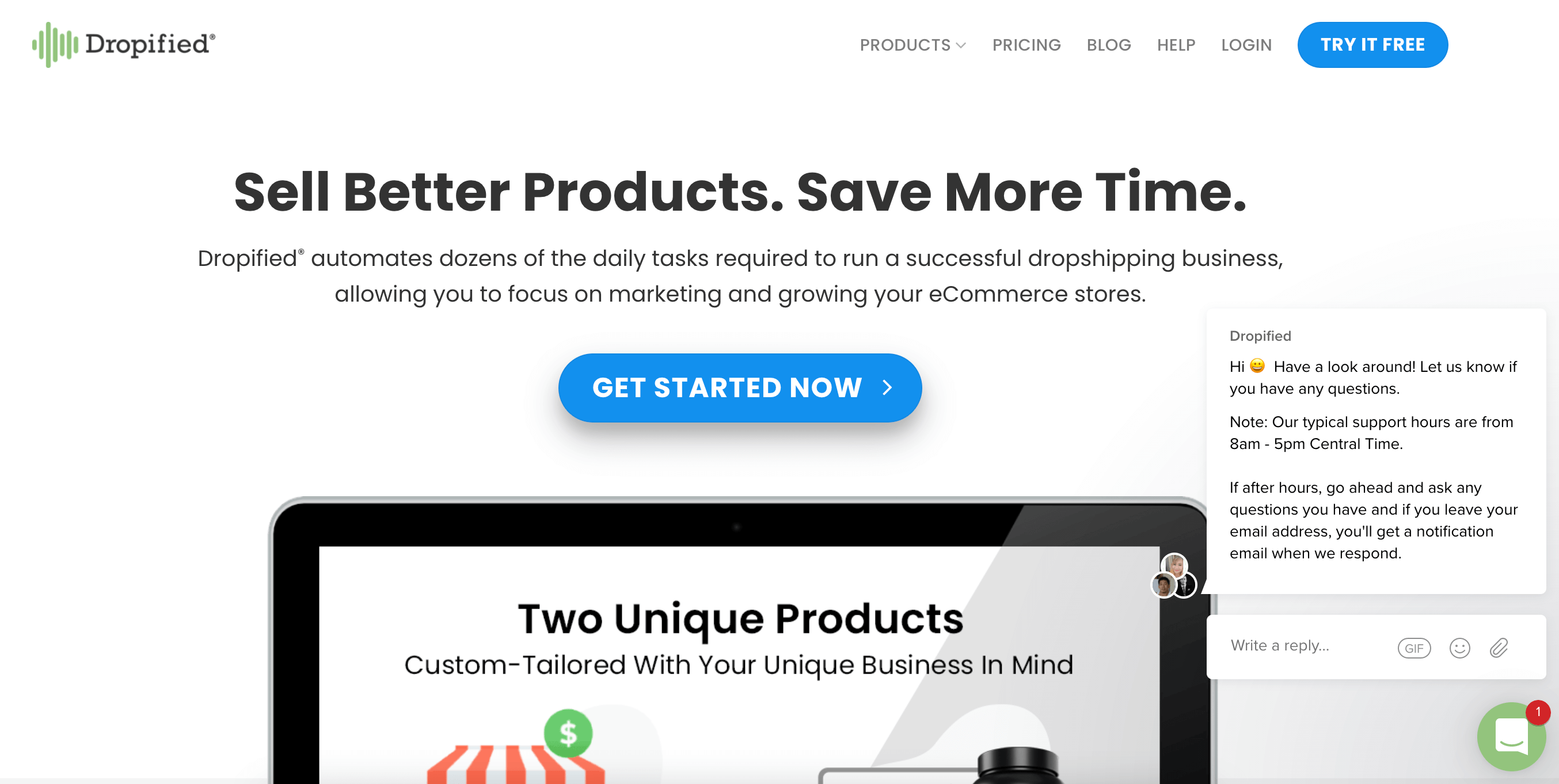 As a dropshipping software, Dropified can automate dozens of routine tasks required to run a profitable dropshipping business. You can concentrate on your marketing strategies and managing your online stores. Furthermore, you can use the platform to automate your dropshipping process, from order fulfilment to delivery. Business owners can use the built-in Dropified Private Label On-Demand Plan to launch their brand. You can also add products to third-party portals, including  AliExpress, eBay, and Alibaba. Dropified's AliExtractor research tool helps you find profitable products to sell on your website.
Dropified platform enables multi-vendor product listings — multiple vendors with different variants, such as size, colour, and style, can be added to one product. Users can also bulk edit prices, tags, categories, and descriptions and add product videos.
Pricing:
Dropified, unlike many of its competitors, does not offer a free version. But it does offer a 14-day trial in two plans. Although it is more expensive than some of the market's major players, it provides a wide range of excellent options at a reasonable price.
The Builder Plan, which costs $47, is the first option. It permits one store, 15000 products, 50 product boards, 1000 monthly sales, five users, and all standard and basic features such as auto product price and availability sync, chrome extension, product customization, and more.
The Premier Plan, which costs $127, is the second option. You can own up to 5 stores, 50000 products, 250 product boards, and 100000 sales per month with this plan, including US vendor filtering, zapier integration, and other vital features.
The third option is the $167 Black Plan, which is currently in beta and only available to a select group of users. It includes a variety of tools.
Wholesalecentral
Wholesale Central is the most user-friendly online directory for wholesale buyers to locate all the products they require. Wholesale Central is always ready to help you promote your new product by placing it on the hot deals page, where it will be seen by tens of thousands of potential customers.
Features of Wholesalecentral
Product features,
advertising features,
logistics features, and
simple payment methods are all available.
Pricing:
This directory is open to the public and is organized by product type, including eyewear, books, candles, and pet supplies. Free Sign-up cost.
Brandsgateway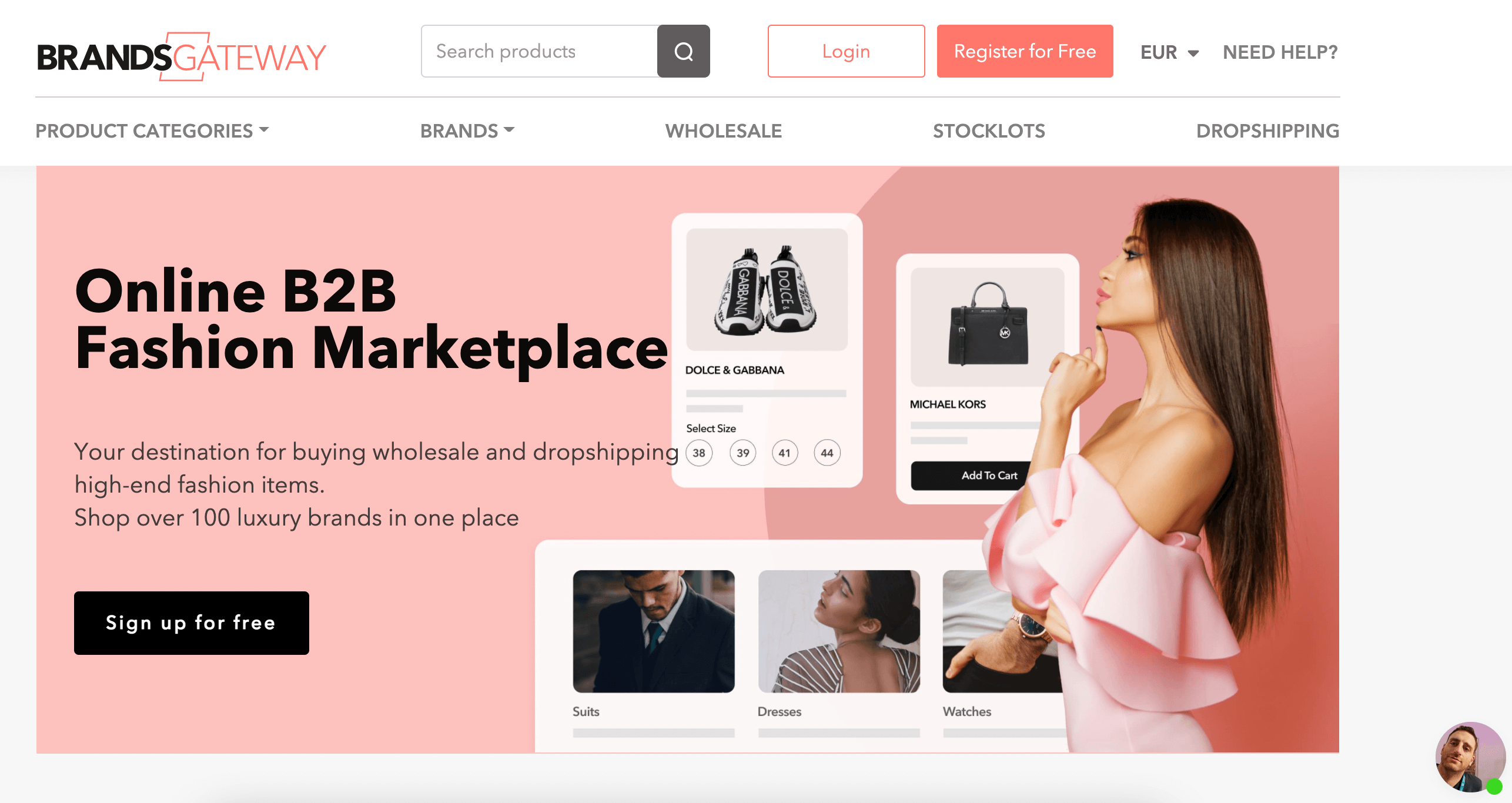 BrandsGateway is a luxury clothing and accessory wholesale and dropshipping company. Subscribers gain access to BrandsGateway's Shopify and WooCommerce plugins, which automate everything so that their business runs as smoothly as possible.
For years, BrandsGateway has been at the forefront of the luxury clothing and accessory drop shipping industry. It is the world's largest online B2B marketplace, with over 15,000 products from top brands and designers. Furthermore, its appealing dropshipping program provides its drop-shippers with the highest profit margins and discounts.
For both retailers and their customers, BrandsGateway strives to provide a seamless drop-shipping experience. They keep up with the latest industry trends and constantly update and improve their dropshipping services as the leading B2B luxury fashion marketplace. BrandsGateway's sole purpose is to provide a one-of-a-kind dropshipping program.
Pricing:
€295/Month for a one-time Sign-up cost Fee
Alidropship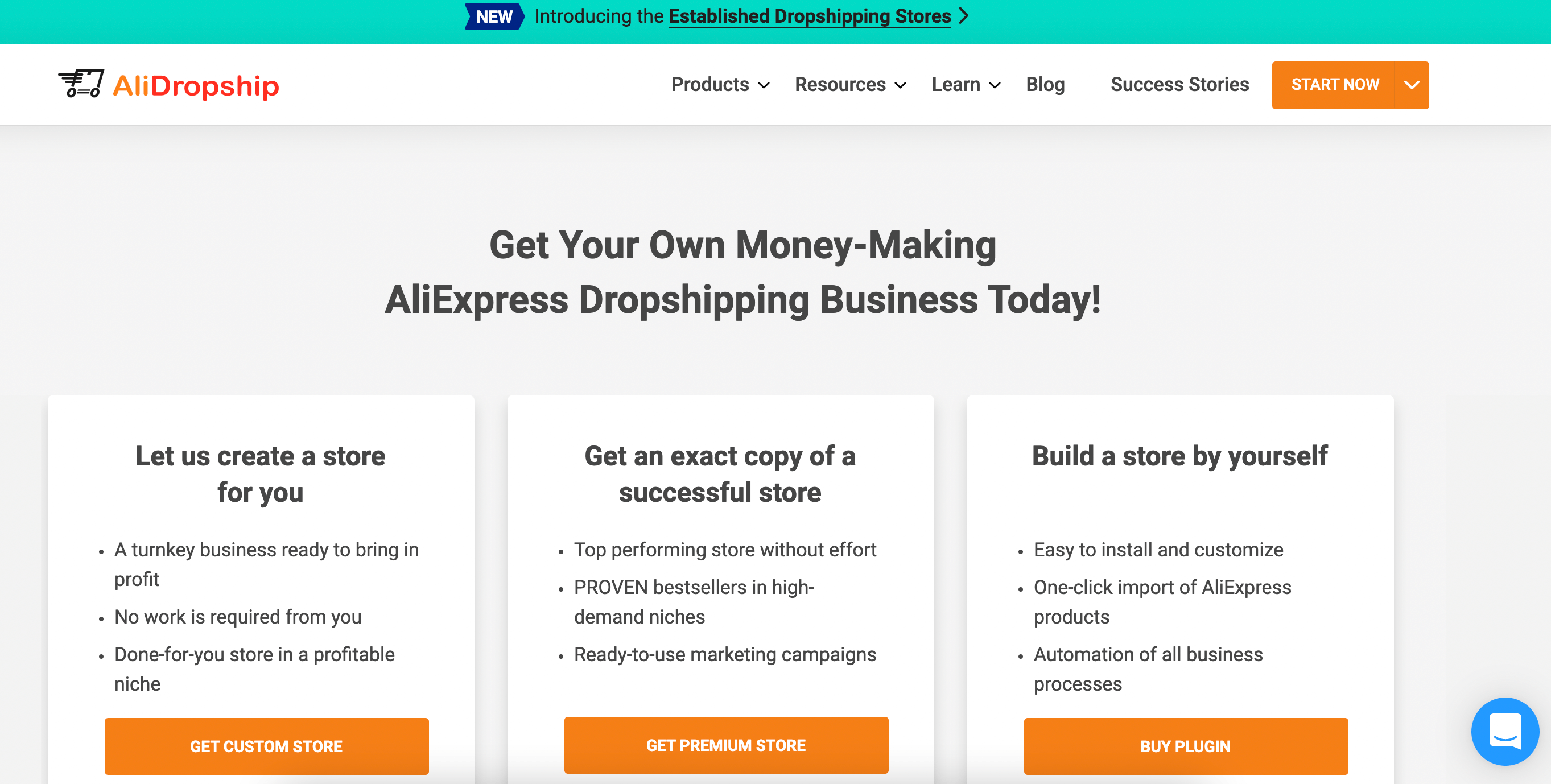 Alidropship was founded in 2015 by a group of developers and drop-shippers who pooled their e-commerce expertise to create an automated solution to make dropshipping from Aliexpress more convenient. Alidropship was able to take advantage of the Aliexpress marketplace's extreme popularity as well as the scarcity of WordPress-based solutions for building web stores.
AliDropship's main feature is a one-click plugin that converts your entire WordPress site into a fully functional online store with dropshipping capabilities. You could argue that the custom websites are features, but they're really more of a service.
AliDropship connects to your WordPress store and allows you to browse and select products from AliExpress. The products are then automatically sent to your shop, complete with product details such as a description, title, and photos.
Pricing:
The cheapest option for a custom online store from AliDropship–including hosting, is $347. Given that it's a one-time fee, that's not a bad deal.
Unless one of the add-ons catches your eye, you should only expect to pay $89 for the WordPress plugin.
Features:
Site customization,
marketing,
full automation, and a few awesome add-ons.
Dropship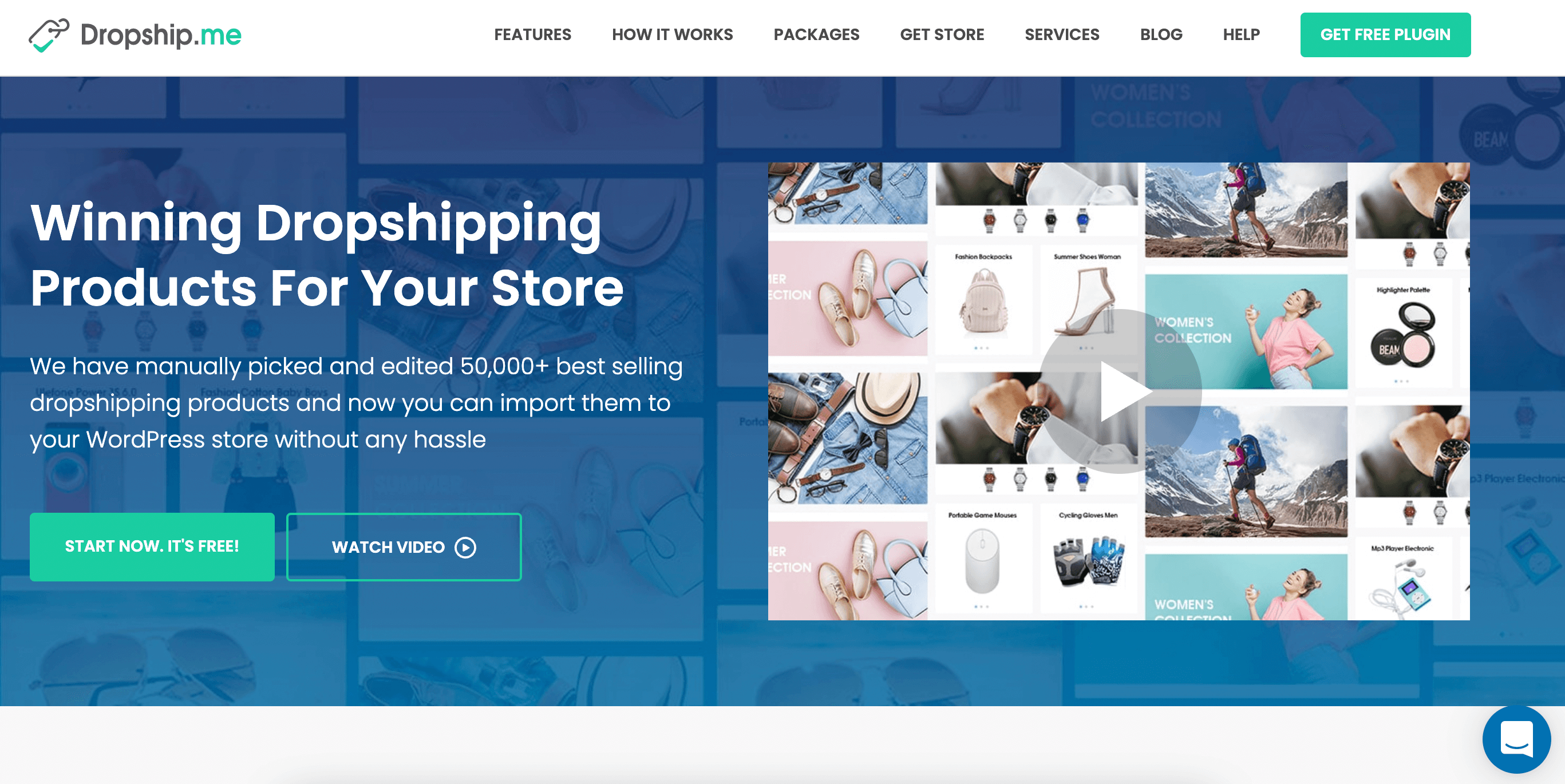 DropshipMe is a free WordPress plugin designed to improve AliExpress dropshipping product sourcing. It gives you access to a catalogue of carefully selected AliExpress products with professionally pre-optimized product information when it's installed on your website.
It gives you access to over 50,000 AliExpress products that have been hand-picked for their proven track record of sales, reliable suppliers, and high ratings.
Furthermore, DropshipMe provides filters that will assist you in searching through their products for items that will complement your store. You can change the filters to find stock with the best ratings, profit margins, and price, among other things.
Pricing:
Free (no credit card data is required): 50 items to import
$29: Import 100 products
Import 500 products for $119
Import 1000 products for $199
It's a one-time fee if you choose any of the paid options. You'll be given a 'package code,' which you'll use to activate your purchase. As a result, your product imports will be added to your balance.
Modalyst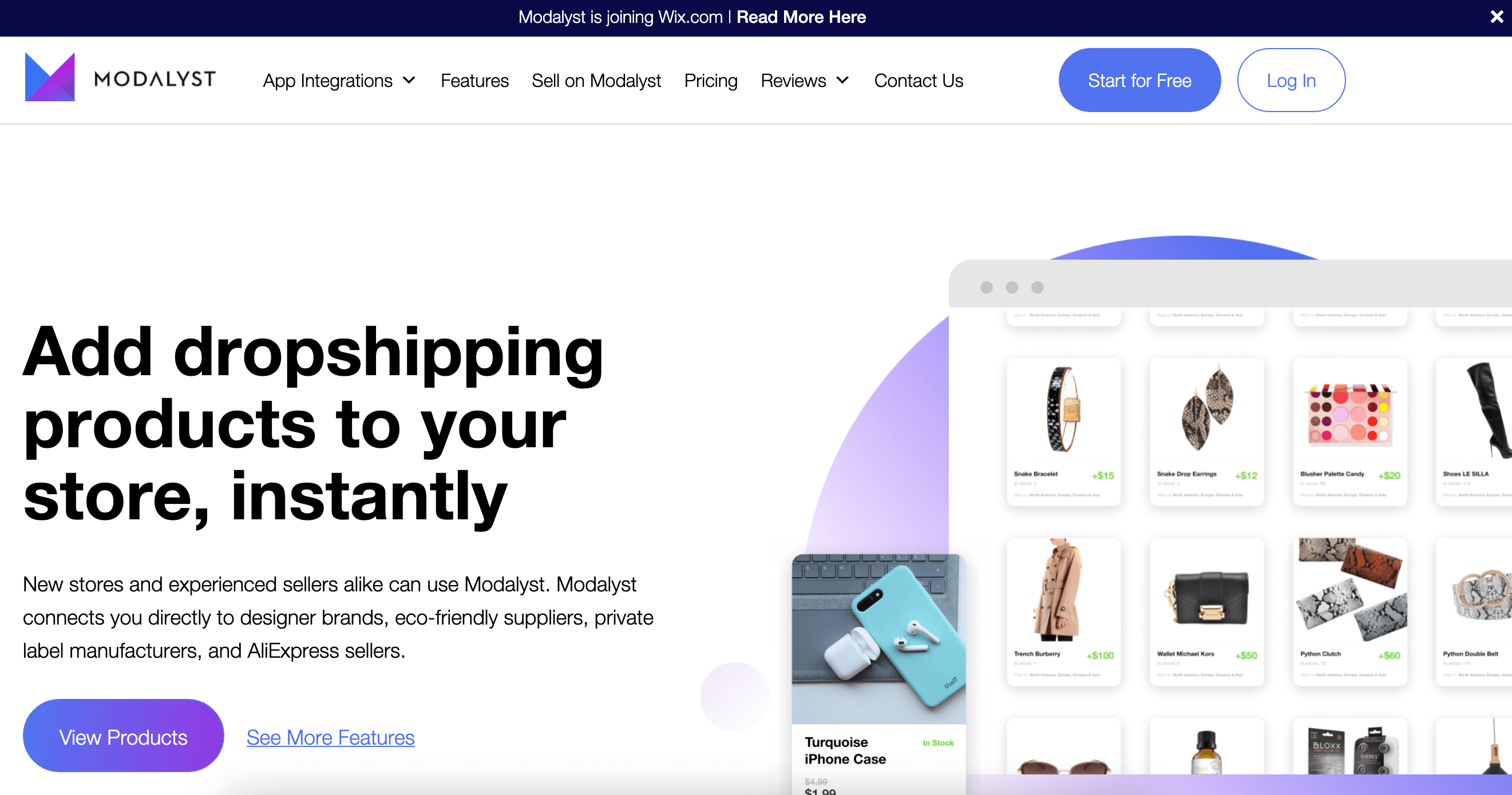 Modalyst is a company that specializes in traditional dropshipping. It enables you to make direct connections with verified product suppliers who can provide you with high-quality goods. With Modalyst, all you have to worry about is getting customers to your online store so they can buy your goods. With this, you must learn about the market and how to sell products to your customers via the internet. When there is a consistent flow of products from your suppliers to your end buyers and Modalyst manages the supplier side of the chain, this chain can be beneficial to you.
Modalyst also handles the communication between you and your vendors. You can easily communicate with the supplier using this section to get a correct idea about the products. When you or a customer places an order, the system automatically sends it to the supplier, making the process painless and straightforward for you. Everything you need to keep your focus on getting customers is Modalyst facilitating and automating the process.
Modalyst offers a wide range of products on its platform, including shoes, accessories, furniture, apparel, and a variety of other large and small items. When it comes to product and supplier selection, as well as quality assurance, Modalyst outperforms many of its competitors. When other brands try to connect with Chinese product suppliers like Ali Express, Modalyst tries to connect you with high-quality suppliers in the United States and Europe. Modalyst is a highly trustworthy brand in the E-commerce market because it provides small, essential quality items and checks those boxes.
Pricing:
Hobby – This plan costs nothing per month. The catch is that there's a limit of 25 products. There's also a 5% transaction fee and no limit on how many orders you can place. You also get a lot of features for product automation.
Start-up – The Modalyst marketplace offers 250 products for $35 per month. It's also convenient because you can place an unlimited number of orders. A 5% transaction fee is charged.
Pro – For high-volume stores, this is a $90 per month plan. The transaction fee is reduced to 5%, and you retain all of the benefits of the previous plans.
Spocket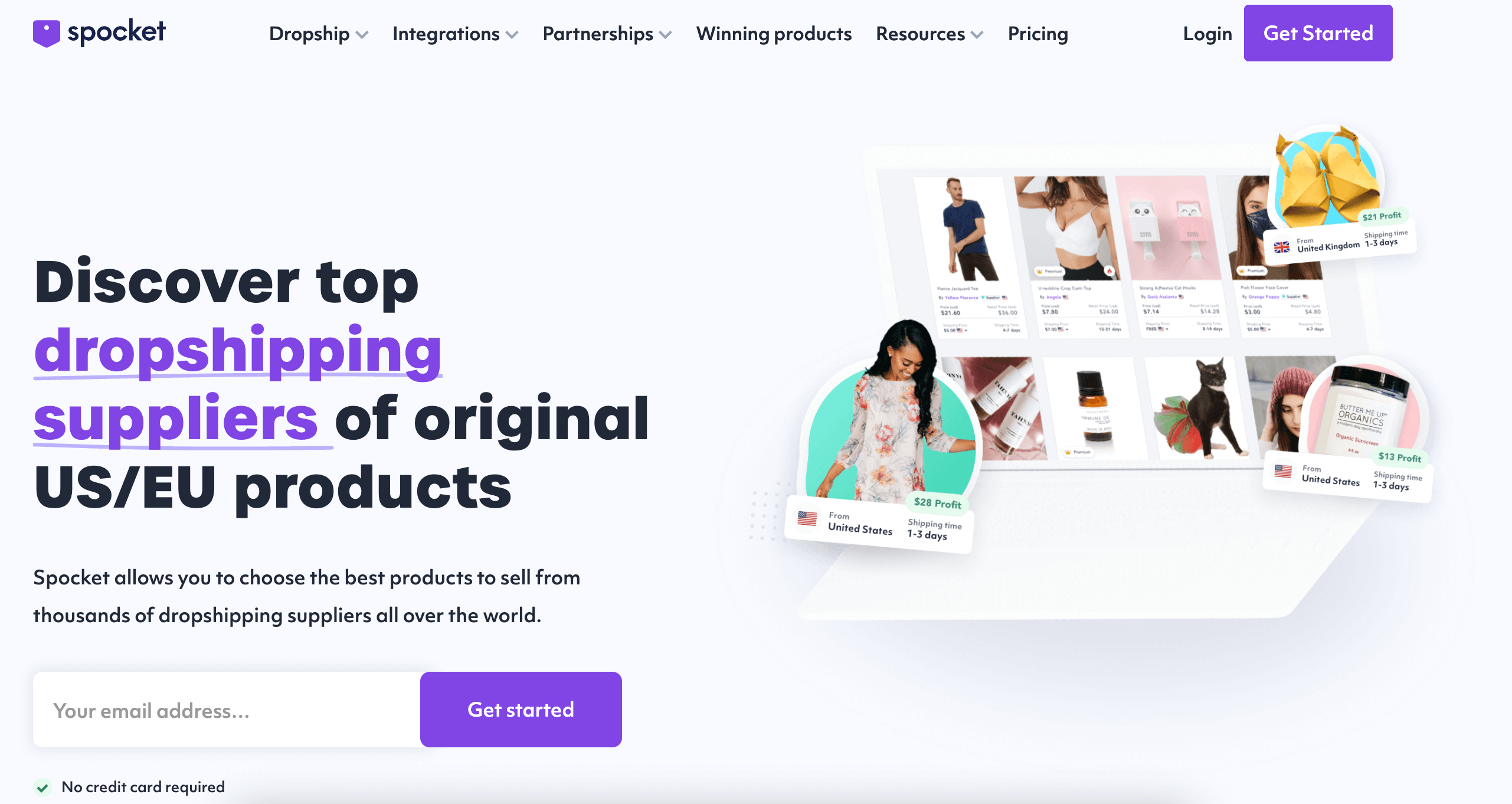 Spocket is a full-featured dropshipping app that enables you to launch a dropshipping business with suppliers in the United States and Europe. It allows you to quickly find and connect with suppliers who are closer to your customers from their vast marketplace, allowing you to take advantage of their 2–14 day shipping delivery.
The app also makes it easier to search and import products from tens of thousands of product catalogues from various suppliers on the platform. You can have a fully automated dropshipping store with Shopify and WooCommerce, thanks to their one-click import button.
Another appealing feature of Spocket is the ability to order sample products and evaluate them before selling them. Their marketplace is known for offering high-quality goods at up to 60% off, leaving you with a higher markup on each item.
Spocket was designed to work with Shopify by default. As a result, using the Shopify platform will allow for seamless integration as well. The best part is that you can get started with Shopify and Spocket for free! They both have a free trial period where you can try out the platform.
Features:
Larger product catalogues
faster shipping times
one-click product import
automated order fulfilment
branded invoicing, and more are all available.
Conclusion
Dropshipping can be a profitable way to do business, but finding the right partner is crucial. The type of goods you want to offer your customers, the quality of their suppliers, and how well they'll integrate with existing elements, such as your website, all play a role in determining the best dropshipping company for you.
Do you want a wide range of suppliers and products from which to choose? Then SaleHoo, Wholesale2B, or Worldwide Brands might be able to help you out.
Do you have a Shopify store? Oberlo, Spocket, and Dropified are all viable options that will complement your online store.
Look no further than Inventory Source if you're churning out orders and need a platform that can help you save time through automation.
Modalyst will be the ideal dropshipping partner if you're running an e-commerce site on Wix.
If you're growing your e-commerce company you'll need help sorting out the bookkeeping and accounting to stay compliant, leave it to trusted accountants who know how e-commerce works.