Business Owners Share How They Built Business Confidence
Starting a business is challenging, and self-doubt can be a major hurdle. Learn how successful business owners built confidence and overcame internal struggles. With business confidence, you can make sales and build a thriving business, rather than returning to your day job.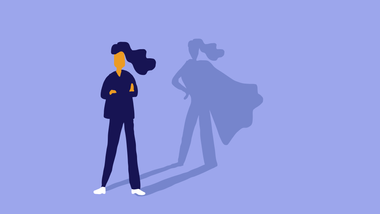 One of the first challenges any new business owner will face is the challenge of wrestling with their own self-doubt. You've had a brilliant idea for a business, you've taken the leap, and now you find yourself wondering whether you really have what it takes. You're not alone. We spoke to business owners about how it felt to start out on their journey of entrepreneurship and how they overcame their biggest internal hurdles.
What Is Business Confidence and Why Is It Important?
Confidence can be a tricky trait to define. It teeters between arrogance and ability. 'Fake it until you make it' is a motto many choose to live by, but you risk your customers seeing through the cracks if you run your business like that— which could affect your reputation.
Business confidence is all about knowing what makes your business unique and the reasons why your potential clients should choose you over competitors. Knowing this will add some substance to your sales pitch. We've all been charmed by a salesperson who knows intuitively what we need— or by asking the right questions, knows their product, and knows how the product they're selling can improve our lives. We've probably also all become switched off by a salesperson who lacks composure or is obviously over-promising.
It's safe to say, having business confidence could be the difference between making sales and a successful business, and having to go back to your day job.
Defining Your Business Goals
Metaphorically, adding a little meat to the bones of your business confidence starts by defining your business goals. Knowing these goals adds certainty to your ambition, guiding your business in the right direction by means of confident decision making.
Know your customer
You should carry out an exercise early on in your business's life where you identify your target market. The product you're offering and the interest you've had so far will help you here. So will sending out surveys to your customers, friends, family, and followers.
You'll be able to better understand and serve your customers if you know who they are and what they need. Taking note of your customer reviews and direct feedback will help the growth of your business, leading you to feel more confident that you know what you're doing.
Set clear and measurable goals
We spoke to business owner Nicholas Dinos Markopouliotis, who said he wanted to be able to take his business full time so that he could spend more time with his newborn son. So, one of his main goals was that his business should bring in more revenue than his fulltime job. Once that happened, he'd be able to take his business fulltime without worrying about supporting his family. Until he'd achieved his goal, he didn't take any money out of his business— and reinvesting that money produced a compounding effect that helped his business grow faster.
When you start out, set three to five SMART goals for your business. These SMART goals should be:
Specific (simple, sensible, significant)
Measurable (meaningful, motivating)
Achievable (agreed, attainable)
Relevant (reasonable, realistic and resourced, results-based)
Time bound (time-based, time limited, time/cost limited, timely, time-sensitive)
Review these goals from time to time to see if you're on track, or if they still represent your business ambitions.
Develop a plan to achieve your goals

You've set your goals and you feel like you're standing on firmer ground. Now, think about how you'll achieve those goals. The overarching goal will have a strategy attached to it, like changing how the brand is perceived or diversifying your revenue streams. You'll use a set of tactics, or individual actions to get you there.
For example, Jenna's goal is to improve her beauty brand's recognition by increasing the amount of millennials exposed to it. That's part of her strategy. To do this, she aims to grow her business's Instagram following by 10% before the end of the year. She creates a social media content plan to increase how often she posts, engages with more customers and influencers, and keeps up to date with the social trends so that she can put out the right content to get her brand seen. They're the tactics that help her achieve her goal.
Celebrate your successes
Success breeds confidence, so don't forget to notice the wins! It's easy to forget your successes when the days wizz by. So it's important to take a step back when you've achieved a goal, made a sale or seen evidence that your business is growing. Note these small wins down and come back to them at the end of each month to see the progress you've made.
It could be as simple as setting yourself three to five daily goals and punching the air at the end of each day when you've ticked them all off.
Get the Right People Around You
Maybe it's a little early on to be hiring a team, but that doesn't mean you can't get a support network in place. A list of reliable freelancers will help you to better spend your valuable time, doing wonders for your business and your confidence.
Hire someone to handle your company's social media for you, or invest in services and tools that will automate and streamline tasks for you. It might seem like a business expense at first, but it will save you time and money in the long run, and help you feel more confident that your head's above water.
Every minute counts…
Osome's expert accountants and smart software help you spend those hours once wasted on bookkeeping more wisely. It's about time you got those hours back.
Keep Your Finger On The Pulse
One of the best ways to build business confidence is to stay informed. If you're making decisions based off of the latest information, and aware of the latest innovations, you can rest assured that you won't veer too far off track.
Take in a daily dose of useful news;
Read all the industry information available to you;
Remember to stay open to new ideas. The businesses that fail are the ones that miss the boat. Take Kodak, for example. They failed to realise how disruptive a technology digital photography would be, and now they're toast.
You could even consider taking some courses to further your knowledge— you'll be able to put this against your business as a tax deductible expense too.
Manage Your Finances Effectively
Take care of the pennies and the pounds will take care of themselves. Make sure you can justify every business expense, and keep track of them all too. Agree pricing with suppliers before making any purchases, and figure out the monthly running costs of your business as accurately as possible.
Creating a budget and sticking to it
The easiest way to stay financially responsible is to create a monthly budget— and stick to it. Consider creating a budget in line with the financial year. Take a look at your business's bank account to see how much money you have to last you and calculate how much you'll need to each month to run your business. Some months may be more expensive than others— like the Christmas period for consumer goods companies. Build that into your budget.
Stay vigilant. The best way to feel like you have a proper hold of things is to have a tight grasp on the purse strings.
Managing cash flow and monitoring expenses
Along with a monthly budget, you should create a cashflow forecast. List all your projected income and expenses. Subtract your expenses from your income and you'll have your cashflow figure. Take a look at how you can improve your cashflow management here.
Planning for the future and securing funding
If your cashflow figure is a negative figure, don't worry. A lot of businesses have a negative figure when they first start out. You'll just have to figure out how to secure some future funding to keep your business afloat. This could come from family and friends, or from outside investors. Securing funding will give you the confidence of knowing that your business can keep on keeping on.
Building and Maintaining a Positive Reputation
Think about how you can keep your customers coming back. Along with a great product, excellent customer service will be one way of securing return customers. A restaurant doesn't survive on one-time diners.
Make sure items are delivered on time and in a presentable manner.
Add a touch of personality that makes your business feel approachable.
Keep a clear channel of communication between you and your customers, whether that's through a customer service representative, an email address that's checked regularly, or a social channel where they're able to leave comments and feel like part of the community.
Maintaining a good relationship with your suppliers and partners will keep you confident that they'll deliver on time and to the quality that you expect— and your customers will have confidence in your service too.
You might receive criticism from time to time. Don't beat yourself up over it. Instead, stay positive, take the criticism on board, and do your best to fix it. Complaints are unavoidable, how you deal with them will shape your business. One small business owner put it in a way that stayed with us, "Complaints are opportunities, not obstacles". Don't take them personally.
Key Takeaways
Enjoy the process of running your business and you'll feel more confident every day.
You can feel stressed working for someone else, let alone running your own business. But, if you change your perspective to see stressful times as a challenge to be overcome, you'll view them in a positive light and celebrate the things you achieved at the end of each day.
Demand the best for your business by putting in the work and you'll feel business confident in no time.