Top 5 AI-Based Marketing Tools Every Hong Kong SME Needs to Use
In this Osome guide, we delve into AI marketing tools that can revolutionise your Hong Kong SME's business approach. From crafting compelling product imagery to automating financial administration, explore the top AI tools that are revolutionising digital marketing for SMEs.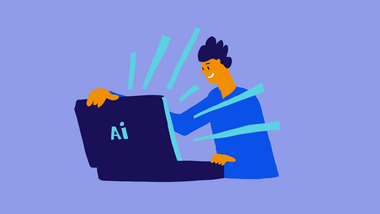 Owners of businesses who decide to embrace AI will soon witness its potential in optimising operations, fuelling growth, and refining the client experience.
In this feature, we'll delve into five methods in which AI resources can reshape your SME's approach to initiating, cultivating, and expanding your venture. We'll also gain insights from Ben Alistor, a prosperous Amazon FBA entrepreneur, on his AI usage strategy for his ecommerce business.
Why AI Is the Unexplored Treasure for SMEs
Artificial Intelligence may seem like a luxury reserved for multinational corporations with hefty budgets. However, the truth is, you don't need to be an 800lb gorilla to benefit, AI is equally beneficial in freeing SME owners from tedious tasks and curbing unnecessary expenditures.
Achieving more with your time
AI provides a significant edge by automating monotonous tasks and trimming the time required to perform them. The payoff? You and your team can focus on strategic undertakings.
Ben shares,
"Efficiency is key, and time is invaluable. With AI, tasks that used to take us 30 minutes can be accomplished in just 10. It's a profound transformation."
But it's not only about time-saving. The strategic use of this saved time could offer a competitive advantage. Ben firmly believes that this innovative use of AI is what sets solo entrepreneurs on the pathway to victory.
"For me, it has allowed me to reduce the time spent on tasks. So instead of studying one product a week, I can now handle three." — Ben Alistor
The pitfalls of neglecting AI
Ben emphasises the need to stay current with evolving times. He compares it to the shift from brick-and-mortar shops to online platforms, stating,
"Businesses that didn't have faith in online shopping found themselves left behind during the pandemic. If you fail to evolve with the times, you'll be grappling with dwindling productivity, compromised efficiency, soaring costs, and fierce rivalry from businesses employing AI."
Launching Your AI endeavour
We get it — deciding where to start with AI can seem overwhelming. But Ben's advice is clear-cut:
"Educate yourself as much as possible. Devote time each week, even if it's just an hour or two, to pondering how AI can boost productivity and efficiency. Begin with education, and then find practical applications to put it to the test."
Five Ways AI Tools Can Catapult Your Business
Now, let's look at five ways AI marketing and business operations tools can benefit every entrepreneur, and suggest a few to help you get started.
Crafting Eye-Catching Product Imagery
Generating unique product imagery has become simpler — and more budget-friendly. AI digital marketing tools offer image editing functions like automatic adjustments to lighting, hues, and backgrounds.
This equates to time-saving via automation of the editing process, or cost reduction by eliminating the need to outsource. These tools even allow you to forgo the necessity for comprehensive styled photo shoots.
Recommended tools
Effortlessly Designing a Website

The next generation of hassle-free website development is here. The era of spending a fortune to build a website is over. With AI, you can do away with the need to outsource a significant part of the website construction process. From creating SEO-optimised content to image selection, design, and development, these tools will have you operational in no time.
Recommended tools
Free Yourself From Financial Administration
AI-enabled accounting software can automate data entry, extract data from invoices and receipts, and categorise transactions, saving time and minimising errors. The result? More time for you to focus on core operations and strategic decision-making.
Recommended tools
Osome: In accounting, timeliness and accuracy are vital. Osome is an accounting and financial management platform equipped with AI and Machine Learning (ML) technology. This means less manual data entry, faster document processing and bookkeeping, and improved accuracy. However, the real advantage for founders is the software taking care of the grunt work, allowing your Osome accountant to offer a more personalised service.
Producing Persuasive Sales Material
Want to upgrade your marketing and sales materials on a tight budget? AI could be your answer. With a host of tools, you can create customised emails in your brand's tone, professional presentations, and automate sales processes. These will assist founders who wish to lightly test marketing ideas, or generate better sales resources without outsourcing.
Recommended tools
Conducting Product Research in an Instant
AI tools like chatbots aren't just for answering queries. They can also generate human-like responses, providing you with a profound understanding of customer needs. Or, they can offer advanced search functionalities and data analysis, enabling you to gather market data, customer sentiments, and identify trends effortlessly.
Ben gives us some insight:
"Instead of manually trawling through customer reviews or scouring the web, I can rapidly summarise the last 50 reviews using ChatGPT. Then, I can ask specific questions to the chatbot or any other AI tool about what customers seek when buying a product, like a yoga mat. This gives me insights beyond what I might have contemplated, such as factors like slipperiness and size, which are crucial when dealing with suppliers."
Recommended tools
Ben shares his final thoughts on using AI to accelerate business growth:
"Technology can be daunting, but AI is a tool we can use to our advantage. I believe any entrepreneur can educate themselves about AI and learn how to apply it to their business."
We hope this look into the top AI tools for digital marketing inspires you to explore the potential of AI for your SME. It's a brave new world of automation and efficiency out there, and your business deserves to be a part of it.
Let AI Sort Your Financial Admin
Say goodbye to the days of tedious spreadsheets. Osome's AI-assisted software automates your routine financial and accounting tasks, while our expert accountants provide the support you need to expand your business. Your business evolution begins with Osome.
Further Reading