A Guide to Trademark Registration in Hong Kong
Even though it's not mandatory, a registered trademark could be a pretty valuable asset for setting up business in Hong Kong.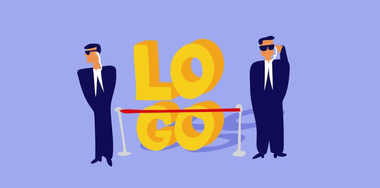 A trademark's purpose is to officially distinguish your business from others. Not only does it prove you're the owner (protecting you from other businesses using or abusing it) it also means that it can't be used without your consent. It's also a way to stand out from competitors and maintain the edge you need.
Even though it's not mandatory, a registered trademark could be a pretty valuable asset for registering business in Hong Kong. In this article, we'll take a closer look at how the application process works.
What Items Can I Trademark in Hong Kong?
The rule of thumb is that whatever you want to trademark needs to be able to be represented graphically.
Here's what the Intellectual Property Department lists as items or signs that could be subject to trademark registration in Hong Kong:
A word, words or a phrase (think abstract words or personal names)
Characters, numerals or letters
Packaging shape or design
Pictures, shapes or figurative elements
Colours, sounds, smells
Seems Pretty Broad, Doesn't It?
You have the freedom to choose a trademark that resonates with you, but remember to consider a few factors that are also important in the process. Think of these like guidelines to steer you on your way toward making that final decision.
What Are The Important Characteristics of a Trademark?
Let's unpack a couple characteristics to keep in mind when applying for a trademark in Hong Kong, and more importantly, the reasons they matter.
Relevant: Think about the trademark you're after, then think your business. It should be visually relevant for the field you're in or add a bit of context. In short, if it's relevant it should feel like it makes sense.
Distinct: Along with being relevant, you should go for a trademark that's clearly distinguishable and pertinent to your business and offering.
Unique: If you're proposing a term, mark, symbol or word for your business that's already used by someone else's business, you're not likely to get your application approved.
Similarity: The trademark you propose shouldn't sound or look like any other trademark that's already registered.
You don't need to play guessing games when it comes to those last 3 points. In fact, there are ways to check whether the trademark you're after is already in use (saving you time and money down the line).
To Register or Not To Register?
There's an official online database that you can search to get an idea of the likelihood that your application will be accepted. You can choose to pay a fee (we'll get to that a bit further down) for this service, or you can opt to search the online Trade Mark Search system.
I'm Ready To Apply for My Trademark! What's Next?
Next up comes the application process This means preparing your application form to send off to the official Trade Marks Registry.
The application form will ask for your details, along with your company's details. It will also include a formal request for the trademark registration you're after (including a graphic representation of it) and some context to the goods and services you sell, which your trademark will ultimately represent.
What Happens After My Trademark Application Is Sent?
A few important steps happen once you've submitted your completed application form to the IPD. We've expanded on them below to give you a better sense of how the whole process works.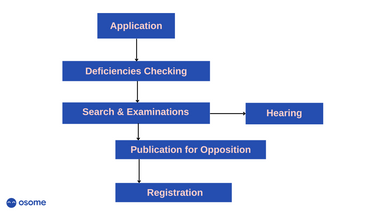 a) Application filing: We've already covered this, but to recap, this is where you provide your form and details about the "mark" you're applying for.
b) Deficiencies checking: Your application (i.e all the forms and supporting docs) is checked to make sure all it's aligned to the IPD's requirements and standards.
c) Search & examination: This is where your actual trademark application is evaluated and checked to be unique (i.e not similar or the same of one that's existing) so it can ultimately be accepted for registration.
d) Publication for opposition: The trademark you're applying for will be featured in the Hong Kong Intellectual Property Journey which is available for public inspection. It can be opposed by a third-party within a timeframe of 3 months and if this is the case, you'll be told why.
e) Registration: If all goes according to plan and procedure, the trademark you've applied for will be published in the Journal and you'll get an official certificate of registration to prove it.
Are There Fees for Trademark Registration?
Yes. The amount you pay depends on what you're registering or the services you choose to utilise in addition. Below is what you can expect to pay but as these amounts may fluctuate, make sure you double check during your registration. Keep in mind that these registration fees are not refundable, so it's worth being extra thorough in your application.
| | |
| --- | --- |
| Trademark Registration Fee | What it Covers |
| HK$2,000 | Registration of a single trademark in Hong Kong |
| HK$1,000 | Registration of each additional class of goods or services (if applicable) |
| HK$400 | Search and Preliminary Advice services offered by the Hong Kong Trade Marks Registry |
| HK$200 | Verification of each additional class of goods or services (if applicable) |
| HK$2,670 | Renewal of registered trademark |
| HK$1,340 | Renewal of registered trademark (per each additional class) |
Approvals and Validity Period
How Long Will It Take?
Around 6 months from your application date (if no other applications were filed in between then)
How Long Is It Valid?
10 years from the date of filing.
Can I Renew My Trademark?
Of course, you can do it for further periods of 10 years for as long as you like, but you will need to cover the renewal fee we mentioned above.
When Should I Apply for Trademark Renewal?
Think 6 before and after. You can renew your trademark 6 months before it's validity expires and within 6 months after it's expired. Nothing more.
Can My Trademark Be Cancelled?
Yes, it can be but only if it hasn't been used within 3 years (consecutively) from the date it was registered. To avoid cancellation, simply prove genuine use of your trademark, even if minimal.
A Quick Recap
✓ A trademark gives you the exclusive rights over a design, sign, words or symbol that represents your business
✓ Before you apply for registration of a trademark you'll need to check it's not already in use
✓ There is a fee for trademark registration but once approved, it's valid for 10 years
✓ Your trademark can be renewed 6 months before expiration but will entail a fee and resubmission of some important docs
✓  To avoid it being cancelled, you need to prove use of your trademark within 3 consecutive years of registration
Tip
We hope this article helps you have a better idea on the importance and how to go about applying for a trademark for your company. While we don't usually help with trademark matters, if you need help to get other secretarial tasks in Hong Kong, we can get it done for you.