Dates and Events to Use in Your 2021 E-commerce Sales Campaigns
Singaporeans spent an average of S$113 online from January to June 2020, driven mostly by high-value shoppers. Find out which dates they do more shopping on.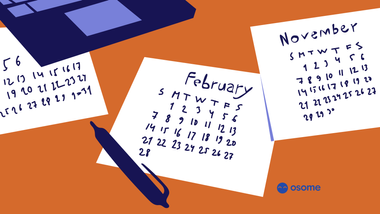 Singaporeans spent an average of S$113 online from January to June 2020, driven mostly by high-value shoppers. The average basket size in the city-state – considered as ASEAN's most prominent e-commerce hub – also increased by 51% when compared to the same period in 2019.
To ramp up your e-commerce sales in 2021 and to get a slice out of the huge Singaporean e-commerce market, mark the following dates and events in your sales campaign calendar! By the way if one of your goals in 2021 is to grow your business, consider leaving all corporate back-end tasks like bookkeeping, and corporate secretarial work to a service provider like us. You grow your business, we'll do the rest.
SINGAPORE PUBLIC HOLIDAYS 2021
New Year's Day - Friday 1 January
Chinese New Year - Friday 2 April
Good Friday - Friday 2 April
Labour Day - Saturday 1 May
Hari Raya Puasa - Thursday 13 May
Vesak Day - Wednesday 26 May
Hari Raya Haji - Tuesday 20 July
National Day - Monday 9 August
Deepavali - Thursday 4 November
Christmas Day - Saturday 25 December
Mother's DaySunday 9th May
Father's DaySunday 20th June
Great Singapore SaleMonday to Friday 21st June to 25th June
Singles' DayThursday 11th November
January
4 January – Back to School
The 'Back-to-School' rush in Singapore means that uniforms, stationery and the latest gadget will all be in very high demand ahead of the academic year.
February
12 and 13 February – Chinese New Year
In Singapore, Chinese New Year shopping tends to peak in the two weeks before the holiday where people buy gifts, clothing and home decor for the festivities and the new year ahead. Busy enjoying the festivities and participating in family rituals during the two days of the Chinese New Year public holiday, they spend less time shopping online on those two days. Online sales begin to dip five days before Chinese New Year.
E-commerce platforms such as Amazon, Shopee, and Lazada, sell unique Chinese New Year-related items from heritage brands during this season. Shoppers also like to purchase heavy home appliances then.
March
8 March – International Women's Day
Vital for any retailer focusing on women, you could offer discounts on this day or run a charity-based campaign to support women in need around the world.
April
22 April – Earth Day
Eco-friendly products entrepreneurs who promote sustainable goods could bank in on this day. Showcase your brand's story and highlight how your products help save the environment and promote sustainability efforts.
May
9 May - Mother's Day
According to the National Research Foundation Singapore, in 2020, more than eight in 10 consumers surveyed said they will celebrate Mother's Day, with 78% saying that celebrating Mother's Day is important to them given the current state of the coronavirus.
Greeting cards, flowers, and even special dinners top the list of planned purchases. It may be worthwhile to take a more reflective, heart-warming approach in your marketing campaigns.
12/13 May – Eid al-Fitr/Hari Raya Puasa  
Eid Mubarak, everyone! Month-long Ramadan ends with the celebration of Eid. Muslims get dressed up in their best clothes, exchange gifts, and enjoy a feast with family and friends.
Elegant, modest fashion is popular for Eid. Zalora, FashionValet, and several other fashion e-commerce platforms and merchants run dedicated sales for Eid. Homeware and baked goods tops sales too.
June
20 June – Father's Day
Father's Day falls on June 20th this year. And as with Mother's Day, for many brands, there's a strong chance of increased traffic. Take the time to do some targeted marketing. You could also offer free wrapping and delivery to boost sales.

21 - 25 June – Great Singapore Sale
Singapore has held the month-long Great Singapore Sale (GSS) annually since 1994. Many retailers across Singapore participate in the sale, offering huge discounts.
Physical stores sales continue online too; e-commerce platforms and online merchants have jumped on the bandwagon. In 2018, Lazada went the extra mile by holding a GSS pre-sale and a GSS Last Chance sale, aside from the main event.
July
20 July – Eid al-Adha/Hari Raya Haji  
Hari Raya Haji marks the end of the Hajj, the annual Muslim pilgrimage to the holy city of Mecca. Although there are no updates yet whether there will be a pilgrimage for Singaporeans this year, retailers targeting Muslim populations should still take note of this holiday as it will still be celebrated locally.
August
9 August – National Day
2021's National Day falls on a Monday – making it one of the long weekends in Singapore. Singaporean-based businesses will do well to showcase their patriotism here. Retailers in the hotel industry might want to take note of this day as Singaporeans would usually book their 'staycations' trips on National Day.
September
9 September – 9.9 Sale
9.9, held on September 9 marks the start of the year-end shopping season. In 2019, Shopee recorded a peak order volume of 187 thousand orders per minute in 2019. In Singapore, over 90 per cent of orders were placed using mobile phones. Shopee took advantage of this high mobile usage by running in-app games, such as Shopee Shake, which allows users to win Shopee coins. The platform also ran daily Spin-the-Wheel games with prizes such as promo codes and bonus coins. Mobile and gadgets, health and beauty and games and hobbies were top-selling product categories for the event.
October
1 October – International Coffee Day
International Coffee Day celebrates the one drink that helps so many of us go on with our daily lives. Engage with your audience by asking them to share photos of their favourite blends and offer them some personalized mugs to enjoy this beloved beverage.
November
4 November – Deepavali
This is the biggest shopping season for Indian households as they prepare to spend on lights, presents and festival ornaments. Expect abrupt surges in orders and spending here especially if you cater to a primarily Indian market.
11 November – Singles' Day
Singles Day is typically a 24-hour shopping period that started in China and is also known as Double 11 since it happens on Nov. 11. Many retailers across Southeast Asia have since adopted the event, giving customers steep discounts and attractive promotions on the day.
So, how do you cash in on it? We'd recommend discounting those top-tier products, or items on your customers' wish lists — it's a great time to encourage a little self-indulgence.
Also, be sure to highlight your best bait products. The data tells us that brands typically do well on women's cosmetics, perfumes, and accessories, and for men, gadgets come out top -especially those targeted at young adults.
26-29 November – Black Friday Cyber Monday (BFCM)
Black Friday traditionally starts the weekend after Thanksgiving, which would mean this year it would fall on 26 November, with Cyber Monday following shortly after on 29 November. If you have a  blog alongside your e-commerce business, post weekly at least 2-3 weeks before the big weekend to remind them of the date. Do send out topical emails a few weeks before, e.g. Amazon's effective email marketing. Also, have a dedicated Black Friday homepage to entice your customers, and hype them with a countdown there too.
December
25 December – Christmas
Singaporeans continue shopping near Christmas Day on December 25—and even afterwards. One reason is that merchants also offer post-Christmas markdowns as well as back-to-school sales during the festive season.
Singaporeans buy Christmas gifts for themselves, their loved ones, and their office parties. Every year, numerous articles are written with ideas for gifts under $20, especially for office gift-giving. Christmas baskets and customised items are also popular items, especially for business-to-business gift-giving.
Preparing Your Business for 2021 Sales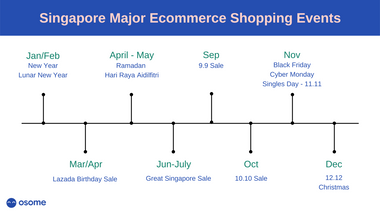 Make sure you have the necessary plugins available on your e-commerce store so that you can keep track of all the invoices and receipts you have. If you're using Shopify, there are apps that can easily export your orders during these sales as invoices. Integrate your store with the Xero app so you can have financial reporting with just a couple of clicks. If you need advice on how to stay on top of your e-commerce accounting, leave it to us.