8 Ways To Save Time As A Singaporean Small Business Owner, As Told By An Accountant
Accounting tasks can be time consuming, but that doesn't mean you can't find ways to free up time so you focus on what matters most to your business. In this article, we speak to a qualified accountant who shares his tips on how you can save time and money.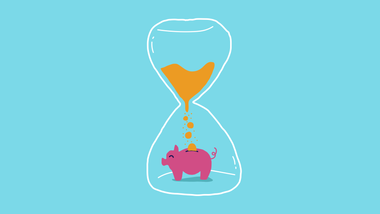 ​​Running a small business is no easy feat. No matter how focused, diligent, or driven you are, there are only 24 hours in a day and it's easy to lose track of time when you're having a hectic day.
As you grow your business, the last thing you probably want to worry about is accounting. In the initial stages of running your business, maintaining your books could seem manageable. However, as the business expands, the accounting tasks can quickly feel overwhelming – especially when tax season rolls around.
Don't fret – at Osome, we know the pain points of small business owners like yourself. In this article, we speak to our accountant Yinghua Luo, who has been working at Osome for two years now. Originally in the accounting industry, Yinghua now focuses on assisting our ecommerce clients. Ahead, she shares 8 good accounting tips that can save you time and money.
Planning
Take some time to plan things out for your business. It can be the next financial quarter, or even the entire year as a whole. Identify the key dates that are important for you to stay on track with your business plan. Other than milestones to grow your business, remember to jot down the crucial tax deadlines so you can stay compliant with the legal requirements in Singapore.
Automated Reminders
Never worry about missing a due date by setting up automated reminders for bills, invoices, payments and tax deadlines. These personalised reminders can meet your individual business needs, and help you communicate politely and effectively with your clients to ensure that your business will always have a healthy cash flow.
Automate Business Responsibilities
With modern technology, automation can help you save time in your daily business operations. From accounting, to payroll, to marketing, you can automate your business responsibilities so nothing falls through the cracks. By implementing automation tools, you can simplify repetitive tasks such as invoicing, tracking expenses, and generating financial reports – and make sure your automated processes help your business run like clockwork.  
Osome has everything in one place – from integration, to accounting, to reporting. This allows small business owners like yourself to have everything at your fingertips, all in one app. Osome's automation is really advanced and continuously being developed to increase what can be resolved automatically. For example, we get sales information from Osome which is then automatically reconciled, giving you instant information about your account.
Furthermore, a high percentage of Osome's processes will be approved automatically by Artificial Intelligence. Then it's checked manually to avoid any errors and improve the AI's decision-making ability. Expert accountants are still involved, but only when it comes to resolving something abnormal. AI increases efficiency by taking care of most processes.
Outsourcing
If accounting tasks are taking up too much of your time, why not spare yourself the headache by outsourcing accounting tasks? By leaving it at the hands of an expert, there will always be someone reliable for you to turn to if you need advice.
With your accounting outsourced, you can get assistance in preparing your financial statements so you can rest easy. These accounting experts can be your company's point of contact with the auditors and look after the complicated accounting matters. During the audit process, auditors will scrutinise your company's financial statements to ensure they are in accordance with accounting standards. When financial statements are well prepared, it is highly likely that your audit will proceed smoothly.
With accounting out of the way, you can focus your energy on what really matters to grow your business.
Cloud-Based Accounting
Cloud-based accounting is also known as web-based accounting, online accounting software, and cloud accounting. In a nutshell, cloud-based accounting is hosted on a remote server. Since information is stored in the cloud, storage and accessibility becomes easy, enabling you to access financial information you need anywhere, anytime. This also means that you can easily collaborate with your bookkeeper or accountant, with data processing done within seconds and minimising chances of human error. Best of all, your company does not even need to hire more IT professionals or purchase new hardware to monitor and manage the cloud-based accounting system, since it is affordable and intuitive to use.
Bank and Credit Card Integration
Digital is how everyone makes and keeps track of payment these days. Forget traditional accounting where you have to manually key in your bills and reconcile statements – instead, sync your bank and credit card accounts to your accounting software and automatically import transactions. This digitises the process with accurate data and reporting, freeing up your time on manual data entry.
Accurate Record-Keeping
In Singapore, record-keeping is a legal requirement and is important for managing costs. If you are just starting up your business, it might not be the first thing that comes to your mind, but accurate record-keeping can help you establish a strong foundation. When you maintain good records, you can keep tabs on your business's performance and not worry when tax season comes around.
Digitise your paperwork to keep track of everything effortlessly. With your records and documents online, record-keeping can be hassle-free and you can easily search your records from different devices.
The Inland Revenue Authority of Singapore (IRAS) states that companies must retain their accounting records and supporting documents for a minimum period of five years from the relevant Year of Assessment (YA).
The financial year of Elizabeth's ecommerce company ends in December. Therefore, the records for her company's financial year of 2020 should be preserved until at least 31 December 2025.
Regular Reviews
Take the proactive approach and make it a point to schedule regular reviews with your accountants, so you can take time to review your business finances and identify any potential issues as soon as possible. This way, you can address those issues before they become a bigger problem.
Say Goodbye to Accounting Woes
If you've had enough of your accounting chores eating into your precious evenings, weekends and holidays, now's the time to change things. Let our experts take care of invoices, reports, and taxes while you grow your business
At Osome, we provide accounting and bookkeeping services in Singapore for all types of businesses. We work with clients in different industry sectors, and they trust us because we know the unique problems they face in their business.
Top tip:
You grow your business, we'll do the rest. Experience the Osome difference today.