How Selling Her Belongings Helped Huda Build Two Successful Businesses
Some people make an impact on others. Some people help others make an impact on the world. Entrepreneur Huda Hamid sold her belongings to turn S$800 into a social enterprise. Learn more about how Fempreneur Secrets is changing the lives of female entrepreneurs everywhere, only on the Osome blog.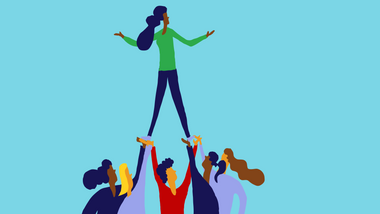 We interviewed Huda, founder of Fempreneur Secrets, a social enterprise empowering female entrepreneurs by giving them access to business education, and Blissful Studios, a video production company that creates high quality marketing videos and content for Fortune 500 companies. To hear more about her journey, her goals, and her advice to female entrepreneurs everywhere. Read what words of wisdom the insightful Huda had to share below.
Where It All Began
Starting a business takes determination, passion, and resilience. Huda's journey towards entrepreneurship helped her gain these.
Huda's story began when she was just 21 years old. She struggled to stay in school due to financial constraints and a sense of duty towards caring for her family. As a result, she dropped out, which led to difficulties in finding a job. Despite applying for many positions, she didn't get a single call back for two years. This forced Huda to take matters into her own hands. She decided to start her own business. Ever since, Huda's been unstoppable.
With limited resources; a laptop, iPhone, iPad, and a camera, Huda started Blissful Studios. She raised capital by selling her iPad, downgrading her iPhone, and raising about S$800, which became the starting point for her business.
A Social Enterprise Set To Change the World
Her interactions with clients, who were mostly women, inspired her to establish Fempreneur Secrets. Through this social enterprise, a platform that empowers and coaches women to build profitable businesses online, she has helped women all over the world receive business education and support, regardless of their financial status or education level.
Fempreneur Secrets operates on a five-help-one model — for every five women who invest in their own learning, one woman from Southeast Asia and beyond is sponsored to gain the same business knowledge. Moreover, the enterprise supports women from less developed economies and marginalized communities to gain access to affordable business education. Huda believes that being skilled in business is a survival skill, and it should be accessible to everyone, regardless of their education level or financial status.
"We want our voice to be heard, and we want people to give a seat to women… People are talking about it. There should be an equal ratio of men and women in panel discussions."
Huda's mission and vision for Fempreneur Secrets are deeply rooted in empowering women and giving them the confidence and courage to make their own choices. She believes that by giving someone a hand with that initial lift up, they'll one day have the power stand up on their own two feet, and even to go further. To leap.
Celebrating Others' Success
Huda's proudest achievement is not her own, but the achievements of others' It's the success of the entrepreneurs who have gone through the beneficiary five-help-one programme at Fempreneur Secrets. She has seen women borrow money for the application fee and invest in their own learning, and eventually earn up to $2,500 a month.
Advice to Aspiring Entrepreneurs

Look beyond products and trends and focus on your skill sets, resources, and passion.
Having a clear mission and vision in business keeps entrepreneurs grounded and aligned with their goals.
Find the right alliances and connecting with like-minded individuals. Entrepreneurship can be a lonely journey, and having a support system is crucial for success.
And take the 'female' prefix away from 'entrepreneur'.
"It's time to normalize female entrepreneurs being referred to simply as 'entrepreneurs'. It's time we started establishing ourselves as the experts."
A quick note on support systems
Osome can help you focus on what you do best — running and growing your business. While you change the world, there's nothing like the peace of mind that comes with your financial admin being in good hands.
What About the Future?
Fempreneur Secrets is constantly expanding to new countries to make their programmes accessible to more people, particularly in Southeast Asia. They're working on translating their materials into different languages, too, so more women can gain the knowledge they need to set out on their own business journey.
We're excited to see what Huda and all the entrepreneurs of Fempreneur Secrets accomplish in the future.