A Guide to Changing Company Name and Information
Change is part and parcel of business—so you need to know how to change your company name and information in order to stay fully compliant with HMRC and Companies House going forward.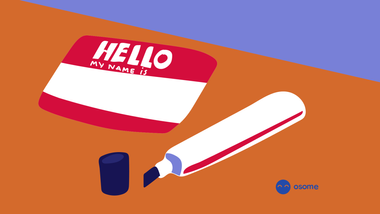 Businesses are never set in stone. Perhaps you're going through a significant rebrand and so want to change your name. Perhaps a director is leaving the company, or a new one is joining. Or maybe you're just changing your business's registered address. In other words, change is part and parcel of business—so you need to know how to change your company name and information in order to stay fully compliant with HMRC and Companies House going forward.
Fortunately, changing the name of a company (or any other changes) isn't as hard as it might seem. This article will outline the process in detail, explaining who you need to tell, how you can get in touch with them, and when the changes will take effect.
By the way, Osome helps you set up you company in the UK, just saying!
Getting Agreement From The Company
Unsurprisingly, unless you're the sole director or the sole entitled shareholder, you can't just go ahead and make significant changes on a whim. Before making any changes, you must first gain agreement from the rest of the company. In other words, you need to get your directors/entitled shareholders to vote in something that's known as a "passing resolution".
This vote basically confirms that everybody's on board with the proposed changes. After all, it'd be mayhem if one individual could change the company's name and information without everybody's agreement!
You need to pass a resolution if you are considering:
In other words, you don't need to worry about passing a resolution if you want to change the type of coffee you use in the office or the day when you run fire alarm drills—resolutions only apply to large, structural changes.
But what exactly is a resolution?
"Passing a resolution" sounds pretty fancy, but in reality, it can be as simple as a show of hands at a meeting. In fact, you don't even need to do that. You can instead just confirm the resolution in writing if enough shareholders/directors have already told you that they agree with your proposed changes.
Most decisions can be passed by an 'ordinary resolution'—this simply means that more shareholders/directors agree than disagree. However, for major changes (like changing your articles), you may need a 75% or 95% majority (also known as a 'special resolution' or an 'extraordinary resolution').
To check whether you need an ordinary or special resolution, simply check your articles of association.
Note
You need to write to all shareholders telling them the outcome of all resolutions.
Keep Companies House In The Loop
Great, so the rest of the business agrees with these changes—what's next?
Once you've successfully passed a resolution, you then have to tell Companies House of all changes. Companies House is the ultimate directory for all UK-based businesses, keeping an up-to-date record of all companies, their directors, financial records, and so on.
Therefore, they have to be notified of any and all:
When Do I Have To Tell Them?
Companies House wants to keep accurate records at all times. With that in mind, they ask that you stick to the following timeline when notifying them of any changes:
14 days
Changes to where you store your company records
Changes to your directors or their personal details (such as their address
Changes to your company secretaries, people with significant control (PSC) in the company, of if any of their personal information has changed
15 days
Changes to your constitution or articles of association
21 days
1 month
If you issue more shares in your company
So, How Do You Actually Get In Touch With Companies House?
Unfortunately, it's not quite so simple as quickly pinging off a text to Companies House notifying them of your company's recent changes.
The easiest way to notify them is to use the Companies House online service. This requires using the email and password that you used when signing up for the Companies House online service, as well as the authentication code that they sent you.
Never used the service before? No worries—simply register online to get started. Once you've finished the registration process (which should take 5 to 10 minutes), an authentication code will be sent to your registered office address.
This process costs £8, or £30 for the same-day service.
Or, if you don't fancy using the online service, then simply do it the old fashioned way: pen and paper. Visit the GOV.UK page that lists all Companies House forms for limited companies, scroll down until you see the relevant form (such as the 'Change a company name (NM01)'), download and fill it out, and finally, send it off.
If you're using this method then you have to include a copy of your resolution alongside your application, as well as a cheque for £10 made out to the address on the form (though this is £50 if you want the same-day service).
When Will The Changes Take Effect?
Changes by post will only take effect once Companies House has actually registered them—so it's not instantaneous. Somebody from Companies House has to see your change and put it into action. If you make your changes online, however, then they will come into effect as soon as you register them.
Make Changes With Confidence
If you're overhauling your company—whether you're wondering how to change the name of your company, its information, line of business, or more—then consider getting in touch with Osome's accounting experts in the UK. We'll be on hand to guide you through the process, ensuring you've filled out the right paperwork, let the right people know of all changes, and that you're fully compliant throughout the process.