6 Ways To Get Paid Quicker as a Freelancer or Small Business
Business cash flow can cause you a great amount of stress, and one main reason stems from late payments. Thankfully, you can take actionable steps to prevent this from happening, and get paid quicker. Read on to find out more.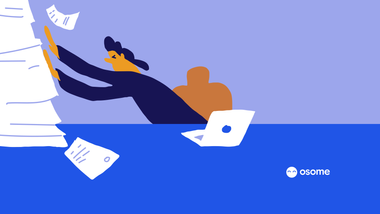 As your own boss, business cash flow issues can be a significant cause of stress. More often than not, cash flow problems stem from late payments, which may result in your inability to pay off bills or contribute to your growth goals. This is why it is so important for you to keep tabs on your cash flow, and rectify any issues that may arise.
For instance, there are ways you can get paid quicker as a freelancer or small business. With payments coming in, you won't have to fret about your cash flow. In this article, we discuss 6 ways you can get paid on time.
How To Get Paid Quicker
These 6 strategies can help make sure you receive prompt and regular payments on time.
Choose clients wisely
To prevent yourself from being in the situation of not getting paid, always ensure that you do a background check on your clients to make sure that they are legitimate and do not have any prior complaints.
Here's what you can do:
Check if they are registered on Companies House
Ask for referees they have previously dealt with, and check with referees if they got paid on time
Have a Contract in Place
To protect your interests, always remember to only begin assignments with written contracts. When things are fine and dandy, contracts can seem like unnecessary paperwork. However, when things go awry, it can be difficult to pursue your case without proper paperwork. Therefore, a written contract is vital for you as a freelancer or small business owner, to provide legal protection against any unpaid fees.
With the written contract, make sure that your name or company name is clearly stated, outlined with the specific scope of work, agreed time frame and amount, as well as responsibilities between you and your client and the recourse if any party fails to fulfill the contract terms.
Create an Invoice Template
Creating an invoice - a guide
Find out all you need to know about creating an invoice here.
When it comes to sending out your invoices, always remember to be timely. The quicker you send out an invoice after providing a product or service, the more likely you are to receive your payment on time since it will be top-of-mind for your client.
To get started, come up with an invoice template so you can easily invoice every time you are done with your deliverables. This allows you to simply tweak some details for the time you need to invoice. A well-designed invoice should include the following:
Company name
Contact information
Invoice date
Invoice number
Outline of provided services or goods
Payment terms, including bank details
Discounts
Value-Added Tax (VAT)
Amount due and due date
To help you out, there are also multiple tools available for you to create your invoice template.
Invoice With a Shorter Payment Timeframe
Payment terms refer to the payment agreements you set with your clients, including when you expect to be paid. As a freelancer or small business owner, the payment terms are ultimately up to you. While 30 days is the industry's standard, you could adjust it to one or two weeks after invoicing – that's entirely your decision. For big projects, you can also request for payments to be staggered so you don't have to wait a month after the work is delivered to be paid for your efforts.
However, there are instances that you have to adhere to a client's payment terms in the event that they have procedures in place for paying vendors. In fact, some bigger companies stand firm on 45, 60, or 90-day payment terms. In such cases, you will have to decide if you want to take up the work.
The key here is to outline your payment terms upfront for the client's approval, so you can fall back on this agreement should they fail to meet your terms.
Make Payment Effortless for Clients
Make it a point to provide your clients with multiple payment options – otherwise you may very well be prolonging their payments unintentionally. Set up multiple payment channels to meet your clients' needs, and this also gives the impression that you are meticulous and forward thinking. In the long run, this could lead to repeat business and prompt payments. Whether it is a credit card, local bank, or international transfer through a multi-currency wallet, accepting all payment modes can improve your chances of getting paid on time.
Follow Up Effectively
Larger invoices may require you to follow up for a bit before you receive your payment. Don't hesitate to follow up with your clients a couple of times prior to the payment due date. At times, your clients may be too busy and accidentally overlook your invoice. In such cases, a payment reminder is always welcomed. A day before the invoice becomes overdue, you could send a payment reminder. If it is still not paid, follow up with a second reminder a few days later. You could also include a polite reminder on statutory late payment interest, which could encourage them to make payment sooner. If you find yourself struggling to make time for follow-ups, fret not. Consider getting your accountant to call overdue clients on your behalf, or simply use an invoicing software to automatically send email reminders for you.
In the unfortunate event that all your efforts still fail to result in a payment, be persistent and call your client or even visit their office in person.
Get Paid Faster With Automation
Don't let your busy schedule hinder your cash flow. Getting paid on time is always a struggle, but fret not. Although you can't control what your client does, you can still set yourself up for success by automating payments. It's often the recurring tasks in your accounting process that takes up most of your time, but the prevalence of technology has enabled us to use accounting automation for invoices.
How Do I Automate My Billing System?
Get paid faster with Osome invoices
Learn more about Osome Invoicng in this article.
You can automate your invoicing process by using a software application or hiring a service provider such as Osome.
By automating your billing method, this helps you to streamline the account receivable/payable functions by providing your clients automatic reminders.
Tip
Osome Invoices allows you to get paid faster – at no additional cost. Get things done with Osome and make online invoicing a breeze. Invoice quicker, and get paid faster today!