How Hong Kong Collects Information About Company Ownership
Every Hong Kong company keeps records about the people and businesses who own it and influence its decisions. Those records make up the Significant Controllers Register (SCR). The authorities can ask for them at any moment.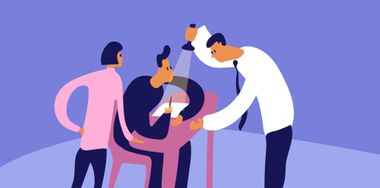 Every Hong Kong company must keep records about the people and businesses who own it and influence its decisions. Those records make up the  Significant Controllers Register (SCR).
A company must keep this document up-to-date as many officials, from the Police Force to the Inland Revenue Department, have the right to inspect it at any time.
By the way, we can help you have  your records in order  with our Corporate Secretary services.
Who needs a Significant Controllers Register
All private companies incorporated in Hong Kong must keep an SCR. Companies listed on the Employee Stock Exchange of Hong Kong are exempt.
Who the Significant Controllers are
Both people and businesses can be  significant controllers of a company. In Hong Kong's legislation, significant controllers are also called "registrable legal entities" and "registrable persons".  
To make it to the SCR, a person or a business  must meet one or more of the five conditions:
they hold more than 25% of the company's shares,
they hold the right to share in more than 25% of the capital or profits in a company without share capital,
they have over 25% of the total voting power,
they can appoint or remove the majority of the board of directors,
they have a significant influence or control over the company.
A person still counts as a significant controller if they  hold  shares or  voting rights indirectly, say, if they  own a firm that has that power.
Also,  a person's  name will appear on the register if  they  control the controllers, for example,  they  are in charge of a trust or a firm whose trustees or members meet the criteria above.  
Let's look at some examples of  companies with significant controllers.
A software company, GoldFinger LTD, is owned by a husband and a wife. The husband Mr. Bond owns 35% of the shares and his wife Mrs. Bond owns 65% of the shares. They both have more than 25% of the overall shares, so they are both on the significant controllers register of GoldFinger LTD.
Xenetics LTD is the only shareholder of Biogenius, which means that Xenetics holds 100% of the Biogenius shares. In turn, 80% shares of Xenetics LTD is owned by Mr. Morpheus. In this case, both Xenetics LTD and Mr. Morpheus are registered as significant controllers of Biogenius. Xenetics LTD directly owns more than 25% of the Biogenius shares. Mr. Morpheus holds more than 25% of the shares indirectly (through Xenetics LTD).
Mr. Chan founded Dark Matter LTD 40 years ago. He is not on the company's board any more, but the directors still listen to him and follow his advice. In this case, the founder is a significant controller as he actually has significant influence over the company.
You can find more details and examples in the Amendment Ordinance and the Guideline on the SCR keeping by CR.
Who a Designated Representative is
A designated representative is a person in charge of dealing with  SCR inspections.
According to the CR Guideline, a company must have at least one designated representative.
A designated representative must be one of the following:
What the company must do with its Significant Controllers Register
A company must:­  
keep its SCR at a registered office or a place in Hong Kong that the authorities know about),
identify its significant controllers, obtain all the needed  information from them and enter it in the SCR
keep the information in the SCR up-to-date,
make the SCR available for inspection and photocopying by law enforcement officers and significant controllers.
So how should a company identify its   significant controllers?  According to the  the CR Guideline, here are the ways to do that :
reviewing all documents and information that is readily available, e.g. going over the company's register of members, the articles of association, the statement of capital, the shareholder agreements or other relevant covenants or agreements,
considering interests in the company as held by individuals, legal entities, trusts or firms,
considering any evidence of joint arrangements or evidence of rights held through a variety of means that might ultimately be controlled by the same person,
doing other research.
It's better  to keep a record of all the steps taken to identify your significant controllers.
When a company identifies a person as a significant controller, they must send a notice to this person within 7 days.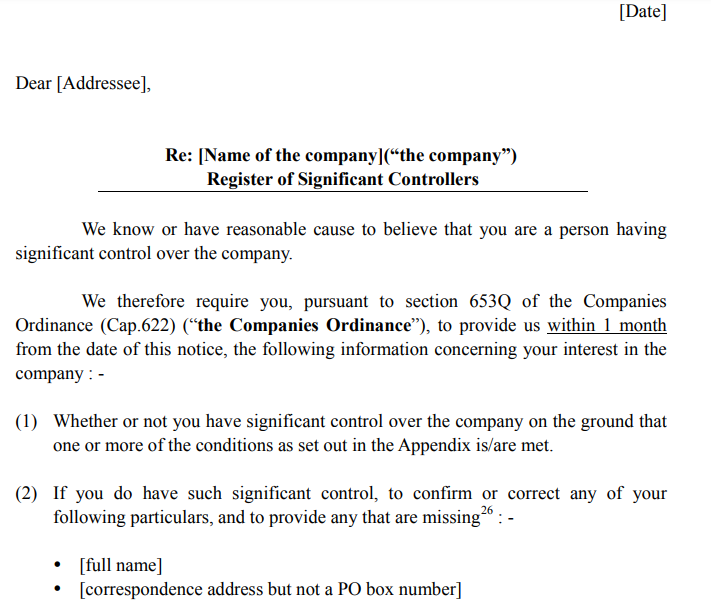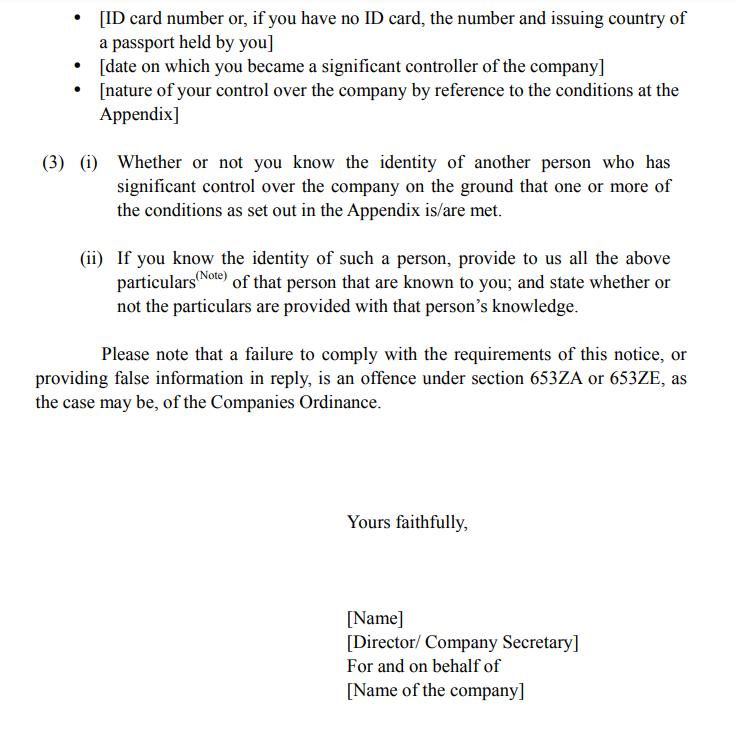 You can find more examples in the CR Guideline.
Keeping an SCR up-to-date means that as soon as any information or circumstances related to significant controllers change, these changes should be entered in the SCR. As a general rule, all changes should be registered within 7 days after the company first learns about the change.
Where to keep an SCR
The SCR should be kept  in hard copy or electronic form at either the company's registered office or at any other place in Hong Kong..
If you want to keep the SCR outside the company's office or move it to a new location, you must notify the Company Registrar about the place where the SCR is kept within 15 days after it was put there. The notification form can be downloaded from the CR web-site.
What is included in an SCR
According to the Amendment Ordinance, a company should keep its SCR in English or Chinese.
Here's what information goes into the SCR if the controller is a person:  
name,
correspondence address (but not a post office box number),
ID number or the number and the issuing country of the passport (if the person has no ID) ,
date on which the person became a registrable person of the company,
the  nature of the person's control over the company.
Here's what the SCR must contain if a controller is a legal entity:­
legal entity's registration number (or the equivalent if it's not registered in Hong Kong),
address of its registered or principal office,
legal type of the entity and the law that governs it,
date on which the legal entity became a registrable legal entity of the company,
the nature of the legal entity's control over the company.
In addition to  data about all of the  significant controllers, the SCR must contain  the name and the contact details of a designated representative, as well as  information about any changes made during its existence.
Here is an example of an SCR for company B:
Entry No.
Date of entry
Name of registrable person / legal entity
Particulars
Remarks/notes
1
25/3/2019
Xenetics LTD

Legal form: private limited company
Registration number: 111111
Place of incorporation: Hong Kong (Governing Law)
Address of registered office:15/F Tung Wai Com, Wan Chai District, Hong Kong
Date of becoming a registrable legal entity: 25/3/2019
Nature of control over the company : Xenetics Limited holds more than 25% of the issued shares of the company

2
25/3/2019
Albus Morpheus

Correspondence address: 6 / F. Blk A Phase 1 Yee Lim Ind Bldg. 32-40 Kwai Ting Road Kwai Chung N. T., Kwai Tsing District, Hong Kong
HKID Card No.: XX111111(1)
Date of becoming a registrable person: 25/3/2019
Nature of control over the company : Albus Morpheus holds indirectly more than 25% of the issued shares of the company

Designated representative
Entry No.
Date of entry
Name (capacity)
Contact details
1
25/3/2019
Wang & Wei (legal professional)

Address : Unit C 10th Floor Block 1 Royal Ascot1 Tsun King Road Shatin, Eastern District, Hong Kong
Telephone No.: 1111-1111
Fax No.: 1111-1111
Note that a company's SCR can never be empty. If a company does not have a registrable person or a registrable legal entity, that should be stated in the SCR.
In the CR Guideline, you can find what should be put in the SCR if a company is still investigating who its significant controllers are and in other common cases.
What happens if a company violates the SCR obligations
Keeping an up-to-date SCR is important to ensure business transparency, so the violation of this duty is severely punished. The company and every person responsible can be punished with a fine of 25,000 HKD, and in some cases with a further daily fine of 700 HKD.
If any person knowingly or unknowingly  enters misleading, false or deceptive information in the SCR they are liable to a fine of 300,000 HKD and imprisonment for two years (if convicted by jury), or a fine of 100,000 HKD and imprisonment for six months. If a controller provides false information to the company, they face the same punishment.