Company Secretary in Hong Kong: What They Do
Modified: 9 October 2023
8 min read
Starting a Company

In Hong Kong, the role of a company secretary is critical for maintaining legal compliance, upholding good corporate governance, improving business efficiency and ensuring business continuity. In this article, we explore the role and responsibilities of a corporate secretary and give you the key factors to consider when appointing one.
What Is a Company Secretary in Hong Kong?
A corporate secretary in Hong Kong is a company's designated representative and is responsible for ensuring that the entity and its activities comply with financial and legal requirements.
While the job title may bring to mind mundane tasks like answering phone calls and scheduling appointments, the role is far more crucial than traditional administration tasks.
Importance of Having a Company Secretary in Hong Kong
If you plan on incorporating in Hong Kong, you are legally required by the Company Ordinances to appoint a company secretary.
This role is crucial for ensuring legal compliance, good corporate governance, and business efficiency and continuity. They maintain statutory records, file annual returns, provide guidance to the board of directors, handle administrative tasks, and help implement contingency plans to ensure the company operates smoothly even during times of crisis.
Roles and Responsibilities of a Company Secretary
Ensure that you appoint the right person for this role as it comes with several key responsibilities, from compliance tasks to representing the company to stakeholders.
1

Ensuring Tax Compliance
There are several tax compliance responsibilities with this role, including:
Registering the company with the Inland Revenue Department (IRD) after incorporation.
Ensuring tax returns are filed correctly and on time at the end of every financial year to avoid penalties.
Claiming reliefs and reducing taxable income for small businesses.
Advising on tax-related matters, such as tax planning and tax-efficient structures.
Seeking advice from authorities on complex tax-related issues when needed.
Maintaining accurate records and ensuring compliance with all tax-related regulations and reporting requirements. (Read up on this in our guide to tax evasion penalties in Hong Kong).
2

Keeping the Company's Legal Records Updated
The role also includes legal responsibilities, such as:
Ensuring compliance with the Companies Ordinance, including maintaining the company's statutory records, updating its registers, and ensuring that the Annual General Meeting (AGM) is held within the prescribed time frame.
Filing Annual Returns with the Companies Registry, which contains updated information on the directors, shareholders and other essential details.
Ensuring compliance with relevant laws and regulations, such as employment laws, data protection laws, and anti-money laundering regulations.
Acting as the liaison between the business and regulatory authorities.
Advising on legal and regulatory matters.
3

Conducting and Participating in Board Meetings
The company secretary will conduct and participate in board meetings. They're responsible for:
Preparing and circulating notices of board meetings per the Articles of Association and relevant regulations.
Drafting the agenda in consultation with the chairman and directors.
Ensuring that all directors receive relevant papers and documents in advance, including the agenda, minutes of previous meetings, and any reports or financial statements.
Attending board meetings and taking minutes, and ensuring that all resolutions and decisions made by the board are accurately recorded.
Advising the board on corporate governance matters.
Maintaining records of board meetings and related documentation.
4

Filing Post-Incorporation Documents
During the course of the year, the company secretary will be required to file documents with relevant parties, including:
Annual returns: Every year, an annual return must be filed with the Companies Registry within 42 days of the company's anniversary date.
Change of particulars: If there are any changes to the registered office address, directors, shareholders, or company secretary, a Change of Particulars form must be filed with the Companies Registry within 15 days of the change.
Notification of appointment or cessation of company secretary: A Notification of Appointment or Cessation of Company Secretary form must be filed with the Companies Registry within 15 days of the appointment or cessation.
Register of significant controllers: An accurate and up-to-date register must be maintained and available for inspection upon request.
Financial statements: Annual financial statements must be prepared and filed with the Companies Registry and the Inland Revenue Department.
5

Interacting with Various Interested Parties
As a key representative, the company secretary in Hong Kong may be required to engage with some stakeholders, including:
Directors
Shareholders
Government agencies (such as the Companies Registry and the Inland Revenue Department).
Auditors
Banks and other financial institutions
Legal advisors
What To Consider When Appointing a Company Secretary
With this being such a key role, you should be mindful of who you appoint. Here are a few things to consider when selecting someone for this position.
All the business templates you need, free to download
Kick-start your entrepreneurship journey right with our free business and marketing plan templates, plus an easy-to-use invoicing template
Knowledge of Corporate Governance
A company secretary in Hong Kong should have a strong knowledge of local corporate governance principles and practices, as they play a vital role in ensuring ongoing compliance with legal and regulatory obligations. Specifically, the right person should have knowledge and experience in:
Legal and regulatory compliance
Board practices and procedures
Engaging with shareholders
Risk management
Company secretarial duties
Strong Practical Skills
A company secretary should have a broad range of operational and practical skills to provide effective support to the organisation's governance and compliance functions. The person should be known for strong attention to detail and for being highly organised and capable of managing multiple tasks and deadlines. They should also have leadership qualities, time management abilities and a good understanding of technology and how it can enhance governance practices and compliance processes.
Excellent Planning Abilities
A company secretary in Hong Kong must be a strategic thinker with excellent planning skills. They need to have a thorough understanding of the organisation's operations, goals, and objectives and be able to develop plans to achieve them. They'll be responsible for planning key company tasks with strict deadlines, such as AGMs, board meetings, and submitting annual financial returns.
Effective Communication Skills
Effective communication skills are essential for a company secretary in Hong Kong as they must interact with various stakeholders, including directors, shareholders, regulatory bodies and external service providers. Some of these essential communication skills include:
Active listening
Interpersonal skills
Diplomacy
Writing skills
Presentation skills
The ability to communicate complex legal and governance issues clearly and concisely
Reliable and Decisive
Reliability and decisiveness are essential qualities in this role. Reliability is crucial because the company secretary is responsible for maintaining accurate records, ensuring the timely filing of reports, and handling sensitive information. Any errors or delays could result in serious consequences. This person should be someone who is known for their integrity and reliability.
The company secretary must also be decisive as they'll be required to make quick and informed decisions in response to various situations, such as changes in laws and regulations, and other unexpected events.
Dedicated
A company secretary must be dedicated to fulfilling their duties and responsibilities, ensuring that the company is functioning effectively, and acting in the organisation's best interests. Their dedication helps to ensure that operations continue smoothly and don't lead to any legal or regulatory issues. You want to select someone who is committed for the long run and isn't going to waver in their responsibilities and commitment.
Where and How To Find a Company Secretary?
With this being such a key role in your company, we understand that it may not be that simple to find someone you can trust and who won't let you down. At Osome, we offer reliable company secretarial services in Hong Kong that take the burden of paperwork off your shoulders, all at an affordable rate. We ensure your compliance is always in check, with deadlines tracked, documents filed, and daily queries answered.
Rest assured, you can trust our certified company secretaries who boast over 10 years of experience. Whenever you need expert advice, whether to determine the appropriate business structure or evaluate the potential consequences of your decisions, we are always ready to provide detailed guidance.
FAQ
Why do I need a company secretary?

A company secretary is a legal requirement, per Hong Kong Company Ordinances. You must appoint one before registering.

What are the skills required for a company secretary?

Because they play such a vital role, this person should possess skills like:

Knowledge of corporate governance and compliance regulations
Communication and interpersonal skills
Attention to detail and excellent organizational ability
Sound judgment and decision-making
Financial acumen
Strategic planning and problem-solving skills
Time management and multitasking abilities
Dedication and reliability

What are the powers of a company secretary?

It's important to note that the company secretary's powers are limited to administrative and compliance-related matters, and do not have executive decision-making powers.

Their responsibilities relate to compliance with the company's legal and regulatory requirements.

What makes a good company secretary in Hong Kong?

A good company secretary in Hong Kong should possess various skills and qualities, including knowledge of corporate governance and compliance, operational and practical skills, planning capabilities and strong communication skills. They should be reliable and decisive, able to engage with various stakeholders and dedicated to ensuring the smooth running of the organisation's operations and compliance with local laws and regulations.
Ask another question
resources
Fresh insights from our business blog
Better Business
Read
Mastering Financial Forecasting for New Business Owners
Discover the full potential of your startup through financial forecasting. Gain reliable insights for success and make attracting investors a breeze with clear financial projections. Visit Osome today for the tools to empower your startup's financial future.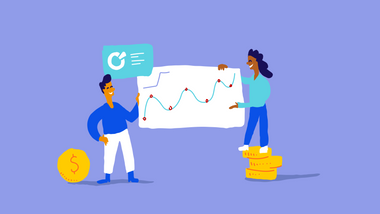 Incorporation
Read
All You Need To Know To Start a Trading Company in Hong Kong
Start your journey in the dynamic world of trading companies in Hong Kong. From understanding the types of trading companies to the nuances of Hong Kong-China Free Trade Agreement, learn how to start a trading company in Hong Kong with Osome.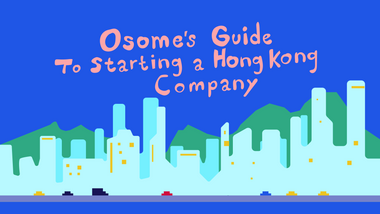 Explore