Company Incorporation
Company Incorporation in Hong Kong – Complete Guide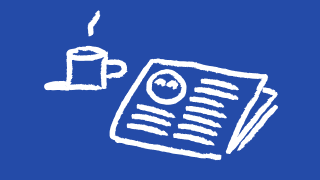 Hong Kong company incorporation involves a legal process where a new limited liability company or corporate entity is formed. These are legally recognised as a separate entity and often incorporate terms such as Inc. or Limited in their names. Our incorporation guide walks you through the process, so that you can learn how to complete the incorporation of a company.
How To Incorporate Company – Step-By-Step Instruction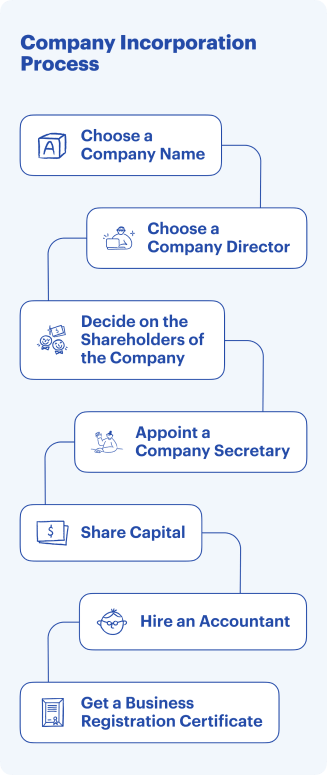 There are some clear steps you will need to follow to meet the requirements of incorporation in Hong Kong.
A number of different roles need to be appointed, including a director, secretary and a designated representative. You will also need to select a unique name, register a physical address and have at least one shareholder.
Follow our step-by-step guide to ensure you're ticking all the right boxes.

Choose a Company Name
Before you go any further along the incorporation process, you'll need to decide on your business name. This is important in the early stages of starting your business as it is a crucial component of the form you need to fill out. Find a unique name that hasn't already been used or you will be required to change it later down the line, which could slow down your application.
Choose a name that accurately represents your business and brand, and try to avoid anything that could be interpreted as offensive. Remember that this is likely to be the first thing customers will learn about your business, so you'll want to give a good first impression.

Make a List of Company Executives (Companies Ordinance)
You will need to keep a list of all company executives. These are the people in your management team who have significant control. Make sure the list is well maintained and any new executives are recorded. This is also known as Companies Ordinance.
Companies Ordinance or the Companies Act is an official document created in 1984 which states the legal limits within which companies can do business in Hong Kong.

Appoint a Designated Representative (DR)
You will need to appoint a Designated Representative (DR) who is responsible for reporting to the Significant Controllers Register (SCR). The DR must be a local resident who is an owner, director or employee of the company. Alternatively, they can be a legal or accountancy professional or another licensed professional.
Every company in Hong Kong holds information about its ownership and who influences decisions. Designated Representative is responsible for dealing with SCR inspections, and making sure that the record of Significant Controllers is kept up-to-date.
You can learn more about the Significant Controllers Register and Designated Representatives in our article about how Hong Kong collects information about company ownership.

Choose a Company Director
Limited companies can have any number of directors, but you must appoint at least one. There are some rules about who can be a director:
They do not need to be a Hong Kong resident and can be of any nationality
They must be at least 18 years old
They must not be bankrupt or have any convictions
They do not need to be shareholders
Directors are responsible for the overall management of the company, both individually and as a collective. They should act in its best interests and ensure it runs both lawfully and efficiently.

Decide on the Shareholders of the Company
Your business can have between 1 and 50 shareholders. There are some rules about who they can be:
They do not need to be a Hong Kong resident and can be of any nationality
They must be at least 18 years old
Directors can also be owners
They can be an individual or a company
Put simply, the shareholders own the company and appoint directors to run it. Shareholders can generally make decisions on issues directors cannot, and also keep an eye on the finances, which includes approving how money is spent.

Appoint a Company Secretary
The next role to appoint is a company secretary who will be responsible for your records and ensure you comply with statutory requirements. This can be an individual person or a company. Individuals must be resident in the country and companies must be registered locally as a place of business. If you have a sole director/shareholder they cannot also fulfil the role of secretary.
Contrary to what the name suggests, this is not a clerical role but instead acts as a form of gatekeeper, playing an advanced role in the company's legal maintenance. You cannot incorporate without a company secretary and must always have one appointed for as long as you are trading.

Share Capital
Share capital is the value of equity your business has issued in shares. There is no minimum share capital requirement for Limited Partnerships or Limited Liability Companies, but you will need at least one share issued to a minimum of one shareholder. Shares don't have to be issued in Hong Kong dollars, as long as they are in another major currency.
In Hong Kong, the type of shared capital is Issued capital, which refers to the total value of currently allotted shares. This is calculated based on the number of allotted shares and the value of each share.

Provide Registered Address
It's important to have a local address to register your company. This must be an actual, physical location in Hong Kong, not just a PO Box. A registered address is required in law to receive official mail from the government. However, it doesn't have to be your main place of business — it is often the same location as the secretary.
One option is to use a formation company that can provide you with a registered address. You can also use your residential address as your business address but bear in mind that this information will be publicly available once you register.

File Company Officers File with Hong Kong Companies Registry
Details about your company officers are public information and must be made available under the Hong Kong Companies Registry.
It is possible to keep this information confidential. If you wish to do this, you'll need to enlist a professional to appoint a corporate shareholder and nominee individual director.

Hire an Accountant
You're expected to maintain and file accurate accounts. These should be audited annually by Certified Public Accountants and filed to the Inland Revenue Department along with your tax return, using your Business Registration Number.
Hiring a company accountant is a great way to make your bookkeeping more efficient and ensure your accounts are audited to the correct standards. It also frees up your time to focus on running your business and making it a success.

Get a Business Registration Certificate
Make sure you have an up to date Business Registry Certificate. This is a vital document which outlines the fundamentals of your business. It needs to be renewed annually or every three years, depending on what type of certificate you have. Renewals must be made a month before it expires. You need to display the certificate in your office. If you don't already have a Business Registration Certificate, you can download one from the Business Registration Office website. You'll have to complete form IRBR 37 and pay any required fees within 30 days of commencing operations or any business change.
What Documents To Prepare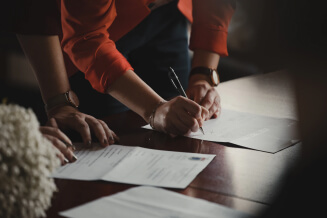 Incorporating a company is an in-depth process and you're expected to provide a wide range of different documents in order to meet the requirements. Enlisting a professional services firm can help to ease the pain and save time. They will understand exactly what evidence is expected and can offer guidance on how to present the information in the required format. Use our overview to help you.
Articles of Association

This is an important document that sets out your objectives. It should explain how you go about appointing directors and managing finances. It can also set out more detailed information about how you approach projects and tasks, and how goals and objectives are achieved. Think of it like your company's constitution.

Completed incorporation form

Complete the form with the following information:

Company name — what will your new business be called? - Remember that this will be one of the first things people see or hear about your company.
Registered address — this must be a physical location in Hong Kong and doesn't necessarily need to be where your day-to-day business is carried out. It could even be your residential address, but bear in mind that this information will be publicly available.
Number of shares taken up — how many shareholders do you have and how many shares have you distributed between them?
Details of share capital — this should include details of the total value of your share capital, as well as whether you have issued more than one class of shares.
Liability of members — in a Limited Liability Company (LLC), usually only the shareholders' liability is limited. This means they are not liable for any debts or obligations, aside from their own financial contribution or the amount unpaid on their shares.
Information about owners, directors and secretary — these are the three members you must appoint in order to incorporate. Remember that an owner can also be a director, but the company secretary cannot be the sole director or shareholder.
Brief overview of business activities — this is to communicate your commercial purpose and show the value your business will deliver to society. Depending on where your company is based, you may be able to give a brief overview, whereas some jurisdictions may require a more detailed description.

Documents required by shareholders and directors

Corporate shareholders and directors must provide the Articles of Association, the Hong Kong identity card, passport and proof of residence. As a resident owner or director, you'll need to provide proof of residence and a copy of your Hong Kong identity card. If you're a non-resident owner or director you'll need a copy of your international passport and proof of overseas residence.
Requirements for Foreigners To Incorporate
Hong Kong is the perfect place to set up a new business. As a foreigner:
There are no requirements for you to be a local resident
You are welcome to set up as a sole director or owner
You don't necessarily need to reallocate – it's possible to run a business from overseas
You can set it up without being physically present
However, you may need to be present to open a bank account
As you can see, there are fewer restrictions for foreigners looking to incorporate a business in Hong Kong than other places in the region, which is one of the many things that makes it so attractive to potential business owners. Others include its strategic location in Asia, its well-regulated legal system, and an attractive taxation system.
It also has one of the best infrastructures in the world with efficient transportation, and boasts a robust and stable financial system. With little to no language barriers for those speaking English, communication between businesses is easier than you might expect in Hong Kong, especially as a foreigner.
And, the company incorporation process is relatively straightforward.
Tips For Starting a Business in Hong Kong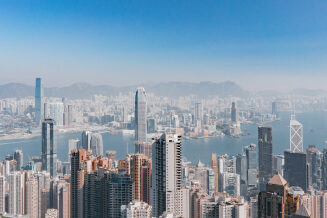 Now that we've convinced you that incorporating in Hong Kong is a good idea, here are some top tips for getting started.
Develop a Business Plan
Once you've settled on a business idea, make sure it's viable by carrying out some testing and speaking to potential customers. Then you can start building a business plan to help turn your idea into a profitable reality. Think about what problem you're solving with your idea, who your customers and competition are, as well as your long-term vision and financial forecast.
Invest in Your Brand
When it comes to running a business, brand is everything. Similar to choosing a name, your brand is crucial in communicating the right message about your business to your customers, and helping you to stand out.
Take time to build out your brand look as well as really understanding the value you provide to customers. It's important to develop a clear, consistent brand that customers recognise and can resonate with, so consider building this into the process of your business plan and incorporation
Choose the Right Business Structure
There are a number of business structure options to choose from when setting up in Hong Kong, so you'll need to understand which is right for you. The most popular is a Limited Partnership. You can learn more about your options in our guide to company structures in Hong Kong.
Familiarise Yourself With Official Processes
Whilst Hong Kong is one of the easier places to incorporate, there are still some official documents to complete and processes to follow. We've covered some of it above, but if you're looking for more support, you can find out more about our services in our company registration overview.
Looking for more information? You can read and download our comprehensive guide to starting a business in Hong Kong where you'll find lots of helpful advice on how to start a successful business in the region.
Start your company the easy way
With Osome, you're ready to go from day one: all-in-one company registration, specialist business advisors on call, hassle-free banking set-up.

Start my company
Our small business experts will get you set up and operating in one go

Get business confidence
Tips on starting and growing your business, as told by people who have actually done it
FAQ
What is a company's incorporation?

Company incorporation involves registering your business, so that you can start trading. There are a number of different structures you can use, the most popular being Limited Partnerships. Setting up a General Partnership or a Limited Partnership creates a separate legal entity to the business owners, which limits liability.

What types of companies are incorporated?

The most common type of business registered is a private limited liability company. Overseas, this type of entity is often referred to as an offshore company in Hong Kong.

Who can incorporate a company?

You don't need to be a local resident to incorporate a company. You'll need at least one shareholder, but they can also be a non-resident.

How long does it take to incorporate a company in Hong Kong?

Once you have everything prepared it usually takes around one week to get incorporated. It might take longer if you're applying from overseas.

How much does it cost to register a company in Hong Kong?

The 2022 fee is HKD $1,545. There is also a fee of HKD $3,950 for a 3-year Business Registration Certificate.

How can I incorporate in Hong Kong?

You will need to follow a series of different steps including choosing a name, registering an address, appointing different roles and preparing the right documents. Use this step-by-step guide to help you.
I didn't find the answer to my question...
That's alright! Let us know your question