A New Entrepreneur's Guide To Become an Amazon Seller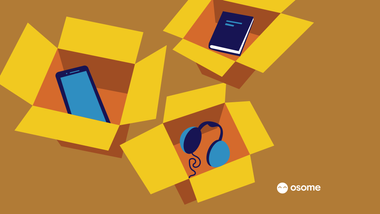 Ready to start an Amazon business? This is your go-to guide on how to get set up, what to prepare before you create an account or register as a seller and other important things to know along the way.
Setting up an Amazon online business is more than just a sign-up process, it's an opportunity to future-proof your e-commerce accounting and lay the foundation for long term-success. Let's get you up to speed on what you can do to keep things simple, seamless and safe so you can take advantage of benefits like:
Reaching millions of online shoppers
Growing your business bottom line, from wherever you are
Extend your exposure and customer base
Boost, build and your marketing with reviews and ratings
Start Here: Get Registered & Business-ready!
First things first, before you start your e-commerce business on Amazon UK online it's a good idea to register your business. Already registered your UK business? Great, you can jump ahead to the next section. If you haven't, don't worry! Company formation in the UK online is quick and easy when you've got the right support.
Next thing to be clear on is what you're going to sell. This is your chance to create a virtual storefront for your goods. That means those goods will fall within one of Amazon's broad categories, like: Automotive & Industrial, Books-Music- Video, Electronics, Home & Garden, Tools, Sports, Travel & Outdoors, Toys-Kids-Baby.

So, along with finding a home in one of these categories, you'll also want to avoid disappointment and make sure those products of yours are permitted to be sold on Amazon UK marketplace. We'll touch on a little more detail about acceptable products a further on but first let's go through the 5 steps of setting up your Amazon account.
How Do I Set Up An Account? 5 Steps
Step 1: Pick a selling plan that works for you
You have two options here; a basic selling plan and a professional selling plan. The choice you make will come down to your business strategy. Another way of putting it is to ask, are you looking to sell a little, or a lot? Along with being able to sell multiple products in higher volumes, other benefits of a professional selling plan for an entrepreneur like you, is getting access to things like bulk listings, inventory and even reporting tools. The fees you pay are dependent on the plan you choose.
Take a look below:
| | | | |
| --- | --- | --- | --- |
| TYPE OF PLAN | MONTHLY SALE VOLUME LIMIT | MONTHLY SUBSCRIPTION FEE | PER-ITEM FEE |
| Basic Seller | 35 items or less | No fee | £0.75 per product sold |
| Professional Seller | Nope! | £25 excluding VAT | No per-item fee |
TIP #1
Before you pick a plan, consider what you're going to be selling, because some product categories are only eligible with a professional account, such as health care products, groceries and jewellery.
Step 2: Create your account
To get your Amazon startup company up and running, you need to create your account. This is what's linked to how you send and receive payments and file taxes. You'll be walked through this step on the site, but it's worth knowing the whats and whys of all you're going to need to provide during this step:
Basic information about you and your business
Banking details (i.e your business bank account aka the place where your profits will be paid)
Credit or debit card (linked to your account's fee payment and any refund-related charges)
TIP #2
To make things easy from the get-go, find a partner to help manage your accounting services for e-commerce platforms.
Step 3: Register your products
With your Amazon UK account set up and the right plan chosen, next it's time to register your products and pack those metaphorical shelves of your online store. You'll need to add your product categories and add your product details. How you go about registering your products depends whether or not they exist in Amazon's catalog.
Dan's WFH Supplies - Product already exists on Amazon UK
Daniel's a UK-based entrepreneur who's busy setting up his Amazon store. He's planning on selling home office supplies via his store. He opts for a professional plan and because products Dan has in his inventory already exist on Amazon's UK catalog, he uses the site's inbuilt web tool to add each item. His biggest seller is his LED mouse pads so Dan uses Amazon's bulk listing tool when registering those products. He's required to provide the UPC/EAN codes, and he's able to get this data using the tool. Simple!
Victor's Custom Rims & Brims - Product doesn't exist on Amazon UK
Victor on the other hand, has also just set up an Amazon account and opted for a professional plan. He's planning on selling as much as he can but unlike Dan, what he's selling is a little more niche. His range of customised, interchangeable glasses frames don't yet exist in the Amazon UK's database.
To register each product, this is what he needs:
UPC/EAN or ISBN code
Product title (i.e individual product names like, Victory Lap Veneer Frame)
Product description (i.e the specs of the frames, materials they're made of, intended use)
Product image/s (a few different angles, in the highest quality)
Price
Stock availability (i.e how many pairs Victor currently has that are ready to sell and ship)
Heads up: Amazon may prompt for more info if additional technical details may be needed
TIP #3:
Make your products easier to find on Amazon by applying some SEO smarts. Use relevant keywords in the product title, keep description clear and compelling and images alt-tags.
Step 4: Choose your fulfillment method
Fulfillment refers to the process of you receiving an order via your Amazon UK account and getting that product into the hands of your customer. As with all the other steps you've got options here, too:
FMB: You control and manage the product delivery
FMA: Amazon takes charge of the product delivery process
Dan's WFH Supplies (FMB)
Dan's confident that he can handle his own deliveries. He's got two employees, rents a storage page and has invested in printing and packaging materials. Even so, before he chose the FMB model he made sure to do the right research about any third-party distribution centres so he was aware of any additional storage or shipping costs that this route means for him (no one so likes nasty or unaccounted-for surprises). With that done, he's ready to sell. When an order is placed via his Amazon store, he gets an email and then it's up to him to pack and deliver the goods! Any customer comms along the way are up to Dan and his team to manage from his home headquarters.
Victor's Custom Rims & Brims (FBA)
Victor opts for a different fulfillment method. All of his stock is stored in the physical location of Amazon's fulfilment centres. When an order is placed via his store, he's still made aware but the picking, packing and actual distribution of the goods itself is something that Victor knows Amazon's got covered. With this method, the customer service comms are also handled by Amazon.
TIP #4:
Know your limits and capabilities. Add up overhead costs (labor, customer care & comms, packing and postage supplies, warehouse space) so you can choose a fulfillment method that'll work best for you and your business.
Step 5: Sell, Ship, Repeat
Now it's time to get those goods moving! Don't be afraid to make changes along the way as you learn more about the platform, more about your customer base or even more about your own capabilities. Optimise your product descriptions, ask for reviews and use feedback to better your business. Keep an eye on competitors and keep up with marketing your products and maintaining the online reputation you've been working hard to build.
TIP #5:
Along with staying on top of marketing, make sure you stay on top of any legal, compliance and tax obligations you're required to know or follow in the UK or other countries you sell in. We can help with that!
Starting an Amazon Business Online: A Recap
Register & ready your business
Step 1: Pick a selling plan that works for you
Step 2: Create your account
Step 3: Register your products listings and categories
Step 4: Choose your fulfillment method
Step 5: Sell, ship, repeat
Want to dig into more detail or make your next e-commerce move?
Amazon statements have 150+ types of fees and charges but we can help convert any e-commerce statements into financial books, reports and tax returns. Shoot us a message to find out how we can take over documents straight away so you can focus on what matters most, your business.
By the way, If you've not yet registered your e-commerce company, we can assist you with that too.
Here's where you can read a bit more detail about some of the things we've mentioned in this guide, all Amazon-official sources: