How To Start an Ecommerce Business Online in 2023
Modified: 11 September 2023
14 min read
Starting a Company

Despite the return of in-person shopping post-pandemic, consumer ecommerce still makes up 30% of the total retail market in the UK, with the upward trend looking set to continue.
If you're wondering how to start an online ecommerce business or want to learn more, we've put together this guide to answer frequently asked questions and share top tips to get you started.
What Is an Ecommerce Business?
Ecommerce businesses sell goods and services to buyers over the internet, usually via a website. Money is transferred digitally to pay for products, with transactions completed entirely online. With the global market expected to reach $5.7 trillion in 2022, a figure expected to grow over the coming years, online retail can still be a highly lucrative venture.
Perhaps you're a skilled craftsperson, maybe you have a service to provide, or are just a budding entrepreneur looking to capitalise on this fast-growing market. There are so many opportunities in the realm of website retail, so how do you set up an ecommerce business?
Here's a step-by-step guide on how to get into ecommerce and start selling, including choosing your company name, obtaining permits, and creating a website.
How To Start an Ecommerce Business
There are a few similarities between setting up a brick-and-mortar business and an online one, especially regarding legalities and planning. For example, you'll still need to do market research, find your niche and choose a company name and legal structure. However, when choosing your online platform and building your website, there are a few key differences to consider.
1

Research the Ecommerce Space and Find Your Niche
As with any new business, you need to do your research before you get started. Think about the different areas you might be interested in and what types of products and services you want to sell. Find something that differentiates you from the competition and helps you stand out in the crowded online marketplace.
Whether you're selling products or services, you'll also need to consider whether these will be physical or digital. If you don't make or provide these yourself, where will you source them? And, of course, how will you get them to your customers?
You should also think about which category you're going to set up, as well as your business model. The four main categories are: business-to-business (B2B); business-to-consumer (B2C); consumer-to-business (C2B); and consumer-to-consumer (C2C). You can learn more about these categories and the different types of models in our guide to ecommerce business models.
Other things to research are start-up costs and any legal or regulatory requirements for your company, product, or service. If you're looking for more information about what's involved in setting up a company, you can read more in our guide on how to register a business which talks you through some of the legal requirements.
Finally, create a solid business plan and set some realistic goals. Your research should help provide more insight into the web retail space and competitors relevant to you, giving you a better understanding of how you'll make an impact and build a successful, profitable enterprise. Be clear about what you want to achieve and how you plan to get there so that you're always focused, motivated, and accountable.
2

Select Your Business Name and Choose a Legal Structure
Once you've created your plan and know where you're heading, it's time to choose your company name and legal structure.
Let's start with the fun bit. Choose a unique name that accurately represents what your brand does and sells. You'll need to consult Companies House to make sure the name isn't already taken by another company, and if you're planning to set up a website, it's worth checking out available domain names too.
Avoid choosing a name that could be easily misinterpreted or mistaken for something else, as well as anything that might be considered offensive. Remember, this is usually the first thing people come across when interacting with your brand, so you want to make a good first impression.
Once you've decided on a name, you'll need to decide on a business structure. This will influence how your company runs, from daily operations to taxes, paperwork, and funding ability. There are four main structures in the UK:
Sole trader
Partnership
Limited Liability Partnership
Limited Company
Each of these structures has its benefits and drawbacks, so if you want to learn more about these, have a look at our article on how to decide which company structure to choose.
One of the most common structures for new companies is sole trader, due to the low barrier to entry. It's the simplest form of company you can register and doesn't require you to inform Companies House. However, you will need to tell HMRC. If you want to learn more, read our guide on how to register as a sole trader.
Starting an ecommerce business in the UK and need some help with registration? The experts at Osome can prepare and file all the necessary documentation, so you're all set within a a day. Register your ecommerce business with Osome today in three simple steps.
3

Apply for an EIN
To own any business in the UK, you'll need an EIN (Employer Identification Number), so you can register your company. Not everyone will require an EIN, but it can be helpful to keep your company finances separate from your personal. You can apply for an EIN free from HMRC, and can easily do it online.
There are other requirements regarding VAT registration that you should also be aware of, so make sure you know whether this applies to you. While you might not need to be VAT registered immediately (this only applies once your turnover is more than £85,000 per year), there are some benefits to voluntary registration.
You can find out more about VAT registration in this helpful article on the pros and cons of registering your ecommerce company for VAT.
4

Obtain Business Permits and Licences
Once you've applied for your EIN, the next step is obtaining the necessary licences and permits to operate legally in the UK. In the UK, you don't actually need a licence to sell common goods on the web, as long as you're only trading within the UK. However, there are rules and regulations you need to abide by, and certain products which do require a licence.
While you don't need a business licence to trade as an online retailer in the UK, you do need to make sure your company is properly registered with HMRC. You'll need to do this within a three-month timeframe after you start your operations.
If you're selling restricted items such as alcohol, there are specific licences you'll need to obtain to trade legally. These include a personal licence and a premises licence which you can find out more about and apply for on the UK government website.
There are additional rules regarding selling on the web, as set out by the UK government, which apply from before an order is placed until after it's received. Applicable rules before an order is placed include making it clear how customers can pay and that payment is required, allowing customers to make corrections to their order, and making sure terms and conditions are available and reproducible.
After customers have placed their order, there are more rules, including how and when you provide a contract, as well as the fact you must deliver the product/service within 30 days unless otherwise agreed before the purchase.
Starting a business? Get our free guide
Set up your company in the UK the easy way with our detailed guide
5

Choose an Ecommerce Platform and Create Your Website
Once you've registered your company and completed all the necessary paperwork (don't forget that Osome can do this for you), you can start thinking about creating your website or online shop. Until now, most of the steps we've followed have mirrored the process used to set up a physical store. Now, instead of scouting out potential locations for an actual shop, you can start building your store online.
Shopify
Shopify is perhaps the most popular and well-known web retail platform for small enterprises, offering an all-inclusive, user-friendly platform that provides the options of multiple add-ons. Shopify offers custom domains and inventory tracking as well as different themes and templates, allowing you to customise your shop. Prices start at £22 per month for small companies, rising to £219 per month for larger businesses.
WooCommerce
The first free platform on our list, WooCommerce is ideal for those who've already launched a website using WordPress. This open-source plug-in is free to download and lets you start selling straight from your WordPress site.
It offers a full range of ecommerce features but does require some technical expertise to take full advantage of its benefits. It also includes shipping calculators and catalogue management tools — handy if you sell physical products.
Squarespace
Often used as a tool for building websites, Squarespace also has web retail capabilities and boasts more modern, tailor-made templates than its competitors. It's generally pretty user-friendly, making it ideal for entrepreneurs with limited technical knowledge or skills.
However, since it's first and foremost a website-building platform, Squarespace doesn't offer quite as many features and tools as other alternatives.There are two plans to choose from — basic or advanced, starting at £20 per month.
Magento
Last but not least, Magneto offers the most customisation, allowing you to manipulate every aspect of your site and make it your own. However, you need the technical know-how or the money to pay for these skills if you don't. The community version of Magneto is free, but if you want to upgrade to the Enterprise edition, you're looking at £17,000—£25,000 a year.
Magneto is very popular with SMEs and offers multiple payment processors, a mobile website store, and other helpful tools, including SEO.
6

Build Your Online Shop
So you've chosen your preferred platform and created your website — now you need to build your shop, source your products and list them on your site. Hopefully, you've already thought about how to source your products or services, or the materials and tools required to deliver these yourself.
If you're selling a service such as consultancy, it might be as simple as describing these and listing them on your website. If you're selling products, this is more complex and will require you to create an inventory, list pages for each product and, of course, consider the costs associated with sourcing these products to sell.
It's not as simple as adding a product to your site and hoping it will sell. The online retail market is competitive, and you'll need to do more to get your product noticed. Think carefully about the customer journey and experience on your website, the searchability of your products, and other helpful information which may encourage customers to make a purchase.
7

Market Your Business
Once you've created a great website and made your products as appealing as possible, how do you get your name out there and let potential customers know that you're selling the product or service they're looking for? To start serving customers and making money from your venture, you need to do some marketing.
There are several strategies you can employ, ranging from paid ads to free search engine optimisation (SEO) and organic social media marketing. Depending on how much you want to spend, the possibilities are almost endless! There may also be marketing tools available within your online retail platform.
The first stage of marketing is brand building and awareness, which is all about getting your name out there and letting people know what you can offer them. Once they know who you are and what you do, you can focus on your products and services.
As your enterprise grows, you'll learn what does and doesn't work for you and can adapt your marketing strategy as you go.
How Much Does It Cost To Start an Ecommerce Business?
So, how much will starting a web store cost you? As you might have guessed, setting up a digital enterprise will save money and be cheaper than starting a brick-and-mortar enterprise with a physical store. And while you don't need to think about furniture, rent or property insurance, there are still costs to keep in mind.
As with any enterprise, the cost of getting started will vary case-by-case, depending on the type of business you're starting, which platform you choose, and how you're sourcing and marketing your products or services. You'll need to factor these costs into your overall budget for getting set up so that you don't bankrupt yourself before you've even started!
It's really important to review all the costs associated with setting up and factor these into your planning, to make sure you have the funds you need to get things off the ground. If you're prepared for all expected costs — and have a bit left over for the unexpected ones, too — you're much more likely to achieve success and make a profit.
Let's review some of the main startup costs to consider:
Business Licences and Permits
As we mentioned earlier in this guide, most ecommerce businesses trading in the UK do not need a business licence. However, if you are selling restricted goods such as alcohol or you sell to customers outside the UK, there may be additional fees to pay. There is also a government fee when registering your company with HMRC, a payment you can avoid if you choose Osome to help you register your ecommerce business.
Ecommerce Software
As you now know, some software is free to download. However, there are usually additional costs associated with free solutions, such as add-ons or developer fees. Consider whether you have the technical expertise to integrate a platform such as Magneto or whether you'll need to pay for expert support. All-inclusive platforms have basic packages available for relatively low costs, with more advanced options available for higher fees, depending on what you want from your platform.
Domain Name and Hosting
Some retail platforms come with a domain name included in the cost, while others will allow you to purchase a domain name through them. If this isn't the case for your chosen solution, you'll need to pay an annual fee for the domain name of your choice. In the UK, you can expect to pay around £20 per year for your domain. Any domain name you purchase will require annual renewal, and some may also require a small ICANN payment.
Payment Processing
To accept digital payments for your products and/or service, you'll need to integrate a payment processor. Some platforms will include their own payment process, others will allow you to integrate with a third-party payment provider such as Square or Stripe. There are associated fees with this process, and you'll pay a small percentage of what you make per transaction back to the payment provider.
Marketing and Advertising
When you're just starting, it's important to save money wherever you can, at least until you've got a steady revenue and have a better idea of what's working well for you. Initially, capitalise on any free marketing opportunities and use tools such as social media and SEO to promote your brand and improve your organic search ranking. Once you understand what works for you, you can review your budget and explore paid options such as Google or Facebook Ads.
Tips For Starting an Ecommerce Business
As with any new venture, if you're just starting as a new entrepreneur or don't have any experience in this space, it can feel overwhelming. Many people also start their enterprise from home, which can leave them feeling that they lack the support they need. If you're looking for advice on this, check out our article on how to start an ecommerce business from home.
Do Market Research
As we mentioned at the start of this guide, doing market research should be your first port of call when starting out on your new venture and will inform a lot of your up-front decision making.
Before you embark on any new venture, it's sensible to do some research to learn more about the industry you're getting into.You need to understand the market landscape, customer demographics, and key competitors, and how other companies have fared within the space. This will help you decide whether the industry is right for you and if you have what it takes to make a success of it.
The best way to set yourself up for success is to do as much research as possible before you commit. You don't want to get six months down the line only to discover something you could have avoided if you'd done some detective work earlier. If you've done your homework, you'll be more prepared for the challenges that come your way, and will be able to build this knowledge into your business plan.
Make Sure You're Compliant and Registered From the Get-Go
We've touched on this already, but it's really important. You'll save so much time and potential headaches if you get this sorted early on.
Take time to make sure you've got all the right paperwork, licences and have registered with the right organisations. If you're not sure what's required or you're feeling overwhelmed, don't forget that if you need support with registration, Osome can help. Just get in touch with one of our friendly experts who'll be happy to help, and can save you precious time and energy to free you up for other important tasks.
Choose the Best-Suited Platform
With so many options out there, it can be difficult to know which platform is right to host your retail site. But making the right choice is vital to your success. So take the time to do your research and understand the benefits and drawbacks of each one.
Also, think carefully about your technical abilities and whether you have what's needed to integrate some of the more complex open-source solutions. If you don't, also think about the value of that solution, and whether it's worth investing in support from an expert with the technological know-how to help you get it up and running.
Lastly, consider your long-term goals and what might be worth investing in for the future. For example, while you might not need a mobile-compatible platform, it's likely that you'll need it in the near future, so find a platform that can support this requirement when the time comes.
Consistently Advertise on the Relevant Channels
Getting your name out there can be tough at first, especially in a saturated market. But the key here is consistency and relevancy. Stick at it, keep banging the drum and don't assume that just because you've posted on your social media channels once or done some SEO updates that the orders will come flooding in.
Marketing is a long game, and while it requires a lot of patience, it does pay off. But you also have to talk to the right people in the right places. The key to a successful marketing strategy is understanding who your customers are and where they spend their time. Once you have this information, you're much more likely to get your brand and product in front of the right people: potential customers with purchasing power.
If you're looking for more tips on this topic, check out our blog, which covers things to consider when starting out in ecommerce.
FAQ
How do you start a small ecommerce business?

Do your research to find the best opportunities and products to sell, with clear goals and objectives, and how you plan to achieve these and by when. Decide on a brand name, create a logo and branding, and then set up an online store with an appropriate platform. If you're selling physical products, make sure you know how you will run your shipping, and develop a clear marketing strategy before launching, including research into your target audience.

How much does it cost to start an ecommerce business in the UK?

The cost of starting a web retail site in the UK varies depending on several factors including: what you're selling; how and where you're shipping; which platform you choose to host your site; and how much you want to spend on marketing. On average, a basic retail website can cost between £1500–£2500 to set up, which includes design, hosting, and annual domain fees. However, you can spend more on site maintenance and add-ons, shipping providers and paid advertising.

What are the 3 types of ecommerce?

Selling products or services online can be split into three different areas:

Business to business (B2B)
Business to consumer (B2C)
Consumer to consumer (C2C)Examples of B2B include Shopify, B2C include Amazon and C2C represent websites such as eBay.

However, these examples are not exclusive, and many companies also use sites such as eBay to sell B2C.

Which type of ecommerce is best?

The standard retail model and traditional form of ecommerce is B2C. It is historically the most successful model, but success can mean different things to different people, depending on your goals. You could run a very successful B2B website with a great customer experience, high retention and good profit margins.
Ask another question
resources
Fresh insights from our business blog
Money Talk
Read
Financial Forecasting as a New Business
Unleash the true potential of your startup with financial forecasting. You can drive success with reliable insights. Attracting investors becomes easier when you clearly understand your financial projections. Visit Osome today to access the tools to empower your startup's financial future.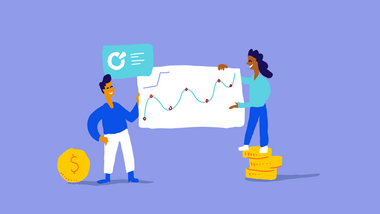 Incorporation
Read
10 Steps To Starting an Online Business in 2023
Launch a successful online business in 2023 by following these 10 steps. From understanding the basics to driving traffic and setting up payment methods, Osome's guide gives you a roadmap to a profitable venture. With expert insights and top tips, start your ecommerce journey with confidence.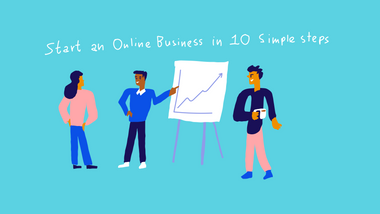 Incorporation
Read
How To Find and View Your VAT Certificate Online
Struggling to find and view your VAT certificate online? This comprehensive guide will lead you through the process of accessing your VAT certificate, understanding its importance, and maintaining its validity. Equip yourself to handle your VAT obligations efficiently and legally.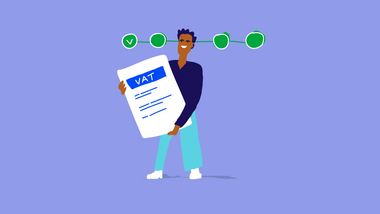 Explore