UK Seller Guide – What Is Amazon FBA and How Does It Work?
What exactly is Amazon FBA and how does it work? In short, this online marketplace offers your products exposure to 90% of Amazon's online shoppers in the UK. Sounds good, so should you join? Read on to find out.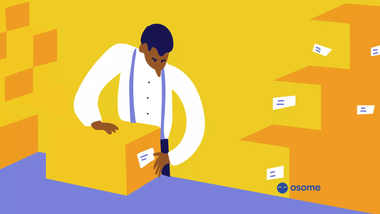 Launching Amazon in 1994 was a brave move by Jeff Bezos. Having since earned status of the largest online retailer globally, it was clearly a smart move too. Amazon FBA in the UK can help you grow your business in just the same way. FBA is a platform that stands for Fulfillment by Amazon. This seller's guide will upack how FBA works so you can use this online marketplace to offer your products and maximise exposure to 90% of online shoppers in the UK who use Amazon and those with a Prime subscription.
With Amazon FBA, products are stored in an Amazon fulfillment centre. This means any orders are picked, packed and shipped by them which cuts shipping costs and reduces inventory management hassles.

Who Is an Amazon FBA Seller?
From individuals and small to medium business owners, anyone who doesn't have (or want) to rely on having their own warehouse could be considered an Amazon FBA seller. Millions of entrepreneurs are using FBA as one of the world's most advanced fulfilment networks to build their business and automate their shipping process. Amazon's fulfilment centre in the UK is used by more than 45% of Amazon sellers — which goes to show that the FBA model is scaling at a high rate for anyone who has products to offer while also needing a little boost with their fulfilment requirements.
Amazon's fulfillment centres in the UK now stand at 21 and usage of these warehouses across Britain is also showing 10% year-on-year growth. Speaking of growth, their largest warehouse in Scotland has a staff stronghold of 1000+, which makes sense when the space itself covers 1 million² feet. With the network and market share that Amazon offers FBA sellers, distributing across Europe can become an easier and even more streamlined process. Cha ching!
The Benefits of Amazon FBA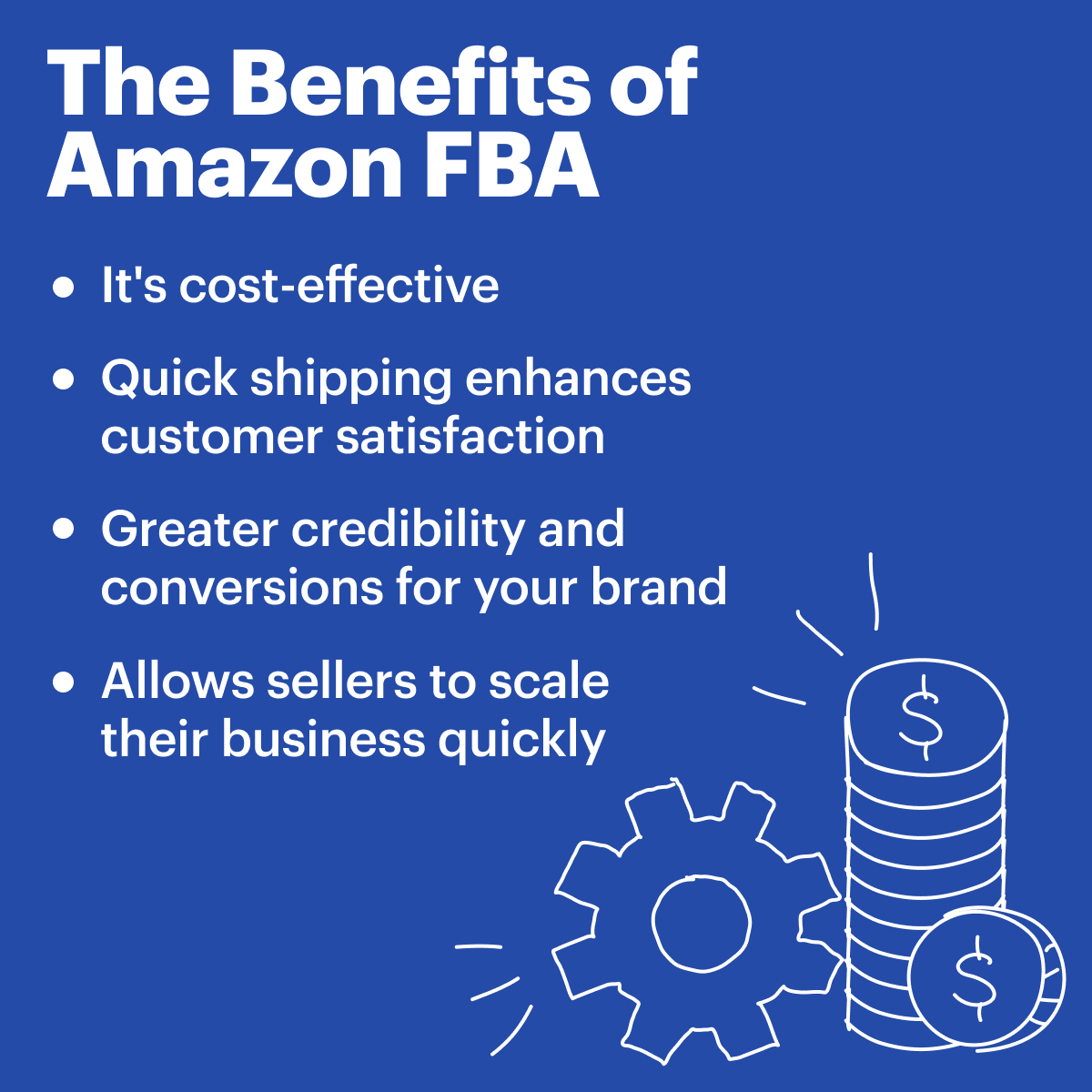 It's cost-effective
You get what you pay for, and you do it on the go! The storage space costs and charges for orders are done as they are fulfilled. Included in your fees are the costs for shipping and millions of items can be shipped daily with Amazon Prime at no extra charge to you.
Quick shipping enhances customer satisfaction
If you've got Amazon FBA products to sell to Amazon Prime members, you AND your customers will be glad to know you're also eligible for unlimited 1-day delivery. Some orders will also be eligible for free 2-day free shipping and be able to boast that shiny, attention-grabbing Prime badge to indicate that Amazon handles everything from the moment they hit the "Buy" button.
Greater credibility and conversions for your brand
Cash flow is earned but so is trust. At no extra cost to you, you'll benefit from FBA customer support which handles queries via phone or mail in multiple languages, 24/7. The Amazon FBA model also links you up with an online returns centre to take yet another customer service aspect of your business into their more-than-capable hands.
Allows sellers to scale their business quickly
There's an extensive range of solutions for fulfilment across Europe, whatever your UK business model. The most popular and speedy of the lot is Pan-European FBA, where you can tap into a network that ships products from a central storage warehouse in the country they originate from. As your business grows, there are special programmes that will help you scale according to your needs — whether by incentivising repeat customers, adapting to lightweight or heavy inventory and third-party channel sales.
What To Know About Amazon FBA Fees
Normal Amazon FBA Fees
Inventory storage fees — Based on average daily volume of inventory (Check your product size tier on cubic feet basis)
Fulfilment fees — Charged per unit for all the fulfilment services (Amazon's FBA revenue calculator can help you estimate and preview fees)
Occasional Amazon FBA Fees
Long-term storage fees — Applied to items are stored in an Amazon  fulfilment centre for 331 days more and assessed monthly
Removal order fees — For a per-item fee, Amazon can dispose or return your inventory from the fulfilment centre it's stored
Returns processing fees — Charged on orders when Amazon provides a customer with free return shipping
Unplanned services fees — Charged when inventory arrives at a fulfilment centre without proper preparation.
How To Start Amazon FBA?
Step 1 — Setting up the FBA
New sellers need to create an Amazon selling account and to log in to the online platform via Seller Central to set up FBA. Already an Amazon seller? Just FBA to your account from your dashboard.
Step 2 — Creating product listings
Next up, add products to Amazon's catalogue, specifying the FBA inventory. You can do this one-by-one, add product listings in bulk, or by integrating your inventory management software with Amazon's API.
Step 3 — Preparing inventory for FBA shipping
When product listings are in place, you need to ensure you package those goods according to guidelines and shipping / routing requirements to facilitate safe and secure transportation of products to fulfilment centres.
Step 4 — Sending inventory to Amazon
Create shipping plans, print out shipping labels and send the shipment to the nearest fulfilment center. When the rubber hits the road, you can use the fulfillment network to track your inventory's progress through the Shipping Queue until it's safe and sound in Amazon's fulfillment center.
Converting Existing Inventory to FBA
On the Manage Inventory page, select products you want to sell using  FBA
On the Actions Tab, use the dropdown menu to select the 'Change to Fulfilled by Amazon' option
Click 'Convert & Send Inventory' to continue creating the shipment
Click 'Convert Only' if you want to keep adding more products to inventory before creating a shipment
Amazon Supply Chain
Warehousing
Amazon has a unique fulfilment network which relies on an extensive physical infrastructure of 175+ worldwide fulfilment centres with countless employees and a fleet of robots to make selling online easier for you. The fulfilment centers are located within close proximity to each other so that inventory from one centre can be sent to another nearby centre in an effort to reduce shipping costs and times. Warehouses bring down logistical costs and provide customers with faster service and reliability.
Delivery
Amazon's ability to offer its customers fast and reliable delivery has been one of the main reasons why its supply chain strategy is so successful. Amazon uses a fleet of vehicles to meet delivery demands. Their trucks can move about 2,000 parcels at one time and their aeroplanes fly up to 30 containers each from 20 different airports to ensure on-time delivery.
Technology
From deploying Kiva's robots to act as mobile warehouses to using a proprietary airborne and surface delivery system, Amazon is continuously pushing the limits of product supply chain innovation. Using around 200,000 robots to fulfil orders, automation streamlines Amazon's flow of orders and products to reduce costs and bring their distribution system in sync with consumer demands.
Manufacturing
Manufacturing expansion is a main element of Amazon's distribution strategy. Through third-party sales the corporation realised that it can produce items at a competitive price points. Enter AmazonBasics — offering low-cost consumer products from electronic accessories and kitchen gadgets to phone cases. This is a low-risk and profitable venture given their experience in product distribution. Keep in mind that Amazon pushes its own products over those of other sellers (which might make things trickier for third-party sellers without Prime status).
Pricing
Amazon has created various shipping priorities to keep their fulfilment centers from being flooded with orders. This allows them to respond to demand fluctuations and prioritise fulfilment based on their customers' requirements. A very smart pricing strategy for their supply chain. The  FBA program is also designed quite cleverly. To keep the storage facilities from drowning in inventory, they charge share premium rates to sellers for every cubic foot they acquire. As a result, sellers only send limited inventory and the fulfilment centers remain uncluttered.
Get The Right Advice
The Amazon FBA has many benefits but that doesn't necessarily mean it's the right fit for everyone. Talk with expert small business advisers at Osome to understand what's best for your business.