How To Sell on Amazon — Everything Beginners Need To Know
Want to get into the online marketplace? Think about selling on Amazon, the biggest Internet retailer in the UK. Here's how you can get started on becoming an Amazon seller in the UK.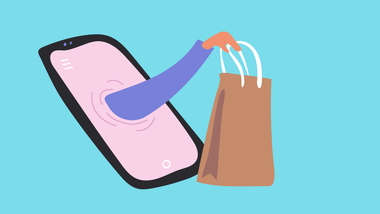 Want to get into the online marketplace? Think about selling on Amazon, the biggest Internet retailer in the UK, perhaps even the world.
Here's how you can become an Amazon seller in the UK. By the way, if you need to set up a registered company in the UK, which you'll need to sell on Amazon, we can help you with that.
What Is an Amazon UK Seller Account and What Are the Requirements?
To sell on Amazon you'll need an Amazon UK seller account. This means you've got a legitimate company and the right documentation and I.D. to trade on Amazon's platform.
What you'll have to provide in order to get a seller account is valid I.D., a credit card, an Amazon customer account or business address and company registration details.
Wondering how to create an Amazon seller account?
First you have to decide whether you need an Individual or Professional account by going to the Become an Amazon seller page on Amazon.co.uk.
Individual — this is for people who will be selling infrequently and fewer than 35 items a month. No monthly fee, just £0.75 per item sold.
Professional — for people who want to sell on Amazon as a business. It's £25 a month, and you can sell as many products as you like. It also comes with perks, such as access to Amazon advertising and reporting.
Fulfilment Methods for Amazon in the UK
Fulfilment is the packing and shipping that comes after the sale. Do you want to handle it yourself? Fulfilment by merchant (FBM) might be for you. If you want Amazon to handle it for you, then fulfilment by Amazon (FBA) is the way to go.
Fulfilment by Amazon (FBA)
This is the most popular method with Amazon sellers. Amazon will store your inventory, pack and ship orders to your customers and even handle the delivery customer service. And if your customer is an Amazon Prime member, they'll receive your product in just 1-2 days.
Fulfilment by Merchant (FBM)
With this method, you don't pay the FBA fees, but you have to manage storing your inventory, getting it ready for delivery, the delivery itself, and any customer service enquiries that come after delivery.
How To Research What Products to Sell on Amazon in the UK
Maybe you know what you want to sell, or maybe you just want to enter the Amazon marketplace as a vendor. If the latter is true, how are you going to decide what to sell? You need to get online and do a little research. Google what's selling well on Amazon and where the gaps in the market are. Look for the best-selling niches on Amazon that you can step into with other competitors at your level.
If you're going up against a big company, make sure you have a strategy that makes your product attractive — maybe it's a lower price or more personal customer service.
What Are the Key Ecommerce Business Metrics?
When starting a business, it's important to have a business plan. This outlines your goals and the incremental steps you're going to take to achieve them. How do you know if you're on the right path? By looking at certain basic ecommerce metrics and tracking these over time, you can see if your business is on track to achieve your business goals, or if you need to make adjustments.
The main business metrics for ecommerce are:
Inventory to sales ratio — this is an indication of how healthy your inventory is and shows your sell-through rate.
Inventory turn — this is how often your inventory turns over (by being sold) over a specific period of time. If your rate is low, then your inventory isn't shifting and sales are poor.
Gross Margin Return On Investment (GMROI) — this is the profitability of your inventory. You want a ratio higher than 1, this means you're making profit. You're selling a product for more than it cost you to acquire it. Use a gross margin calculator to determine this figure.
Cash-to-cash cycle — this measures how long your cash is tied up before it becomes usable for you again. It's your cash flow. What did it cost to create your product? To sell it? And how long before you see the cash from the sale.
Days of Inventory (DOI) — this lets you know how long items are held in stock before they're sold. It allows you to gauge how much stock you need to hold in your inventory to keep customers happy.
The Costs of Selling on Amazon
There are two kinds of costs when selling on Amazon; direct costs and indirect costs.
Direct costs
Direct costs are what it costs you per product, also known as a Stock Keeping Unit (SKU). What it cost you to make, or purchase your product, and get it shipped to your customer.
Indirect costs
Indirect costs are overheads — the general costs to your business that aren't directly related to an individual product. Things like office and warehouse space, utility bills, legal and accounting fees, and marketing and promotion.
Amazon Fees
Amazon selling fees are charges that Amazon collects from you to use their platform. There's nothing nasty in here and they're well worth it seeing as you get access to the biggest ecommerce platform in the world.
These are charges such as selling fees, commission, fulfilment and FBA fees (if you're going the FBA route), storage fees, and return shipping costs.
How To Present Your Available Products
Each of your products will have its own homepage. This is known as the product detail page (PDP). As the title suggests, it has all the info on your product to help potential customers make a purchasing decision.
Targeted Product Title
Amazon has put a lot of research into what will help you haul more products with them. Their Amazon Seller Central guidelines suggest that your targeted product title is between 60-80 characters.
This targeted product title should include your brand name and other key words that people will use to search for your product. The more it can hook customers into clicking on your product page, the higher your click-through rate and Search Engine Optimization (SEO) ranking will be.
High-quality Product Images
Don't get cute with your product images. It's not advertising at this point. You have the consumer there and they'll want to clearly see what they're thinking of buying.
Your product images should be high-quality, a 72 DPI JPEG so people can zoom in on them to see detail and show multiple angles of your product. Five to eight images is usually optimal.
If you've got video of your product make sure you include it as people are more likely to click on videos over images. Take a look at this seller's video, for example.
Bullet Points for Main Information
Customers will want to know the key facts and benefits of your product. And they won't want to read a lot of flowery paragraphs about it. They'll want to get straight to the point and focus on what interests them.
They'll want bullet points that are easy to read and easy to scan. Bullet points should be as concise as possible and give surrounding detail that won't be apparent in images such as any warranties, product specs and anticipated product life.
Clear Product Descriptions
Again, the name of the game here is to get to the point. Customers are scanning these pages, so they want to see as many facts about the benefit to them as possible.
This is one level of detail beyond the bullet points, but don't get bogged down in long text. Do you want to give yourself an even better chance of sales? Then consider Enhanced Brand Content (EBC) which combines images with informative content to your product listings and is offered by Amazon.
Product Variations
Sometimes, people just want to see what your product would look like in red or yellow. Product variations allow the customer to control the image they're looking at – the colour, size, spec, etc. This helps them see the actual product they want and solidifies the buyer journey.
4 Tips To Boost Sales on Amazon
Once you've gotten the administrative work out of the way, it's time to start selling! Here are some sure-fire tips to help you boost sales.
Select the right category for selling your products
This may sound obvious, but you'd be surprised how many sellers make the mistake of listing their products in the wrong category.
With over 20 different categories on Amazon, selecting the right category will allow consumers to find your products more easily. There are also category, product and listing restrictions, so be sure to check them out before you start.
Price your items competitively
Consumers love a good deal, and the way you price your products could affect its sales. Check out your competition to gauge prices and use quality accounting software to calculate a price that is profitable for you.
Make use of great vontent to increase sales
Great content will help entice customers and persuade them to buy from you. Try making your listings attractive. Here are some suggestions for you:
Provide accurate, detailed product information.
Select great cover photos that accurately portray your product.
Include practical product information.
Optimise keywords in product titles and descriptions with search terms that consumers are likely to use.
Harness the power of social media and use your social platforms to spread the word of your product listings.
Use Amazon's reporting to refine your sales strategy
Amazon's Seller Central Area allows you access to reports on sales promotions, inventory, and other useful information. When it comes to planning your inventory and forecasting sales, this information can come in very handy. Remember to factor in seasonality — your sales could surge during the holiday season.
Now, You're Well on Your Way
Now you know how to sell stuff on Amazon. Amazon also has a suite of tools to help you boost your sales and a fee calculator so you can track your revenue on each sale.
If you follow the tips outlined in this article there's no reason why you can't create a successful business in the UK on the world's leading ecommerce platform.