Best Tools for Amazon Sellers To Boost Sales
E-commerce is undoubtedly a highly competitive landscape, especially during a pandemic where lockdowns have become the new normal. If you are looking to sell on Amazon, you will need an Amazon seller tool to help you gain a competitive edge over the rest.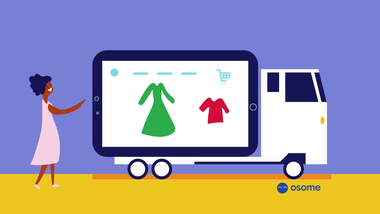 E-commerce is undoubtedly a highly competitive landscape, especially during a pandemic where lockdowns have become the new normal. If you are looking to sell on Amazon, you will need an Amazon seller tool to help you gain a competitive edge over the rest.
Regardless of whether you are just starting out your Amazon business or have been trying for months, you can save lots of time and money with these great tools that can help to optimise your business. With the right Amazon seller tools, you will be on the right track to growing a successful business that can generate high-level and regular income. Osome can help you deal with accounting tasks for your small business. To find out about other tools to help your business grow, do read on for our top picks of well-known Amazon seller tools.
JungleScout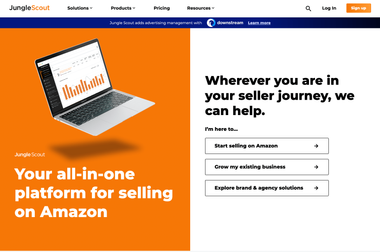 An all-in-one Amazon seller tool, JungleScout was initially a product research tool but has gradually expanded to incorporate more features. To date, Jungle Scout boasts 13 tools.
The most widely adopted product research tool used by professional Amazon sellers, JungleScout provides you crucial information on any product or platform niche with their proprietary Amazon product analysis algorithms. This information is based on actual data and includes consumer demand, competitive landscape, estimated profitability and seasonality. You can even filter, organise and export the information to CSV format to aggregate key data points for your Amazon product research.
Three tools that are worth a mention include the Supplier Database, Keyword Scout, and Product Tracker.
Supplier Database is useful for entrepreneurs focused on private labeling, since it can help locate global manufacturers and suppliers of big brands. These facts and figures are extracted from the Customs Import Trade Data and will offer valuable insights including the overall supplier rating or other suppliers' customers.
Keyword Scout helps Amazon sellers create listings and generate Pay-Per-Click (PPC) campaigns with keywords for higher visibility.
Product Tracker that can be found within the Web Add helps to keep tabs on your competitors' pricing, profit margins, inventory, and more.
Pricing: Starts from $29 USD per month for a Basic plan
Pros: Wide range of tools available for Amazon sellers
Cons: Monthly subscription does not come cheap, and some features might not be very useful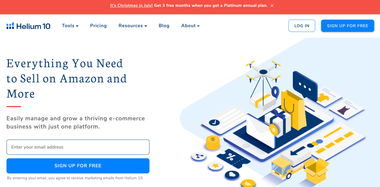 Helium10 possibly offers Amazon sellers the second largest suite of tools after JungleScout. In fact, Helium10's strength lies in its product sourcing capabilities and powerful proprietary algorithm for listing optimisation.
Similar to JungleScout, Helium10 also allows you to source for Private Label products and they have grown to be one of the key competitors in the field.
To optimise your listing, you can create manual and automated PPC campaigns with high-volume keywords generated with the Magnet tool. It has also gained its reputation as one of the business's best keyword ranking tools, loaded with features including a reverse Amazon Standard Identification Number (ASIN lookup) and extensive collection of keyword search criteria and filters. That's not all - there is even a misspelled keyword extractor for your campaigns to benefit from commonly misspelled search terms.
For product research, you can comb through millions of products from different categories and niches with Black Box. Then, you can make use of the Trendster tool to gain insight on any product's sales trends, seasonality and demand. Finally, you can even use their XRay function for crucial information including revenue estimates and pricing.
Pricing: Starts from $37 USD per month for a Starter plan. You can also sign up for a free plan.
Pros: Free trial allows you to test out the platform before deciding if you should pay for a monthly subscription. Helium10 also offers a large suite of tools that Amazon sellers can benefit from.
Cons: If your intention is solely to do product research, the monthly subscription may not be worth the investment.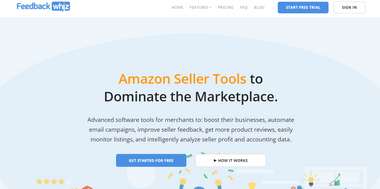 FeedbackWhiz specializes in helping Amazon sellers increase profits and enhance brand reputation.
Automate communication to your customers using customized BSM emails or Amazon's Request a Review button. Setup scheduled campaigns based on triggers such as refunds, shipment, delivery, feedback, and repeat buyers to maximize review conversion.
Monitor, manage and get alerts on all your reviews and listings changes for your products so you can quickly respond to negative reviews or critical events such as hijackers, buy-box loss, and listing issues.
Efficiently measure and track profits for your entire business with all your Amazon selling metrics.
Aggregate financial data into customized product groupings of your choice to easily compare between categories, brands, types, and marketplaces.
Create notes, custom labels, filter, and download data in FeedbackWhiz to save time and increase productivity.

Pricing: After a free 30 day trial, Starter plans start at $19.99 per month. The most popular plans are the Professional plans at $79.99 per month.
Pros: The essential Amazon seller tools - email and review Automation, financial business data analytics, and 24/7 ASIN monitoring alerts for reviews, listing changes, and hijackers - are all in a single, intuitive dashboard, helping Amazon sellers focus on scaling their business.
Cons: Some plans can be expensive, as you would expect with the best features. But it would be nice to see more tiered pricing plans offered.
AMZScout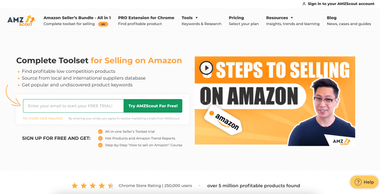 AMZScout touts itself as the complete toolset for Amazon selling, allowing sellers to look for profitable low competition products, source from the database of local and international suppliers, and obtain popular and undiscovered product keywords. Furthermore, AMZScout offers a tracking feature to allow you to analyse a product's sales data by seasonal periods.
For easier profit calculation, you'd be glad to know that AMZScout provides a Fulfillment by Amazon (FBA) Calculator in the form of an Amazon Chrome Extension. This feature helps to automatically calculate all FBA fees and allows you to make an informed decision on whether a product is worth selling on Amazon after outsourcing packaging, storage, shipping, customer service and returns to Amazon.
Pricing: Starts from $16.49 USD per month for a Light plan. You can also sign up for a free plan.
Pros: Similar to JungleScout with functionality through a Chrome Extension and a web app, with everything you need for Amazon selling at your fingertips – from monthly sales, product potential score to competitor analysis.
Cons: The Light plan may not be sufficient for all your selling needs. In this case, consider investing in their popular Full plan, priced at $29 USD per month.
Sellics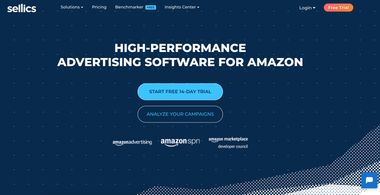 An all-in-one software, Sellics is a user-friendly platform that allows Amazon Sellers to fully automate Amazon ads with its Artificial Intelligence-based predictive solutions. Sellics factors in a combination of keyword clustering, sales forecasting, and sales while taking into account seasonality and other factors.
You can also choose to go with a fully- or semi-customised campaign with different rules according to your preference, including dynamic bidding, placement targeting, ad scheduling and keyword harvesting. This can help you to maximise sales, increase conversions and reduce ACoS. Sellics also converts data and metrics into actionable recommendations so you can enhance your business processes.

One of the company's flagship products is the Sellics Benchmarker [Beta], a free, ground-breaking Amazon insights tool that allows advertisers to compare performance with their competitors, identify opportunities for improvement, and make data-based decisions to create more profitable Amazon PPC campaigns. This easy-to-use tool provides data and charts to make comparisons quick and intuitive so that you can easily identify the areas of your ad campaigns that need improvement. All flagship KPIs - CTR, CVR, CPC, ACoS - are included. The statistically relevant data is based on $2.5 billion of generated ad revenue, and it is updated regularly.
Pricing: Starts from $198 USD per month for an Advertising Pro Plus plan. You can also sign up for a free plan.
Pros: From product research, PPC campaigns, search engine optimisation, inventory management, competitor analysis to tracking profits, Sellics allows you to do everything you need for Amazon selling.
Cons: Monthly subscription can be costly, and some features might not be very useful.
Octoparse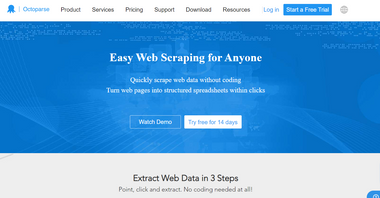 Octoparse is a free and powerful eCommerce data scraping tool with a user-friendly point-and-click interface. Both Windows and Mac users will find it easy-to-use for extracting almost all kinds of product data you need from a eCommerce website. With its brand new auto-detect algorithm, users with/without coding knowledge are able to extract tons of data within seconds. Octoparse provides over 50 pre-built web scraping templates for all users, covering big eCommerce websites such as Amazon, eBay, Etsy, Walmart, etc. All you need to do is to enter the keywords and URL, and then wait for the data result. In addition, it provides a free version for all people. For premium users, they can use features such as crawler scheduling and cloud extraction to make the process less time-consuming.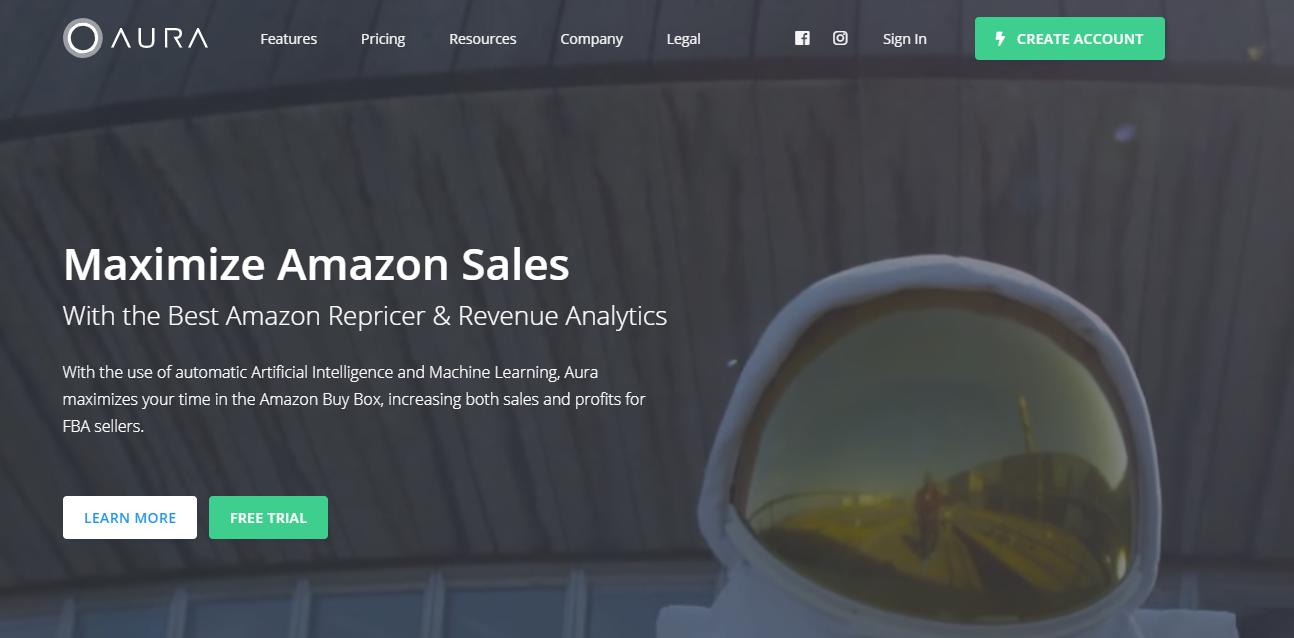 Aura has quickly become the go-to repricing tool for Amazon resellers, increasing sales an average of 30-40% for sellers. They offer advanced features like instant algorithmic repricing and Workflows, which allow you to put your account on total auto-pilot.

Although Aura is incredibly easy to use for newer sellers, it's also built to help sellers scale their businesses by offering custom strategies.
Pricing: Aura offers a 14-day trial without a credit card required upfront. After that, they offer a single pricing tier of $97 /month or a 20% discounted annual plan, which comes out to $77.60 /month.
Pros: Aura offers incredible customer support and features that allow you to fully automate the pricing of your products, increasing your overall sales so you can focus on growing your inventory levels.
MerchantWords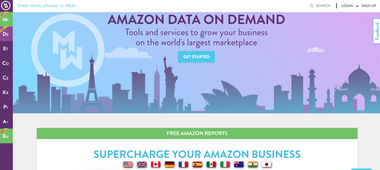 Designed to help Amazon sellers research keywords in the Amazon marketplace, MerchantWords is one of the original Amazon tools created in 2012 and remains just as relevant today.
With a myriad of Amazon seller keyword research and data tools, you can effortlessly find out the search terms your target audience is searching for at different intervals, and use this information for your product descriptions and marketing campaigns. With its propriety algorithms developed by its Data Science team, you can also accurately see the shopping trends of Amazon visitors.
Pricing: Starts from $29 USD per month for a Silver plan. With an Annual Plan sign up ($290 per year for Silver Annual), you get 2 free additional months.
Pros: MerchantWords provides access to a large amount of keyword data from eleven Amazon Marketplaces.
Cons: If you are unable to read, analyse and utilise the provided data, you may require additional tools beyond MerchantWords' capabilities.
SellerLabs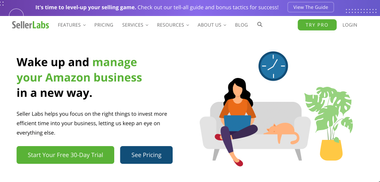 Level up your selling game with SellerLabs, a catch-all tool for Amazon, with the Pro version being an advanced one powered by Artificial Intelligence.
With its smart PPC algorithm, SellerLabs allows sellers to automate their ad campaigns. They also offer an Ignite tool for autopilot PPC management so you can automate campaigns and maximise ad spend.
Additionally, SellerLabs also offers services to support your Amazon FBA business, such as an automated buyer-seller messaging tool and keyword research tool.
Pricing: Starts from $49 USD per month for a Monthly plan. You can also sign up for a free trial.
Pros: SellerLabs is an easy-to-use product revenue optimisation platform designed to maximise profitability and drive your e-commerce business growth.
Cons: You will have to pay for the Pro version in order to unlock more features.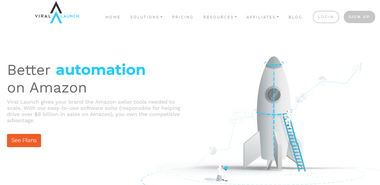 Viral Launch started in 2014 with the Amazon seller in mind. They created Product Discovery for sellers to find and compare the best products to sell on Amazon without breaking the bank. From there, they expanded their tools to focus on PPC campaigns and split testing in order for brands and sellers alike to receive the most exposure.
With data research going back over 4 years, Viral Launch provides their users with the largest library of Amazon data to become a successful seller. The Keyword Manager tool is the most popular among users for its ability to quickly compare and contrast specific keywords and how it compares to similar ones. Users can optimize the best SEO for their products to hit the number one spot on Amazon.
Pricing: Starts from $69 USD per month for a Basic plan
Pros: The complete all-in-one tool package for sellers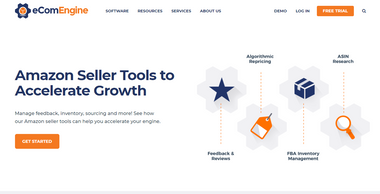 eComEngine software is designed to help Amazon sellers automate tasks from building a seller reputation to managing suppliers. FeedbackFive helps you get more reviews and feedback with automated Amazon-compliant requests. Monitor and analyze ratings, get alerts for new reviews, and more.

Get timely restock suggestions and inventory forecasting with RestockPro, which helps FBA sellers streamline their inventory management processes. Research profitable items to sell with MarketScout by uploading a list of SKUs and cost information to get the data you need to make smarter sourcing decisions.

Pricing: Starts at $0 USD per month for FeedbackFive's free plan, $99 USD per month for RestockPro, and MarketScout credits are as low as $0.003 per ASIN.

Pros: eComEngine is committed to helping Amazon sellers succeed, offering exceptional customer support. This includes account optimizations and free coaching to help you stay compliant with Amazon's guidelines when requesting feedback and reviews. They also provide a variety of free resources for Amazon sellers.

Cons: The Free and Basic plans for FeedbackFive have limited features. RestockPro only supports local and FBA inventory management, so it isn't the right fit for all fulfillment models.
SageMailer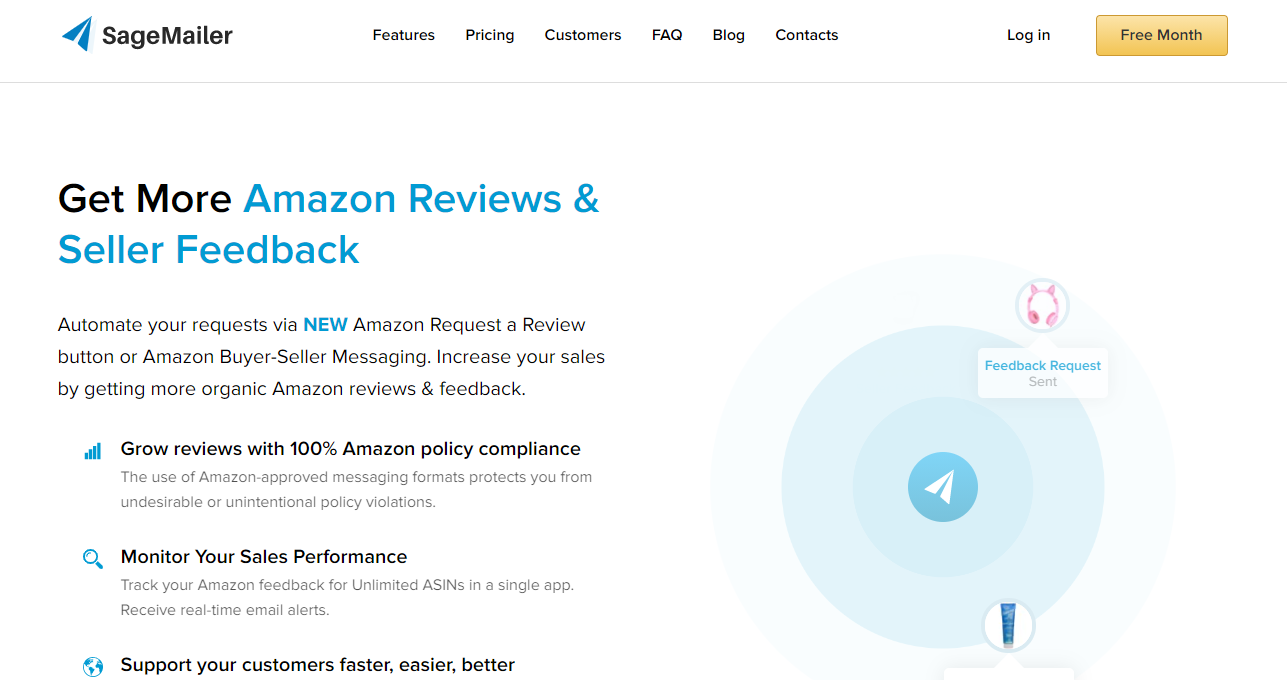 SageMailer helps Amazon sellers increase the number of product reviews, improve their customer service and boost sales.

With SageMailer, you can automate customer communication using the pre-created letter templates or official Amazon's Request a Review button automation. According to the needs, users can edit the standard templates, create custom ones, and set up mailing campaigns based on different settings such as order statuses, refunds, repeat buyers, or particular times and weekdays. Test different letters simultaneously and detect the best converting variants using the A/B testing function.

SageMailer allows monitoring product reviews for an unlimited number of seller's ASINs. Manage reviews and get instant alerts on all new reviews of your products so you can handle all the issues immediately and protect your reputation. For contacting customers, you can use SageMailer's Response Center. Unlike Amazon Seller Central, it aggregates all buyer messages from all marketplaces on a single page and saves the messaging history so you can always track the communication progress.

Pricing: 30-day free trial, no card required. Plans start at $10 per month. The most popular plan is the PRO plan at $25 per month. The user can request and get an individual plan tailored according to their needs.

Pros: The important Amazon seller software for customer service and review Automation, 24/7 ASIN reviews monitoring, and convenient communication with customers. Simple but powerful, intuitive design that makes it easy to use and saves time on scaling business.

Cons: Lack of some functionality, but the service is constantly evolving, and new functions are added regularly.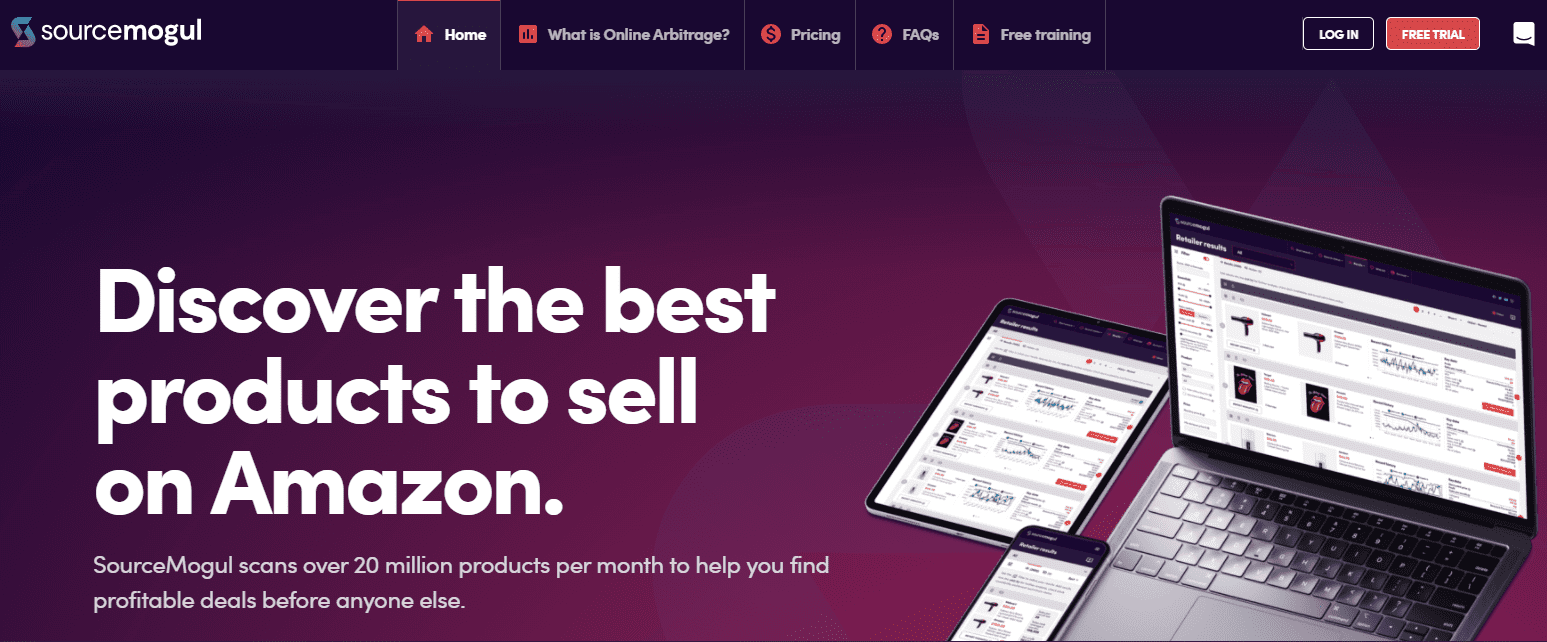 Winning the 'buy box' on Amazon is increasingly difficult these days with a focus on price, reviews, and customer service metrics. Improving customer service and customer ratings are both definitely within the control of the seller (especially when using some of the other tools featured in this article), but price is very often the most difficult metric to control - especially when other sellers are engaged in a race to the bottom.
SourceMogul can help to solve this by constantly scanning the internet to find the best buying price for products, across both wholesale and retail suppliers. By buying products cheaper than your competitors, you have more 'wiggle room' in your selling price, which means you can afford to price out any competitors who may be trying to compete this way.
A great UI and good selection of sites (as well as the ability to upload lists and use their Chrome extension) makes SourceMogul very easy to use, and the team are very proactive at adding new features and improvements into the system.

Pricing: All customers get a 7 day, full feature, free trial.
Monthly pricing: $67/month for first 3 months then $97/month after that
Annual pricing: $880/year.
Pros: A good range of features that can help Amazon sellers to find cheap products for resale on Amazon. Intelligent filtering ensures that you can eliminate any products which may not be the right fit for you.
Cons: SourceMogul offers around 500 US and UK websites, which can sometimes feel a little low for some product categories. The team are working on adding more sites, and new features to allow users to find their own deals.
Seller Snap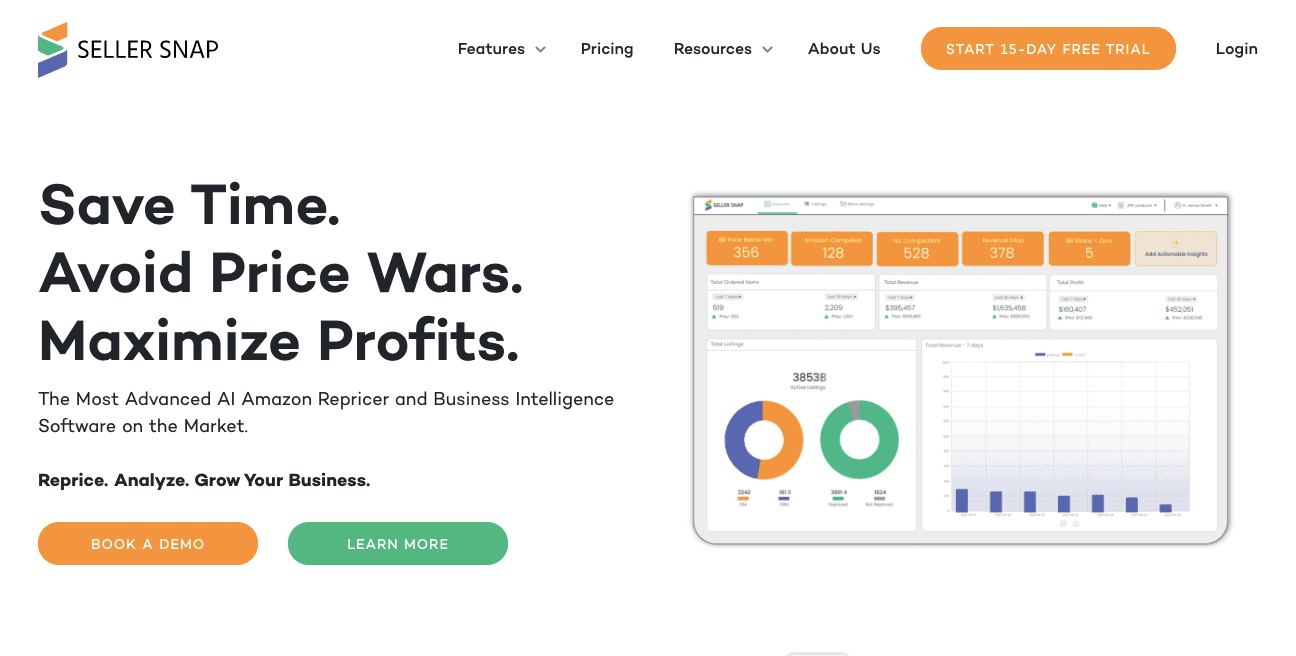 Seller Snap offers you a fully automated AI Amazon Repricer and analytics tool. Seller Snap applies Game Theory tactics to guarantee the best possible performance no matter how the competition changes. The repricer creates tailored strategies using a cooperative strategy for each individual listing based on your competitor's behavior and marketplace conditions to win the Buy Box at the highest optimal price while avoiding price wars.
80% of all Amazon sales are made through the Buy Box, meaning increasing your Amazon Buy Box share correlates directly with an increase in Amazon sales. Since the Amazon Buy Box is such sort after real estate, using alternative repricers to an AI repricer, can cause aggressive price wars. For example, a lot of Amazon sellers use rule-based repricers. This in combination with sellers trying to dominate the Buy Box impacts profit margins as sellers race to the bottom of their price structure in order to win Buy Box share. Using an AI repricer removes the likelihood of this happening.
For sellers who do want to customize their strategies to fulfill specific sales or repricing goals, the repricer also comes with customizable repricing strategies, such as the "win BuyBox" method that allows sellers to liquidate inventory, for example. As well as automatic repricing, Seller Snap provides sellers with robust and insightful analytics to help sellers make better business decisions.
Pricing: 15-day free trial, no card required. Plans start at $250 per month.
Pros: Using AI technology means that no set-up is required and sellers can start repricing within 15-minutes. The AI learns from the competitive environment so little to no management is needed, freeing up time for sellers to work on other areas of their business. Seller Snap offers round-the-clock expert support.
Cons: Potentially for more established sellers with medium to larger Amazon stores.

Grow your Business Without the Stress
We know how stressful it can be to handle a business, but you don't have to take it all upon yourself.
At Osome, we are always here for you. Selling via Paypal on Amazon and Square on Etsy? Sure. Whatever your case, someone who's handled it before will answer in a chat within 24 hours. Work with a dedicated e-commerce accountant who specialises in e-commerce businesses. We help you with your filing deadlines, finding reliefs for your company, and arranging documents perfectly.
Simply connect your Amazon, Shopify, or any platform you use, in just 2 minutes. We convert their statements into easy-to-read reports. See fees from platforms, warehouses, delivery etc. as separate lines, all with correct tax categories. If you sell outside the UK, we help you file VAT there too.