Top Tools for Amazon Sellers To Boost Sales
Are you looking for a competitive edge for your Amazon ecommerce store? Then take note of these 22 Amazon tools that will help you boost sales, grow your business and ultimately save time.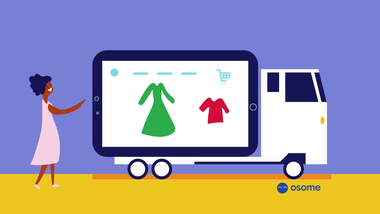 Want to give your ecommerce stores a competitive edge? Then it's time to get up to speed on the different Amazon tools that will help you optimise your business and learn how to increase sales, so you save time and money.
To get you on the right track, we've put together our top picks of Amazon's marketplace tools so you can grow a successful business and generate profitable and regular income. Plus, if you need some support to deal with accounting tasks for your small business, our Osome team has got you covered.
Helium 10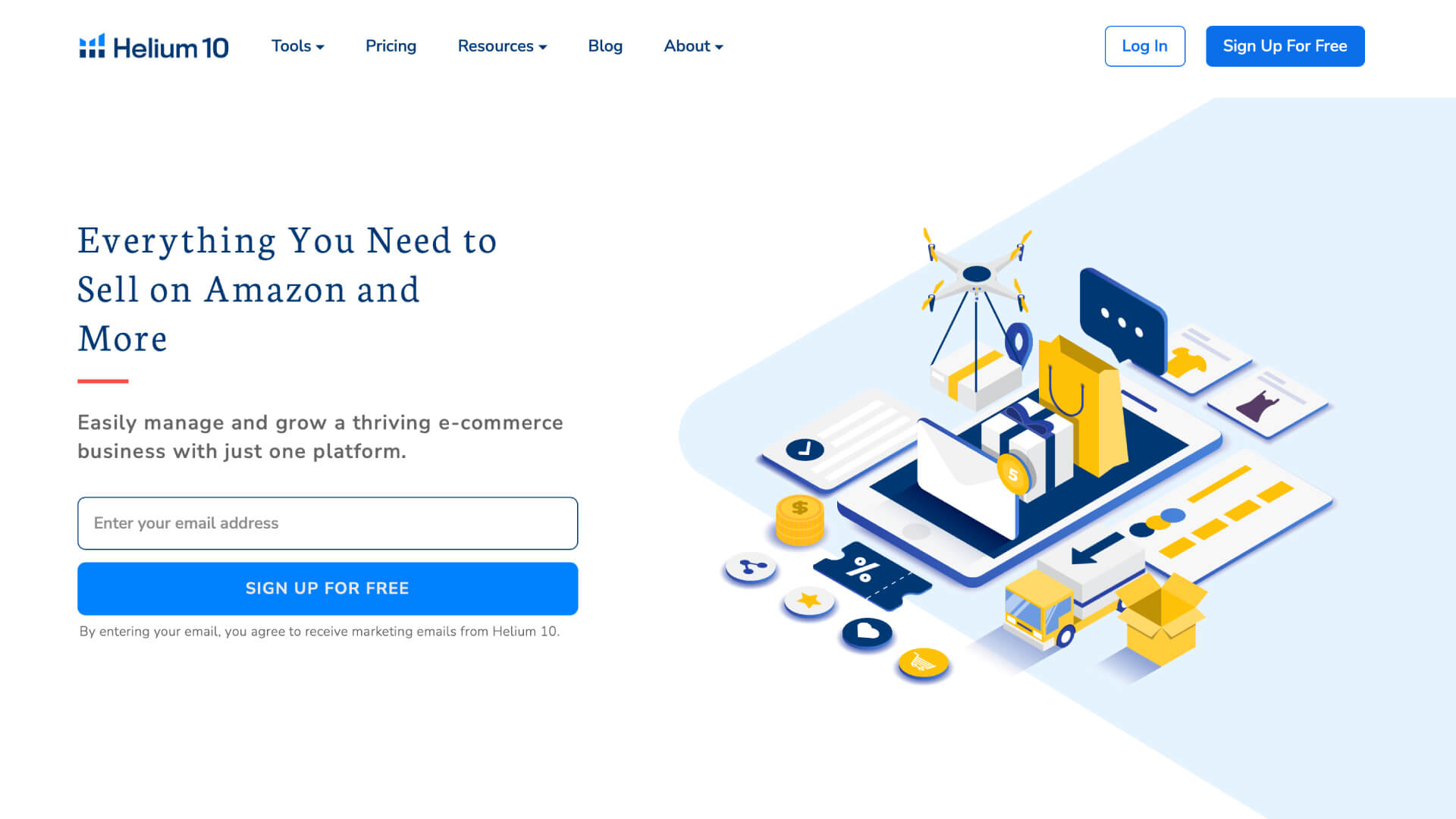 Helium10 offers Amazon sellers a large suite of tools, strong product-sourcing capabilities and a powerful proprietary algorithm for listing optimisation. With this Amazon tool, you can source for Private Label products, optimise listings and create manual and automated PPC campaigns with high-volume keywords generated with the Magnet tool.
Helium10 is one of the best keyword ranking tools in the biz because of features including a reverse Amazon Standard Identification Number (ASIN lookup) and an extensive collection of keyword search criteria and filters. There's even a misspelt keyword extractor to help you spot commonly misspelt search terms in your campaigns.
This handy Amazon product research tool allows you to comb through millions of products from different categories using Black Box. You can use the Trendster tool to get product sale trends, seasonality and demand insights, while XRay gives you crucial information like revenue estimates and pricing.
Prices:
Get a Starter plan from just $29 USD per month or opt for the Diamond plan for $209 USD if you're set on scaling your business
Pros:
Large suite of tools that will benefit Amazon sellers and a free trial that lets you test the platform before deciding to sign up for a paid monthly subscription.
Cons:
If your intention is solely to do product research, the monthly subscription may not be worth the investment.
JungleScout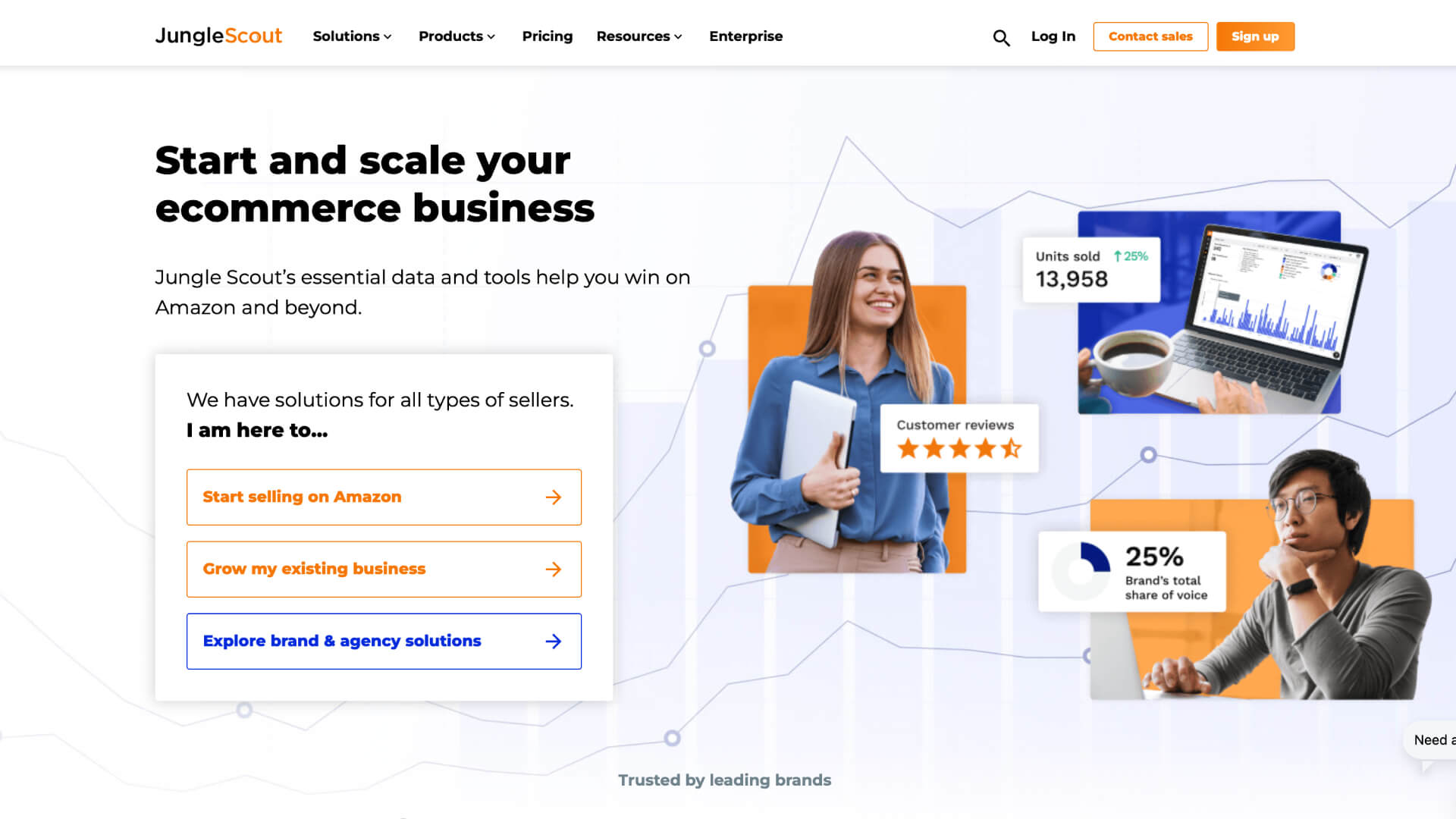 An all-in-one for Amazon sellers, JungleScout was initially a product research tool but has gradually expanded to incorporate more features and, to date, boasts thirteen tools and counting.
It's a widely adopted product research tool used by professional Amazon sellers, providing crucial information on any product or platform niche through their Amazon product algorithms. Information is based on actual data and includes consumer demand, competitive landscape, estimated profitability and seasonality.
You can filter, organise and export information to CSV format to aggregate key data points for your Amazon product research. Three Amazon-related tools worthy of a shout-out are:
Supplier Database: Useful for entrepreneurs focused on private labelling, helping locate global manufacturers and suppliers of big brands. Facts and figures are extracted from the Customs Import Trade Data and offer valuable insights, including the overall supplier or other suppliers' customer ratings.
Keyword Scout: This Amazon seller tool creates listings and generates Pay-Per-Click (PPC) campaigns with keywords for higher visibility.
Product Tracker: Found within the Web Add, this tool keeps tabs on competitor pricing, profit margins, inventory, and more.
Prices:
Starts from $29 USD per month for a Basic plan
Pros:
Wide range of Amazon seller tools to optimise your business in the UK online marketplace
Cons:
The monthly subscription doesn't come cheap, and some features may not be useful
FeedbackWhiz
FeedbackWhiz, an Amazon seller tool, helps to increase profits with a focus on enhancing brand reputation along the way. You can automate communication with your customers using customised BSM emails or Amazon's Request a Review button. A few other benefits of this platform:
Set up scheduled campaigns based on triggers (refunds, shipment, delivery, feedback, and repeat buyers)
Monitor, manage and get alerts on all reviews and listing changes for your products so you can respond quickly to negative reviews or critical events such as hijackers, buy-box loss or listing issues
Efficiently measure and track profits for your entire business with all your Amazon selling metrics
Aggregate financial data into customised product groupings of your choice to easily compare between categories, brands, types, and marketplaces
Increase productivity and save time by downloading data and creating notes, custom labels and filters
Prices:
After a free 30-day trial, Starter plans start at $19.99 per month. The most popular plans are the Professional plans at $79.99 per month
Pros:
Email and review automation, financial business data analytics, 24/7 Amazon ASIN lookup and monitoring alerts for reviews, listing changes, and hijackers — all in a single, intuitive dashboard
Cons:
Plans can be expensive so it would be nice to see more tiered pricing plans offered
AMZScout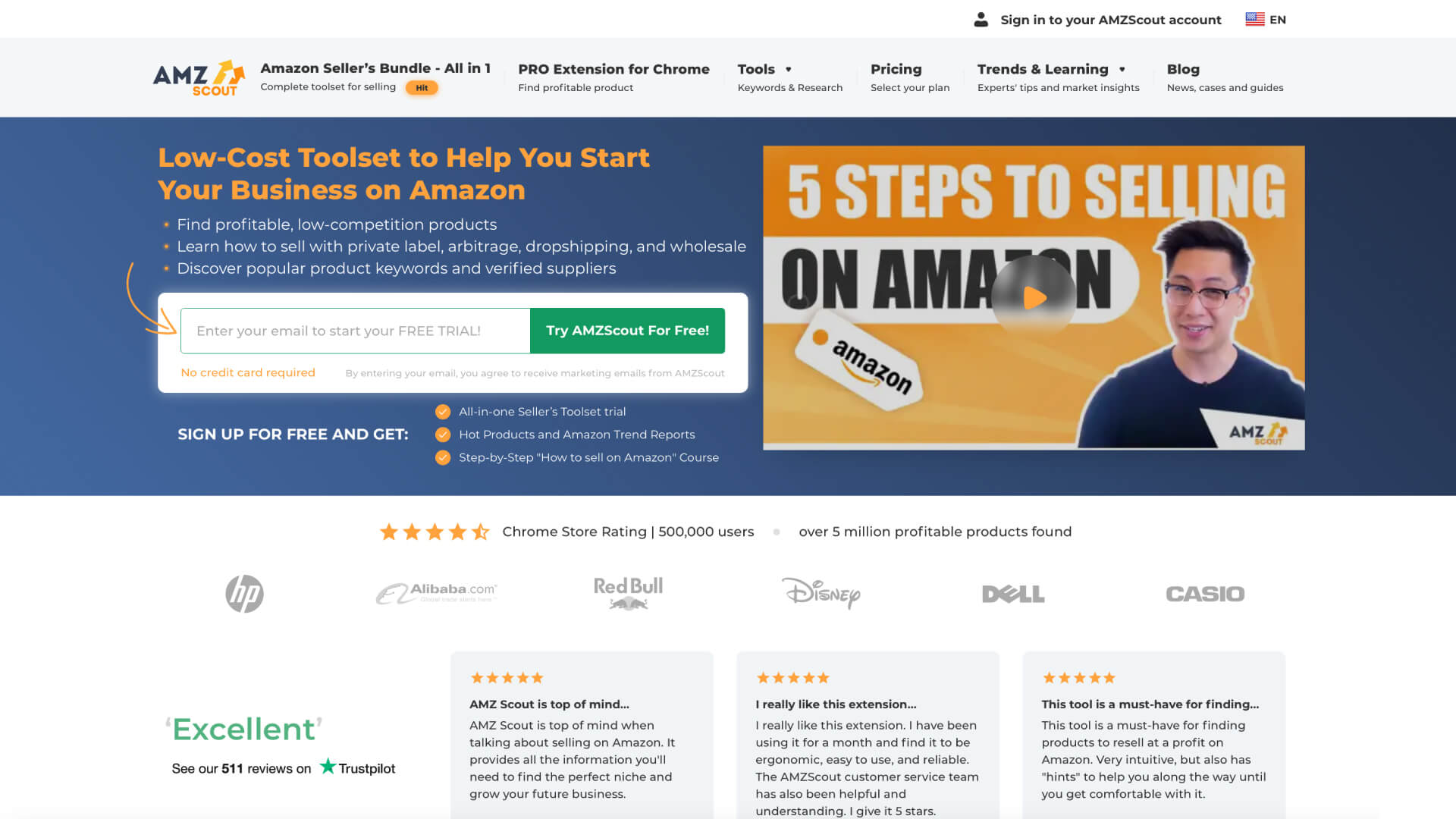 AMZAScout allows sellers on Amazon to look for high-demand, low-competition products, source from a database of local and international suppliers, and obtain popular and undiscovered product keywords. There's also a tracking feature to analyse product sales data by seasonal periods.
AMZScout provides a Fulfillment by Amazon (FBA) Calculator in the form of an Amazon Chrome Extension so you can automatically calculate all FBA fees and make informed decisions on whether a product is worth selling on Amazon after outsourcing packaging, storage, shipping, customer service and returns.
Prices:
Sign up for a free plan or subscribe from $16.49 USD per month for a light plan
Pros:
Functionality through a Chrome Extension and a web app, with all the Amazon seller tool perks  – from monthly sales and product potential score to competitor analysis
Cons:
The Light plan may not be sufficient for all your selling needs, so you may need to consider investing in their paid-for full plan, priced at $29 USD per month
Sellics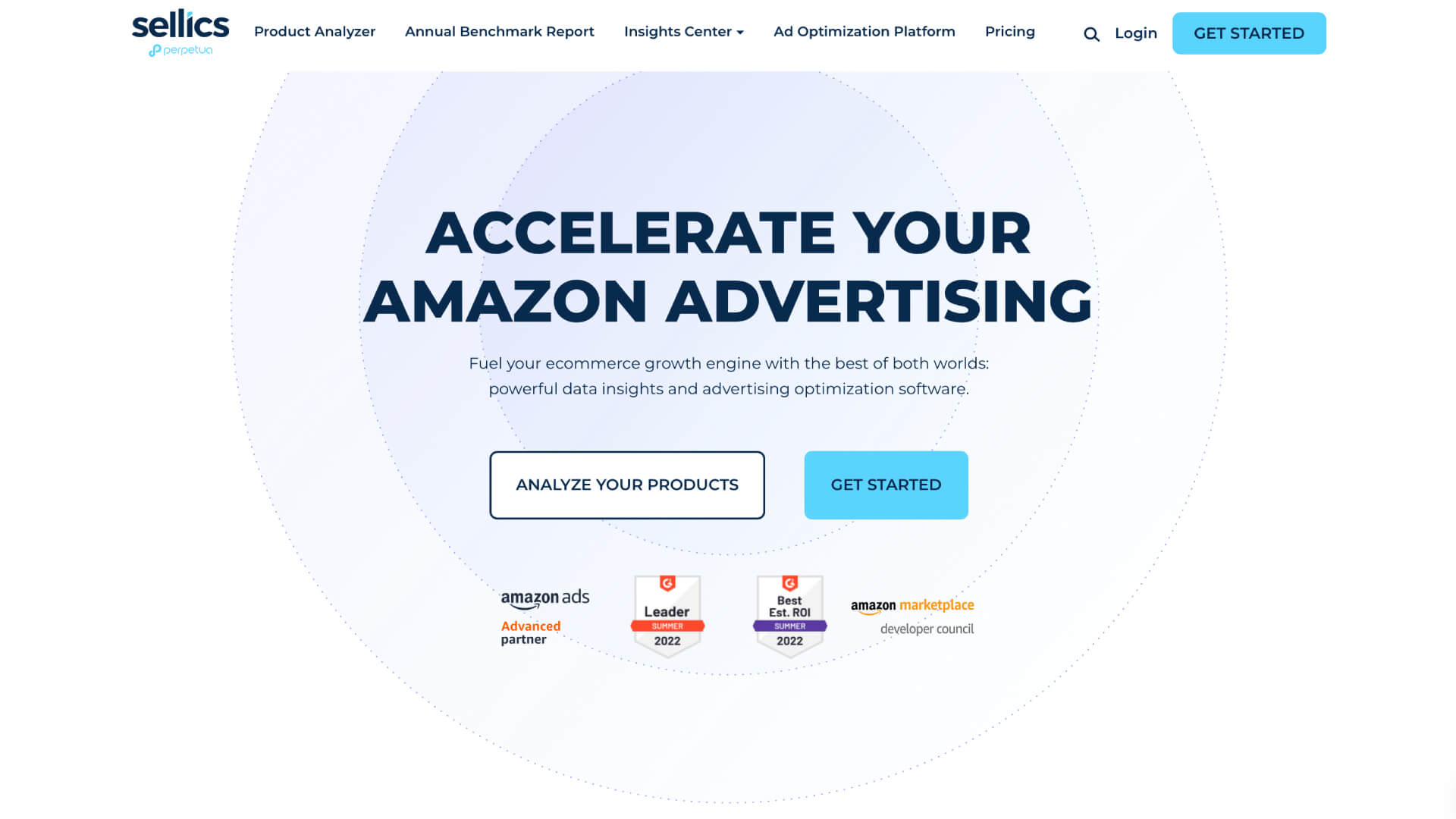 Fully automate Amazon ads with Sellics, an all-in-one software with a user-friendly platform and artificial Intelligence-based predictive solutions. A combination of keyword clustering, sales forecasting and account seasonality are all factored in. By the way, we've added to this top solutions that fit Amazon sellers only. But there are a lot of marketing tools to grow your business. For example, you can find influencers to promote your store.
Go with a fully or semi-customised campaign with different rules, including dynamic bidding, placement targeting, ad scheduling, and keyword harvesting. If you want to know how to increase sales on Amazon, increase conversions and reduce ACoS, Sellics can show you the way! It also converts data and metrics into actionable recommendations to enhance business processes.
Sellics Benchmarker is a free, ground-breaking Amazon tool giving advertisers insights to compare competitor performance, identify areas for improvement and make data-based decisions for more profitable PPC campaigns. All flagship KPIs - CTR, CVR, CPC, ACoS - are included and this statistically relevant data is based on $2.5 billion of generated ad revenue and is regularly updated.
Prices:
Starts from $198 USD per month for an Advertising Pro Plus plan. You can also sign up for a free plan
Pros:
From product research, PPC campaigns, SEO, inventory management, and competitor analysis to tracking profits, Sellics gives you all the Amazon seller tools you need
Cons:
Monthly subscriptions can be costly, and some features might not be very useful
Octoparse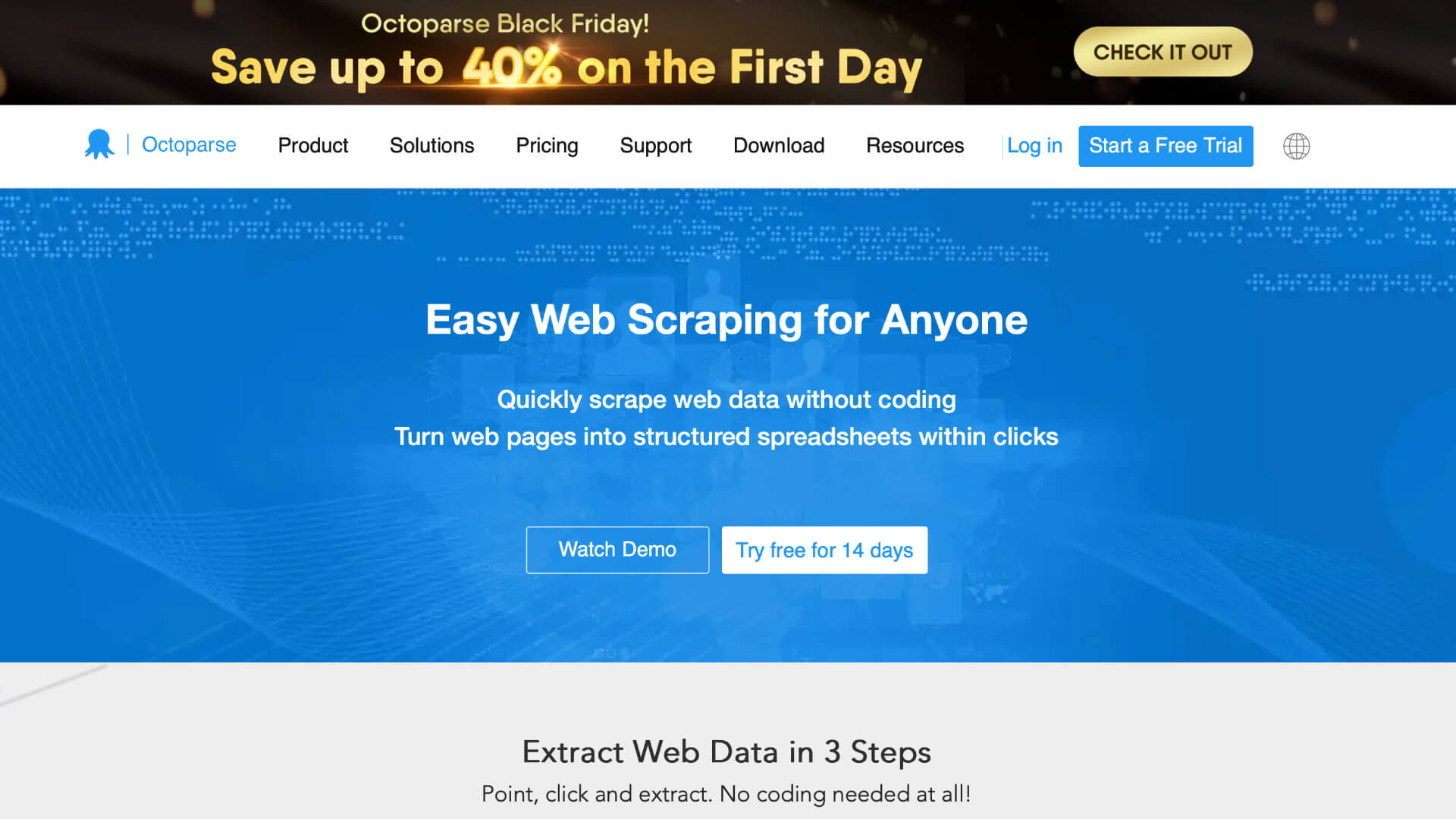 Octoparse is a free and powerful eCommerce data scraping tool with a user-friendly point-and-click interface. Windows and Mac users will find it easy to use to extract all kinds of product data from eCommerce websites. With a brand-new auto-detect algorithm, even those without coding knowledge can extract tons of data within seconds.
Octoparse provides over 50 pre-built web scraping templates covering ecommerce websites such as Amazon, eBay, Etsy and Walmart. All you need to do is to enter the keywords and URL and wait for the data results.
Prices:
Sign up for a free trial or get started with a Standard Plan for $198 USD per month
Pros:
Easy to use and accessible tool to get quick insights to view as structured spreadsheet data
Cons:
The process can be time-consuming for non-premium users who won't be able to access features like crawler scheduling and cloud extraction
Aura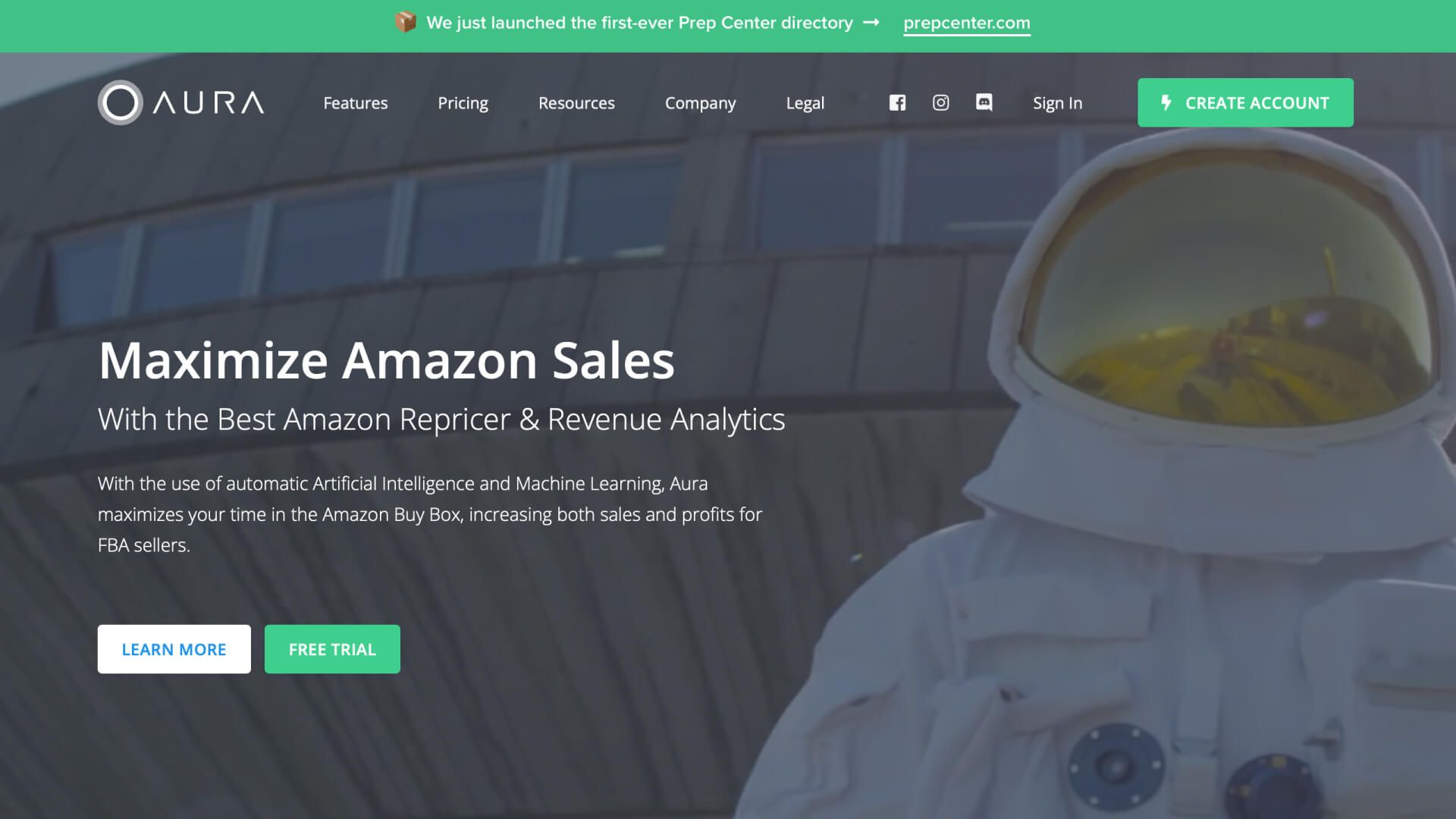 Aura has quickly become the go-to Amazon tool when it comes to reseller repricing, increasing sales by 30-40%. Advanced features like instant algorithmic repricing and workflows allow you to put your account on total auto-pilot.
Although Aura is incredibly easy to use for newer sellers, it's also built to help sellers scale their businesses by offering custom strategies.
Prices:
14-day trial and a single pricing tier of $97 USD per month or a 20% discounted annual plan, which comes out to $77.60 /month
Pros:
Aura offers incredible customer support and features that allow you to fully automate the pricing of your products, increasing your overall sales so you can focus on growing your inventory levels
Cons:
The monthly fee may be high for some startups, a few AI features are yet to launch, and it's not yet available in all Amazon marketplaces
MerchantWords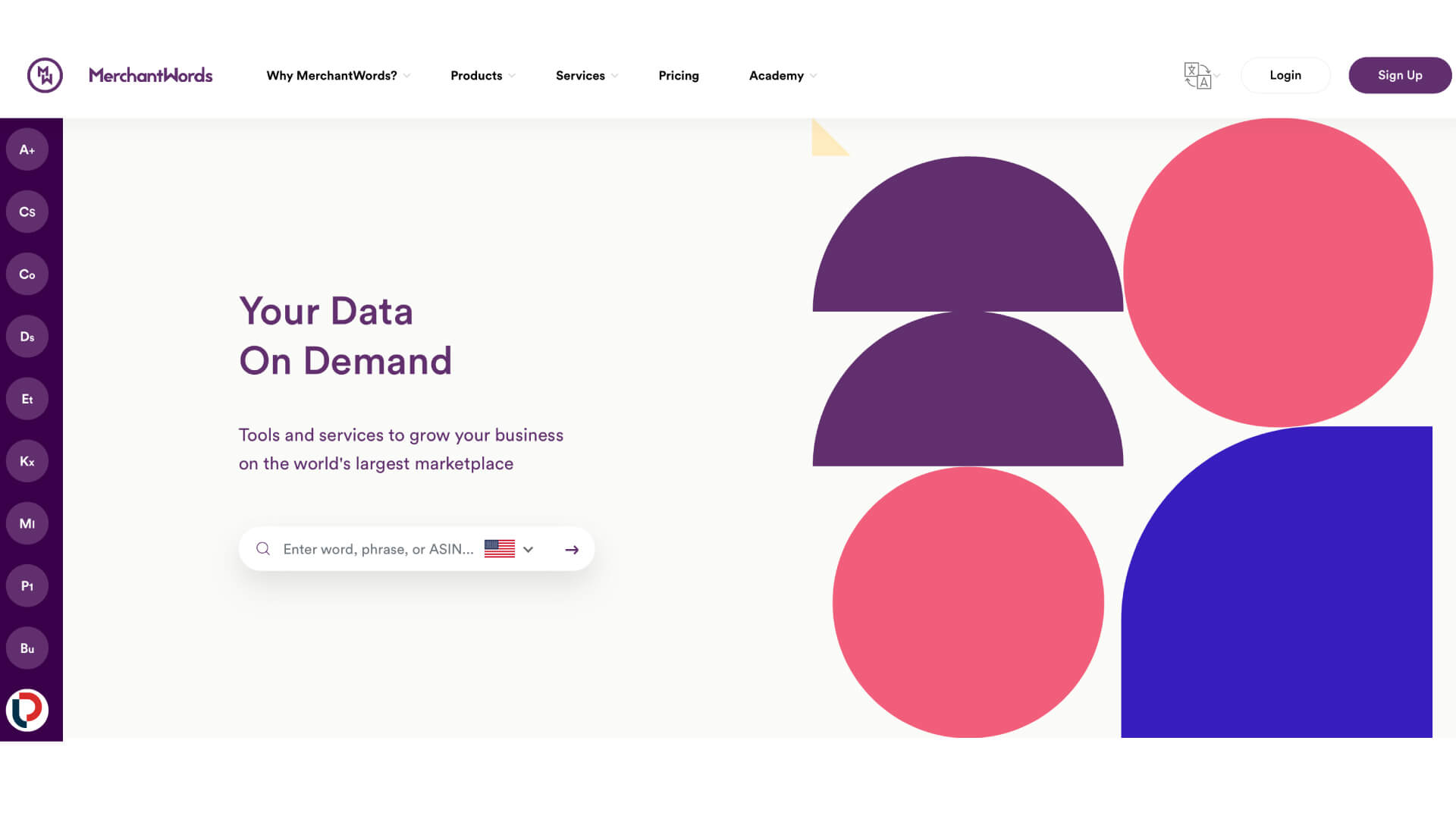 An Amazon marketplace tool designed to help sellers research keywords. MerchantWords is one of the original Amazon product research tools created in 2012 and remains just as relevant today.
With a myriad of Amazon seller keyword research and data tools, you can effortlessly find search terms for your target audience at different intervals and use this information for your product descriptions and marketing campaigns. MerchantWords propriety algorithms are developed by its Data Science team, giving you an accurate view of Amazon visitors' shopping trends.
Prices:
From $29 USD per month for a Silver plan. With an Annual Plan sign-up ($290 per year for Silver Annual), you get two free additional months
Pros:
Access to an extensive amount of keyword data from 11 Amazon marketplaces globally
Cons:
If you are unable to read, analyse and utilise the provided data, you may require additional tools beyond MerchantWords' capabilities
SellerLabs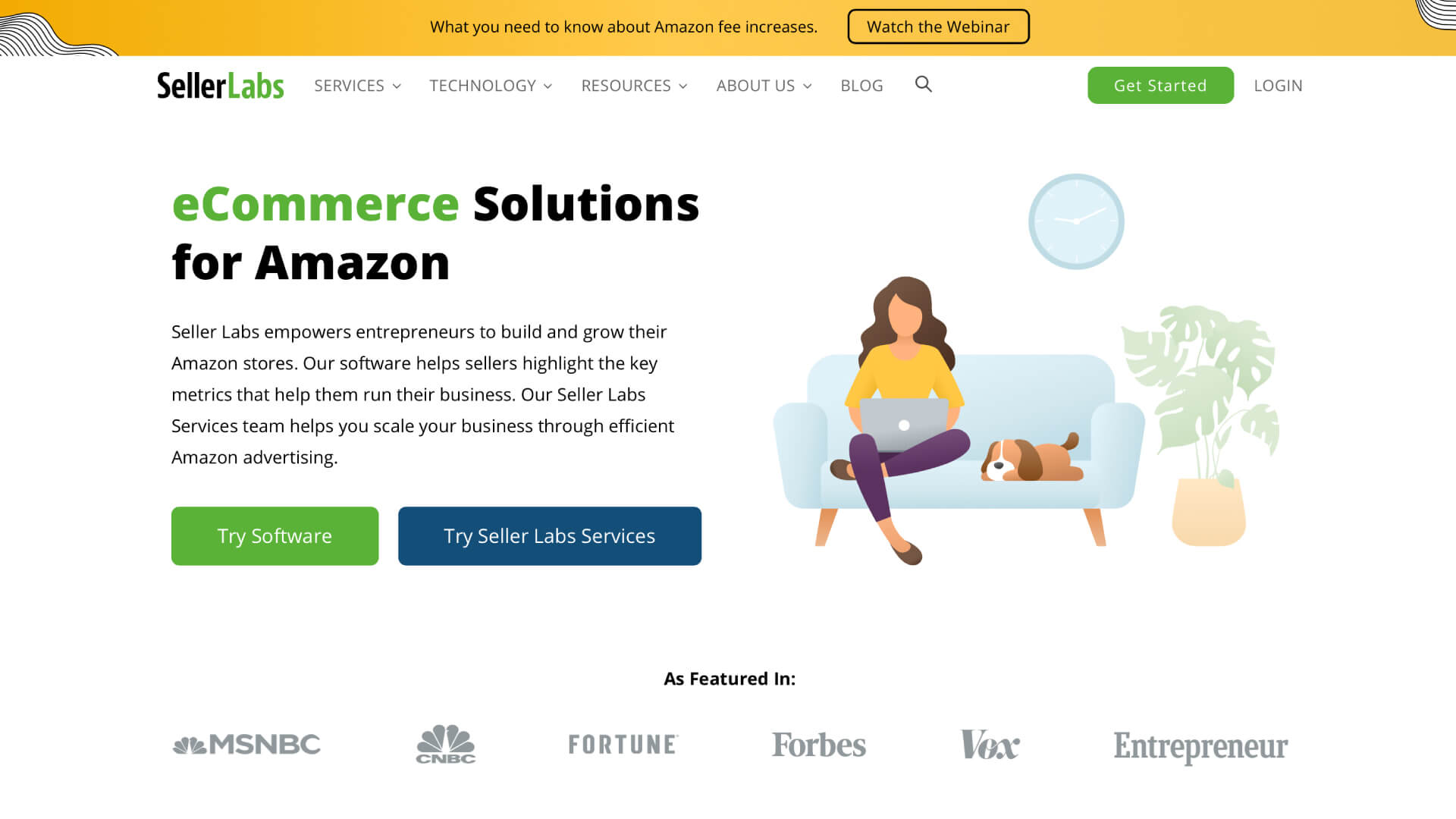 Level up your selling game with SellerLabs, a catch-all Amazon tool, with a Pro version offering advanced Artificial Intelligence. With its smart PPC algorithm, SellerLabs allows sellers to automate ad campaigns. They also offer an Ignite tool for autopilot PPC management so you can automate campaigns and maximise ad spending. SellerLabs also offers services to support your Amazon FBA business through an automated buyer-seller messaging tool and a keyword research tool.
Prices:
Starts from $49 USD per month for a Monthly plan. You can also sign up for a free trial
Pros:
SellerLabs is an easy-to-use product revenue optimisation platform designed to maximise profitability and drive your ecommerce business growth
Cons:
You will have to pay for the Pro version in order to unlock more features
Viral Launch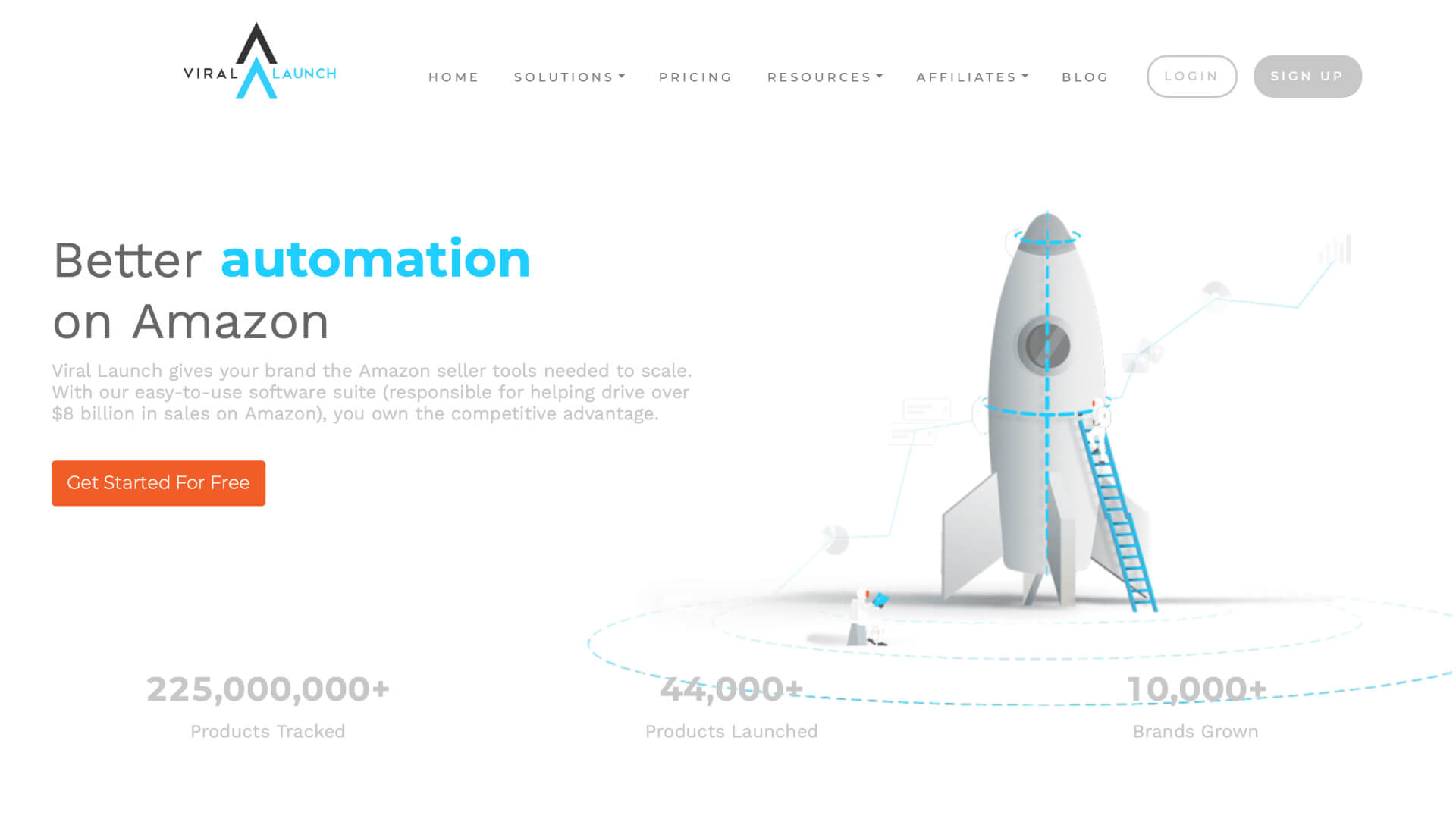 Viral Launch started in 2014 with the Amazon seller in mind. They created Product Discovery for sellers to find and compare the best products to sell on Amazon without breaking the bank. From there, they expanded their tools to focus on PPC campaigns and split testing in order for brands and sellers alike to receive the most exposure.
With data research going back 4+ years, Viral Launch provides users with the largest library of Amazon data to aid successful selling. The Keyword Manager tool is popular for its ability to quickly compare and contrast specific keywords so you can optimise SEO efforts to get your products climbing to the number one spot on Amazon.
Pricing:
Starts from $69 USD per month for a basic plan
Pros:
The complete all-in-one tool package for sellers looking for insights to scale and grow sales
Cons:
Some may find it a little tricky to use at first, and given that the price may be a little steep
eComEngine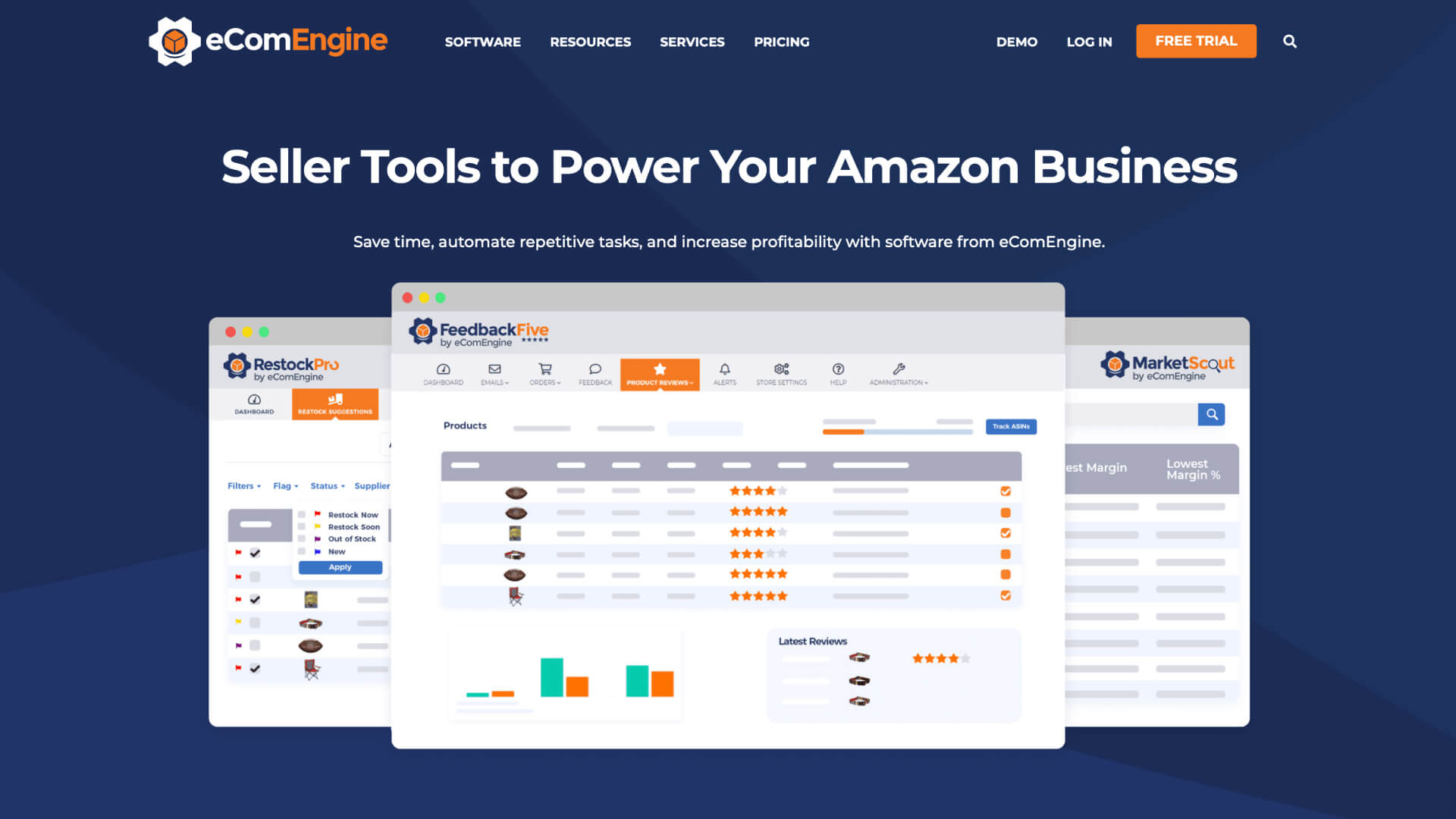 eComEngine software is designed to help automate tasks on Amazon, from building a seller reputation to managing suppliers. Feesellers'e helps you get more reviews and feedback with automated Amazon-compliant requests, and you can also monitor and analyse ratings, get alerts for new reviews, and more.
Get timely restock suggestions and inventory forecasting with RestockPro, which helps Amazon FBA sellers streamline their inventory management processes. Research profitable items to sell with MarketScout by uploading a list of SKUs and cost information to get the data you need to make smarter sourcing decisions.
Pricing:
Free monthly plan or $99 USD per month for RestockPro. MarketScout credits are as low as $0.003 per ASIN
Pros:
Exceptional customer support includes account optimisations and free coaching to help you stay compliant with Amazon's guidelines when requesting feedback and reviews. They also provide a variety of free resources for Amazon sellers
Cons:
The Free and Basic plans for FeedbackFive have limited features. RestockPro only supports local and FBA inventory management, so it isn't the right fit for all fulfilment models
SageMailer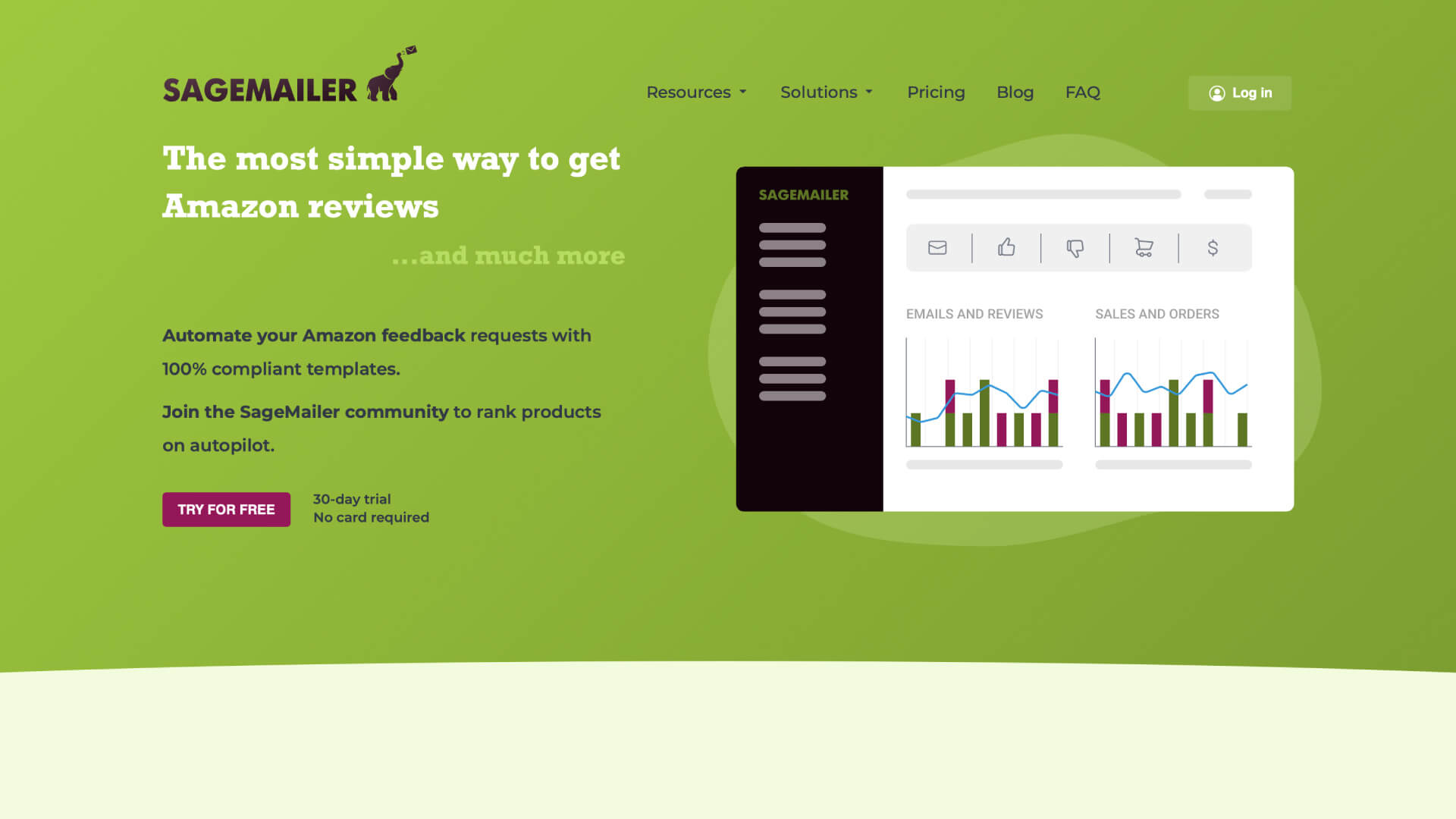 Automate customer communication using SageMailer's pre-created letter templates or official Amazon Request a Review button automation. According to your needs as an Amazon seller, this tool lets you edit the standard templates, create custom ones and set up mailing campaigns based on order statuses, refunds, repeat buyers, or particular times and weekdays. Test different letters simultaneously and detect the best converting variants using the A/B testing function.
SageMailer allows product review monitoring for an unlimited number of sellers' ASINs. Get instant alerts on new product reviews and respond immediately to protect your reputation. Contact customers through SageMailer's Response Center. Unlike Amazon Seller Central, it aggregates all buyer messages across all marketplaces on a single page and saves the messaging history so you can always track the communication progress.
Prices:
30-day free trial, no card required. Plans start at $10 per month. The most popular plan is the PRO plan at $25 per month
Pros:
The important Amazon seller software for customer service and review Automation, 24/7 ASIN reviews monitoring, and convenient communication with customers
Cons:
Lack of some functionality, but the service is constantly evolving, and new functions are added regularly
SourceMogul
Winning the 'Buy Box' on Amazon is increasingly difficult these days with a focus on price, reviews, and customer service metrics. Improving customer service and customer ratings are both definitely within the control of the seller (especially when using other tools we've mentioned in this article) but price is very often the most difficult metric to control - especially when other sellers are engaged in a race to the bottom.
SourceMogul helps solve this by constantly scanning the internet to find the best buying price for products, across both wholesale and retail suppliers. By buying products cheaper than your competitors, you have more 'wiggle room' in your selling price, which means you can afford to price out any competitors who may be trying to compete this way. The UI is simple, they offer a broad selection of sites (with the ability to upload lists using Chrome extension) and boast a proactive team who're adding new features and improvements into the system all the time.
Prices:
7 day, full feature, free trial. Monthly pricing: $67 USD for the first three months; after that, $97 USD per month. Annual pricing $880 USD
Pros:
A good range of features that can help Amazon sellers to find cheap products for resale on Amazon. Intelligent filtering ensures that you can eliminate any products which may not be the right fit for you
Cons:
SourceMogul offers around 500 US and UK websites, which can sometimes feel a little low for some product categories. The team are working on adding more sites, and new features to allow users to find their own deals
Seller Snap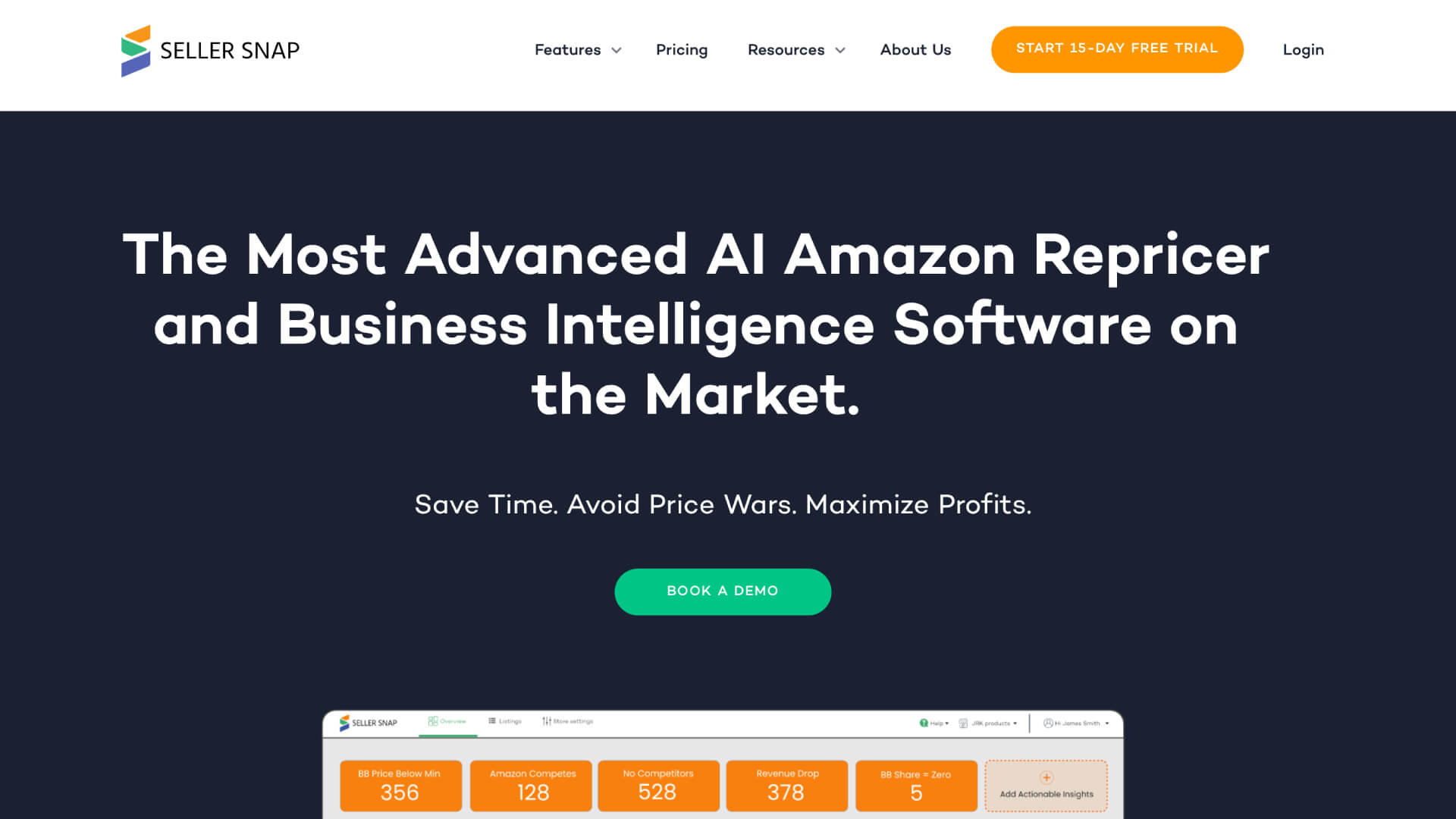 Seller Snap offers you a fully automated AI Amazon Repricer and analytics tool. Seller Snap applies Game Theory tactics to guarantee the best possible performance no matter how the competition changes. The repricer creates tailored strategies using a cooperative strategy for each individual listing based on your competitor's behaviour and marketplace conditions to win the Buy Box at the highest optimal price while avoiding price wars.
80% of all Amazon sales are made through the Buy Box, meaning increasing your Amazon Buy Box share correlates directly with an increase in Amazon sales. Since the Amazon Buy Box is such sort after real estate, using alternative repricers to an AI repricer can cause aggressive price wars. For example, a lot of Amazon sellers use rule-based repricers. This, combined with sellers trying to dominate the Buy Box, impacts profit margins as sellers race to the bottom of their price structure to win Buy Box's share. Using an AI repricer removes the likelihood of this happening.
For sellers who want to customise their strategies to fulfil specific sales or repricing goals, the repricer also comes with customisable repricing strategies, such as the "win BuyBox" method that allows sellers to liquidate inventory, for example. As well as automatic repricing, Seller Snap provides sellers with robust and insightful analytics to help sellers make better business decisions.
Prices:
15-day free trial, no card required. Plans start at $250 per month
Pros:
No set-up is required, and sellers can begin repricing within 15 minutes. AI learns from a competitive environment so little to no management is needed and there's also round-the-clock expert support if you need it
Cons:
Potentially for more established sellers with medium to larger Amazon stores
Teikametrics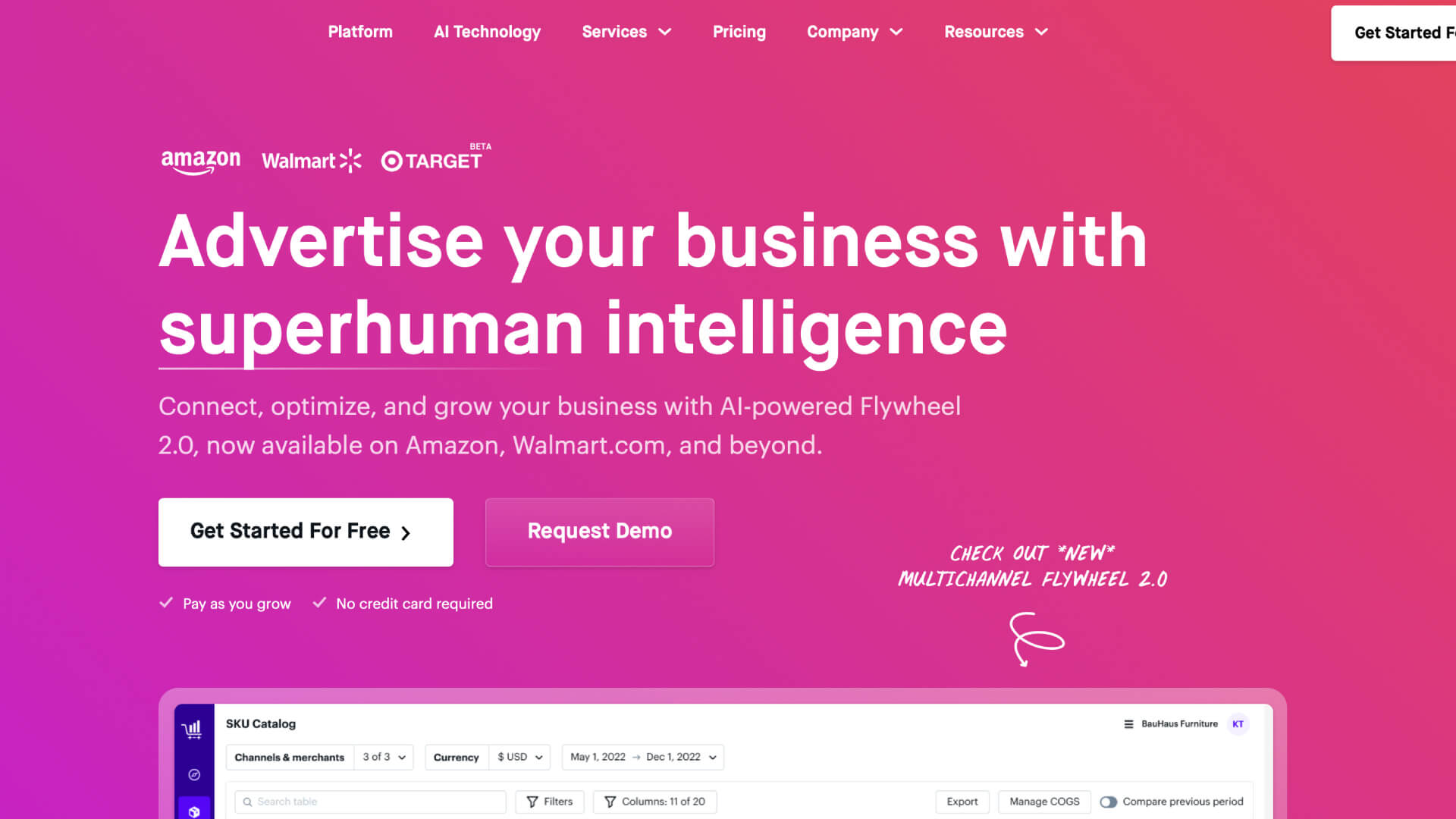 Teikametrics specialise in helping sellers advertise with Amazon, Walmart and Target through next-gen Flywheel 2.0 Artificial Intelligence. This is a single platform for multi-channel data aggregation and reporting, where you can analyse your ad performance, marketplace and products down to the nitty-gritty profitability on a product level. With a scaled pricing model, this Amazon seller tool allows you to expand your usage in line with business growth — "pay as you grow", as they say!
The platform also offers optional value-add ad management services where their AI technology is applied to maximise your budget through the advertising funnel on the three flagship ecommerce giants.
Prices:
Get free access to their Flywheel 2.0 platform Basic plan. The AI-Powered plan has a 30-day free trial period and is free for businesses that earn less than $10K
Pros:
Intelligent and insightful campaign automation and bidding technology that'll help you confidently make smarter selling decisions
Cons:
The slightly higher price tag may be a barrier for some business owners
ZonGuru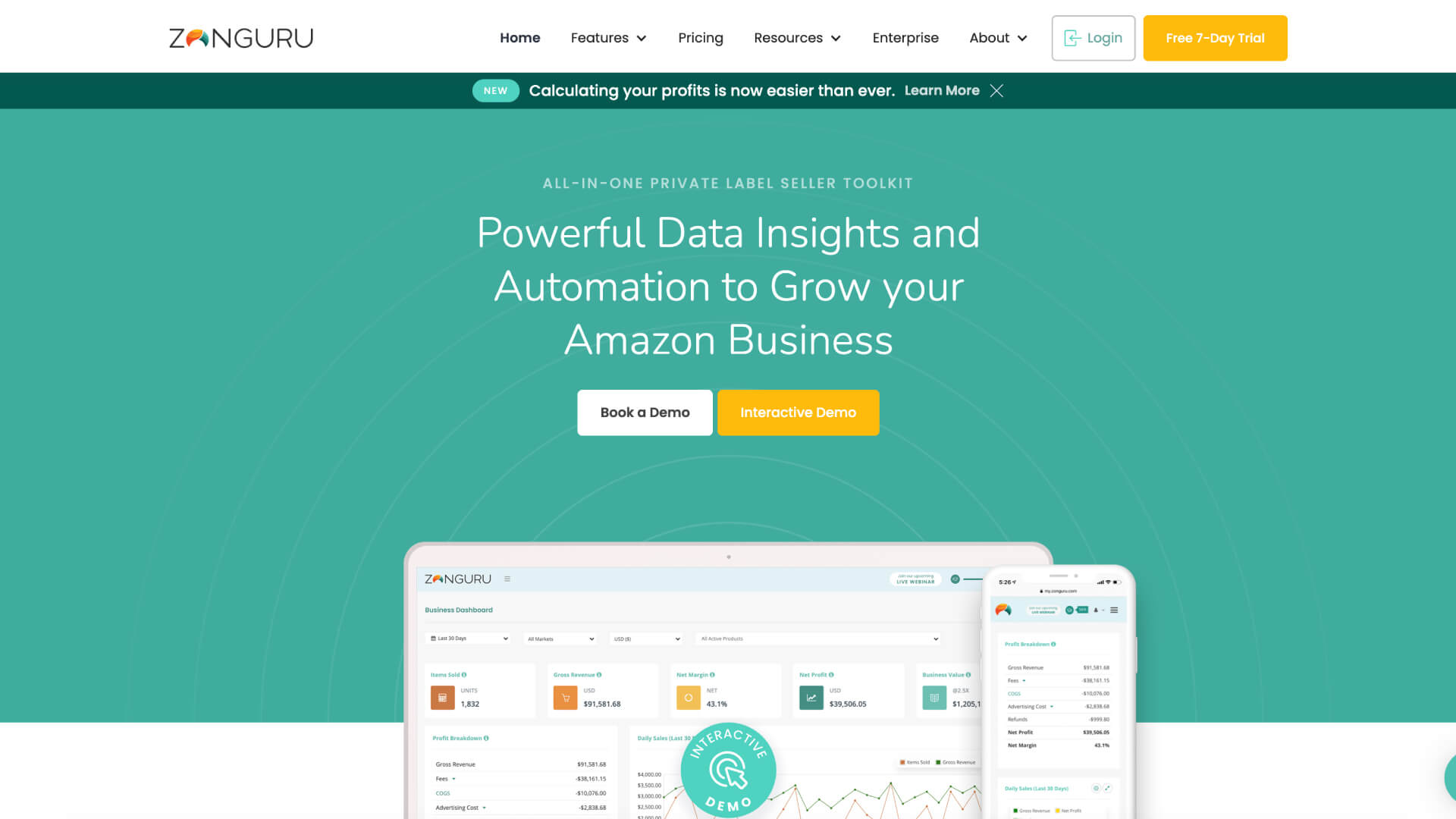 ZonGuru is an Amazon product research tool with more than fifteen handy features that'll help you track sales and get valuable revenue-related data that drills right down to keyword competitiveness, search volumes and revenue generated by a single keyword. From follow-up emails and many other features and offering an appealing price-performance ratio, ZonGuru is one of the more affordable of the suite of available Amazon seller tools.
They offer tools to help you connect and communicate with your customers. Features worth mentioning are the: Review Automator and Niche Finder, which allow you to access customer reviews and generate product ideas without hassle.
Prices:
There's a seven-day free trial or the option for monthly or annual billing (where you'll save 40%). The researcher package starts at $39 USD per month, while sellers can get started from $49 per month
Pros:
A suite of tools helps you maximise your sales spend. While the simple UI makes it easy to understand a snapshot of business performance
Cons:
Unless you're willing to go for annual billing, the price model may not be suited for smaller sellers or those looking for always-on tech support
SellerApp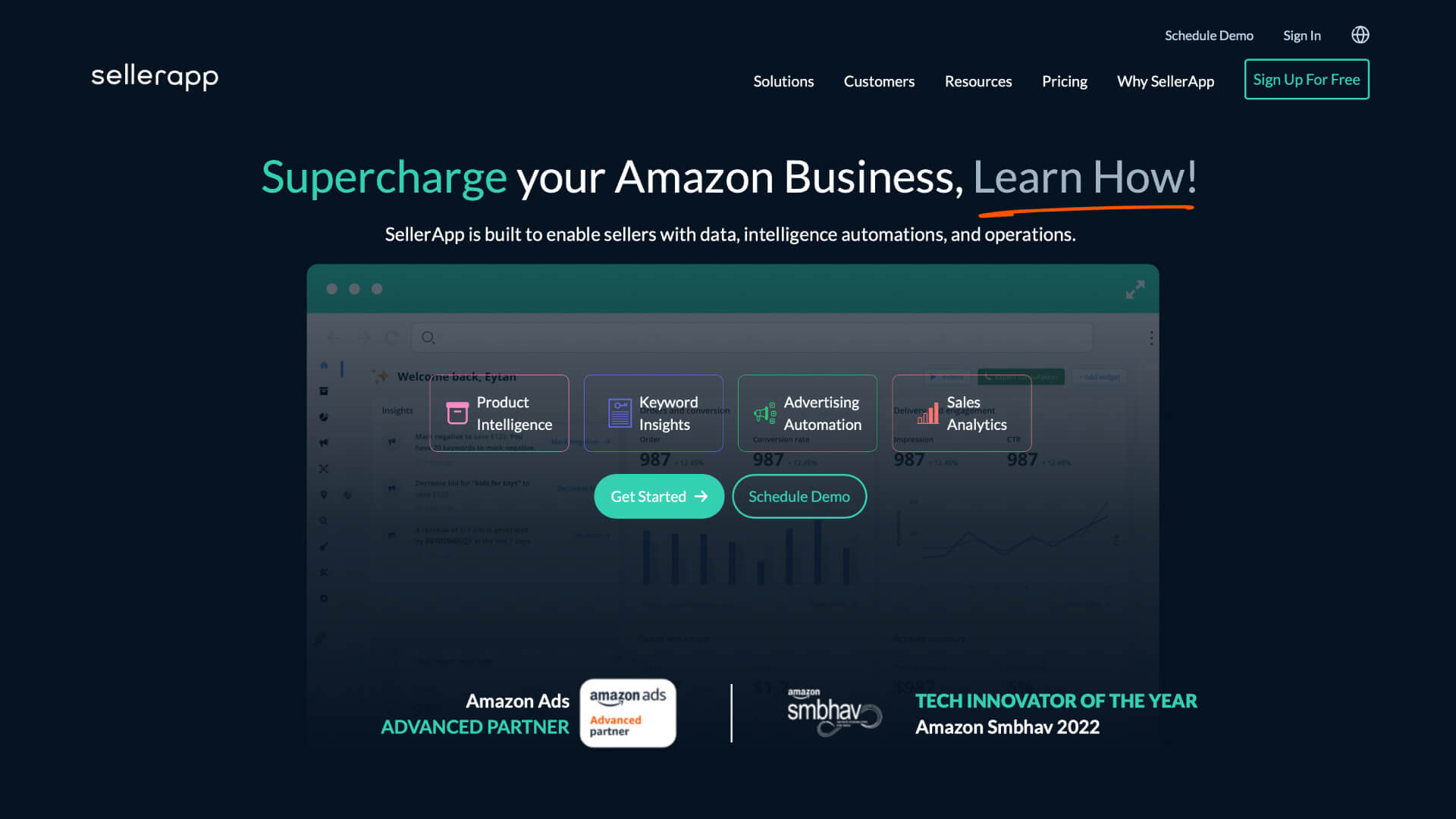 Search. Sell. Optimise. Scale. Those are some of the benefits you can expect from SellerApp. This Amazon product research tool is designed for brands, sellers and agencies. It's an analytics platform focusing on these core services: Product intelligence, keyword insights, advertising automation and sales analytics.
Tracking real-time product sales is important for any online seller. With SellerApp's advanced product intelligence, you have the opportunity to discover high-potential, low-competition products, drilling down to niches when it comes to sales and costs.
Prices:
The Freemium option is free (and you can request a demo up front), the Pro Lite package is $39 USD per month, and there's also a Professional package for $79 USD per month
Pros:
Comprehensive onboarding, free tools (including Amazon FBA calculator) and winner of Amazon's tech innovator of the year in 2022
Cons:
For some, having direct control instead of automated campaign running may be seen as a con
Pixelfy.me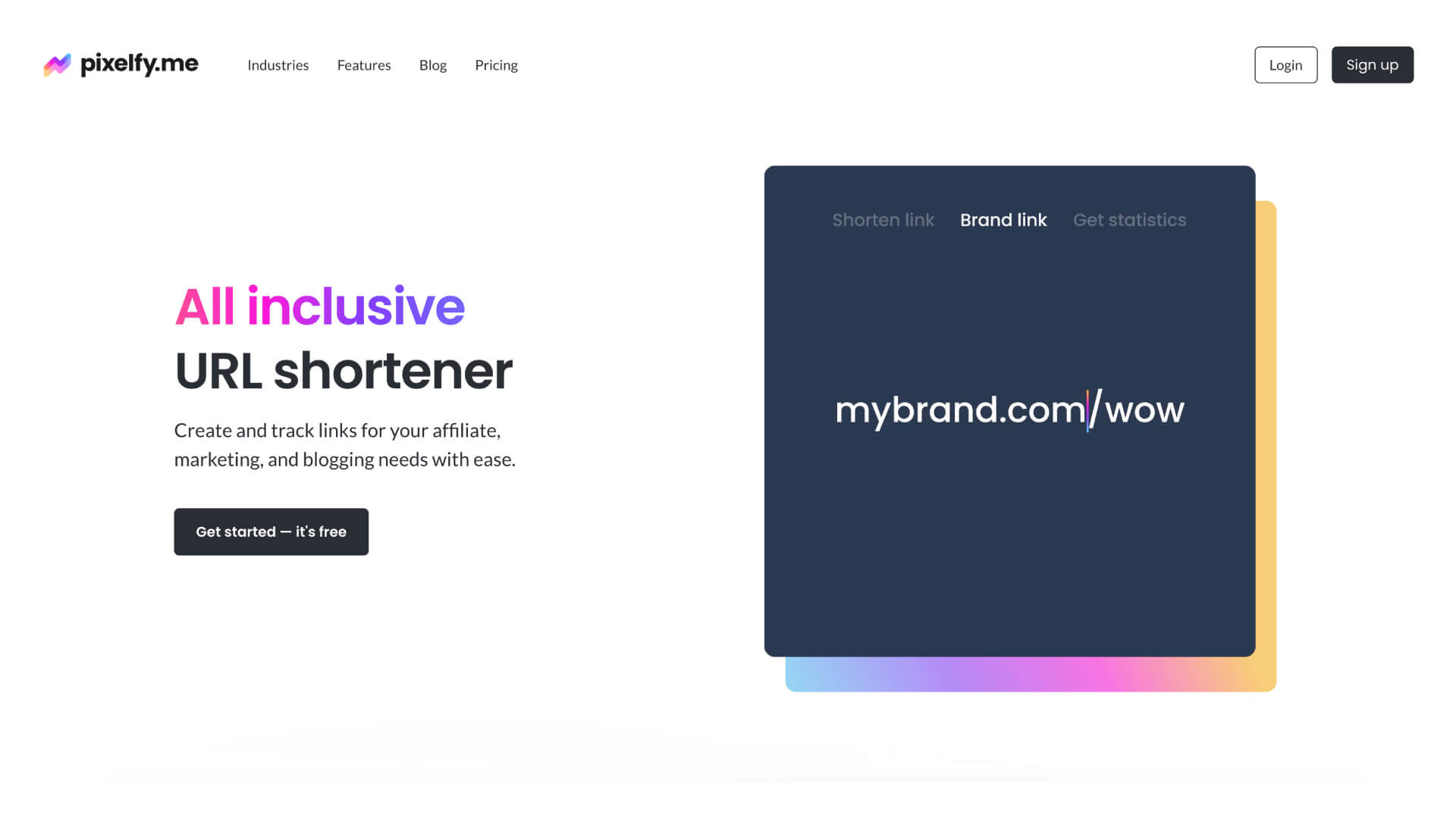 Want to know how to increase sales on Amazon? A URL shortener tool like Pixelfy.me may be able to help you do just that. By embedding a retargeting pixel into every link you shorten, you can retarget audiences by sharing external content (i.e. people who may have clicked on your link via LinkedIn, Twitter or Facebook).
Implementing an approach like this into your marketing process lets you review how your links are doing in real time and benefit from detailed insights housed on your dashboard. You can use the power of link management to build audiences, organise on the go and automate workflow and campaigns.
Prices:
Professional plan starts at $19.99 USD per month, Business plan is available from $49.99 USD per month, and the Enterprise plan goes for $99.99 USD per month
Pros:
Using a URL shortener can help improve your keyword rankings. There's Live Chat support, and with all plans, you can get a 7-day free trial
Cons:
This is a niche tool that may be best used along with other seller tools or platforms if you want to cover all bases
Repricer.com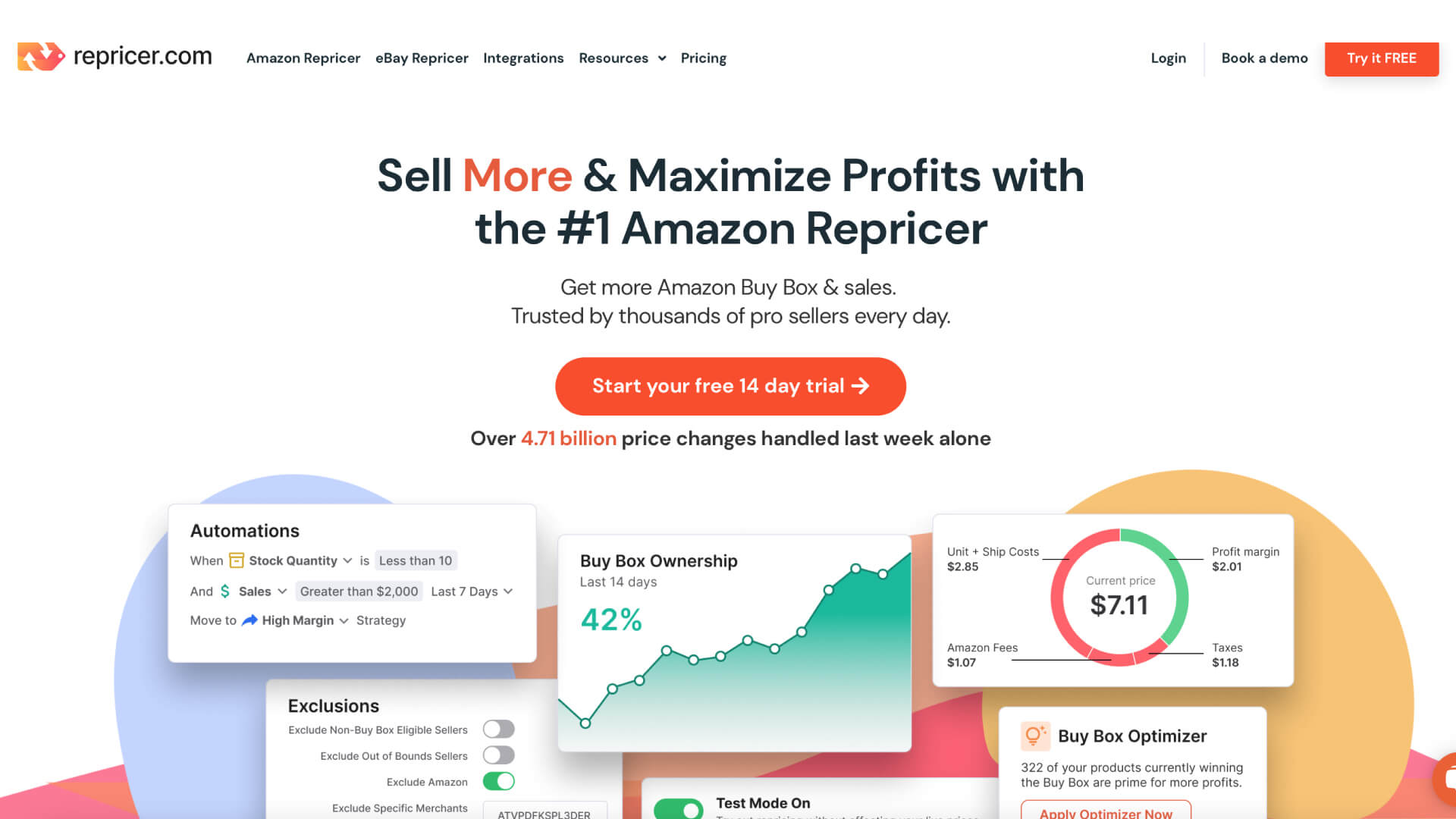 Repricer.com works on all 20 Amazon marketplaces. It can help you stay ahead of competitors and assist you in winning the coveted Buy Box because it reacts immediately to any competitor price changes.
You can predict, schedule, automate and reprice across all Amazon channels to make sure that you make a profit on every sale. This can also be replicated and synced across eBay and other leading webstores. There are seven pre-defined repricing strategy templates you select from, which can help you manage inventory using bulk actions.
Prices:
Plans include: Express ($85.99 USD per month), Plus ($259.99 USD per month), Ultimate ($409.99 USD per month) and Extreme ($1249.99 USD per month)
Pros:
Dedicated account specialist, 24/7 support and 14-day free trial including all features as well as ad-ons that can help you further boost performance
Cons:
It can be a pricey option for new starters, and the platform takes a little time to learn and master
AMZFinder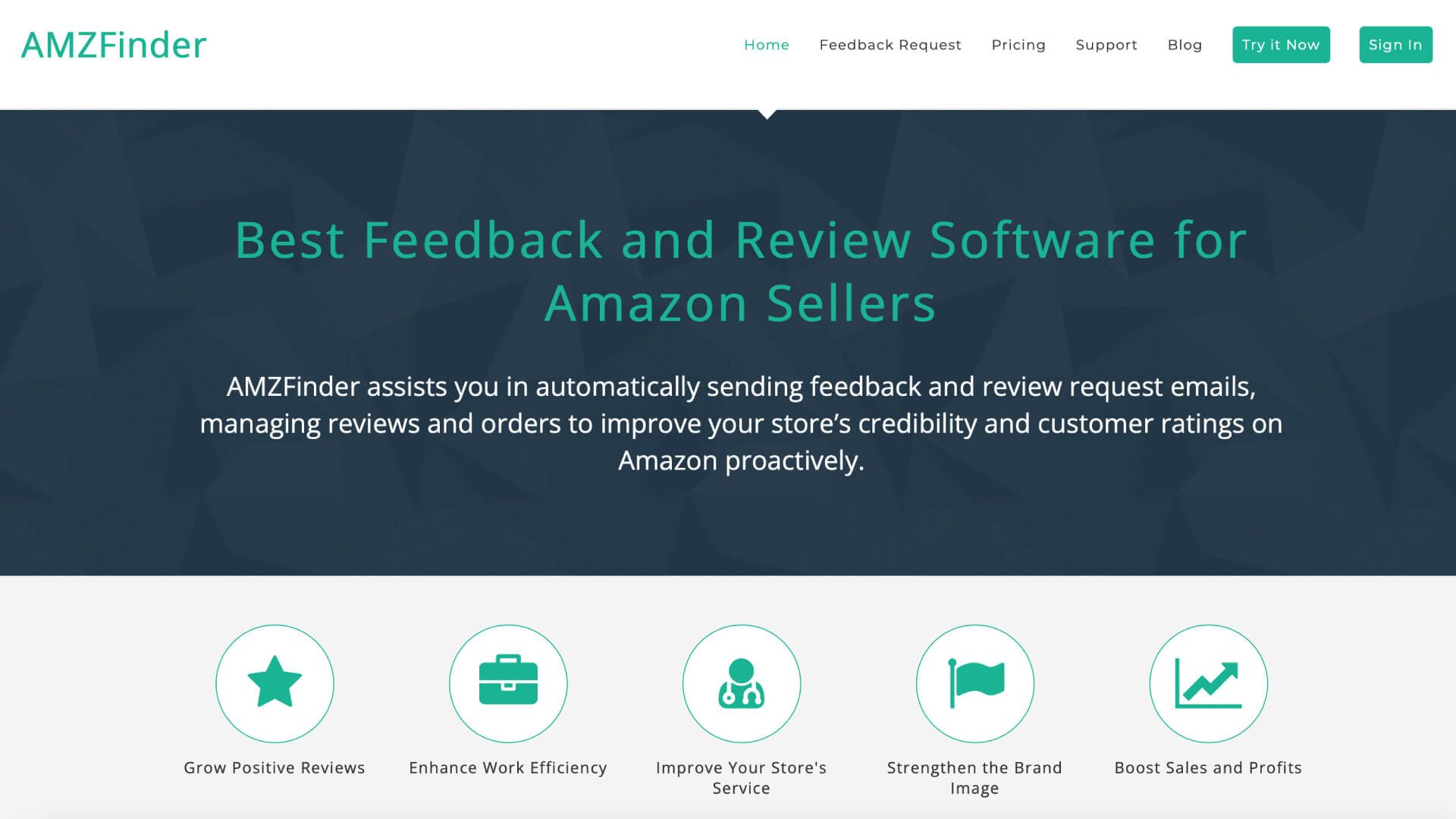 Proactively improve your store's credibility and customer ratings and learn how to increase sales on Amazon. There are two plans on offer which you can select with AMZFinder, based on your needs: Customer Email Plans and Review Management Plans. Sellers who have private-label or white-label products, take note!
Features of this review management tool for Amazon sellers include:
Send Automated Buyer-Seller Messages: Using a variety of templates and order filter setting for you to match with the right customers and enhance their overall experience
Manage Reviews & Orders: A big time saver that imports and gives you an overview of your entire store, including real-time email notifications so you can up your customer care game on-the-fly
Send Automated Invoices: You can customise invoice rule and automate customer data to save you time using the invoice generator feature
Multi Marketplaces Support: Manage multiple stores across 8 Amazon marketplaces at no additional fee
Prices:
Customer Email Plans start at $19  USD per month, Review Management Plans start at $29.99  USD per month
Pros:
Proactively improve and grow positive reviews to strengthen your brand credibility and pave your way to increased profits
Cons:
It can be a little challenging to set up initially for those unfamiliar with seller tools
SellerTools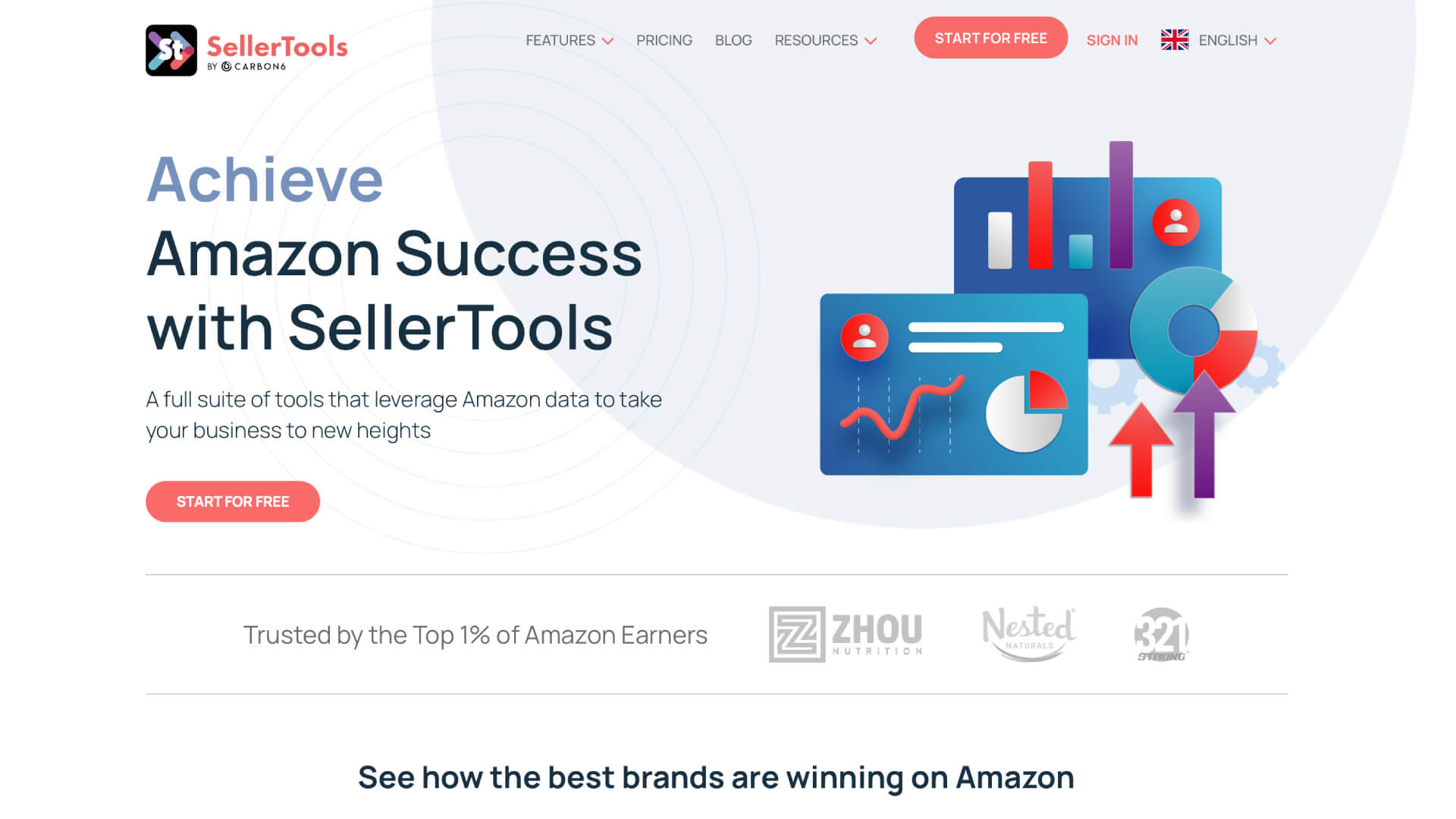 Here are the six key features any Amazon seller can benefit from knowing about the SellerTools marketplace platform:
Product Management: Get a view of keywords, create listings, and so much more
Competitor Insights Research: Run and Reverse ASIN search to discover new related keyword opportunities to level up your efforts
Automation of Amazon ASIN Lookup UK: Easy transaction management and capabilities to launch new products
Chrome Extension: Using this plug-in, you can spot areas where you're losing money, get access to reviews in a simple click and access exclusive metrics
Wallet: Keeping cash flow king, this Amazon tool lets you review your balance and manage transactions on-the-go
Alerts: Set according to your needs so so you monitor product state improvement
Once you've synced your account to unlock your Amazon data, you can use their innovative tools to start optimising your business operations and manage it with ease from their user-friendly dashboard.
Prices:
Free plan available with paid plans starting from $57 USD per month, ranging to $197 USD p/m
Pros:
Value your time as you automate the highest value activities in an Amazon business
Cons:
The Lite plan doesn't offer PPC management capabilities which for many, is an integral part of running an Amazon business
Feedvisor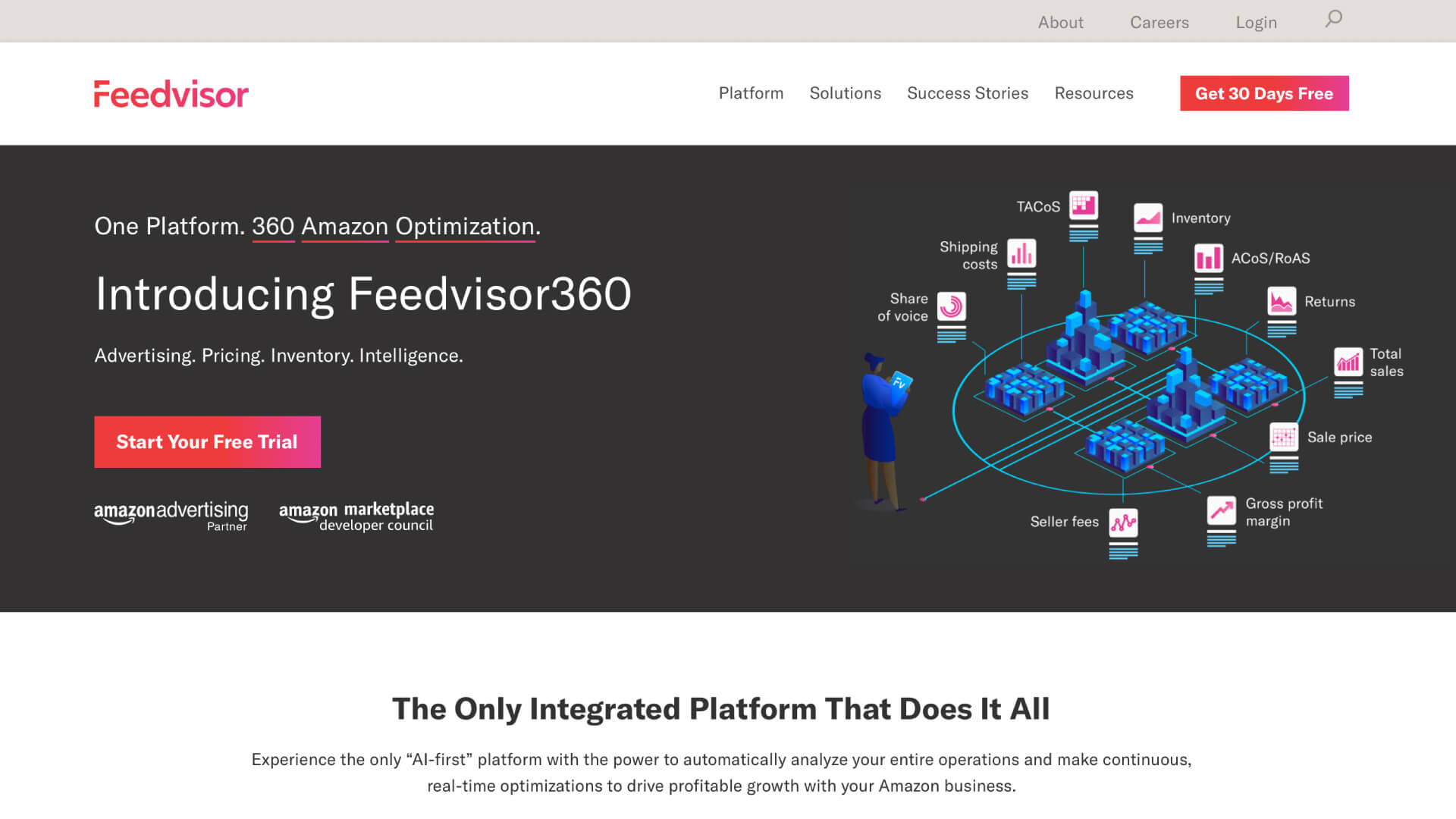 Feedvisor 360 provides AI-based platforms for advertising, brand and price optimisation, making it a very useful of all the Amazon seller tools. From an advertising perspective, you can do everything from tracking your share of voice in the Amazon marketplace to automating keyword harvesting and optimised bidding through deep learning algorithms.
When it comes to pricing, FeedVisor's patented algo-repricer can help you win the Buy Box and drive ongoing analysis of competitors. There's also the benefit of dynamic private-label Amazon business pricing, which will support you in driving sales, profits and liquidating inventory if the need arises.
Other services help you rank on both organic and paid campaigns, increase shopper engagement (aka conversions) and optimise PDPs, content and business strategy.
Knowing how to increase sales on Amazon starts with understanding the market. Thanks to its superior and data-backed technology, you'll be glad to know that this platform can also help you monitor and map your market share trajectory thanks to its superior and data-backed technology.
Prices:
There is a suite of products and prices available from Feedvisor, so the best bet is to check out which works for you. There's a free trial period and demos available
Pros:
Patented technology, granular tracking capabilities on an SKU-level, along with real-time KPI visibility
Cons:
As it's best suited to large sellers and brands, Feedvisor might not be the best solution for those just getting started
Grow Your Business Without the Stress
We know how stressful it can be to handle a business, but you don't have to take it all upon yourself.
Tip
At Osome, we are always here for you. Selling via Paypal on Amazon and Square on Etsy? No problem. Simply connect your Amazon, Shopify, or any platform you use, in just two minutes. Work with a dedicated ecommerce accountant specialist who'll help with filing deadlines, finding reliefs for your company and getting all docs in order.