How To Hold Annual General Meeting
The phrase "annual general meeting" (AGM) may conjure in your head an image of a hall filled with agitated shareholders grilling a row of executives seated on stage with difficult questions about the business, thanks to media coverage of AGMs in listed companies.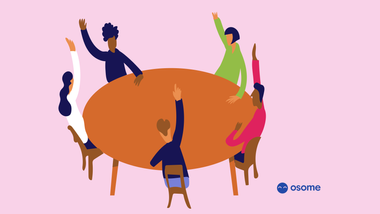 The main purpose of AGMs is to provide yearly updates to shareholders on the activities of your company, especially on the financial performance. A key component is presenting the latest financial statements so that shareholders get an accurate picture of how the company is doing. In Hong Kong, AGMs are a requirement by the Companies Ordinance and are enforced by the Companies Registry.
For newly registered companies, the first AGM must be held within 18 months of incorporation. If you're unsure about what an AGM entails or how to organise one, here's the procedure for holding annual general meetings.

If you're trying to put an AGM together on your own, you might benefit with the help of experienced company secretaries in Hong Kong, otherwise, read on to find out how to do this on your own.
How To Organise an AGM in 5 Steps
Step 1: Convene and hold a board meeting to authorise the calling of an AGM and the issue of a notice.
Company directors must work together to organise AGMs after you have received your audited financial statements from your auditors. Among yourselves, agree to hold an AGM and set a proposed date for it, which must be within 9 months of your financial year end. By law, the notice period must be at least 21 days or longer if your company's articles of association requests so. Working backwards, this means that preparation-wise, you must plan at least 1 month in advance to factor the 3-week notice and to give yourselves enough time to prepare the meeting materials.
During the board meeting, you should also determine the agenda of the AGM and formally agree to send an AGM notice to all shareholders. Other than seeking approval for the financial statements, an AGM is a good platform to propose recommendations (formally known as "resolutions") on other matters such as the distribution of dividends, appointment of new directors, auditors, etc.
Find out more about your financial reporting obligations and what to expect when engaging a public accountant to audit your company's financial statements.
Step 2: Send the notice to shareholders.
The notice itself can simply be an email to inform shareholders of the details (date, time, and location) and the agenda of the AGM, and to request for their RSVP.
Under the Companies Ordinance, shareholders who are unable to attend have the right to appoint a representative (formally known as a "proxy") to attend the meeting and to help vote on their behalf.
Step 3: Collate your shareholders' attendance, including appointments of proxies, if any.
As with regular meetings, it's good practice to collate the attendance list so that you know who to expect for the AGM.
Step 4: On the day of the AGM, run the meeting according to the agenda.
Here is a basic agenda structure that you can adopt for your AGM. Other than the presentation of financial statements which is mandatory, you don't have to include the other items if you feel they're unnecessary for your company.
A welcome address by a designated company director.
Presentation or recap of previous AGM's meeting minutes.
Updates on follow up actions based on the previous AGM discussion (also referred to as "business arising" or "matters arising").
Presentation of the financial statements, for shareholders to approve.
Other matters to be discussed and approved.
Any general updates, if you want to brief shareholders on your company's activities.
Any other matters, where you can open the floor for shareholders to raise concerns.
Closing remarks.
The level of formality required depends on how familiar your shareholders are with your company's activities. If your shareholders are already aware about the company's recent performance, the AGM would likely be more casual and straightforward.
Where decisions are required, you should put them up for voting among shareholders and follow the majority.
Step 5: Prepare the minutes of the meeting.
After the meeting is over, document the key decisions made during the AGM and also capture key points of the discussions. The completed minutes should be signed by the company chairman. Lastly, circulate the minutes to all shareholders for their records. There's no need to file the minutes with the Companies Registry.
That's pretty much it. Once you've organised your AGM, it's time to look into filing your annual return.
Common Questions on Holding AGMs in Hong Kong
Here are some common questions that we get regarding annual general meetings for Hong Kong-registered companies.
Q: Can I hold a virtual AGM?
Yes, you can conduct your AGM through a web conferencing service as long as shareholders are able to listen, speak and vote at the meeting. You can also do a hybrid i.e. a physical event with a tele-conferencing set up for shareholders who prefer to attend virtually.
Q: When must my company hold an AGM?
In general, AGMs must be held within 9 months after the financial year end and once every financial year. If there are issues requiring shareholders' approval that cannot wait until the next AGM, you can hold a special meeting or seek approval through written resolutions.
Q: Can my company do away with AGMs?
You can do away (also known as "dispense") with AGMs in the following scenarios.
Scenario 1: Your company is dormant.
Dormant companies have no company activities to report, so naturally there's no need for AGMs until they become active again.
Scenario 2: You are the only shareholder.
AGMs are a platform for shareholders to collectively make decisions and get updated on the company's activities. Therefore as the sole shareholder, you don't need AGMs to make the call on matters related to your company.
Scenario 3: All your shareholders agree to pass a resolution to do away with holding future AGMs.
The Companies Ordinance allows for companies to do away with AGMs if this is what the shareholders prefer. However, it cannot simply be a verbal agreement - there must be proper documentation on this. You could either seek shareholders' approval via a written resolution, or propose in your AGM agenda to dispense with AGMs from next year onwards.
By dispensing with AGMs, you are essentially choosing to seek shareholder approval on future financial statements and other resolutions via written communications instead.
Scenario 4: You choose to seek approval on the financial statements and other matters through a written resolution instead.
Say your company has not dispensed with AGMs but there are years where you feel holding one is unnecessary. You can do away with AGMs in those years by sending shareholders copies of the documents that would have been laid at the meeting on or before the circulation date of the written resolutions.
Jim, a company director, wants to propose a relatively straightforward resolution to shareholders at the next AGM. He proposes to his board members that instead of organising a meeting, they seek shareholder approval via written resolutions instead.
Once his fellow company directors agree, he circulates via email to all shareholders the financial statements to be approved, the written resolution and a memo laying forth his arguments for the resolution. He sets a deadline for the shareholders' responses. Each shareholder replies to confirm their agreement with the financial statements and proposed resolution. The financial statements are officially approved and the resolution passed.
Q: If we have dispensed with AGMs, how do I circulate the company's financial statements to shareholders?
Send a copy of the financial statement document to every shareholder of your company via email or post. Request that they reply to you by a certain date with their approval or concerns on the financial statements, if any.
Q: Are AGMs no longer relevant in this age of technological advancement?
Not necessarily. You may still find AGMs useful for discussing more complex issues that are affecting your company.
Q: With the threat of the COVID-19 virus, how can I make my AGM safer for all attendees?
In line with the Hong Kong government's recommendations, you can implement precautionary measures such as:
Taking everyone's temperature before allowing them to enter the venue.
Requiring everyone to wear face masks.
Providing hand sanitizers at the venue.
Providing sanitising mats at the entrance of your venue.
Ensuring sufficient physical distancing between seats.
Ideally, you should include details of these measures in your notice of AGM so that all attendees can be mentally prepared and allow you to run these measures smoothly.
Conclusion on Holding Annual General Meetings
The basis of AGMs is to allow company directors and shareholders to come together and decide on important issues affecting the company's future. It's also an important avenue for shareholders to get a true picture of how the company is performing, which is their right as owners of the company.
Do you find AGMs cumbersome? You can engage Osome's expert company secretaries to help you with the administration and paperwork required of AGMs while you focus on strategising for your company. Let us lighten your burden - sign up for our attractive company secretary packages today.
For other back-end corporate admin tasks you need to complete, please know that you don't have to do it yourself! We provide bookkeeping and accounting services for busy entrepreneurs like you.