10 Businesses You Didn't Know Were Started By Women
We're celebrating International Women's Day with these successful business leaders. How many do you know?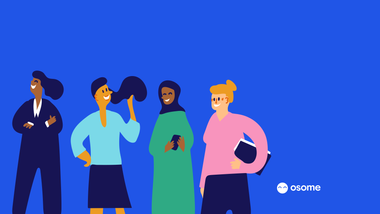 It takes a load of work and perseverance to start your company from registration, grow and maintain a business, much less a highly successful one. While people around the world are focused on the likes of Jeff Bezos, Elon Musk, or Mark Zuckerburg, we want to take the opportunity to put the spotlight on successful businesses started by women instead 🙌.
On a side note, if you need help taking care of your business or incorporating one, Osome is here to help you on your business journey. We help entrepreneurs like you incorporate new companies, handle accounting and bookkeeping matters, and also free you from e-commerce paperwork.
Cisco
Cisco Systems is an American technology company dealing with computer networking products. Although most everyday consumers may not be that well-informed about the company—as they mainly sell their products to other businesses—it was one of the largest corporations in the United States in the 21st century.
Founded by: Sandra Lerner and (former husband Leonard Bosack). They founded Cisco Systems while attending Stanford University.
Eventbrite
Starting out of a warehouse in San Francisco, Eventbrite was started in 2006. Interestingly, the founders didn't hire employees until their fourth year of running the company. The name Eventbrite will seem familiar to you if you've been purchasing tickets to events or shows.
Founded by: Julia Hartz, Kevin Hartz and Renaud Visage. Julia is now CEO of Eventbrite.
23andMe
Started in 2015, 23andMe is now worth more than 2.5 billion and has a customer base of over 10 million customers. If you're unfamiliar with the company—it may sound like a fashion apparel store at first glance—it's actually a DNA and health testing company, designed to empower people with the personal knowledge of their disease risk, so that more people will be encouraged to take necessary steps toward disease prevention.
Founded by: Anne Wojcicki, Linda Avey and Paul Cusenza.
TalEx
Based in Washington DC, TalEx was started by two former co-workers who paired up to build their own staffing company. From a small, unknown firm to a rapid-growth company with a 2018 revenue of 48.5 million, TalEx is now offering customised, people-focused workforce solutions through human resource, talent and staffing management.
Founded by: Julie Dacar and Amrita Grewal. Julie asked Amrita to join her for their startup and together they grew their business to the huge success it is today.
Build-A-Bear
If you're surrounded by kids or have a child of your own, you must be familiar with the Build-A-Bear workshops worldwide. As the name says, it allows you (or children, rather) to custom-build their own stuffed bears. Now, it's expanded its product offerings to other stuffed animals including frogs, lions, hippos, Disney Stich, Star Wars Yoda and more fun collaborations.
Founded by: Maxine Clark. She had this idea when her friend's daughter suggested that they make their own stuffed toys at home after an unsuccessful shopping trip.
nutpods
Catering to vegans or lactose-tolerant people, nutpods is a company that mainly produces a plant-based, dairy-free creamer made from a blend of almonds and coconuts for food and drinks such as coffee, tea, and various recipes. It was started via Kickstarter and launched on Amazon two years later; now, nutpods is the number one plant-based creamer in grocery chains including Whole Foods, Kroger, Sprouts and Publix.
Founded by: ​​Madeline Haydon.
Pepperidge Farm
For those unfamiliar with the brand name Pepperidge Farm, it's the company behind the famous Goldfish Baked Snack Crackers—the little baked goldfish shaped snacks that come in flavours such as the iconic cheddar, original, and even vanilla cupcake. It was started by a housewife in Connecticut in the 1930s who baked preservative-free breads to cater to her son's allergies; by 1961, when Pepperidge Farm was sold to Campbell's, their sales were already at $32 million a year.
Founded by: Margaret Rudkin
Rent the Runway
Rent the Runway allows women to rent designer clothing for a lot less than the actual price. The idea came from the founder's younger sister who bought a $2,000 designer dress for a wedding—one that she would only use a couple of times. That's when the founders thought of their big idea to allow people to rent designer items rather than purchase them.
Founded by: Jenn Hyman and Jenny Fleiss. Both Jenn and Jenny were from Harvard Business School, where they tested out their big idea by setting up a pop-up shop on campus where students could try on and rent dresses on the spot.
The Body Shop
A popular name for cosmetic products, The Body Shop was started in 1976 from a small shop in Brighton, England. When we think of Body Shop products, we immediately associate it with the earth- and animal-friendly mindset behind the brand, where ethical consumerism is still what keeps the brand running strong.
Founded by: Anita Roddick
Bumble
Bumble has recently elevated its marketing game worldwide. You may have noticed huge posters at train stations or at shopping malls with a bright yellow background—that's Bumble. What makes Bumble stand out amongst the other dating apps is that women make the first move on Bumble, a point that highlights the founder's strong belief in putting women first. Not only is Bumble a dating app, it's also a platform for business networking and people simply looking for friends in their area.
Founded by: Whitney Wolfe Herd. Herd has had her fair share of experience in the dating app industry, since she was also a co-founder and vice president of marketing at Tinder.
Bonus: JC Legal
At Osome, we support all businesses through their operations and growth and we're glad to serve many businesses founded by women.

One of them is Janice Chew who is the Principal at JC Legal. She has 14 years of practising experience in Malaysia and Hong Kong and leads the broad practice of JC Legal in cross-border corporate and commercial law, dispute resolution and regulatory compliance. Her clients range from technology startups to industry leaders in venture capital, e-commerce, telecommunications and licensed financial services.
For Janice, the best thing about owning and running her own business is "building a platform for my team to put family first, with a sense of autonomy, ownership and responsibility. This has proven to be especially relevant and effective in this pandemic."
You could be the next successful businesswoman!
Starting a business is tough. However, there are ways you can get help. Here at Osome, we have a team of dedicated experts that can offer you valuable insights on registering and incorporating your company, accounting and bookkeeping tips and even help you with your e-commerce needs. Simply reach out for a callback or leave us a message.