What Is a Trade Mark in Singapore?
Having a nice design is not enough to make a company legally distinctive among competitors. Let's clarify what a trade mark can be, when a company needs it, how to transform a trade mark into a valuable asset and how to use it.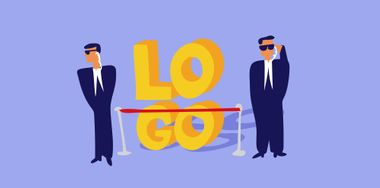 Most businesses have logos or at least a company name typed in a stylish font on their website. However, having a nice design is not enough to make a company legally distinctive among competitors. Let's clarify what a trade mark can be, when a company needs it, how to transform a trade mark into a valuable asset and how to use it.
If you don't have a logo, you could design one using a free logo maker. If you already have a beautiful logo but don't have a company to attach it to yet, maybe check out our incorporation services? Just saying.
What is the definition of a trade mark?
A trade mark is a sign used to distinguish someone's business from competitors. It helps customers identify traders and their products or services. The sign can be anything as long as it is distinctive and represented graphically: any letter, word, numeral, drawing or design of a device, name, brand, label, aspect of packaging, shape, colour, sound, or a combination of these elements.
The law gives a variety of possibilities in choosing a suitable trademark but it also states some restrictions.
Trade marks which can't be registered
| Mark type | Description | Example |
| --- | --- | --- |
| Descriptive marks | designate the kind, quality, quantity, intended purpose, value, geographical origin, the time of production of goods or rendering of services and other characteristics | applying to register "12 Super Cheap Tasty Lollies" as your trade mark |
| Marks common to the trade | describe types of goods or services and don't distinguish products | trying to register "Thermos" |
| Marks contrary to public policy or morality | are offensive | having a suitable name "Gramma's Gin Cookies" on the logo but with an image of a raised middle finger |
| Deceptive marks | might misrepresent the nature, quality or geographical origin of the goods or services | naming wine produced in South Africa "Smith's Bordeaux Vineyards " |
| Marks that are confusing or identical to already registered ones | are identical or similar with registered marks of identical or similar goods and services | an accounting firm trying to register "Osome", although there is already an "Ohsome" mark owned by another accounting firm |
| or similar to well-known marks | correlate with or imitates the marks known to the public in Singapore. See more below. | Nike, Microsoft Laptops Corporation, Apple Pie Computers, Louis Python Bags |
To become the only company entitled to use a certain trade mark, register it with the Intellectual Property Office in Singapore (IPOS). You can also legally use an unregistered trade mark, but registration gives you more legal protection if anyone tries to copy your business identity.
Regulations:
Tip
Often, companies put ® and ™ symbols next to their names and logos to indicate trade marks. Generally, ® means registered trade marks and ™ oppositely denotes unregistered ones. There is no legal obligation to use these symbols.
What are well-known marks?
Well-known marks are popular inland or foreign marks that are known to the public in Singapore and associated with a certain value (e.g. Microsoft or Zara). Well-known marks are entitled to protection regardless of their registration with IPOS. Even foreign owners who don't operate in Singapore can receive an injunction against the use of identical or similar trade marks or any other business identifier for any goods and services:
if connection with those goods and services is likely to damage the interest of the owner of a well-known mark (e.g. using reference to a famous eco-brand in order to sell fur coats);
or if it causes unfair dilution or takes unfair advantage of a trade mark that is well known to the public in Singapore (e.g. offering burgers under the trade mark Burger Queen while there is a world famous brand Burger King).
Generally, don't use any connection to famous brands without proper consent of the owners even if they have no representation in Singapore. At first, it looks like a great way to draw the customers attention to your goods or services, but it can result in huge fines of up to S$100,000 or five years imprisonment.
What other types of marks should I be aware of?
Besides ordinary trademarks, the law also covers these:
Collective marks are registered by associations of traders, so every member of an association can use it as an ordinary trade mark.
Certification marks relate to certain characteristics of goods and services. For example, the Safety Mark is used for some household products like vacuum cleaners and washing machines which are registered and certified by consumer protection authorities. Usually, the owner of a certification mark is an association or a governmental body that authorises other companies to use the mark for their products and services which meet the certified characteristics. The owner cannot produce or trade such goods and services.
Government Agencies marks are identification signs of state authorities. Applicants looking for registration of trademarks similar to Government Agencies marks need to get the consent of the relevant authorities.
Should I register my trade mark?
The main reason to register a trade mark is the easy protection of your rights. If someone misuses your trade mark, you can protect it without any evidence other than the fact of your registration and the proof of another company using your logo. In contrast, a trial connected to the misuse of an unregistered trade mark can last for months and will require you to prove your reputation, goodwill and the harm done to your business. Therefore, it only makes sense to hold off on registering your trade mark only if you think the potential damage is highly unlikely.
Osome's competitor has recently used our company name in its Google ad: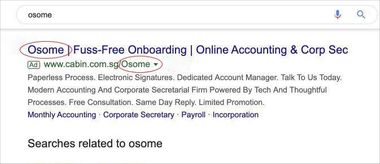 Let us imagine we did not have registration. For the potential trial to become justified, this Google ad would have needed to generate lots of leads at our expense and to link to a landing page looking like Osome's website that would deceive potential clients. Proving either economic or reputational damage in court would have been quite complicated and we would just have had to live with the ad. But that was not the case for us.
Protecting the rights of a registered trade mark is quite simple. All the company had to do is file a complaint with Google. If there had been any consequences from this ad such as unhappy clients blaming us for another company's mistakes, we could have taken legal action.
This does not mean you have to rush and register your trademark. It just means that you should carefully weigh all the risks and benefits. If you have an ordinary startup, you may consider investing in development at this stage instead of registering a trade mark.
However, there are cases when it makes sense to start registration right away:
You are popular among customers and suspect that competitors are likely to take advantage of your brand.
The misuse of your trade mark becomes frequent and is detrimental to your reputation. At some point, registration will be cheaper than having lawyers protect your unregistered mark in court for months.
You want to take the most suitable and obvious trade mark for a certain business type before competitors do. For example, Coffee Point for a coffee shop.
How to escape infringements?
Don't stop using a trade mark. To make your trade mark be associated with specific goods and services use it wherever possible: websites, advertisements, labels, etc. If you don't use a trademark at all for 5 years, any interested party can apply for its removal from the register.
Do not describe products by the means of a trademark, use it in its proper context. Otherwise, the trade mark can be transformed into a generic word and will be available to everyone.
| Yes | No |
| --- | --- |
| Fix papers with the clear tape "Scotch". | Fix papers with Scotch tape. |
| Use "Google" to find the definition of the word. | Google the definition of the word. |
Don't miss the deadlines for registration renewal. Registration is valid only for 10 years, then you have to renew it.
Don't use ® with an unregistered trade mark even if you have already applied for registration. Also, don't use this symbol for goods and services, if a trade mark is registered for other classes of goods and services. It is called false representation. Both cases are criminal offences.
How can I transfer a trade mark?
A trade mark can be a valuable asset. A registered trade mark is intellectual property and as the owner, you get full control of it. Not only can you be sure no one will take unfair advantage of your trade mark, but you can earn additional money when transferring it. You can either sell a trade mark or grant a license to someone to use it.
Selling a trade mark is almost the same as selling other property, except for the obligation to register the deal with IPOS. Such a deal usually follows the acquisition of a company as a whole.
On the other hand, licensing is a way to expand your business. You can issue a general or a limited license, which applies to some of your goods and services. License agreements are not mandatory to register, but we recommend following the procedure. That way customers and partners will be aware that the licensee is using your trade mark legally and can be trusted.
To sum up
A trade mark can be anything as long as it is graphically represented, distinctive, not offensive, not identical to or similar to existing marks and doesn't interfere with anyone's rights.
There are specific kinds of trademarks for multiple uses of association members, for certification of certain characteristics of the products and for authorities identification.
Every trading business needs a trade mark, but only mature and valuable companies are likely to register it.
Unregistered marks are also protected by the law, but to a lesser degree then registered ones.
Well-known trade marks can not be used by unauthorized companies even if these brands aren't represented on the market in Singapore.
Proper use of a trade mark is the best way to protect it against infringements.