Can I Open a Company in Singapore under Dependant Pass?
You're in Singapore under Dependant Pass and time has come to open your own business. Congratulations! Here's what you need to do.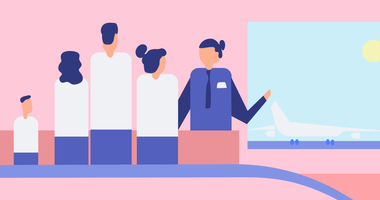 You are in Singapore under a Dependant Pass and wanting to open your own business? Great! Here's all you need to know about the process. If you don't have a Dependant Pass but are eager to get one, stick around for some handy tips.
What Is a Dependant's Pass?
If you're an expat living in Singapore who's in possession of an Employment Pass or S Pass, you could be eligible to apply for an official permit that allows family members to join you. The pass that's granted in this regard is called a Dependant's Pass.
There are various rules and stipulations attached to the DP application process. We've unpacked some of the most important info to help you understand how eligible family members who are granted a Dependant Pass are able to explore work opportunities, incorporate their own business in Singapore or explore the other benefits that a DP offers.
What Are the Benefits of a Dependant's Pass?
As the holder of a Dependant's Pass, one is able to live or study in Singapore. Work and full-time employment is also possible if your employer is willing to submit an application for a Letter of Consent (more about that below) on your behalf. Remember that work is only permitted if their family member holds a value Employment Pass or S Pass.
You can get employed or become an employer: DP holders in Singapore are able to find employment, based on the validity of your spouse's permit.
You can become a shareholder: As well as owning a company in Singapore, you're also eligible to own shares if you've got a Dependant's Pass.
You can study: Children under the age of 21 will be eligible to study in Singapore if they are in possession of a Dependant Pass. Unlike the above, a student pass doesn't require any additional applications.
I Want a Dependant Pass! What Criteria Do I Need To Meet?
Obtaining a Dependant Pass isn't always a guarantee, it can be based on a quota system or government discretion. To stand the best chance of approval, you need to make sure you meet this criteria:
Legally wed: Spouse should be legally wedded to the holder of the Employment Pass earning S$6,000 or more
Children of age: Your children need to be under the age of 21 in order to be eligible to apply for a Dependant's PassLegal docs for adopted children: If you have adopted children, part of the application process will require you to submit related legal documents of adoption
Can I incorporate if I Have a Dependant Pass?
Yes, you can, but just like getting the pass itself, there are conditions and steps you need to follow. The process to incorporate is essentially the same as registering your business as a foreigner who would want to open a business in Singapore. If you are in Singapore on a Dependant Pass, here are the steps you'd need to take:
Step 1:  Register a Private Limited Company
You would need to:
·       Draft the incorporation documents
·      File them with Singapore's Accounting and Corporate Regulatory Authority (ACRA)
·       Obtain the Certificate of Registration
·       Obtain all the licences needed to operate
Step 2: Appoint local directors who are Singapore citizens or Permanent Residents
Find a local contact, for example, your friend or a trusted contact with a Singaporean Citizenship or Permanent Resident as your local director. This requirement is important to register your company in Singapore.
Step 3: Open your corporate bank account
Arrange for an executive director to open your corporate bank account after your company is incorporated as a Private Limited Company.
As a DP holder, you cannot open a bank account on your own.  You would need to apply for an Employment Pass. That's one thing we can also help you with.
Read More: How to Open a Corporate Bank Account in Singapore
What Is a Letter of Consent (LOC) & How Do I Get One?
A letter of Consent (LOC) is a requirement for anyone on a Dependant Pass who is looking to work in Singapore. You'll need to obtain this from Singapore's Ministry of Manpower, and it'll serve as a permission to work. The time application to be granted your formal takes about 3 weeks to receive.
Here are some requirements that apply to getting your Letter of Consent:
The application has to be submitted by your employer – that is, your new company.
Your DP has to be valid for 3 months.
Your DP has to be sponsored by an EP, EntrePass, or a Personalised EP holder. If your spouse has an S-Pass, you can't choose this option.
What Are the Restrictions for DP Holders?
Dependency on your spouse: Your DP status is tied to the Employment Pass of your spouse. If the original EP expires, so does your DP and your LOC. So your status in Singapore is completely dependant on your spouse.
Requirement for local director: Singapore law requires each business to have a resident director. DP holders can't be one, so you either ask a local you know to play the role or hire a Nominee director. It'll cost you S$1,800 - S$2,500 a year, plus many agencies charge a refundable deposit of S$2,000.
Timeframe & cost of application: Employment Pass takes 3 - 6 months, while you're waiting you'll spend about S$500 – S$1000 on the nominee. Once your EP is ready, you fire the nominee, and become a resident director yourself.
Who Is a Nominee Director?
A nominee formally holds director's position, without any actual decision-making powers or authority to run the company. He is a company officer on paper, necessary to meet the requirements of the law.
What Do I Need To Start a Business?
To register a business in Singapore you need to have a local address, a corporate secretary, a resident director and paid up capital of $1.
What Does the Incorporation Process Look Like?
Usually, incorporation is handled by an agency which also provides you with necessary services such as corporate secretary, nominee director or local address. They will fill in an application and submit it to ACRA. The application process calls on the need for:
Your passport details
Your company name
Resident or nominee director data
Corporate secretary details
All your shareholder' specifics
Your local address
Normally an application can be confirmed within minutes. This is something we're experts at, so let us know if you need a little guidance with your new Singapore-based company's incorporation process.
How Much Does It Cost To Open a Company in Singapore?
Got a Dependant's Pass, met all the criteria we've covered and ready to get going on incorporating your company? Great! Next up, you should consider the costs of doing so, to manage your own expectations and make sure you're financially prepared and ready to get the ball rolling.
The expenses of opening a company include incorporation, government fees and the first year of necessary services – corporate secretary, local address, and nominee director. The total depends on whether you apply for a new EP or not. Here are the two options:
You want to be an employee only, not a director, and you don't apply for an EP
You'll need a nominee director all the time
You want to be a director, and you apply for an EP
Hire a nominee for 3–6 months while waiting for an EP
S$2,500–S$5,000
S$2,200–S$4,500

+ S$6,000 monthly salary you pay yourself to qualify for EP
OR
| S$900–S$3,500 | S$1,700–S$3,000 |
| --- | --- |
| If you have a resident director | If you have a resident director |
Next steps
Setting up a company in Singapore can be tricky. There are quite a few documents to take care of. Our experts can help you with the procedure and are ready to answer all your questions.