UK Bank Account for Non-Residents
Can a foreigner open a business bank account in the UK? Yes! Nothing stops UK banks from opening business accounts for non-residents. We look at your options if you don't want to buy or rent property and compare the bank tariffs for you.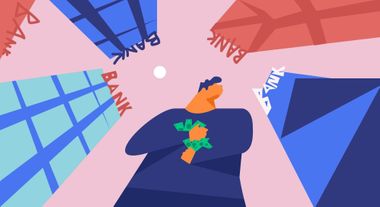 Most non-residents might ask: Can a foreigner open a bank account in the UK? The answer is yes. Depending on the needs of your business's needs, there are many ways of opening a bank account as a foreigner.
Setting up a business bank account as a non-resident may seem complicated, but it is absolutely possible. There are no legal restrictions that stop UK banks from opening business bank accounts for non-residents, but British anti-money laundering policy makes the process more lengthy. If you are looking at opening a UK bank account for non-resident, there are traditional banks, such as HSBC, Lloyds, Barclays, RBS and NatWest that provide business accounts for non-resident directors. For instance, HSBC offers business accounts to non-resident directors, provided that their companies are UK-registered. However, the non-resident director has to visit the UK branch to verify some of the supporting documents.
Here are the most popular ways to open an account.
Tip
If you're looking to make even more quality of life improvements for your business, maybe check out our accounting services?
Residency
It may seem funny but it's true.
To get a bank account opened, you will need submit your proof of residence to the bank (for instance, Lloyds or Barclays require it to open a business account for British nationals living in the UK). You can acquire or rent a local residence and show the bank a utility bill with your name on it as proof. However, if you choose this option, you should keep three things in mind:
1. Your office can't be your home. Your residence address and the registered office address of your company must be different places.
2. You can't "live" at a warehouse, garage, or coworking space. The place where you will claim to live has to be a residential property.
3. You should stay in the UK for no less than 183 days a year after buying or renting the property to formally pass as a resident.
While being pretty straightforward, the residency option implies spending quite a lot of money and half a year in the UK. If this does not fit into your plans, you can try other options for non-residents.
However, it is quite common for business owners to run their company remotely. If you run a company remotely and need a UK business bank account as non-residents, you may apply for an international bank account. Likewise, if you are a freelancer running a business remotely outside the UK, you may consider opening a UK business bank account for non-residents.
There are many ways to open your bank account without having a physical presence. The simplest and convenient way is to open a bank account online. For UK non-resident, this is the simplest and most convenient. You can open a business bank account for a non-resident as long as you're a director of a company registered with UK Companies House.
International banking
The four major UK banks do offer international bank accounts for your business needs. However, if you prefer to open an international banking account with other banks, you may consider the following international banks:
Bank of America
Citibank
Santander
Triodos Bank
Let's take a closer look at the banks and their requirements. You can pick a certain bank and read about it or jump to the comparison tables that we made.
Barclays
Barclays has an International Banking division where you can open a business account. You can open an account at Barclays online without being present or resident in the UK; furthermore, you can open it in three jurisdictions – the UK, Jersey, or the Isle of Man. Barclays allows you to open accounts in several currencies – US dollar, euro, or British pound. Barclays also offers a range of additional services, such as investment managing service and mortgage advisors. Though you should note that International banking is available to you only if you are older than 18 and have an equivalent of GBP 25,000 that you can deposit and maintain on your account(s). However, if you reside in certain countries such as Russia (not necessarily being a Russian national), you'll need to have GBP 250,000 available. Besides, before taking any action, we advise you to contact Barclays directly and discuss your needs and goals – according to Barclays' website, these guidelines do not apply for all cases.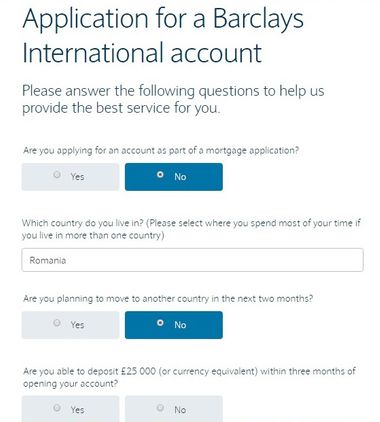 Whether you are a business owner or planning to start a new one, you will need a business account. The reason is simple. It's good to show your professionalism as a business owner, even if you are just starting out. Barclays is one of the UK banks that offer a range of business accounts for different types of businesses.
Start-up business account
Business account for turnover up to £400k
Business account for £400k - £6.5m turnover
Community account
We understand that running a business is not easy and you might not be in the office all day. Barclays allows you to manage your business account and make payment online. So whenever you are, you can access your business account through the bank's online banking app.
Lloyds
Another bank offering international services is Lloyds Bank. However, they don't service clients who are the EU citizens. Outside the EU, there are more countries they tend not to work with. So be sure to check your eligibility. Alternatively, you can fill in your country in their online application form and the website will tell you if you are eligible right away.
The application form will responsibly prevent you from filling out further details if Lloyds does not service clients from your country.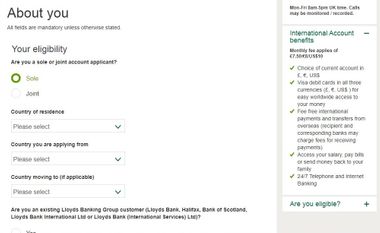 The bank will look at your financial situation. Here are two ways to make them like you:
1. Have the gross annual income of no less than £50,000 or equivalent. If you wish to open an account jointly with someone, it is enough if only one of the applicants has the gross income of this amount.
2. Invest or deposit a sum of £25,000 or equivalent within 30 days after opening your account.
If you are ready to meet these conditions, you can open an account online or by phone and choose from 3 currencies: sterling, US dollar, and euro. Moreover, Lloyds does not charge you for sending or receiving funds from other banks, offers 24/7 internet banking and Visa debit cards in these three currencies.
For business owners, there are different types of business accounts for companies of various sizes. They are:
Business Account for Small business and Start-ups (estimated turnover for the next 12 months is £3 million)
Business Current Account (estimated turnover of £3 million and above for the next 12 months)
Schools and community groups
Professional practices
The good thing is, Lloyds Bank provides full online banking service to all business accounts. You can make UK, international and bulk payments. If you happen to run out of cash to pay your supplier or clients, you can apply for a business overdraft until you have sufficient income to cover your business needs. You can check online statements and update signatory access details to control access to your business accounts within your team.
HSBC
The third major British bank that offers business accounts for non-residents is HSBC. According to HSBC's website, you are eligible for a Business Current Account if you are:
18 years of age or above;
Contactable on a UK mobile phone starting with (+44) 07;
Happy to receive information by post, text, and email as part of account opening process;
The owner of a UK-registered limited company/unlimited company/partnership/limited liability partnership has no more than four directors/partners in total.
To open a Business Current Account, you need to provide the following information:
The Companies house registration number of your company if it is a limited company or partnership;
Full business address, contact phone numbers and email address of your company;
Your estimated turnover;
Your birthdate, full name, telephone numbers and email;
Your current personal address (and previous address if you've been there under 3 years);
Your account number (if you already bank with HSBC);
Details of your debit/credit cards including the ones issued by other banks;
Your current passport/national ID card/UK driving licence;
A proof of your residential address (a utility bill/current bank statement/local council tax bill).
We note that the documents in the latter two points have to be provided by all the beneficial owners and/or principal controllers of your company.
When you have all this information at hand, you can open HSBC bank account online.
HSBC offers the holders of Business Current Accounts a free banking period of 12 months after the account opening. After that, HSBC applies an array of fees and charges. You can look up the full list (scroll down and expand the "Rates and charges" section).The account can be opened online; however the bank emphasizes its global presence and offers to visit one of its international branches — find the one that suits you using the branch locator.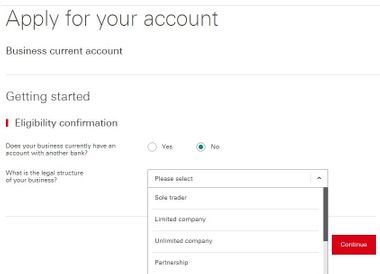 Other than Business Current Account, HSBC offers another type of business banking account, International Business Account for businesses that are specifically involved in international trade. The advantage of this account is that customers can choose a range of foreign currency for their business, which offers a specified business option. You can consider an International Instant Access Savings Account, which is applicable to small businesses, charities or corporate businesses with a turnover of about £2 million per year. You can open an account in any tradable currency with no minimum or maximum deposit amounts. And depending on the currency you choose, you may receive interest payment.
How to activate your HSBC business debit card
After you have received your HSBC Business Debit Card, do ensure that you have registered it with a verified mobile number. This is so that you will be notified of any business transactions.
To use your card, first you need to activate it upon arrival. How? Easy.
Also, don't forget to sign the back of your card. Then choose one of the three options:
1. Online:
Log on to online banking
Select the account you want to activate
Select Manage, Activate card, and follow further instructions.
2. Phone:
It's easy to activate your HSBC Business Debit Card through the phone, and the process will be done within a few minutes. You may contact HSBC Customer Care Service at the following number:
Call 0800 783 5263.
From 08:00 to 20:00 every day.
3. Cash machine
Just make any transaction: withdraw cash or check your balance, and your new card will be instantly activated. No on-screen notifications pop up.
Mobile Application
You may also activate your HSBC Business Debit Card. Just remember to download the HSBC Mobile Application.
Just tap on the 'Account' option
Choose the 'Manage Cards' tab, and click on the cards you need to activate and tap on 'Activate My Card'.
Notes
You can't choose this option if it's your first HSBC debit card.
If you hold a joint account or more than one card you'll have to activate each card individually.
Online banking apps
If you are not a UK resident and need to open a business account, another option for you may be online banking. Online banking is usually a term used for mobile banking applications that offer full range of regular banking services. Your account will be operated by a registered financial organization that doesn't have any physical branches or offices and works entirely online.
Likewise, many mobile apps do not require you to provide actual documentation. However, if they require you to submit a proof for verification, it will be a scanned copy of a document. For most of the mobile applications, you will need to provide the following details:
Full name, date of birth and registered address
Mobile number and email address
Biometric data to protect your account with your own personal ID
Most of the mobile banking applications involve low costs for basic services. However, there are certain limitations for different accounts, such as fixed monthly fee, limited in free transactions and the number of payments you can make before you incur extra charges. If you are unsure, you may check with the respective mobile banking apps.
Mobile Banking Security
Despite its convenience, safety of online and mobile apps is still very much important in the banking industry. You might have read cases of online banking fraud in the UK over the last few years. That is the reason why the banks and other financial services are working hard to improve the mobile apps features which include biometric ID protection and strong encryption
The benefit of online banking is that you can access your account from virtually anywhere; besides, opening an account in a banking app does not always require a proof of residency. We list several online banking applications worth considering — both for EU-based applicants and those from countries located outside of the EU.
Monese
Monese is a mobile app that provides all the services of a standard bank. However, the Monese business account opening process is a bit tricky and is only available to European Economic Area (EEA) residents. Here is the sequence of steps you need to follow:
Open a personal account first.
Download Monese app to your mobile;
Upload a photo of your ID and a video of yourself;
Provide your email and mobile phone number capable of receiving text messages;
If you order a debit card, you need to indicate a shipping address for it. Once you receive and activate the card, your address is considered as confirmed.
2.   Open a business account with your personal account.
Open your Monese app, tap "Add account" and follow the instructions;
You must be older than 18.
We note that you can only open a business account if you have registered a company in the UK prior to that. Besides, there is a range of business activities that Monese doesn't work with, so check the full list to make sure you're eligible.
Aside from that, Monese offers a premium business debit card, invoices and expense reports, transaction categorisation and competitive currency transfer rates. According to their website, their card is accepted in 200 countries and operates under the MasterCard payment system.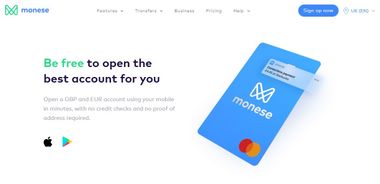 N26
N26 is another mobile banking application; the financial organization behind it is based in Germany. Their Business account is available for residents of Germany, Austria, France, Italy, Spain, Portugal, Ireland, Greece, the Netherlands, Belgium, Luxembourg, Finland, Latvia, Estonia, Lithuania, Slovakia, Slovenia, and Switzerland.
Moreover, the company promotes their app as designed for self-employed and freelance users doing business under their own name.
The business account is free to open without any account management fees; they also offer debit cards working under the MasterCard payment system. In addition, there is no minimum deposit required to open the account.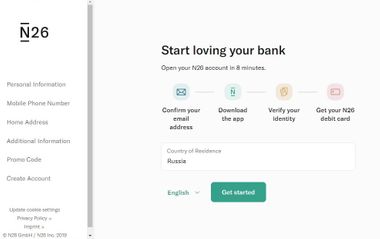 Revolut
Revolut positions itself as a digital banking alternative built around a mobile app and a multi-currency debit card issued on request. While they offer business accounts operating via mobile app, currently this app is available for businesses registered and physically operating within the EEA and Switzerland. This means that you'll have to demonstrate proof of address of your registered business. Unfortunately, their website does not disclose the details and lists no documents they require to open such an account so you may need to contact them directly.
Other than a banking app, Revolut issues corporate cards, provides fast money transfers in 28 currencies, instant settlements and expense reports; moreover, they deal with cryptocurrency should their clients be interested in it.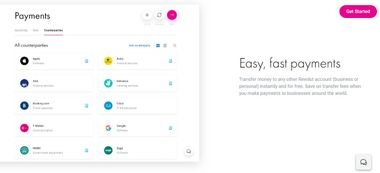 Tide
Just like Revolut, Tide is built around a mobile app that holds all details of a business account. Their account is free to open; besides, Tide issues contactless MasterCard debit cards for business owners and their team members if needed. The cards are linked to the accounts; in addition, Tide offers its clients an option to get a loan of up to £150,000. The app can be used internationally at the point of sale or online without exchange rate fees.
According to their website, Tide business accounts are only available either for UK-based companies registered with UK Companies House, or for sole traders such as freelancers or self-employed. Unfortunately, the company does not list the documents necessary to open an account. What they do tell us is that verification would require using a mobile phone and a valid ID, and that non-residents can open a business account as long as they are directors of a UK company registered with UK Companies House.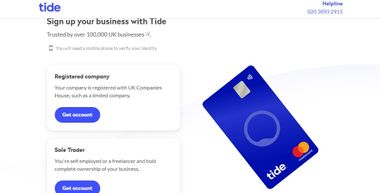 TransferWise
TransferWise is an online money transfer service which lets you transfer up to 8 times more cheaply than with a bank. They now offer a digital business account to send, spend, and receive multiple currencies with the real exchange rate. It's perfect if you want to work with suppliers, customers, or employees based overseas. TransferWise is a popular choice among business users with its variety of cross-border payment features that allow to streamline processes and save a lot on foreign transaction fees. They always use the mid-market exchange rate and charge low, upfront fees for any transaction so you always know how much your recipient will get.
Here are some of the features of Transferwise for Businesses:
Opening an account is free and there are no monthly fees. There is a one-off fee for opening any of the local banking details of $30 and then all 6 accounts are free to use afterwards. (USD, GBP, EUR (Belgian IBAN), SGD, AUD, NZD)
Get local banking details in the UK, as well as in USA, UK, Europe, Australia, Singapore and New Zealand to receive money like a local business (you will be charged for a fixed fee to send money to accounts in other countries)
Receive a Mastercard debit card to spend and withdraw money abroad
Send, spend and hold money in over 80 currencies
You get to streamline your cross-currency payments with the batch payment tool and open API
Direct integration with your Xero and Quickbook accounts
There is no need to travel to open a TransferWise Business account fully online.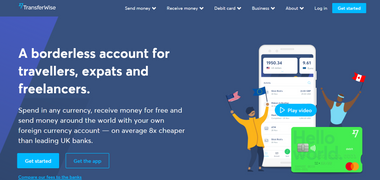 Comparing Business Bank Accounts for Non-residents
For your convenience, we prepared a chart that compares the services and fees offered by banks listed above. We used the information from the open sources and picked the cheapest tariff options in all the banks. Mind that the information was last updated in November 2019.
Business Bank Accounts for Non-residents: Features
Barclays
Lloyds
HSBC
Monese
N26
Revolut
Tide
TransferWise
Application
Online
Online
Online, in person
Online
Online
Online
Online
Online
Documents needed
Certified copy of identity document;Certified copy or original proof of address;Your signed Client Agreement
valid ID; proof of residence; Companies House registration number and contact details of your company; your personal and contact information
N/A
Photo of ID, selfie video, pre-existing personal Monese account
Valid ID
N/A
Information about your company

Your ID document with nationality

Proof of address

Company Registry document is needed if one of your shareholders is a company.

If you are opening an account on behalf of your shareholder or director, you'll need to upload an authorisation letter from the directors to verify your account.

Eligibility criteria
Contact the bank for details.
Non-EU residents
Being 18 years old or above; Contactable on a UK mobile phone starting with the number (+44) 07
EEA residents
Residents of Germany, Austria, France, Italy, Spain, Portugal, Ireland, Greece, the Netherlands, Belgium, Luxembourg, Finland, Latvia, Estonia, Lithuania, Slovakia, Slovenia, and Switzerland
European Economic Area (EEA) and SwitzerlandBusinesses supported:Private limited company (LTD),Public limited partnership (PLC),Limited liability partnership (LLP),Partnerships,Sole traders & freelancers,Unlimited companies
N/A

Businesses need to be within TransferWise's risk assessment, for full list, refer here (Section 1.2 Unsupported businesses and transactions).

Anyone from all over the world can open an account with TransferWise and transfer funds using multiple currencies. However, there are certain currencies for which you won't be able to open a balance. Refer here for the full list.

Remote application
Yes (online)
Yes (online)
Yes (online)
Yes (online)
Yes (online)
Yes (online)
Yes (online)
Yes (online)
Account feature
Internet banking
Internet banking
Internet banking
Internet banking
Internet banking
Internet banking
Internet banking
Internet banking
Currency
British pound, US dollar, euro
British pound, US dollar, euro
British pound
British pound, euro
British pound
28 main fiat currencies
British pound
Over 50 currencies
Additional services
investment managing service, mortgage advisors, etc.
Visa Debit Cards Internet Banking
N/A
Integration with Google Pay, Apple Pay, PayPal
Debit card; 0.1% cashback every quarter on all payments made using the card; shared sub-accounts
Scheduled payments; Prepaid Corporate and Virtual Cards; integration with popular software
Integration of accountancy software, Auto categories, Invoicing, Desktop and mobile versions
Integrate with Xero
Business Bank Accounts for Non-residents: Pricing
| | Barclays | Lloyds | HSBC | Monese | N26 | Revolut | Tide |
| --- | --- | --- | --- | --- | --- | --- | --- |
| How much they want you to invest | GBP 25,000-250,000 | GBP 25,000-50,000 | 0 | 0 | 0 | 0 | 0 |
| Monthly fee (the cheapest tariff) | £6.00 p/m+£20 per month if you do not maintain an average balance of £25,000 or more in cash or investments for 4 straight months | £7.50 p/m | Free banking for 18 months, then £6.50 p/m | £9.95 | Pricing depends on your region of residence | No monthly fee | No monthly fee |
| Bank Transfer fee | £0.35 | Free | £0.35 per credit after the end of free banking period (see the website for other transfer fees) | Free (inbound and outbound) | depends on your region of residence | £0.20 per local transfer, £3 per international transfer | £0.20 |
| Other fees | £8 transaction fee | N/A | Please see the "Rates and charges" tab here | Free local payments | depends on your region of residence | free transfers to other Revolut accounts | ATM cash withdrawals £1; Cash Deposits £1 Post Office/3% PayPoint |
Want to register your UK company online? Get in touch with us and we will assist you.