10 Tips To Help You Get Better At Selling Digital Products
Can you imagine paying for something you can't see or feel? Even though it seems odd, you're probably already doing just that with your mobile plan or paid apps.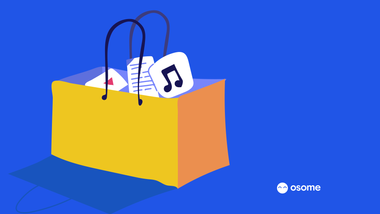 Would you pay for something that you can't actually see or touch? It might seem odd, but you're probably already doing just that with your mobile plan or paid apps. A couple in the United States reportedly earned USD 600,000 in a year by selling downloadable PDFs of doll clothing patterns online.
If you're a budding online entrepreneur set on selling your digital products, here's how to prepare for success and focus on growing your revenue as a business. When it comes to keeping your online transactions recorded, and your books in order, look for our accountants for e-commerce business.
Quality Text and Images
When you're selling digital products online, the only customer touchpoint is through their screens. Make sure the published text (or copy) on your website is grammatically correct, easy to read, and sounds professional and reliable. Never make your customers question the legitimacy of your offerings with sloppy write-ups.
Use a tone and style that's consistent with your products and brand image
Proofread your content for error-free copy
Consider engaging a professional copywriting service if writing is not your strength
Include high-quality and high-resolution images
High-quality images speak volumes of the quality and trustworthiness of your digital products - where possible, provide online shoppers with several images of each digital product. Images can also help to increase user engagement with your content, which could in turn increase sales. Engage a photographer or designer if you want free PPT templates, custom images, or buy stock photography from websites like Getty Images and Shutterstock.
Clear Product Specifications
Digital products, such as software, need technical product information that is clear and concise. Customers take product specifications and documentation into serious consideration when deciding on a big-ticket digital product purchase, so providing searchable online documentation and FAQs rather than downloadable PDF guides could help convert sales. You could also help your customers by providing photos and videos for them to learn how to get your template, software or application up and running quickly.
Make sure your product information and documentation:
use easy-to-understand language that isn't too technical
has pages with clearly defined sections, is easy to navigate and is user-friendly
includes SEO-optimized and mobile-friendly content
Provide Product Demos, Promote 'Live' Sessions and Showcase Customer Testimonials
Besides recording a product demonstration video, you could also conduct a 'live' product demonstration or promotion for your digital products. Choose a social media platform that suits your brand image, like Facebook, Instagram or TikTok, then highlight the features, functions, and quality of your digital products through demonstration videos or 'live' sessions with VPN you will be online wherever you are.
This content can help build rapport and trust with your customers and better manage their expectations. Word-of-mouth recommendations and referrals are invaluable for online sellers, particularly new digital product sellers.
Customers who had a good experience using your products are most likely to write a review for you; make sure you feature these good reviews on your landing page. Invite or incentivise customers to leave a review for you and rate your app on app stores or online marketplaces. You can use social listening to see what others are saying about your products and brand, then use their feedback to make improvements.
Marks & Spencer announced on the 28th January 2022 that it was launching a TikTok-style "Live Shopping" broadcast on its website, making it the first British high-street retailer to do so. An M&S expert would present and demonstrate a product and introduce its range, and viewers could ask questions live via chat, and purchase the products at the same time. This move would allow M&S to be more relevant with its younger customers, and Live Shopping would be its new channel to increase brand awareness and gather customer feedback.
Redefine Your Value Proposition and Appeal Emotionally
Your value proposition, or how your products or services benefit your customers, should be at the heart of your marketing communications and online content. Check if your value proposition can be easily identified on your landing page copy, as well as your sales and marketing materials.
Explain the specific benefits of your digital products and how they can solve the problems of your potential customers. For example, ebooks or online courses could help a buyer or subscriber to understand a certain subject better, or even improve their life. Be sure to differentiate your products' value propositions and explain how they're superior to your competitors' products.
You can make a stronger connection with your prospective buyers by using language that appeals to their emotions, for example, making them feel better about themselves, successful, or secure.
Channel 4 newsreader Krishnan Guru-Murthy for example, hosts a "Ways to Change the World" podcast. The podcast episodes touch on important issues where experts in tech, politics, business, arts, science and economics share their ideas on how to make the world a better place. He made the value proposition clear through the title of his podcast, and his audience have been hooked on the series with his shrewd interview style.
Engage With Users on Social Media
One of the best and most effective ways how to build a community online and increase customer satisfaction, brand awareness and sales is to engage with customers on social media. Respond quickly to customers' queries in a polite and friendly tone, and be honest with them, even on difficult topics, such as not being able to fulfil their customisation requests.
Many big brands set up Twitter accounts to interact and respond to their customers' queries.
Puffin Books in the U.K. for example created a community around their products by holding online polls on Twitter, as a way of creating conversations with their readers.
Use Remarketing
Remarketing or retargeting is an online marketing strategy that promotes your website or products again after your customers have visited and exited your site. A tracking pixel placed on your website allows you to follow which other sites your prospects visit after yours. It would then place an advertisement of your product or services there, as a reminder for them to visit your site again.
Target recent visitors to your sites, shopping cart abandoners, and/or repeat customers in your remarketing strategy. Your ads shouldn't be scheduled too frequently - you don't want to overwhelm and irritate prospective buyers. Employ A/B testing to find out which part of the ad (visual, promotion offer, or headline) helps you optimise your ads and convert more visits into sales. Change one thing at a time, to see how that change impacts performance for the A/B testing.
Create a Sense of Urgency
Sales encourage consumers to buy more because they can pick up a bargain or get hold of limited edition products. I
In December 2021, U.K.'s Office for National Statistics (ONS) reported that total U.K. retail sales increased by 1.4% in November due to Black Friday sales. Sale of clothing even exceeded the pre-pandemic levels. Black Friday sales signal a sense of urgency, and consumers would buy more 'just because it's on sale'.
You can apply the same concept when selling your digital product online. Create a sense of scarcity and instil fear of missing out (FOMO) by using clever language - for example, Booking.com prompts 'last room left' when customers are browsing their hotels. You could use short call-to-action words such as 'hurry, 'one time offer, 'today only', 'clearance', etc to create urgency, and set deadlines when giving out discount coupons. Incorporate countdown timers to indicate the hours, minutes and seconds that pass by before your promotion ends.
Neuroscience Marketing reported that adding a countdown timer increased revenue by 9% in a test where time left for next-day delivery was displayed. This method is really effective on impulse and repeat-buyers.
Use the Voice of Your Customer
It's useful to conduct market research, surveys and focus group testing before launching your digital products online. From there, you can gauge the voice of your customer and find out their wants, needs, expectations, pain points and aversions. Take note of the language of your target market and use the voice of your customers across your ads and website copy to engage with them better.
When you're just starting out, the market research could be done informally through simple polls and Q&As on your social media accounts. This is just to get the conversation going and interact with your followers, and also to gauge your target market's preferences.
Smooth Payment Processing With as Many Payments Methods as Possible
Alright, so your prospective buyer viewed your ad and clicked it. They browse through your product catalogue and add three prints to their shopping cart. At checkout, they need to select the paper type, confirm the print dimension sizes, agree to the copyright terms, fill in their name, address, email, delivery address, billing address… and then the doorbell rings and they abandon their cart.
To avoid cart abandonment, make sure that your checkout page is super easy, with a smooth payment process. Skip unnecessary form-filling and make sure that any information entered can be saved automatically if the buyer happens to navigate away for a while. This means they won't have to start all over again. Similarly, provide as many payment options as possible, including debit and credit cards, PayPal, digital wallets, etc. Ensure that your region's most popular payment options are included.
Follow up, Follow up, Follow up
Follow up with your customers after their purchases so they know you care about them. Send a thoughtful email to thank them for their purchases as well as remind them about your after-sales services and support should they face any problems. This is a great way to increase customer retention and create brand loyalty. Moreover, take care of the security of the data of your site visitors. Accompany the use of your site with a password manager. In this way, you show your customers that you are interested in their satisfaction and the confidentiality of personal data.
Amazon has 'Customer Obsession' as one of its 14 Leadership Principles. Amazon's understanding of customers, personalised services, plus their attentive and reliable customer service team have bagged them the first place in the U.K. for excellent customer service across a decade. That is no small feat. The Institute of Customer Service in the United Kingdom published a report that Amazon received an average customer service score of 87.4 (out of 100) in the U.K. Customer Service Index (UKCSI) between January 2010 and January 2020. Never underestimate the power of good after-sales support and services. It will leave a good impression on your customers.
While you're focusing on getting all the sales and marketing right for your digital products business, why not let us handle all the bookkeeping? Osome's accounting for e-commerce businesses gives you peace of mind by professionally taking care of the hassle of filing reports and taxes. Contact our team to find out more.