Company registration
Register a company in the United Kingdom
To register a UK company with Osome is simple. Osome manages the registration online, and we guide you on every step. Integrate your sales platform, bank info and registration documents into the same place.
Check company name
Before registering a company name, you need to check if it's available. There are 5.6 million businesses in the UK, so many company names have already been taken. Let's check if the one you have in mind is still free. If not, we will let you know — and you'll be able to adapt your name choice.
How to register a company name?
Register your company with Osome
Before you trade in the UK as a business, you have to register your company. You register by filing with Companies House, the UK's registrar of companies. Once you're registered, you receive a certificate confirming your business legally exists.
Supportive experts

Consult a dedicated expert at any time, whether via live chat or over a call

Zero paperwork on your end

Just send us your documents online. We'll fill out the application and send it over for you to e-sign

Access from anywhere

We handle everything remotely, from company registration to any KYC (Know Your Customer) requirements

Setup business banking

We'll connect you with one of our partner banks. Open a business account online as fast as within 4 minutes!
Simple and fast registration
Company Registration
We'll register your company online
Ltd registration
Bank account opening
All documents
Company Registration
We'll register your company remotely
Ltd registration
Bank account opening
Confirmation statement filing
Registered UK address worth £39 + VAT
Free VAT registration worth £50
Choose the company type you want to register
When you incorporate, you need to choose which type of business you want to have. There are five main types of business structures:
Limited (LTD) company
There are public limited companies (PLC) and private limited companies (LTD). The public cannot own a private company. Shares in the company are bought and sold privately. Ownership of a PLC is open to the public. Anyone can purchase shares in your company's stocks.
Pros of a LTD company
Limits your risk if the company fails
Good for tax efficiency
Cons of a LTD company
Accounting and admin requirements are more complex
Your accountancy costs can be higher. (Although, Osome can help manage this cost!)
Register a company name
Here's how to register a company name:
Choose your company name

Think of a suitable name for your business. Make it suitable for your industry (it can be fun or silly if you think it's appropriate). Avoid sensitive words or expressions (you'll need permission to use these).

State a correct designation

Ensure your name ends with the proper designation. For instance, will your company be a limited or a public limited company? If you're unsure, just ask us.

See if the name is available

Check that the name you want is available. You can use the Osome tool or the Companies House company name availability checker.

Company name is good to go

If the name is free, protect and register your company name as soon as possible. Then voila! It's yours to use and grow with.
Prepare the documents
Company registration in the UK is easy. There are just a few details you need to iron out before you can get started:
Prepare passports and proof of residential address for yourself and any other directors and shareholders you want to add.
Choose your SIC code. Your Standard Industrial Classification Code defines your industry and the rules and regulations applied to your business.
Pick your Company address. Use your home address if you're ok with this data going public, or get it as a service from us.
Get your company registered in the UK
In the UK, all the incorporations are processed by the Companies House, a government body in charge of the business entities. You can apply yourself or hire us. We handle your documents online via chat, prepare the application and file it with the authorities.
Here are the key documents we prepare:
Form IN01
Memorandum of Association
Articles of Association
How much does it cost to register a UK company
The cost to register a company with Osome depends on what you need. We can simply handle the registration for you. Or we can handle your compliance and accounting needs too. Take a look at your options below:
Compare 3 packages

Incorporation essentials

These are the essentials required to be a legal, active company in the United Kingdom. Osome will get all of these boxes ticked for you. You will be set up as a limited company and receive your incorporation certificate and any legal paperwork. No queuing or long waits on the phone are required.

UK Private Limited Company
Digital Certificate of Incorporation and M&As
Digital Statutory Forms
Bank Account Opening assistance

Osome assists you with opening a business bank account. We partner with 45 biggest online banking, finance and business consultancy providers globally. Your new bank account integrates with your accounting software, meaning effortless accounting and bookkeeping.

Free Business Bank Account
Cashback when opening a business bank account
Bank feed integration to your account
Office Address

You can operate the business from your personal address. It will mean that your home address will be made public and stay in the system for 20 years. If you want to avoid that, use our office address services.

Registered UK office address worth £39 + VAT
Same working day scanning of all official documentation from Companies House and HMRC
Virtual address with same working day scanning of up to 30 non-official letters a month worth £59 + VAT
Director's address with scanning all official mail sent to all your directors
Key Services

Osome will take care of all compliance related to your incorporation. And we will keep you compliant in the future. Once you incorporate, you'll automatically tick all the legal boxes, and an Osome expert will provide personalised onboarding help. If you have any questions or requests, simply ask.

Unlimited corporate changes: changing a director, a shareholder, transferring shares, changing company particulars, etc.
Confirmation statement filing
Personalised onboarding assistance
Get this plan
Get this plan
Get this plan
Start your company today
Get your limited company registered, bank account open, and compliance sorted for the year ahead with Osome
Choose package
Additional services you might need
Accounting plans from

£19/m

Our accounting plans include automated software, expert accountant advice, tax filings, and tools to grow your business, like cash flow or invoice management.

One-year compliance package

£100

All your company needs to report to Companies House: annual Confirmation Statement, company changes, and maintaining statutory registers.

Consultation with a certified Accountant

£50

A 30-minute conversation with a certified Accountant experienced in your industry who will advise on tax, reporting, and growth.

PAYE registration

£50

We register you as an employer with HMRC so you can start hiring people.

VAT registration

£50

We check that you need to register for VAT, process your registration with HMRC, and advise on the best VAT schemes and necessary filings.

Registered + Virtual company address

£89

Includes same working day scanning of all official documentation from Companies House and HMRC for Registered office address and Director's Service address, which includes multiple directors.
Peace of mind: accounting plans
from £19/m
Sign up for our accounting package straight away and get your books in order
Get that offer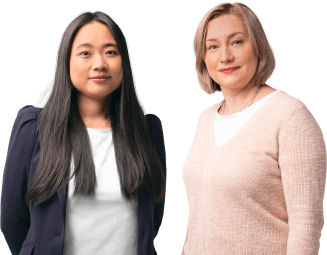 Open your business bank account: get paid
instantly
Registering your company will need a business bank account to receive money and pay your invoices. We partner with a variety of local banks. They process KYC (Know Your Customer) online and can have your account set up and ready within days, and the process is done completely online.
If you want a bank account with one of the traditional banks, you may have to visit the bank in person as a part of the KYC process. Remember, we present you to our partners, but the final decision to allow you to open an account is always up to the individual bank.
Up to
$10,000 off

our partners' services
$3,000 AWS credits

Amazon Web Services provides startups with a low-cost, easy-to-use infrastructure that can help scale any size of business

$10,000 processing credits

An integrated payments platform that helps you build and scale your business online

90% off HubSpot rates

HubSpot offers a full stack of software for marketing, sales, and customer service, with a completely free CRM at its core
Complete the Memorandum and Articles of Association
To complete your registration, you must provide the following information:
Memorandum of association: This confirms your aim to set up a company and become a member of that particular company.
Articles of association: This sets out how the company is run. Things like the shareholders' rights and dividend distributions.
Feeling unsure or time-squeezed? Osome can handle all of this for you!
Submit everything to Companies House
Once you've got everything together, share the documents with Companies House. This is done online through the government website. It can be done via post, too (but registration will take much longer). Once your information is submitted and approved, you are good to go!
How does the incorporation process work with Osome?
Registering your business is easy with Osome. Osome does much more than incorporation. We take care of your business from end to end. Admin, business banking, accounting — all sorted.
Check whether your company name is available.

Provide Osome with some basic info for your application. This takes five minutes.

Receive your certificate of incorporation and other documents. You're ready to go!
What you get when you register a company?
Digital certificate of incorporation

Your certificate of incorporation is a legal document that outlines your company information. It certifies that your business exists legally and is permitted to trade in the UK. Companies House issues these certificates.

Your certificate of incorporation will contain information like:

Company's registered name
Company registration number
Company registration location (England and Wales, Scotland or Northern Ireland)
Incorporation date

Articles of Association

These are written rules about running the company. Articles of association are agreed upon by the shareholders or guarantors, directors and the company secretary.

All limited companies must have articles of association. You can write your own – or use model articles of association provided by the UK government. Model articles of association are the default articles your company can use.

Digital Statutory forms

These forms contain information about the company's directors, secretaries and members.

Any form completed and sent to Companies House will be on the public record. This means the information, including any personal data, will be public unless the information is sensitive or restricted.

It's important to keep these statutory forms up to date.

Bank account

A business bank account lets you receive and pay money in your company's name. Business bank accounts have features designed specifically for businesses.

A business account is a legal requirement for limited companies. While Sole traders can use a personal account to manage their business, many banks will not allow this.

A business account can only be used for business-related use. It is totally separate from your personal finances.
We know how to register a company for your UK business
Now that we have discussed the company incorporation details let's look at the business opportunities. No matter what industry you operate in, we've got you covered. Learn more below.
Retail Business

If you choose to open a shop, you'll be joining the UK's bustling independent retail scene. There are over 100,000 indie retailers in the UK, and you could become the next success story.

Construction Industry

You'll find yourself contracting, manufacturing, building, and generally expending elbow grease in construction. The UK construction industry shows no slowing either, with an almost 10% growth forecast into 2024.

Restaurant Business

The pandemic was a tough time for hospitality – but the sector has recovered. Alongside flourishing direct-to-consumer delivery, the industry is worth over £11.4bn.

Clothing Business

The UK has long been a centre of fashion excellence. Start a clothing business to join this long legacy. The UK's fashion industry is worth £26 billion and 800,000 jobs to the economy.

Real Estate Agency

In 2019, there were more than 14,500 traditional estate agent offices in the UK. However, there are opportunities for new business models where agents work online and sell through private seller websites.

Party Planning Business

As the industry reclaims its pre-covid positions, the entrepreneurs integrate their new experience of turning virtual to generate profit at lower costs. The sector was worth £42.3 billion in 2019.
Why register your company using Osome?
89%of customers recommend
Osome service
15,000+Osome clients
worldwide
5,600companies opened globally
40hours freed up from admin
work monthly
Osome has been extremely proactive, talking me through every step of starting my company. They now take care of my accounting. I love the app, it's so easy to use!

Harriette Foulkes-Arnold We are Contented Ltd.

Osome is Awesome! They have provided me with help and support when I have needed it. I highly recommend them.

Dave Wallace DW4DAYS Ltd.

They deal with all the administration on my behalf, meaning that I can simply use my income and not worry about legal and administrative filings.

Pawel Wargan freelancer

I ended up signing my documents while I was on the tube! It is impressive how fast and responsive they are!

Randeep Sudan Multivertz Ltd.

I found Osome on Friday and on Monday morning everything was ready. It was fantastic!

John Lim Artac Ltd.
FAQ
What are the features of registering a Limited Company in the UK?

Legally a limited company is treated as a separate entity from its directors. Any debts owed or assets owned, belong to the company. Registering a limited company in the UK also provides tax and National Insurance advantages. A company that is limited by shares can retain its profits tax-free and distribute them as dividend payments to shareholders.

Every limited company in the UK must be registered with Companies House, here all of your company's financial information is on public record; which can be seen as a downside to some. But once your company name is registered with Companies House, it cannot be registered by any other business. Being a limited company will also increase your credibility and create a sense of confidence amongst both suppliers and customers, as well as banks and investors.

What are the features of a Private Limited Company if I want to incorporate one?

Limited companies are business entities that are legally separate from their owners (typically shareholders) and managers (formally called directors). The UK requires that it should be incorporated with Companies House. Its unique company registration number differentiates it from the people running it and confers legal independence.

Following that, its management will be governed by company law (and the company's articles). Information about its activities must be reported to Companies House. The information about limited companies is stored on the public register, which is accessible to anyone.

Limited companies are still separate and distinct legal entities, even if owned or operated solely by one person.

What is company incorporation?

Incorporation is the process by which a business registers as a limited company. The business can be new or already existing. When you register a business as a limited company, this means the company is a legal entity with a separate identity from you. When you incorporate in the UK, this means you can legally trade and operate as a limited company.

Can I register a UK company myself without the help of a solicitor or an accountant?

Yes, you can. But it can take longer since the documents, requirements, and admin can be confusing. If you are willing to put in the hours, you can set up your company. This is perfectly legal.

How long does it take to form a company?

It depends on you. If you take the DIY approach it might take longer. But if you use an incorporation service, it can take as little as 3 to 6 working hours.

Once your business is active (i.e. trading), you then have 3 months to register with HMRC (the UK's tax authority).

If you choose to start trading straight away, your company is 'active' and you must register with HMRC for corporation tax within 3 months.

How much does it cost to register a company?

It's surprisingly fast and easy to establish a private limited company compared with actually starting the business. The process of setting up a limited company can be completed within 24 hours, depending on which route you choose.

There are three ways to form a limited company. You can either do it through Companies House yourself, or you can hire a third-party agent or accountant.

There is a fee of £12 with Companies House to register your company, and it can be paid with debit, credit, or PayPal accounts. Your company is usually registered within 24 hours.

How do I incorporate a company online?

You can set up a limited company usually within 24 hours by registering online with the Companies House here. You will be registered for Corporation Tax when you do so. Payment for registration costs £12. You can also use company formation agents like us for a fuss-free way to register your company while you settle other important parts of your business.

How do I register a company name?

When you incorporate your company on Companies House, you register your company name as well. Before you register your company, you will have to prepare a company name. Private limited company names have to be unique. Do this by checking if the company name you want is available by using the name availability tool on Companies House. Also, check with the UK Intellectual Property Office that your chosen company name does not clash with an existing trademarked name. No matter how unique your company name is, it will usually end with either 'Limited' or 'Ltd'. If your company was registered in Wales, you can include the Welsh equivalents 'Cyfyngedig' and 'Cyf' instead.

How to register a Limited Company?

To register, you need to have chosen a company name. First, check that the name is available. This will quicken the process.

You will then need to provide some details to Companies House and HMRC. First, a registered address. The authorities will send official mail here. The address needs to be in the UK. The authorities need to be able to reach the company directors at this address. Secondly, you will need to provide the details of your company directors, including their full name, date of birth, and residential address. Thirdly, each company must have one shareholder. Companies House and HMRC will want their details too.

Next, you'll have to allocate shares to your shareholder(s). A simple approach would be to assign one share to each shareholder and make each share worth £1.

After that, the next step is to prepare your company's Memorandum and Articles of Association.

You can register online, where you will be registered for Corporation Tax simultaneously, or you can register by post, through an agent like us, or a 3rd party software. When you register your company, you'll need to create a Government Gateway user ID and password. A personal Government Gateway ID is not valid.

Your company can usually be registered within 24 hours.
I didn't find the answer to my question...
That's alright! Let us know your question