Statistics on 2021 E-Commerce Landscape in Singapore
E-commerce now accounts for more than one quarter of all retail sales in the UK. This number is expected to steadily increase in the years ahead, and would reach nearly one-third of all retail sales by 2024.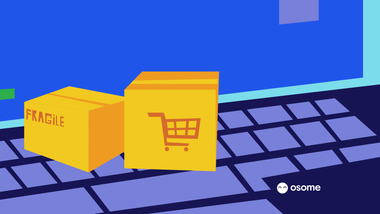 Although Singapore is a tiny island nation with a population of just 5.6 million, it is a major e-commerce market in Southeast Asia. How large? The Singaporean business to consumer (B2C) e-commerce market is worth $4.9 billion, and is expected to grow at a compound annual growth rate of 8.35 percent in 2021.The average online spend is $1,456 per year, with shoppers willing to make big-ticket purchases online. If you're thinking of setting up an e-commerce business in Singapore, there is no better time to do it.
Market Size
| | |
| --- | --- |
| Expected Revenue (2021) | Number of Users |
| US $2,793m | 3.3m |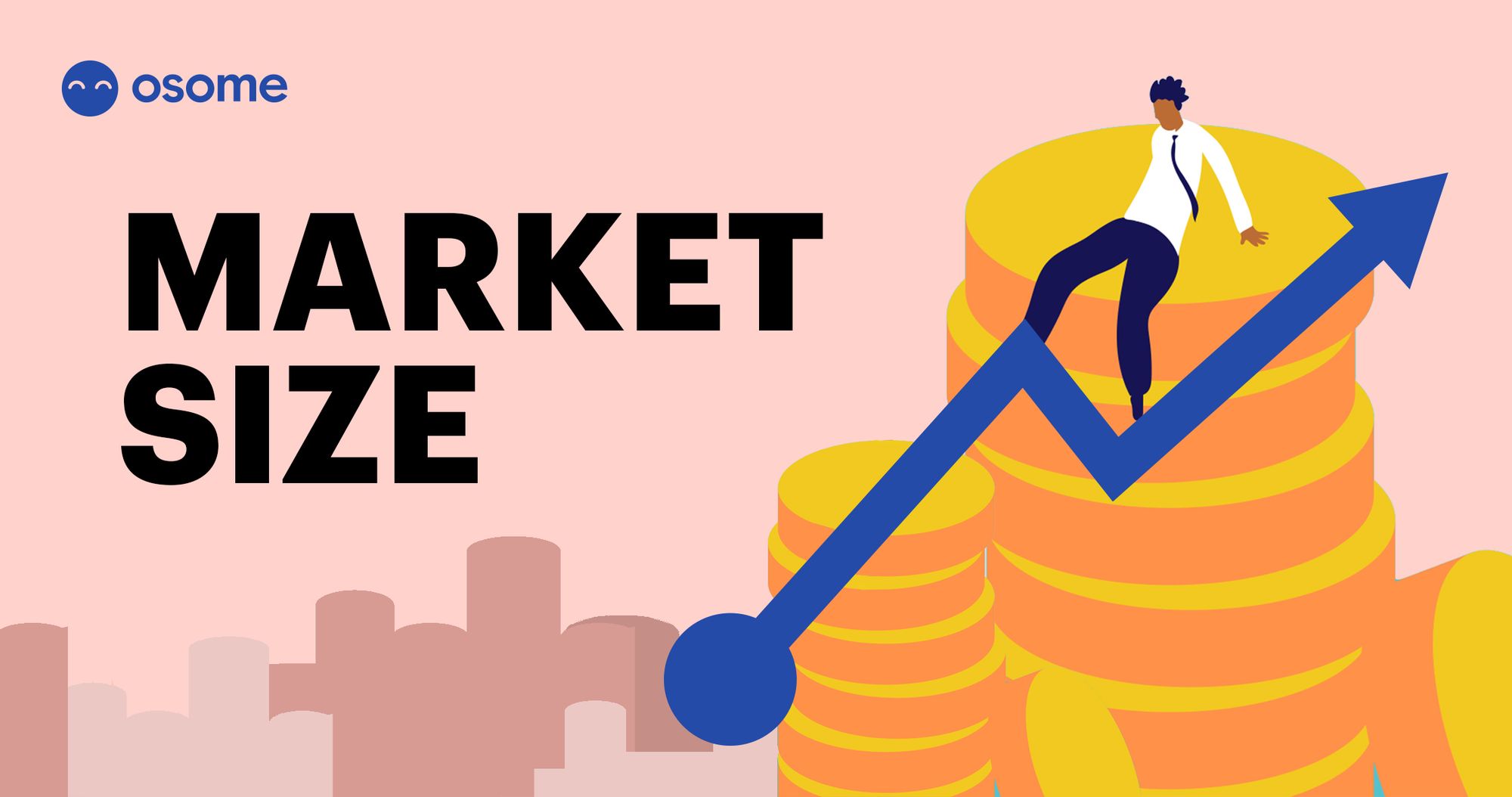 In Singapore, revenue in the e-commerce market is projected to reach USD $2,793 million in 2021 according to Statista. Revenue is expected to show an annual growth rate (CAGR 2021-2025) of 9.9%, resulting in a projected market volume of USD $4,079 million by 2025. Singapore e-commerce market's largest segment is Electronics & Media with a projected market volume of USD $668 million in 2021.
How Covid-19 Has Impacted Singapore's E-commerce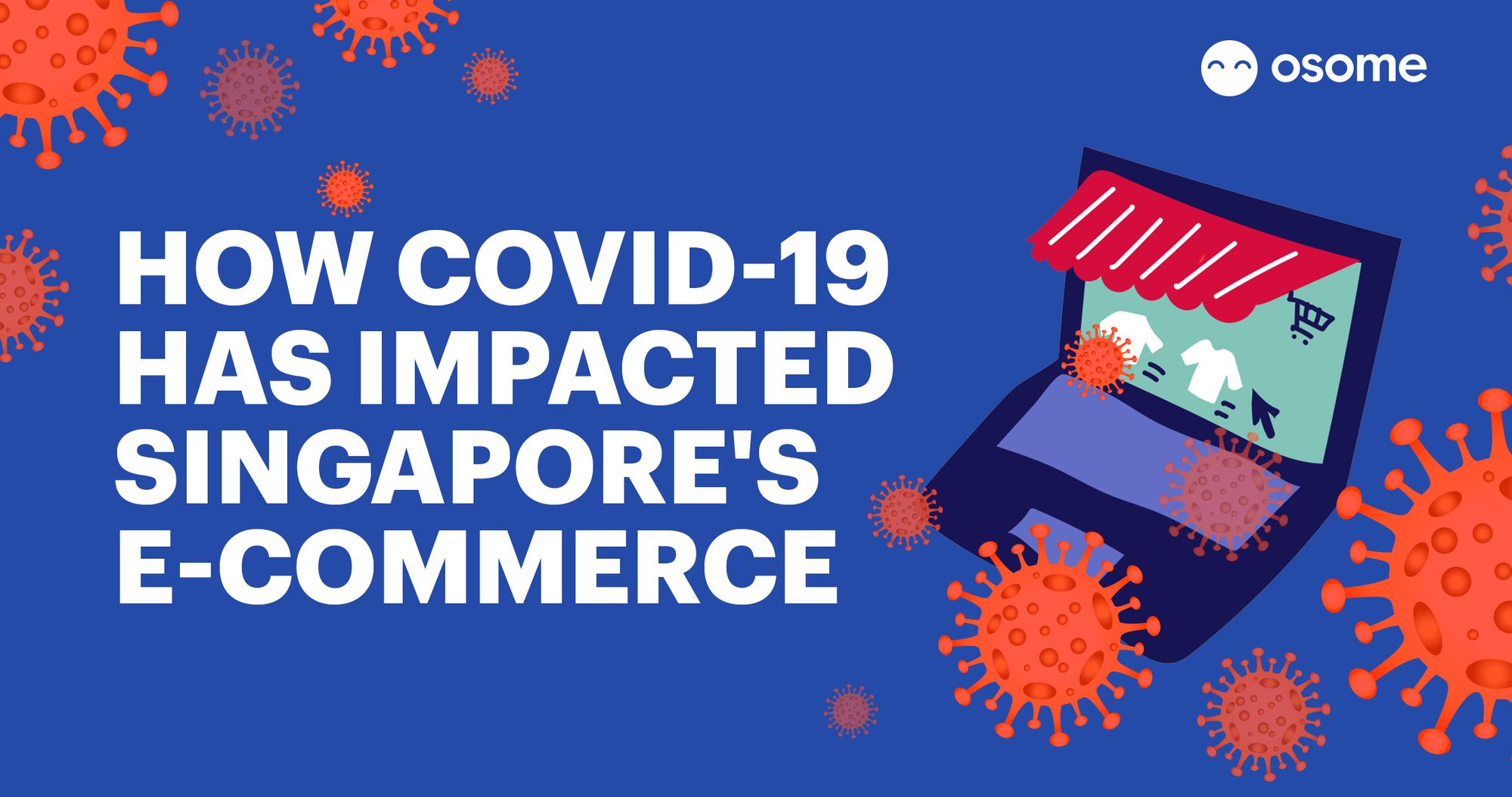 The outlook for Singapore's retail industry was bleak even before the coronavirus crisis set in. Singapore's retail sales dropped by 5.3 percent year-on-year in January 2020, the 12th straight month of fall.
However, e-commerce platforms in Singapore witnessed a two-digit growth at 23% in total web visits throughout the first 6 months of 2020 according to data from iPrice. In a single online transaction in the first half of 2020, a Singaporean spent S$113 online during this from January to June 2020.
Research firm IGD Asia found that Singapore's grocery market saw stellar performances too, and is forecasted to be a SGD $9.9 billion industry by 2023, a 14.5% increase from 2018. Online grocery shopping is leading that growth, with players such as RedMart and NTUC FairPrice dominating the local scene.
Covid-19 also saw even more physical store retailers jumping on board the e-commerce wagon in Singapore. Traditional, smaller players went online. Many traditional small wet market grocers have taken to social media channels and online marketplaces to hawk products, conduct live auctions and even to carry out customer relation-building, for example, passing tips on how to prepare dishes using their products.
Most Popular Online Stores in Singapore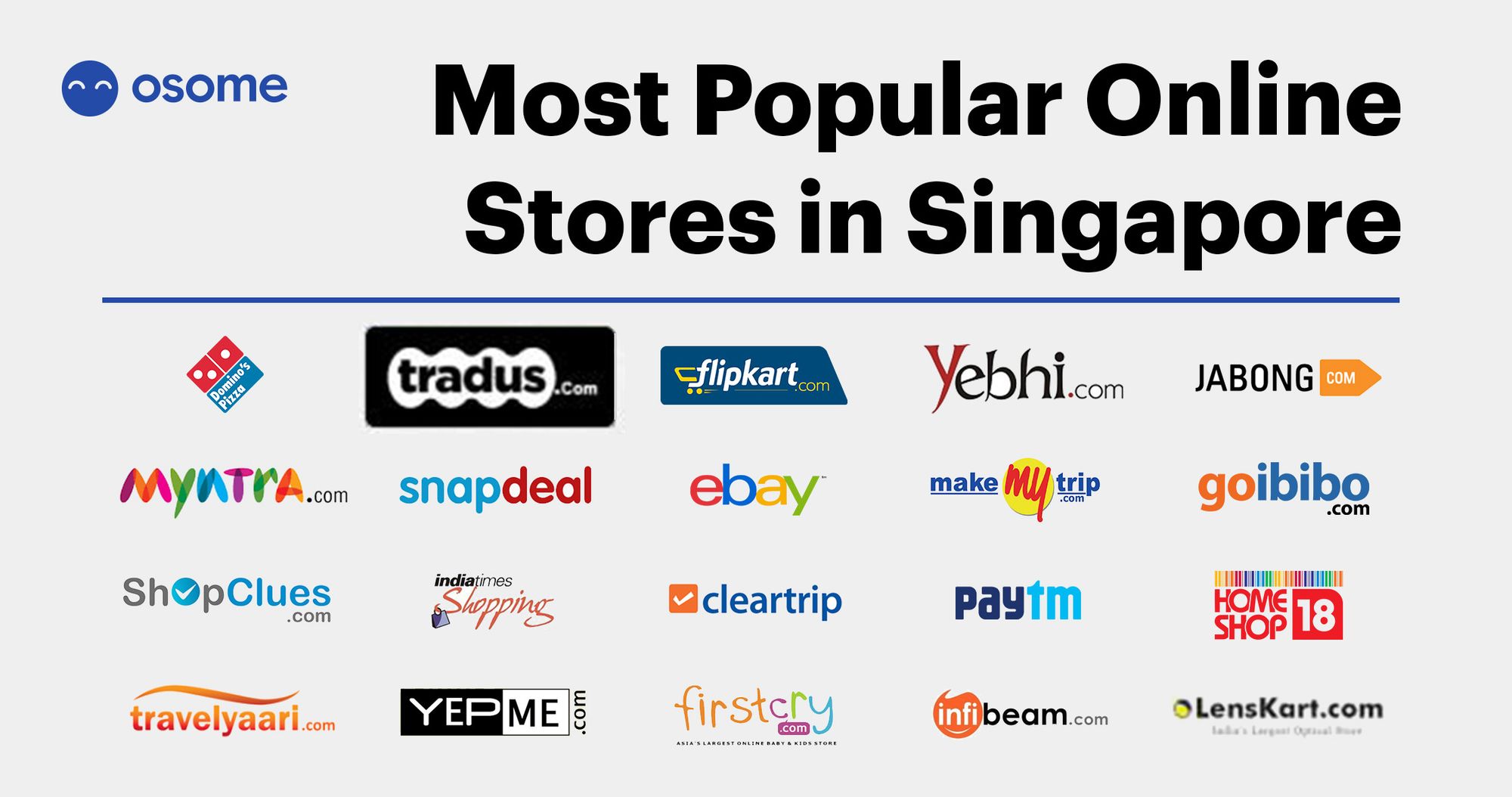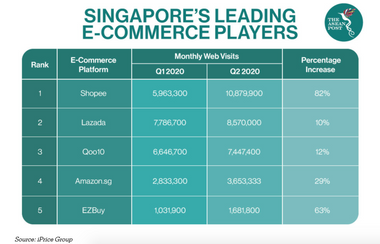 Based on the overall e-commerce traffic in Singapore, the top five e-commerce players in 2020 according to iPrice Group were Shopee, Lazada, Qoo10, Amazon, and Ezbuy.
Shopee was the most visited ecommerce platform in the city-state as of Q2 2020. The company saw an 82% increase in the number of users from Q1 to Q2, gaining nearly an additional 5 million in average visitors in the second quarter alone.
E-commerce Key Metrics and Statistics for Singapore
Key Metrics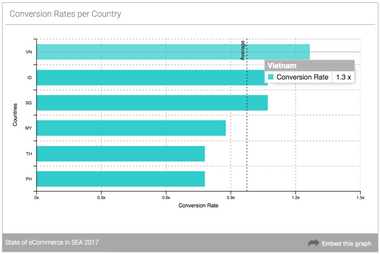 With regard to conversion rate, which is the percentage of visitors to a website or landing page that made an online purchase, Singapore was comparable to Indonesia in Southeast Asia in 2017, at about 10%. Vietnam was far ahead at 30% more conversion rate than the average of the rest of the Southeast Asian countries.
User penetration is projected to be 55.9% in 2021 and would reach 67.2% by 2025, while the average revenue per user (ARPU) is expected to amount to USD $846.96.
Key Statistics
Top E-commerce Product Categories in Singapore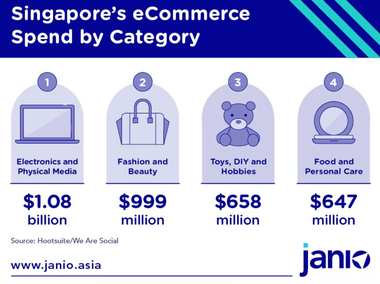 Although different market research reports offer different findings on the market sizes of these categories, Janio Asia's research found that the top e-commerce product categories were:
Consumer electronics;
Fashion and beauty;
Toys, DIY, and hobbies;
Personal care.
Payment Methods
Credit cards are still the most popular way to pay for e-commerce purchases in Singapore, but real time bank payment services and e-wallets are on the rise too. According to a survey by Rapyd, 42% of consumers prefer the latter.
Credit cards continue to be the top-most preferred payment method for online purchases, with 34.4% of the survey's 500 respondents indicating such.
But national real-time e-payments scheme PayNow is rapidly closing the gap, with 18.2% of Singaporeans now naming it as their preferred payment method.
Cross-border Purchases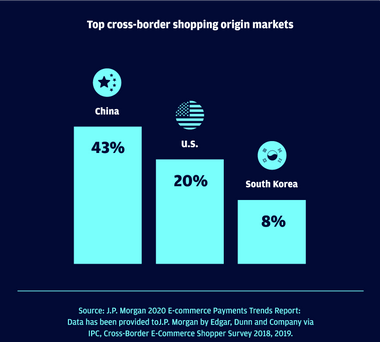 73 percent of online consumers in Singapore have shopped from overseas merchants, and cross-border e-commerce takes 35 percent of the overall Singaporean e-commerce market. Large, established e-commerce markets are preferred over smaller ones.
China leads as the most popular overseas online shopping destination, followed by the U.S. and South Korea.
Global Comparison
Singapore's e-commerce as a percentage of overall retail spend is low at 5.6% compared with advanced e-commerce markets such as the UK (21.8 %) and U.S. (11%) as Singapore's high population density and excellent transport infrastructure supports ongoing physical retail.
Key Trends
E-commerce Singapore Trend 1: Livestreaming
Livestreaming in the e-commerce space is the broadcasting of live video in real time via the internet to promote and sell goods or services. Within Southeast Asia, the upsurge in the popularity of livestreaming on e-commerce platforms such as Shopee and Lazada is undeniable. Brands stream content and work with social media influencers to promote products, with viewers able to purchase in real time in-app.
In Singapore and Malaysia alone, the total hours streamed on ShopeeLive have increased by nearly 200 percent between February to June 2020. Its competitor, Lazada's LazLive had 4,500 Singapore merchants sign up to use the service in April 2020 alone, with total gross merchandise volume generated through LazLive increasing by 450 percent month-on-month.
For marketers and businesses, livestreaming is the closest they can come to physically connecting with their customers during the Covid-19 pandemic, especially with border restrictions and safe distancing measures in place.
Livestreaming is a bit like TV shopping of yesteryears, however, with online livestreaming, retailers are spared the heavy airtime, production and advertisement costs of TV broadcasting and instead can use their existing social media channels to reach a worldwide audience.
While brands may initially feel vulnerable exposing themselves to a live audience, this same aspect of livestreaming is what makes it feel more natural and real to customers, and can also work in retailers' favor.
Livestreaming for e-commerce can also help fill the social interaction gap that is missing in regular online shopping. It helps bring the online shopping experience to life and increases interaction between the customer and seller.
E-commerce Singapore Trend 2: Invisible Payments
Dr. Thomas Fromherz, Fellow at Netcetera, a Swiss software company and digital payment leader with a presence in Singapore, shared with Fintech News Singapore that "[Mobile] makes the integration of digital payments in e-commerce checkouts more compelling. It enables so-called invisible payments where payment often happens automatically in the background somewhere along the customer journey."
According to Dr. Fromherz, with more and more e-commerce transactions moving into the mobile space, new opportunities are opening up, especially in the field of invisible payments. In Southeast Asia, the concept has been incorporated in commonly used services and products including ride-sharing app Grab or for bill payments through Line Pay.
In the US, online retailer Amazon has taken it a step further with Amazon Go, a chain of convenience stores where customers are able to purchase products without being checked out by a cashier or using a self-checkout station.
E-commerce Singapore Trend 3: Visual And Voice Search Are On The Rise
As people start interacting more with their phones and devices and less with their web browsers, the nature of search started to transition. Sensory search is beginning to catch on in Asia. Now that showing up on the first page of Google Search is no longer enough, marketers will have to rethink and adapt their content with visual and voice search in mind.
Voice-activated virtual assistants like Alexa and the Google Assistant have been gaining interest for several years, but this year, a notable trend observed has been the rising usage of voice assistants to make purchases.
The 2020 How We Will Pay study by PYMNTS and Visa estimated that 23 million consumers used voice assistants to make purchases in 2020, a 45% increase since 2018 and an 8% gain since 2019.
Major firms are getting into the voice-enabled shopping game. Walmart announced Walmart Voice Order in partnership with Google in April 2019, allowing customers to order groceries with a simple, "Hey Google, talk to Walmart." Amazon is also incorporating the same concept with AmazonFresh. The platform allows customers to shop through any Alexa-enabled device. It would not be long before similar practices would be adopted in Singapore too.
Starting an E-commerce Company in Singapore
With all the growth prospects in the online retail landscape, starting an online business now sounds like a good idea. If you already own one we celebrate the many growth opportunities your business will have. For all the tasks that are necessary but mundane, like bookkeeping for your online retail store, remember that you don't have to do it alone. Let us do the paperwork for you.