Amazon Seller in Singapore - Guide on How To Get Started
In this digital age, entering the ecommerce industry can be competitive, but you can set yourself apart from your competition by selling with Amazon. Here's how you can get started.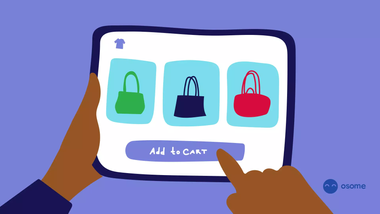 In this digital day and age, ecommerce is a competitive industry. To stand out from your competition, you will have to adhere to top-notch delivery and shipping practices.
Delivery quality matters to your consumers, and can affect their brand loyalty. In fact, the delivery process is so important that it has resulted in a term called "pre-parcel anxiety" in many buyers, a state of "nervous impatience" while anticipating their delivery.
Thankfully, ecommerce business owners can get Amazon to deliver and fulfill their orders. The trick? Simply enrol in Amazon's Fulfillment by Amazon (FBA) program, and you can effortlessly offer affordable and reliable shipping and tracking for your buyers.
What Is Amazon FBA?
For the uninitiated, Amazon FBA is a service that lets businesses outsource their order fulfilment to Amazon. In other words, all you need to do is to ship your inventory from a supplier or manufacturer over to an Amazon warehouse or Fulfilment Center for storage. From there, Amazon stores, picks, packs, ships, and delivers your products to buyers. Additionally, Amazon also takes care of customer service and returns for these orders.
As a seller with Amazon FBA, your listings can easily be searched on the Amazon Marketplace. Furthermore, you can even offer unlimited and free shipping for products that are eligible for Prime.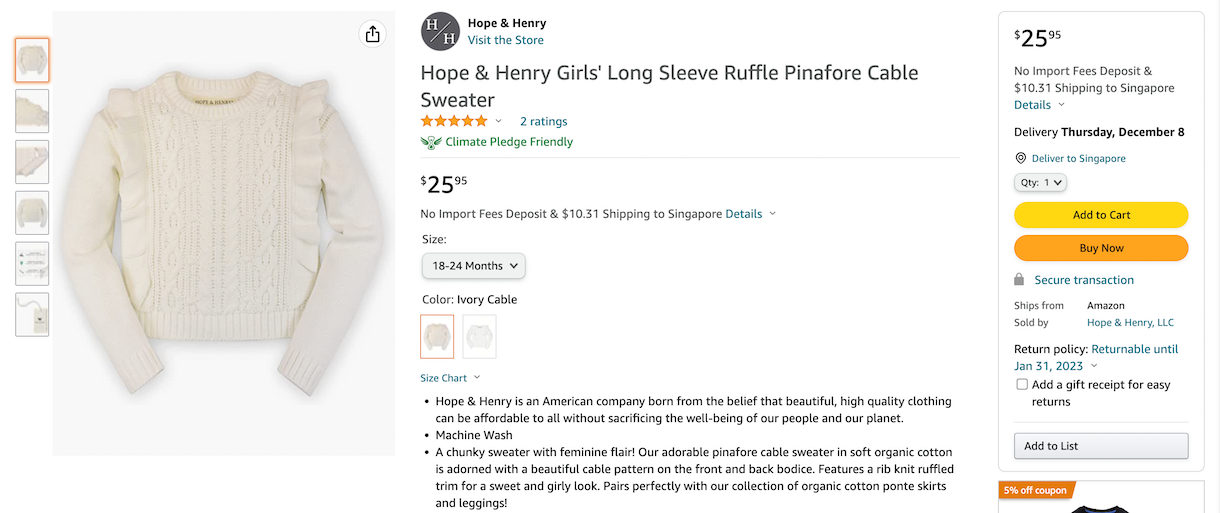 The is an example of an Amazon FBA business. On the product page, it states that the item is sold by Hope & Henry, but it ships from Amazon.
Why Should I Be an Amazon FBA Seller?
High ecommerce penetration
Ecommerce in Singapore is the fastest-growing segment in the digital sector, and revenue in the ecommerce market is projected to reach US $6.41 billion in 2022 according to Statista.
According to iPrice Group, the top five ecommerce players in 2020 according to iPrice Group were Shopee, Lazada, Qoo10, Amazon, and Ezbuy. Find out more about last year's ecommerce trends here.
With the prospects for growth in the online marketplace, this could be the best time for you to start selling on Amazon.
Attractive taxation system
Starting an Amazon store in Singapore also allows you to enjoy a low taxation rate as a result of the numerous tax incentives available. Singapore boasts one of Asia Pacific's most beneficial taxation systems, with a 17% corporate tax rate.
You can choose the type of company structure that would be the most ideal for your needs, with the most popular option being the limited liability company (Pte Ltd or LLC). This can be incorporated in the form of a startup, and you can also benefit from the various grants and tax deductions offered by the Singapore authorities.
The other types of business organisations you can choose from are Sole Proprietorship and Partnership.
Global reach
Since you can list your products on the Amazon Marketplace, you can effortlessly reach out to customers all over the world, and sell to them.  
With Amazon's international logistics and scale, you can diversify and grow your business easily. For instance, you can leverage sales seasons in another country during lull seasons in Singapore.
Trustworthy shipping
The shipping experience could very well make or break your sales, as proven by the recent 11.11 sales. With more ecommerce platforms wooing Singaporean shoppers with faster delivery, reliable shipping goes a long way in helping you earn brand loyalty.
This is where Amazon comes into play – they handle everything from your packaging to the last-mile delivery so your buyers can be reassured of its quality from basic customer service, questions about tracking and shipping, to returns and refunds. Furthermore, products that are eligible for Prime can even be delivered on the day itself, for free.
Lower costs
Handling logistics by yourself is no walk in the park – from packaging costs, volume, fuel costs, delivery destinations, agreements with carriers, and more, you will have to factor these into account. Additionally, the costs of small packages can quickly add up and cost you your profit margins.
However, Amazon FBA's pay-as-you-go pricing means you will only be charged for storage space and orders that are fulfilled by Amazon. For orders that are eligible for free shipping or Prime, there is no extra charge.
Multi-channel selling
As an Amazon FBA Singapore seller, your access goes beyond just orders placed on Amazon's marketplace. As long as you have your inventory stored at one of Amazon's fulfilment centers or warehouses, you can also have your ecommerce website's orders or social media channels fulfilled by Amazon.
Amazon refers to this as the Multi-Channel Fulfillment (MCF) orders. MCF orders let you diversify sales channels while maintaining the quality of your ordering, shipping, and returns processes.
Enhanced customer experiences
Amazon's reliable and quick shipping, along with its easy return processes and 24/7 customer service means that your buyers get to enjoy an enhanced shopping experience. This helps build brand loyalty, and you are likely to find repeat customers shopping with you in the long run.
Wondering How To Be An Amazon Seller in Singapore?
According to Amazon, third-party sellers are required to incorporate a company in Singapore, which can be in the form of the previously mentioned models – limited liability company, Sole Proprietorship and Partnership.
Company registration in Singapore is easy: paid-up capital can be S$1, we manage the formation online and guide you through the process step by step. This includes the preparation of your company's statutory documents, filing with Accounting and Corporate Regulatory Authority in Singapore (ACRA), opening a bank account and Goods and Service Tax (GST) number registration, which are all compulsory to set up shop on Amazon.
After you've successfully incorporated your company, follow these steps to start selling on Amazon.
Create an account with Amazon
Register for an account on Amazon's Seller Central and input the necessary information. The entire sign up process is rather lengthy, so make sure you set aside about 15 minutes of your time to do so.
Confirm your identity
To confirm your identity, you will have to input your passport details or driving license, accompanied by a recent bank statement. Once you have submitted the necessary documents, you can sit back and wait for your account approval. If any further clarification is required, the Amazon team will be in contact with you within 2 business days.
Sell your products
Make sure that the products you intend to sell are not prohibited by Amazon. If you have a Professional selling subscription, you can list your products in bulk to the Amazon Marketplace catalogue. Alternatively, you can add your products one by one.
Your products can be already available or new products that are yet to be made available on the Amazon Singapore marketplace. Be it the former or latter, check and make sure that your listed product details are complete and accurate.
Top 3 Tips to Boost Sales
Now that you've gotten your Amazon store up and running, it's time to move on to the fun part -- selling! Here are our top 3 tips you can use to boost sales:
Customer reviews
Customer reviews are the most genuine way for prospective customers to have a better understanding of your business and its credibility. Additionally, Amazon is a reviews-driven ecosystem, and having good reviews help you stay ahead of the competition. This makes it crucial to solicit for reviews effectively and incentivise your customers post-purchase for contributing.
SEO keywords
Amazon is a highly competitive marketplace in terms of pricing, alternative products, reviews and descriptions. To stand out from the clutter, you will have to focus on SEO keywords to boost sales. Here comes the tricky part – search terms utilised by consumers change from time to time, so be sure to optimise your listing titles and use keywords in your product description to enhance product visibility.
Digital ad buys on Facebook and Instagram
Harness the power of social media and run digital ad buys for your Amazon listings across Facebook and Instagram to increase reach and improve traffic, which could ultimately be converted to sales. This cross-platform promotion also allows you to reach out to a wider audience pool, where young adults spend most of their time.
When it comes to digital marketing, an advantage is that you can run ads to target your exact consumers according to age, location, behaviour and interests, which means you are speaking to only the consumers who will be genuinely interested in your offerings. Consider using an informal tone of voice to connect with your audience and make your products interesting.
FAQ - Amazon FBA
How does Amazon FBA work?
Amazon FBA allows ecommerce business owners like you to make use of their logistics and customer service. Simply send your inventory for storage at Amazon Fulfilment Centers, and let the Amazon team fulfil your orders.
Amazon FBA allows sellers to access a variety of fulfilment services such as packing, shipping, tracking, customer service, and returns. Amazon FBA sellers can reach international customers with their product listings on the Amazon Marketplace, and they can also offer buyers free shipping for products that are eligible for Amazon Prime.
How much does it cost to sell on Amazon FBA?
Fulfillment by Amazon fee: Shipping and handling are charged on a pay-as-you-go basis, while storage is charged monthly. To make it easier for you to offer new products through Amazon FBA, FBA New Selection offers free storage and free removals for eligible new-to-FBA Amazon Standard Identification Numbers (ASINs) for a limited time. You can check for your eligibility here.
Selling fee: Take your pick between the Professional or Individual Selling Plan, which charges based on a monthly subscription fee or per-item sold basis.
Referral fee: Computed based on the value of the item sold and differs according to the product's category.
However, take note that both the referral and selling fees are only applicable to orders on the Amazon Marketplace, and not your MCF orders.
What are the benefits of being an Amazon FBA seller?
In a nutshell, Amazon FBA saves you effort, time, and money. Instead of having to stress yourself over the tedious logistics involved in order fulfilment, you can simply make use of Amazon's capabilities to deliver a high-quality experience to your customers.
What are the best products to sell on Amazon FBA?
In Singapore, the fastest-growing categories in ecommerce include:
Fashion and beauty
Electronics and media
Food and personal care
Furniture and home appliances
Video games
Toys, DIY & hobbies
What Are Some Ways I Can Improve On My Amazon Inventory Management Strategy?
Analyse your listings
To reach your consumers and generate sales, make sure your products are appealing to your shoppers. If your content is unprofessional and littered with grammatical issues, missing keywords, descriptions or photos, it may be challenging for you to make sales.
Start by analysing your listings to write captivating descriptions to gain your audience's attraction and sell your goods. Product images taken against a clean white background can also help to convey professionalism and pride in your work, which could eventually translate to customer's trust in your products. Go through your listings in bulk to spot for errors, and analyse your keyword usage to make sure you are reaching the correct target audience.
Make use of Amazon inventory management software
Inventory tracking can be a tedious process when done manually. Furthermore, manual work also means it is prone to human error. To save yourself time, consider outsourcing this task to inventory management software instead. Automating your inventory management tasks helps you make sure that you bring in enough inventory throughout the year without overbuying.
Amazon Seller Central dashboard has a suite of free built-in tools that you can access.
Within the Amazon Seller Central dashboard, the Amazon Selling Coach provides key inventory data to help sellers monitor inventory levels and purchasing needs. By monitoring your inventory trends and sales, Amazon inventory management tools allow you to see how many units of each item you sell on Amazon on a daily, weekly, and monthly basis. You can then make use of this data to identify trends and assess required inventory levels for different products over certain periods of time. This in-depth understanding of your sales and inventory trends is important to help you make sound purchasing decisions.
Calculate Your Inventory Turnover Rate
Analysing your inventory is crucial, as your inventory turnover rate allows you to know how quickly you sell your goods on Amazon by examining sales data. By figuring out how many units of product you need, you can better gauge the amount of stock you need to maintain stock levels between inventory shipments, and avoid underbuying or overbuying when you repurchase stock.
In general, sellers on Amazon expect to sell their stock in three months. To better forecast your inventory turnover rate, Amazon's Selling Coach tracks sales against your available unit of stock and recommends required quantities to fill orders over a specified period of time.
Evaluate Your Supply Chain Lead Times
Your supply chain can make or break your store's success, so it is important for you to analyse every part of your supply chain, from product sourcing, manufacturing, shipment mode and how it arrives at your warehouse.
With a thorough understanding of your supply chain and lead times, you can then keep tabs on your supplier's manufacturing delivery schedule and work on your backup plans. This is especially crucial if you source your products from overseas suppliers, since shipping delays can take extended periods of time to resolve. Make sure you have some inventory in reserve in the event there are unexpected supply chain delays.
Gear up for seasonal sales fluctuations
When it comes to certain times of the year such as holidays or specific seasons, your inventory can be affected as the need for your goods increases. You will have to understand what goods will be in hot demand and when you will be seeing a slower selling season.
Give yourself ample time to prepare for sufficient stock levels of popular goods in the upcoming sales period by forecasting your inventory levels a few months in advance. You will want to increase quantities of products that sell quickly during peak sales cycles and decrease quantities of slow-moving products.
Consider dropshipping
The dropshipping business model means selling products you do not own. If you are looking for the cheapest option to have your business up and running, dropshipping might be for you. By its nature, the dropship model can help keep startup costs low and even manage everything from shipping, delivery to inventory management for you. In Singapore, you can start a dropshipping business through Amazon, AliExpress, Shopify, Qoo10, Facebook ads, and the like.
In a nutshell, you will be acting as the dropshipper's "face" and facilitate your customer's order from your stores to be fulfilled by your dropshipper, who will package and deliver the products directly to your customers. Your profit will be the excess from your price and the dropshipper's price, which could be rather insignificant. If you have limited money or time to invest and are not too fixated on profit margins, this business model could be viable for you.
Improve your relationship with your suppliers
Be sure to maintain strong and regular communication with each of your suppliers.
Your suppliers contribute a big role in your business operations – strive to seek the best vendors within your industry, and once you have secured an agreement, maintain a great supplier relationship to help improve your efficiency and service to your customers.
Make sure to maintain open communication with your suppliers, so you can avoid late shipment issues and unexpected delays especially when it comes to peak periods, which could make or break your sales.
Plan your sales and promotion strategies
Sales and promotions can be effective ways to grow your Amazon business in Singapore since shoppers love a good bargain.
However, be sure not to execute sales and promotions without proper planning. Make sure that you are able to anticipate shopper demand and deliver their orders smoothly. Otherwise, an influx of sales can drain your inventory level which may lead to backorders, a decline in your Amazon ranking, and angry customers.
A good way to run your sales and promotions is to allocate a fixed number of stock in your inventory. Once that number is sold, remove the promotion and sell the rest of the stock at their normal price. If you plan to sell out your stock completely, remember to set a fixed amount that covers four promotional hours of sales. You can also work out the required number in Amazon Seller Central. Since Amazon requires up to four hours to remove a promotion after you stop it, the four hours here is key and gives you enough stock to cover sales.
Slow down inventory demand when needed
With well-executed sales and promotions, your goods may fly off the shelves from your warehouse. Although that is a good thing, you may run the risk of losing customers to your competitors and get your Amazon ranking lowered if you are unable to meet your shoppers' demands.
To avoid this problem, monitor your inventory levels and if you are running low on stock for a certain product, consider increasing the prices and pausing any advertising campaigns to slow sales down until you have restocked. This may cause you to have a few days of slow sales, but it is better than hitting zero-stock levels entirely.
Liquidate surplus inventory or excess stock
Don't sweat the excess stock. Liquidation can help you recover value from surplus inventory, avoid storage fees, and prevent inventory disposal.
When a product is not moving, liquidation could be your best option especially when your stocks are in an Amazon warehouse. You would want to avoid sitting on it, since it leaves less room for fast-moving products. The storage cost for these slow-moving products can also eat through your capital. Some ways to liquidate your inventory and free up capital include:
Lowering the price
Selling on other platforms
Throw a giveaway
Giving them to reviewers
Donating to charity
Once you have managed to liquidate the slow-moving products, be sure not to reorder it again.
Concentrate on your core business, leave the rest to us
Ready to take the plunge and start selling on Amazon? We'll sort all the pesky paperwork so you can focus on what matters to you most. Talk to Osome today!
We convert statements from ecommerce platforms into books, give you ecommerce accounting services, tax filings, and profitability reports, so you can have a clearer understanding of the big picture.