How To Effectively Sell on Carousell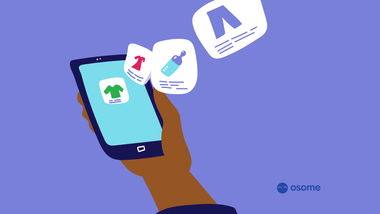 Whether you're just starting or looking to expand your e-commerce business, Carousell is a selling platform with a low barrier to entry. Think of the platform as a mobile flea market that allows you to reach out to the masses simply by taking a photo of your product, adding your selling price and description and then wait for people to purchase them. While these may sound easy in theory, this marketplace ranks among Singapore's top marketplaces with more than 250 million listings and tens of millions of users since it launched in 2012.
It's free, easy to use and possibly one of the most effortless ways to buy and sell products through your mobile phone. By the way, if you need to get your accounting books in order, our professionals specialised in e-commerce accounting. Otherwise, read on for our ten tips to help you stand out from the clutter and sell in Carousell to increase your profit!
Curate Aesthetically Appealing Visuals
Humans are highly visual creatures and first impression counts. If your product listing doesn't look appealing at first glance, chances are that users will not feel compelled to even click into your listing.
Spend some time taking photos of your products, edit them if you must and even explore applying filters. This will make your product a lot more attractive and provide the thumb-stopping appeal for users to discover your store's listings. Needless to say, your ads are also bound to get more traffic!

Here's an example: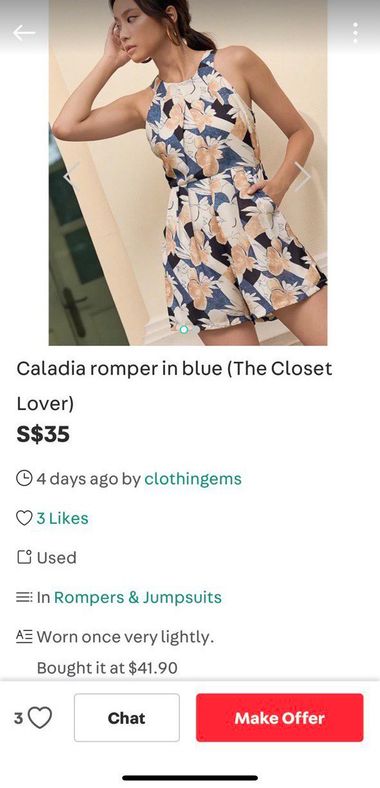 Get Creative With Listing Descriptions and Keywords
Besides visuals, step up your game and let your listing stand out with words. When it comes to purchasing, buyers are always looking for information. Let your listings stand out with descriptive words. Be cheeky and flaunt your sense of humour even, and give buyers a reason to want to purchase from you.

Here's a strong contender for your attention: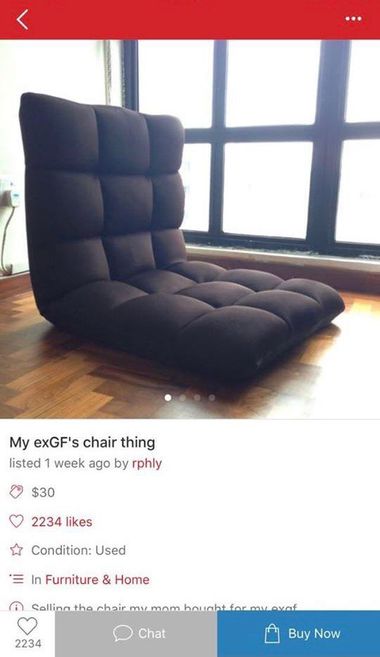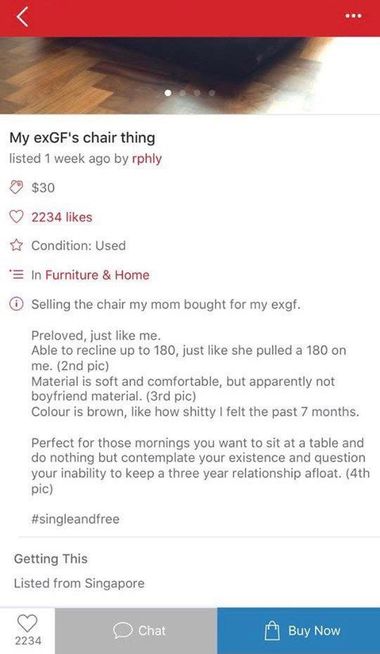 If humour isn't your thing, stick to the conventional and provide as many details as you can about the items you're selling, such as the brand, condition, defects (if any), sizing, negotiability, delivery options and any other relevant information. This helps buyers to get a clearer picture of your item, and you can also avoid the hassle of answering multiple enquiries later on. Bonus: You'll even see offers roll in much faster!
Include Tags
Think of tags as Search Engine Optimisation (SEO) that will make your listing be more discoverable on Carousell. Since Carousell does not have a hashtag function, you should add those "tags" to your description with relevant keywords.
Not sure what words to use as "tags"?
Use these questions as a guide to generate your "tags":
On a picnic, during hiking, going on a romantic date etc
Where would you use this?
At home, in the office etc
What is the item's style?
Feminine, vintage, grunge etc
What kind of prints or colours does the item have?
Pink, paisley-printed etc
What are some well-known brands that offer a similar product?
Zalora, Michael Kors, Kate Spade etc
Since Carousell has no word limit on the description, use this to your advantage by keeping your product name succinct and reserving everything else for the description box. At the end of your listing description, insert "Tags:'' and type in all your keywords after.
Tip
If you are still unsure what to write, explore Carousell's listings and check out the tags other sellers are using.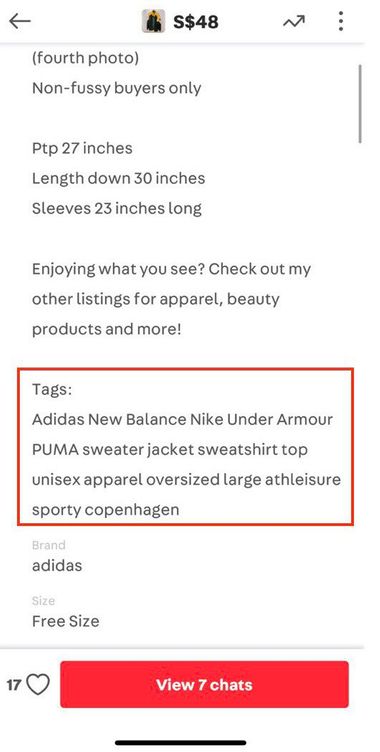 Set Reasonable Prices and Include a Call to Action
If you are not getting any offers, consider adjusting your prices. Bear in mind that Carousell is a marketplace with hundreds or thousands of listings of products similar to yours, so be reasonable with your prices. Find out how much other sellers are pricing for similar offerings so you can revise your prices accordingly.
If you have multiple listings, let users know by including a call to action at the end of every listing that brings attention to your other available offerings.
You don't have to rack your brains over it,  just one short and sweet line will do,  like the example here: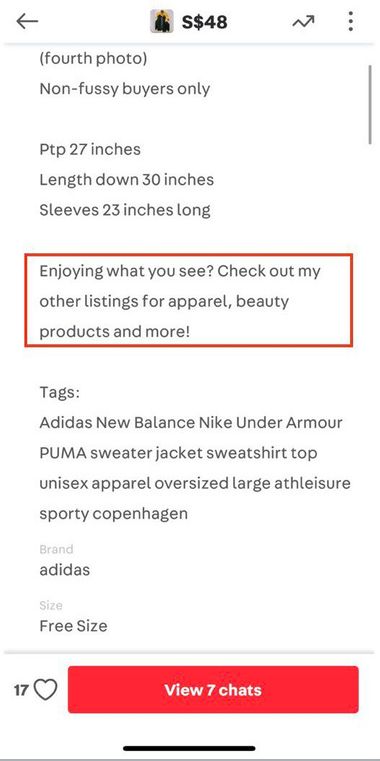 Harness the Power of Social Media Marketing
If your brand already has its own social media presence, good for you! Leverage on its power and share your Carousell listings on social media platforms or even social messaging.
To do this, simply head to your profile and select your intended listing. Tap on the three dots at the top right cornerand choose 'Share'.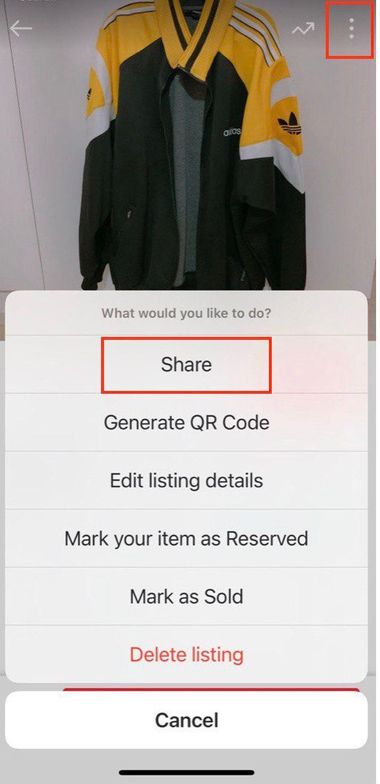 Choose your preferred social media channels and you're all set! It's an easy, fuss-free way to get extra exposure for your items.
Pro-Tip
If you have friends who are already keen on your offerings, why not share it with them via social messaging apps like WhatsApp or Telegram? This helps to accelerate your selling time since you don't have to wait for an interested buyer to stumble upon your listing. A win-win situation, we say!
Join Relevant Carousell Groups
For the uninitiated, Carousell has a "Groups" function to encourage users to discover others with common interests.
This enables like-minded people to get together, network and easily buy and sell within these groups.
You can locate this function when you access the Carousell app; you'll see the 'Groups' button at the bottom of your screen: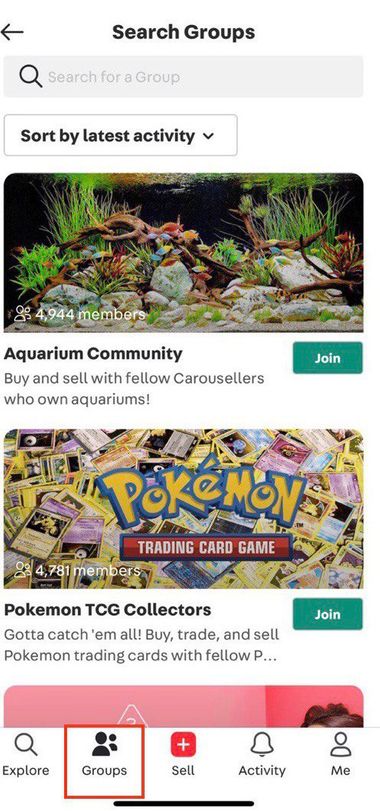 For a quick search, make use of the search bar to find groups you might be interested in joining. Make your search easier by entering keywords, including locations, brands, hobbies, names of celebrities, trends and more.
Once that's done, you're ready to share your listings with the relevant Carousell groups! Find your listing and click on the 'Promote' button: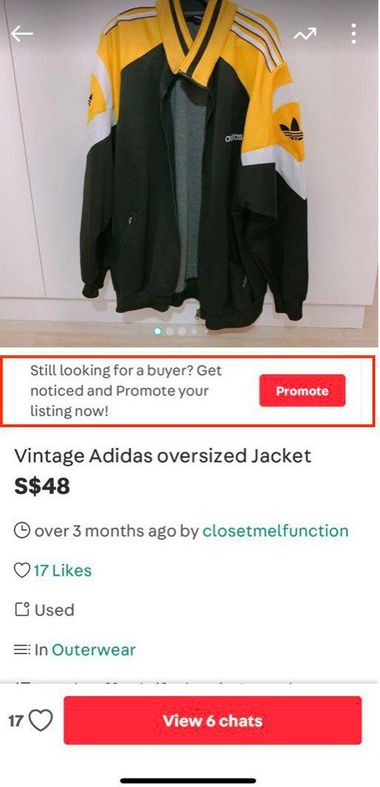 Then, under 'Share with community', select 'Carousell Groups':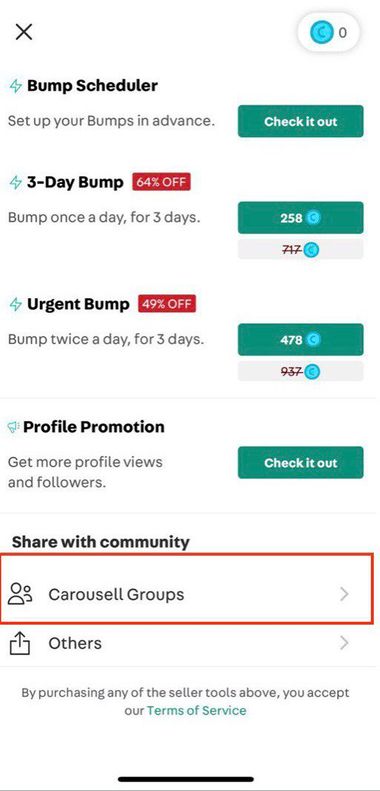 Simply choose the group you'd like to share it with: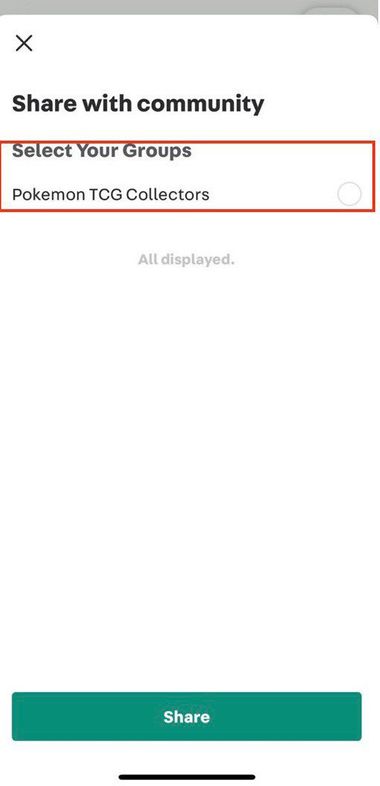 And finally, hit that 'Share' button!
Follow Other Sellers on Carousell
In this aspect, Carousell works in a similar manner as Instagram. When you follow someone on Carousell, the person gets notified and may even check out your profile. In turn, you could make a sale or gain a new follower. Pro-tip: try not to follow profiles with over 500 followers, as they are likely to be selling rather than buying.
For a start, you could look through the profiles in the Carousell groups you've joined and start following them. These relevant profiles could possibly lead to sales later on. The Carousell community is also a friendly one, so you might even want to strike up a conversation with a fellow seller to exchange 'Like 4 Like', or L4L for short. This means that you will give the seller's item a like if the seller does the same in return, boosting desirability for both your listings.
Relist Old Carousell Listings and Combine Items
Items that have been listed for a year or more will not get much traffic. Don't lose heart; simply delete your listing and relist it.
Think about what could have caused the lack of traffic – perhaps the visuals were not appealing enough, or perhaps there were spelling errors in your previous listing. Breathe new life into it with fresh visuals and descriptions to entice buyers. If you have more than one item in the same category, consider listing them together to garner more views. For example, if you are selling more than one type of film, you may want to put them together for ease of your buyer's browsing.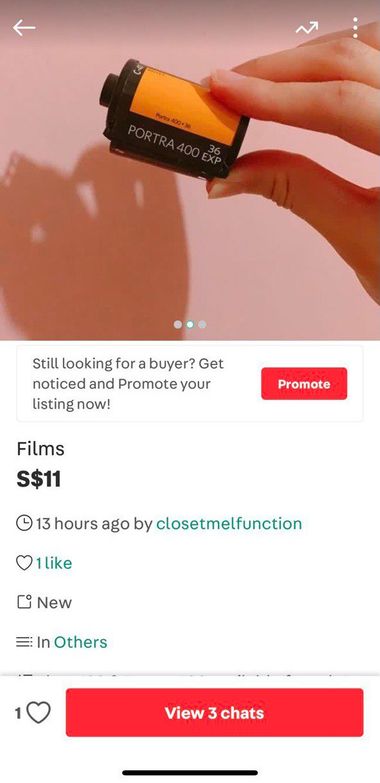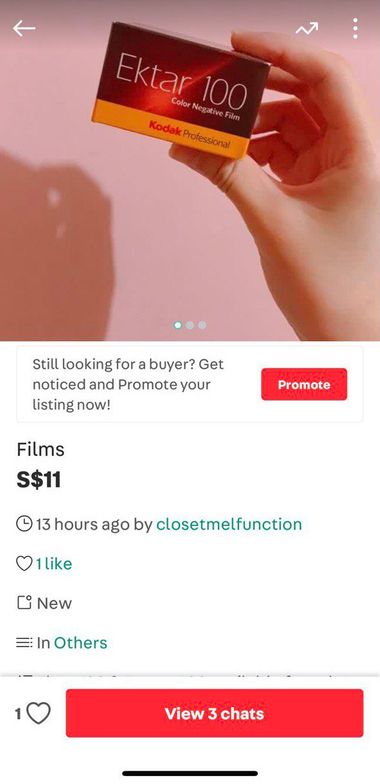 Participate in Carousell Campaigns
Every month, Carousell organises lots of campaigns such as "Newest Items", "Highest Rated Sellers", "Declutter" and date-specific campaigns "11.11", "12.12" and so forth. Try to take part in these campaigns as they typically cause an escalation in user activity. Campaigns provide sellers a golden opportunity to sell more listings, while buyers enjoy some cost savings. Sellers even stand a chance to win prizes for their participation in certain campaigns!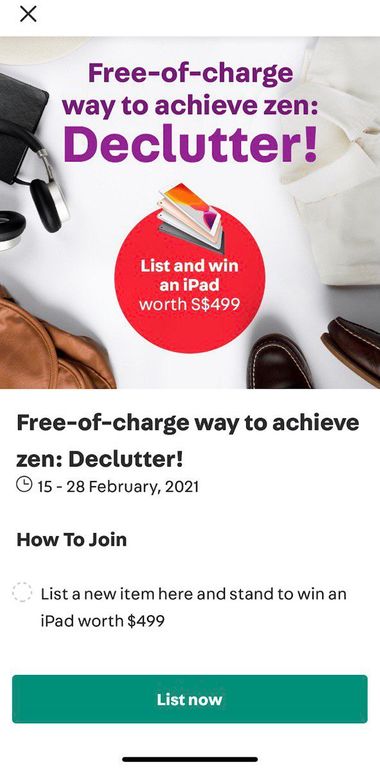 Gather Feedback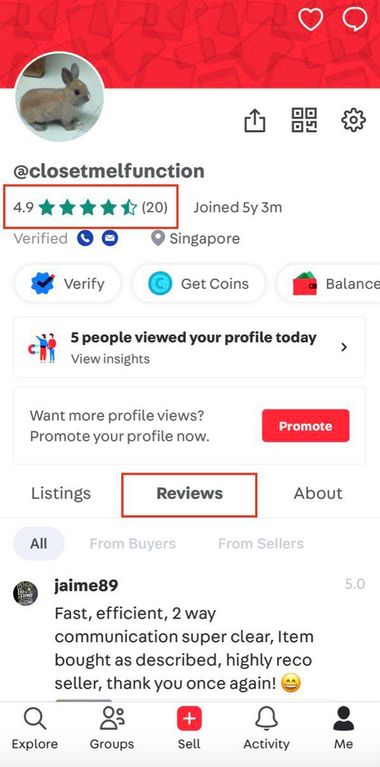 Encourage your buyers to leave you feedback on their purchasing experience once the deal has been concluded. This helps you to build credibility, attract more buyers to your profile and improve your selling process.
Carousell also reads through your customer feedback, so having good reviews can gain you a chance at becoming a 'Featured Seller'!
Register an E-commerce Company
When you have enough money from your side hustle selling on Carousell, you can consider setting up a registered private limited company in Singapore. Our team specialises in onboarding E-Commerce and small businesses in Singapore so feel free to reach out to us if you're considering of staring your own company! It's never too early or too late to start.