Top 15 Ecommerce Trends To Watch For in 2024
We read through the most trusted reports to bring you the top 15 ecommerce trends small businesses in Singapore should look out for this year; from social commerce and sustainability, to augmented reality and crypto. Read it now to see how Osome's expert suggestions could help your business grow.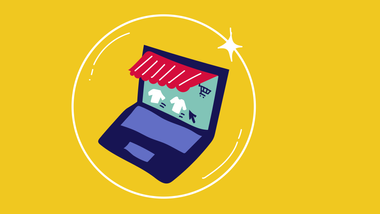 Current ecommerce trends and stats to stay ahead.
Digital adoption doubled due to Covid-19 globally.
62.8% of Singaporeans buy online weekly.
In 2022, Singaporeans spent $4.2B on electronics, fashion, and furniture.
Free delivery was the biggest driver for online purchases.
Read the top 15 ecommerce trends for business success according to experts here.
We'll sort your financial admin, you grow your business — get started today!
Along with the rest of the world, the ecommerce industry in Singapore is rapidly evolving. Revenue in the ecommerce market in Singapore is expected to reach $6.59bn in 2023 alone, and grow year-on-year to $10.45bn in 2027, so it's important to stay updated on the latest technologies and ecommerce trends in Singapore to ensure that your business stays competitive.
For this article, we trawled the internet to gather the top ecommerce trends from the most trusted expert reports — so you don't have to. We'll explore the top 15 ecommerce trends expected to shape Singapore over the next few years, so your business can stay ahead and be successful. What could be better than that?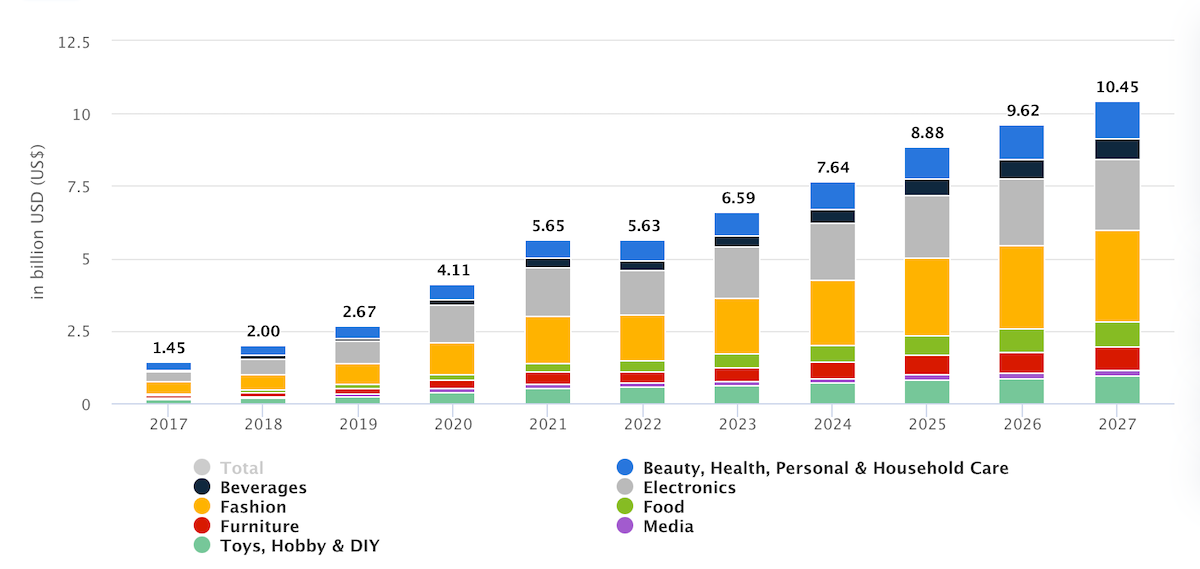 Why Are Ecommerce Trends in Singapore So Important?

If you're a local business owner, there are things it's a good idea to know — like what your competition is doing and how they're marketing themselves online. Customers are going to flock to the best deals and services. Wouldn't you prefer they were knocking on your virtual door rather than your competitor's?
With 3.3 million Singaporeans opting to make purchases online in 2022 alone, a year-on-year increase of 7.6%, many consumers are moving away from brick-and-mortar stores. You want to target them wherever their attention lies, so keeping up with the times with a good online presence will stop your business from being left behind. It'll also help you open your business up to the rest of the world.
Keep an eye on the latest ecommerce trends and statistics, and you'll stay ahead of the curve. As an entrepreneur working on your own time schedule, it's easy to get stuck in a rut or fall behind on new developments in your industry — but if this happens too often, it will cost both money (because customers will go elsewhere) and reputation (because no one wants their brand associated with outdated ideas).
How Covid-19 Has Impacted Singapore's Ecommerce Landscape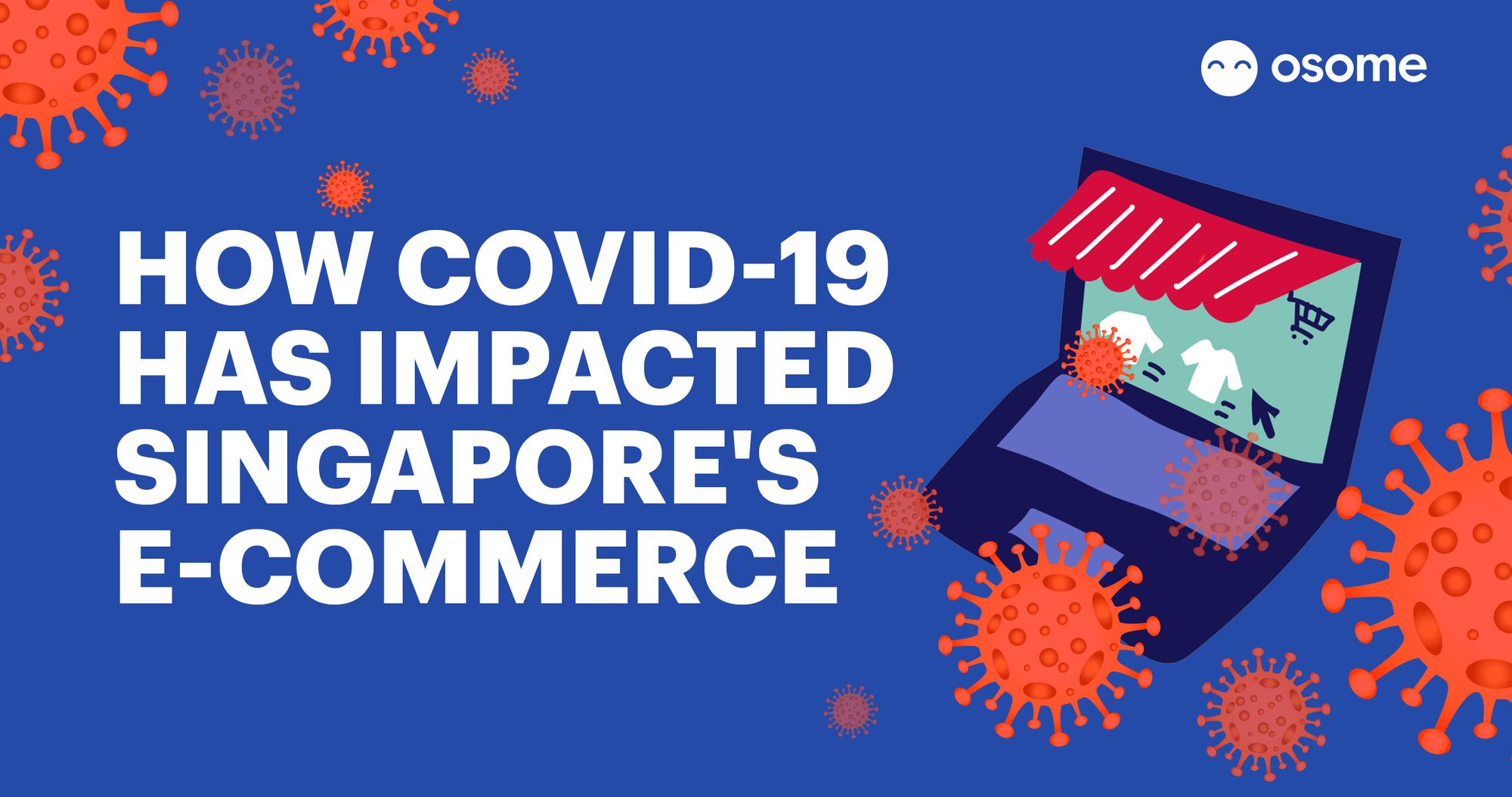 It seems that businesses operating online were the only ones immune to the effects of the Covid-19 pandemic. While brick-and-mortar stores were forced to close, along with restaurants, theatres, and museums, ecommerce businesses were able to remain wide open.
If something like the pandemic were to strike again and you were forced to closed your physical doors for a while, there will always be a window online for your customers to shop through thanks to ecommerce.
According to McKinsey, digital adoption rates doubled around the world as a result of Covid-19, spurring on an already booming ecommerce revolution.
In Singapore, ecommerce has been growing steadily since the early 2000s. In fact, it's estimated that Singaporeans spent $13 billion on online shopping in 2018 alone.
With this growth comes a shift in customer behaviour and an increase in online sales — which means there are plenty of opportunities for ecommerce businesses to thrive.
Ecommerce Key Metrics and Statistics for Singapore
Key metrics
With 62.8% of Singaporeans making online purchases each week, the majority of commerce in Singapore has moved online.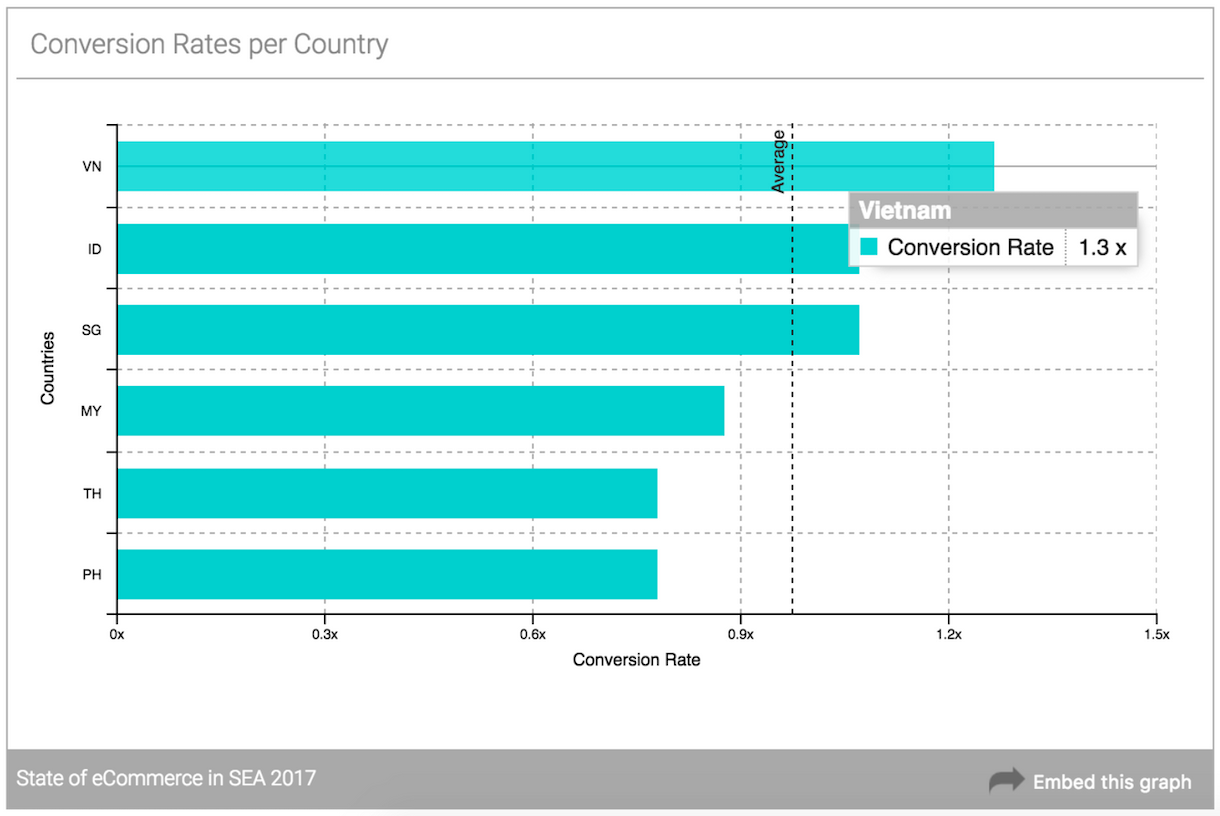 Comparing Singapore's conversion rate with the rest of South East Asia in 2017 — the percentage of website visitors that made online purchases — Singapore and Indonesia were at the same mark of around 10%, whereas Vietnam was a full 30% above the average conversion rate of the rest of South East Asia.
Key statistics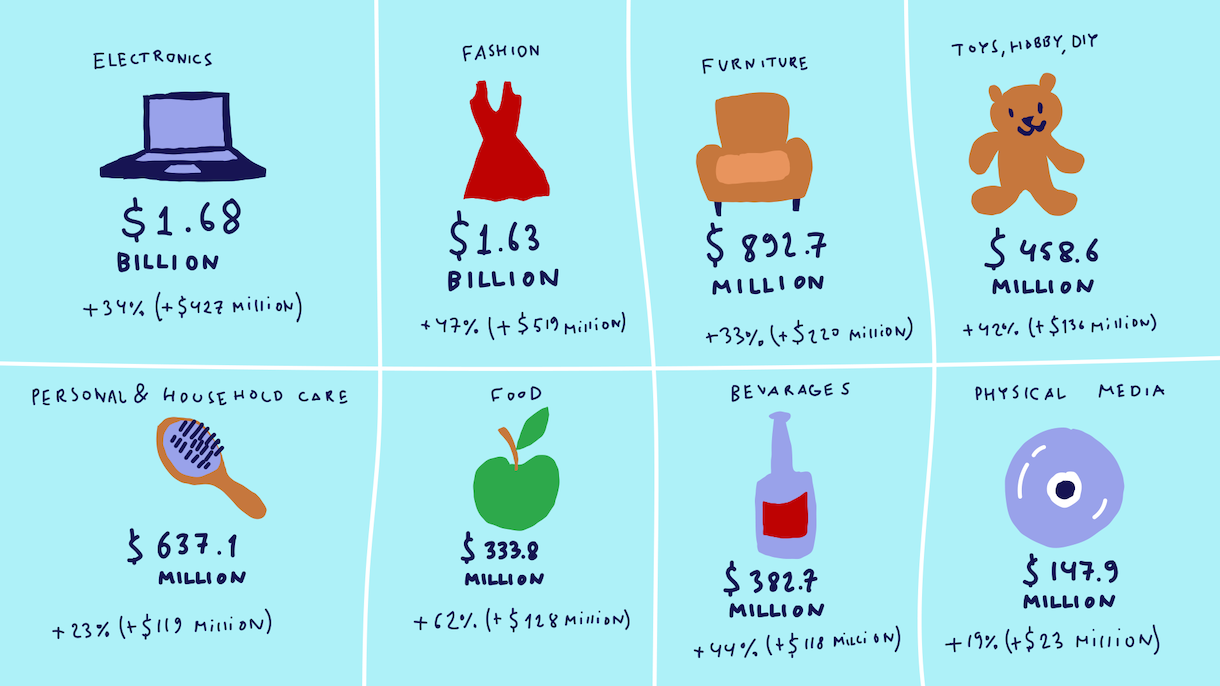 Singaporeans spent most in the electronics category last year, with a total $1.68 billion and an increase of 34% year-on-year. The fashion industry also did well, with consumers spending $1.63 billion in 2022 alone.
Singapore is coming around to the convenience of completing their weekly food shop online, too, with a year-on-year increase of 62% and total consumer spend of $333.8 million in 2022.
Purchase drivers
The top reason for consumers opting to purchase online was by far the benefit of Free Delivery last year, with 57% of consumers ages 16 to 64 agreeing that this option would encourage them to make an online purchase. Another interesting statistic that's on the rise is the convenience of Next-Day Delivery, with a quarter of internet users agreeing that this would push them to make purchases online.
Top Singapore Ecommerce Trends
So, let's take a look at the top 15 ecommerce trends your business should be aware of in 2023.
Omnichannel Customer Experience
An omnichannel customer experience allows customers to engage with a business across multiple channels. It is designed to provide a consistent, unified experience regardless of the channel used, meaning your customers receive the same level of service and the same experience everywhere, helping you to build a strong, discernable brand identity.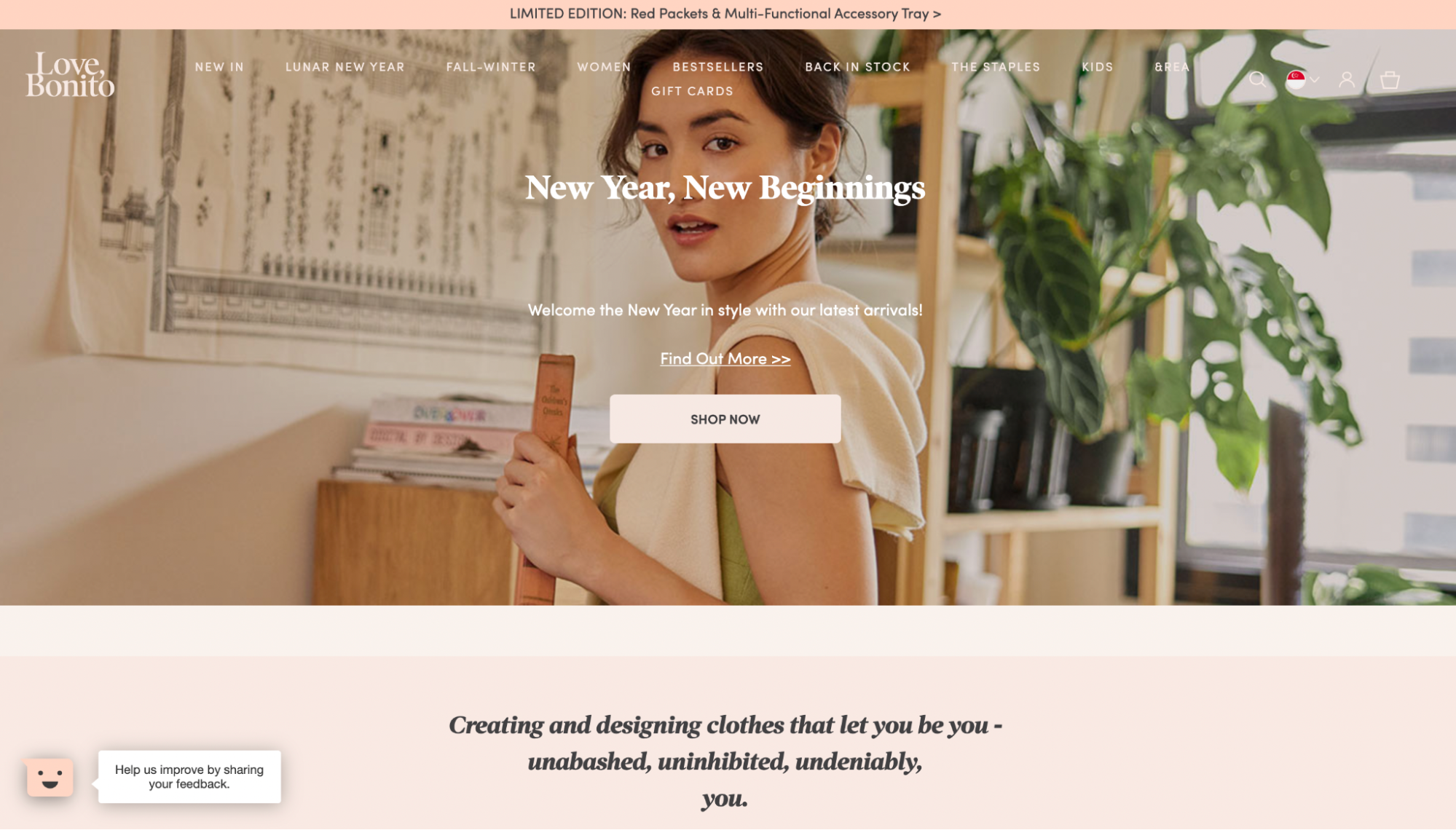 Companies with strong omnichannel retailing retain over 89% more customers than companies with a weak omnichannel strategy. Companies that offer this better customer experience also benefit from higher revenue growth — a 9.5% rise, compared to the average 3.4% rise that companies with a weak omnichannel strategy see.
Omnichannel ecommerce focuses on delivering a consistent shopping experience across all platforms, including online, in-store, and mobile. Brands can use omnichannel strategies to anticipate customer needs, track consumer behaviour, and provide personalised experiences.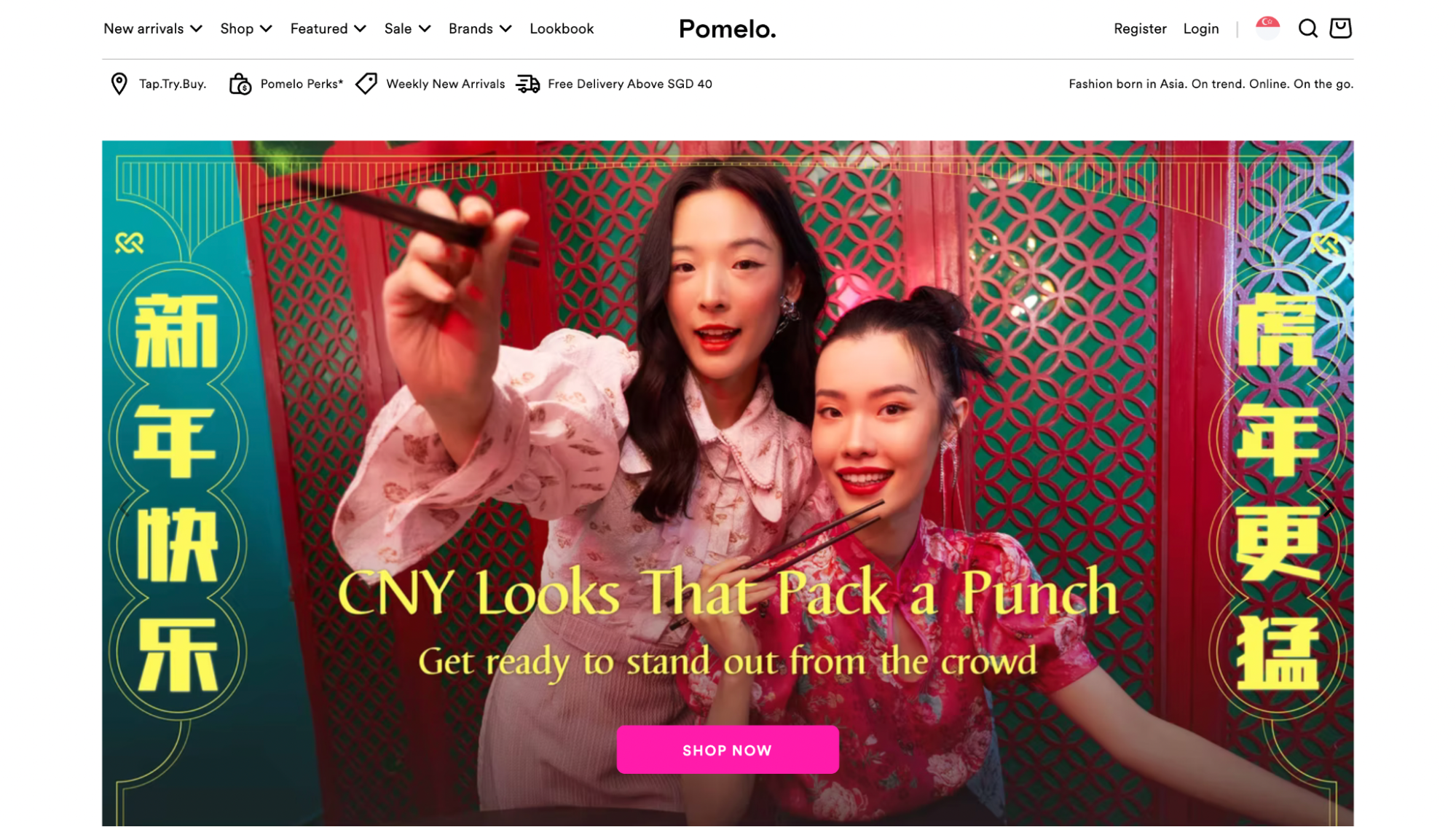 In 2023, omnichannel logistics that combine inventory, distribution, and transportation will become even more prevalent, and could help to increase the efficiency of your business.
Subscriptions and loyalty programmes
Subscriptions
Subscriptions and loyalty programmes are fast becoming an essential part of the ecommerce industry in Singapore. Think Spotify, Amazon, Netflix. Some of the world's best-known companies that operate online do so with a subscription model. It allows customers to enjoy the product every month without the need to think about payment or be bugged by adverts in between each song, podcast or episode.
Entertainment platforms aren't alone in their embrace of subscriptions, even services like insurance are moving towards subscription models to give their policyholders more control and flexibility to change their coverages as their needs change.
Subscriptions also allow customers to receive regular deliveries of products, such as beauty products, snacks, and even pet food, often at a reduced price. This convenience and cost-effectiveness keeps customers coming back for more.
Loyalty programmes
Loyalty programmes, on the other hand, offer incentives to customers who make repeat purchases. We've all been given a loyalty card by a smiling barista when picking up a cup of coffee, with the basic premise of 'buy 7 cups and get your 8th on the house', but loyalty programmes aren't limited to our morning brew. Including loyalty programmes in your ecommerce business model will allow you to offer your most avid shoppers benefits such as discounts, exclusive deals, and free merchandise. These programmes, as their name suggests, encourage customer loyalty and repeat business.
Subscription and loyalty programs work well together, creating a mutually beneficial relationship between the customer and the brand. As competition in the ecommerce industry increases, businesses that offer subscription and loyalty programmes have a competitive edge by providing added value to their customers.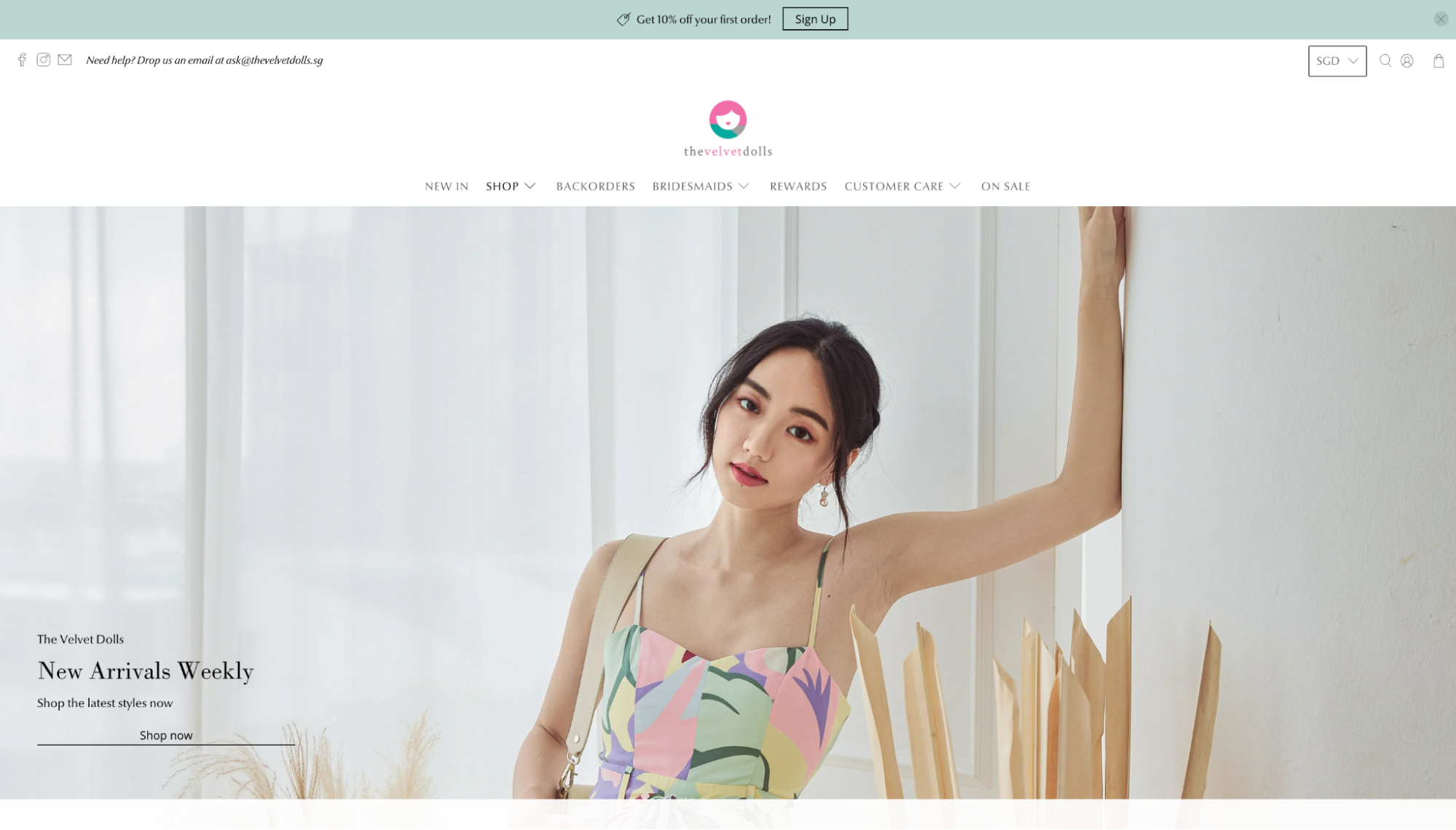 Mobile commerce and integrations
A whopping 63% of ecommerce purchases in Singapore were made on mobile devices last year, and every year mobile commerce and integrations become increasingly important for businesses. It's predicted that mobile commerce revenue in Singapore will reach $7 billion by 2025, almost doubling what it was in 2021.
When designing your ecommerce website, consider making it not only mobile-friendly but mobile-first.
Landing pages should be designed so that they're appealing on mobile devices too, with imagery cropped appropriately.
Consult with a designer or developer so that your site looks as good on a laptop as it does on mobile. This will increase the time users spend on your site and how likely they are to convert.
The checkout process should also be designed specifically for mobile users; this includes having clear payment options and an option where customers can pay later if they don't want their card details stored online (for example, PayPal).
Mobile integration connects different apps and devices to achieve seamless data exchange and improve efficiency. It improves your customer service, as your customers can message, video call and file share with you whenever they have a question, all through their mobile device. Let's say they're waiting for their delivery or an item has arrived damaged, they can chat with a customer service representative who can easily identify them and their order history to make decisions quickly and resolve their issues — leaving your brand unscathed.
Video marketing and livestreaming
Video marketing and livestreaming have become increasingly popular ways for businesses to reach and engage with their target audience. With the rise of platforms like YouTube and TikTok, video content has become a powerful tool for businesses to showcase their products and services, educate their audience, and build brand awareness.
Video marketing can take various forms, such as product demos, customer testimonials, tutorials, and social media stories — which can also be livestreamed to build hype and make access to content more exclusive. By creating visually appealing and engaging content, businesses can capture their audience's attention and keep them interested in their brand.
Video marketing also allows businesses to personalise their message and connect with their audience on an emotional level. As video content continues to dominate the online landscape, businesses that invest in video marketing can gain an advantage over their competitors and be considered innovative market leaders by consumers and other brands.
Augmented Reality
Augmented Reality (or AR) is one of the most exciting technologies in ecommerce today. With AR, you can see how products look in your home before buying them. This helps customers make more informed decisions on what they want to buy and where they want it placed in their homes.
IKEA's innovative AR app allows customers to place a sofa in their living room, see which colour table they should opt for, and even whether their bed might leave their room feeling a little cramped.
AR can also aid businesses with training and development, and it's predicted that global GDP will be boosted by $51.7 billion in 2023 through this practice alone.
D2C direct sales
D2C (direct-to-consumer) sales allow businesses to bypass traditional retail channels and sell their products directly to customers on their own online stores. Lead your customers straight from their social feed to your site, and onto a purchase without needing a third-party platform that digs its hands into your profit margin.
D2C sales offer several advantages, including greater control over pricing, branding, and customer experience. Businesses can also enjoy better customer insights. D2C direct sales work particularly well for startups and small businesses with less complex logistical needs, as they offer a cost-effective way to launch and grow a brand.
However, having a strong online presence and marketing strategy is important to drive traffic and sales directly to the online store. Businesses might benefit from a combination of D2C sales, and selling through wholesalers who can help grow their brand's recognition among consumers.
With the right approach, D2C direct sales can be an effective, cost-cutting way for businesses to build a loyal customer base and achieve long-term success.
Cryptocurrency as a payment method
An increasing amount of companies are seeing the value in cryptocurrency as a payment method. It's one of the latests ecommerce trends to hit Singapore in recent years, but it's one that teeters back and forth on the scale of benefits and flaws.
Along with lower transaction fees compared to traditional credit card payment processors — around 1% compared to the average 3% — data security is higher and fraudulent payments are less likely to occur.
It's not all sunshine and rainbows, though. As with many new technologies, cryptocurrency's complexity will deter users until enough of the population adopts the system and hesitancy drops. Companies like Amazon and eBay allow users to pay for goods using cryptocurrencies. Crypto exchange platforms play an essential role in enabling users to convert the cryptocurrencies that these online retailers accept. This will help boost the adoption of cryptocurrencies by the general public, who may be wary of making online purchases with digital currencies due to security concerns or lack of knowledge about how it works.
El Salvador and other countries have started to accept Bitcoin as legal tender, which could be a sign that cryptocurrency truly is the currency of the future.
Crypto ambitions have been shaken in recent months by the collapse of platforms such as FTX, leading many to call for better system regulation. This doesn't necessarily mean digital currencies and blockchain technologies are at fault. Instead, the trading systems involved are the ones to blame. That's why MAS is saying yes to digital innovation but no to cryptocurrency speculation — they're proposing measures to reduce the risks to consumers.
There are teething issues, but your ecommerce business should at least consider cryptocurrency as a payment method to stay ahead of the competition. The main benefits are:
Transaction speed;
Transaction costs;
Accessibility;
Security;
Privacy;
Transparency;
Diversification;
Inflation protection.
Sustainability
Sustainability is the word on every shopper's lips. The greenhouse gas emissions produced by ecommerce account for 3% of the global total, but that's predicted to rise to 17% by 2050. Retail supply chains are already responsible for 25% of global greenhouse gas emissions.
With savvy, eco-conscious shoppers taking a stand, companies that don't consider more sustainable practices will quickly lose market share and fall by the wayside. SMEs should be prepared to invest in the development of the necessary sustainable capabilitie to excel.
Younger consumers are at the helm of this change, with millennials and Gen Z driving the trend towards a greener future. 51% of Gen Z consumers claim they spend more on sustainable products. These consumers are also waking up to the practice of 'greenwashing'. Deriving its name from 'brainwashing', greenwashing is the misrepresentation of a company's practices as sustainable. Fast-fashion brands like H&M have been guilty of this in the past, with false eco-conscious collections doing little to counteract the environmental impact their business has. Consumers quickly see through the veneer. It does little to help a brand's reputation and even less to strengthen the relationship between a brand and its customers.
It's reported that consumers in Singapore are open to sustainable fashion, but won't pay more. How will your business balance cost to the consumer and cost to the environment?
Here are five ways your ecommerce business can move towards more sustainable practices:
Reduce packaging and use sustainable, renewable materials
Carbon offsetting, including CO2 compensation and forest restoration
Make your shipping practices greener
Think about product end of life and source recycled, recyclable materials for your products where possible
Put sustainability at the core of your brand. With every business decision, ask, "Is this the most sustainable option?"
Upcycling
Much like sustainability, upcycling is popular among young consumers. That's why it's another ecommerce trend businesses in Singapore should look out for. It involves taking materials that would otherwise be discarded and repurposing them into something new and useful.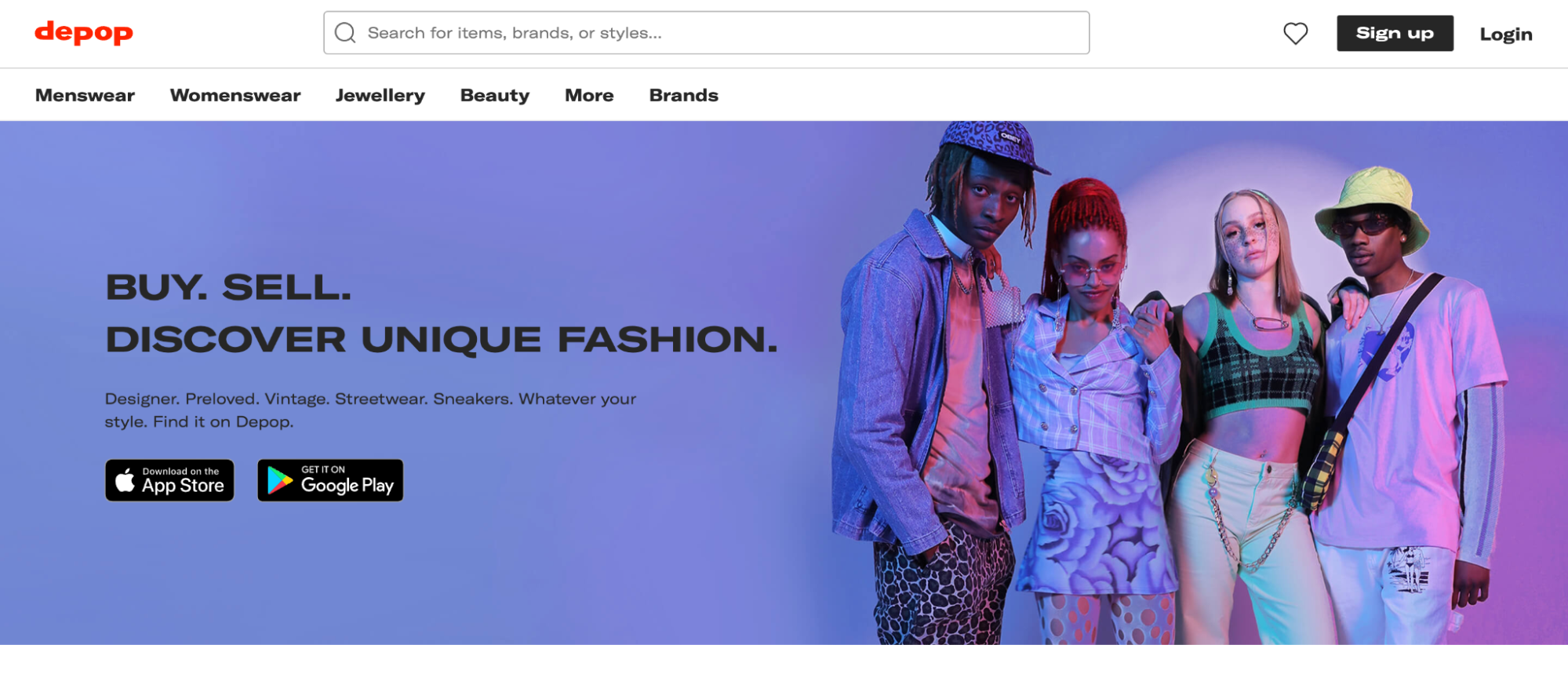 Upcycling not only helps reduce waste but also provides an opportunity to create unique products that are environmentally friendly. Many ecommerce stores in Singapore now offer upcycled products, such as bags made from discarded plastic bottles or furniture made from reclaimed wood.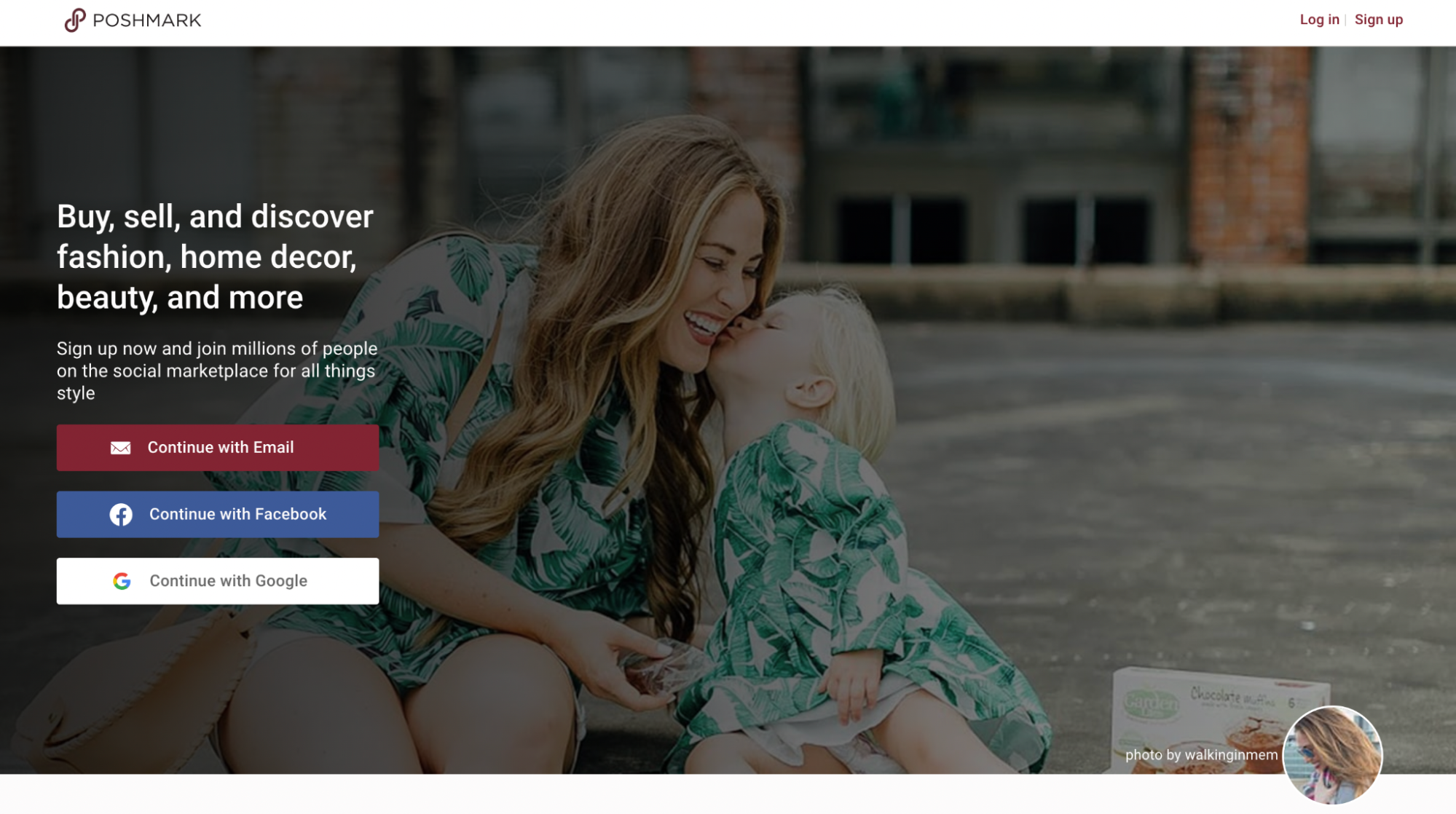 Upcycling is a great way for businesses to show their commitment to sustainability and ethics while also providing customers with one-of-a-kind products. As consumers become more conscious about the impact of their purchases on the environment, upcycling is likely to become an even more important trend in the ecommerce industry.
API-driven ecommerce
APIs (Application Programming Interfaces) allow businesses to seamlessly integrate between all of their systems, such as payment gateways, shipping providers, and inventory management systems. This can help businesses to streamline their operations and reduce errors, which can ultimately lead to increased efficiency and cost savings.
"The API economy is an enabler for turning a business or organisation into a platform." Kristin R. Moyer, Vice President and Analyst at Gartner
APIs can help businesses to offer more personalised and relevant experiences to their customers. By integrating with customer data platforms and other systems, businesses can gain insights into customer behaviour and preferences and use this information to tailor their offerings and communications.
API-driven ecommerce will also help your business to offer more flexible and innovative services to its customers. For example, by integrating with third-party delivery services or mobile apps, you can offer faster and more convenient delivery options — or even enable customers to place orders via voice assistants or social media platforms.
If you want your business to be more efficient, offer better customer experiences, and be at the forefront of innovation, API-driven ecommerce is a trend you'll likely want to be aware of.
Streamline social commerce with integrations
Your business can integrate its social media platforms with ecommerce platforms to make it easier for businesses to sell products and services through social media. This can also help your business increase its reach, generate more leads and, ultimately, drive more sales. McKinsey sees social commerce's popularity doubling between 2021 and 2025, with one of the main drivers being China, where social commerce already accounts for 13% of purchases.
The government has seen the value this will bring to the local economy in Singapore and has implemented several initiatives to help businesses take advantage of social commerce. These include the ezyCommerce initiative, which offers SMEs a subsidised rate for use of its one-stop fulfilment service, and the Collaborative Industry Projects (CIP) initiative, which provides up to 70% funding support for qualifying projects.
Integrations can help your business to automate its processes, reduce manual labour, and optimise the experience you offer your customers. Additionally, integrations can help businesses to better understand their customers, allowing you to tailor your marketing and product offerings to better meet the needs of your customer.
Integrations can also help businesses to better manage their inventory and keep track of their sales data. This can help them to identify trends and make better decisions about their product offerings. Additionally, integrations can help businesses to better engage with their customers, allowing them to create more personalised experiences.
Help your business to fully leverage the power of social media. According to a report from Accenture, social commerce is predicted to grow three times as fast as traditional ecommerce, more than doubling from $492 billion worldwide in 2021 to $1.2 trillion in 2025.
Give customers more choice
Who doesn't want more choice? Whether that's more ramen options offered at a supermarket, more colourways from your favourite sneaker brand, or even a choice of subscription packages and benefits offered by your favourite streaming services. Your ecommerce business can offer more choices to its customers in Singapore by targeting them with personalised marketing campaigns and offering more payment options.
Personalised marketing
Personalised marketing has become increasingly popular in recent years, allowing businesses to tailor their messaging and promotions to specific customers. With the help of customer data and analytics, businesses can create targeted campaigns that are more likely to resonate with their audience. This approach can lead to higher engagement rates and conversions, as customers feel valued and understood by the brand. Personalised marketing can take various forms, such as personalised emails, product recommendations, and social media ads. However, ensuring that the data collected is used ethically and transparently is important, be sure to keep your customers' privacy and preferences in mind. Ultimately, personalised marketing can help B2B and B2C businesses build stronger customer relationships and drive revenue growth.
More payment options, like Invisible Payments
Apple Pay and Google Pay are payment method integrations that your company should use. Offering increased payment options like Apple Pay ranked as one of the top five strategies companies employ to increase customer acquisition and retention.
In 2019, digital wallets accounted for 14% of ecommerce payments. This year, they account for around two-thirds of ecommerce payments worldwide. Falling behind on something like payment options could mean customers choose to shop elsewhere for ease.
Invisible payments protect your customers and your company by allowing payments to be made via a virtual wallet at the touch of a button. This takes cash, debit and credit cards, wearables, PINs and card readers out of the equation, keeping your customers' details safe and reducing the time it takes them to checkout. Have you ever missed out on a sale because a customer has abandoned their basket? With invisible payments, abandoned baskets because of inefficient checkouts will be a thing of the past.
Delivery services and flexibility
Amazon's Next-Day and Same-Day Delivery options have revolutionised how businesses are able and expected to serve their customers. Amazon Fresh even offers complimentary 2-hour same-day delivery with a minimum purchase. Growth in the food delivery industry has also been massive, with food delivery services such as FoodPanda, Grab Food and Deliveroo witnessing steady increases since the start of 2020.
In the future, you can expect to see more companies offering same-day shipping options and automated shipping solutions that allow you to track your package in real-time and receive updates on its progress. This will help improve customer satisfaction while also reducing costs for businesses that rely on third-party couriers or delivery services.
Allowing your customers to choose when their order is delivered also reduces missed deliveries, meaning your business can be more sustainable.
Conversational commerce and voice shopping
We've been living in the future for a while now. With just a few words you can discover new products and even order them to your home, with Google Home and Amazon Echo devices allowing users to ask questions about products or services. To enhance your customers' shopping experience, it's worth exploring chat applications like Facebook Messenger or voice technologies such as Siri.
The concept of 'Conversational Commerce' was introduced by Uber's Chris Messina. It involves the sale of goods and services through chat or messaging platforms, enabling businesses to engage with their customers in real-time. This interactive approach allows customers to make purchases without leaving the messaging platform. And fewer steps to purchase translates to more purchases made. By providing personalised and one-on-one attention, conversational commerce creates a highly personalised shopping experience that fosters interactivity and engagement. Almost like going to a physical store and talking to a salesperson.
However, to effectively implement conversational commerce, it's important to focus on your SEO strategy, UX design, and content creation. Voice assistants rely on Google search results to make customer suggestions, so it's essential to optimize your website and content accordingly. By doing so, you can improve your chances of being recommended to customers and ultimately increase sales.
Tapping into marketplaces and other channels
Marketplaces, like the retail giant Amazon or even industry-specific websites, are popular business distribution channels.
The barrier to entry may be low, but it's important to prepare for intense competition from various sellers offering similar products at lower prices. Marketplaces typically charge a commission, too, so build this into your profit margins to help you stay in the green. Our ecommerce accounting experts can help, of course.
What to do?
If you're an entrepreneur that's new to selling on Amazon, take a look at this guide. It should help you to navigate the process.
Despite these challenges, businesses can benefit from a marketplaces' efficiency and expansive reach by choosing to sell alongside Amazon rather than relying solely on a single sales channel. This gives you greater control and helps you maintain your brand experience on your own website without being restricted by Amazon's selling guidelines.
Key Takeaways
These trends won't work for every business, so take a moment to consider the current state of your business, as well as the market you're in. That'll help you adopt the best strategy for your ecommerce business.
Don't be afraid to take a look at what your competitors are doing, how they're doing it, and the outcome of their efforts. There's something to learn from their successes and their failures.
Take time to mull it all over. Look at the trends within your industry and think outside the box. Are there any opportunities you can capitalise on? Don't be afraid to take a different approach to other ecommerce businesses. You never know what the result might be.
Less time on financial admin = more time to grow your business
There aren't enough hours in the day. So, spend time focusing on what will benefit your business most — staying ahead of the trends and getting your business seen. Meanwhile, we'll see that your books are balanced and all those pesky numbers are in a row.
Further Reading