11 Reasons To Choose Osome To Take Over Your Accounting
To get the best chance at success, entrepreneurs have to make sure they have the right partners around them when starting their own business. Here's why we are the right partner for your accounting tasks.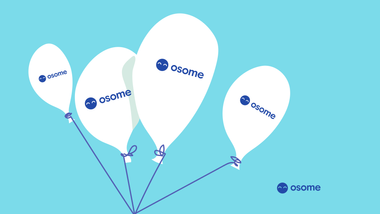 In order to get the best chance at success, entrepreneurs have to make sure they have the right partners around them when starting their own business.
We want to make it easy for entrepreneurs to grow their business by removing all the complicated and expensive processes that could slow them down. Things like when you want to register your company as a legal entity, keeping up with mandatory tax and regulatory compliance, and keeping on top of how your company is doing financially with accounting tasks. These can take the attention of any entrepreneur away from what should be their main job, and that is to grow their business!
If you're looking for a partner to help you keep track of compliance deadlines, stay on top of your accounting, look no further than Osome.
Let us tell you 11 reasons why you simply must have us by your side as you grow your business.
We're Founded by Entrepreneurs Just Like You
As an entrepreneur, you want to focus on the more important aspects of your business like hiring the best people, creating the best product or service, and focusing on your clients. However, in the journey of building up your business, you will have to deal with invoices, receipts, taxes, payslips and any other paperwork that the government requires of your company.
Osome is founded by serial entrepreneurs who built several companies before. We know the pain of building up a company. Over the years, we have never met anyone who loves preparing paperwork. It is a painful process that no one likes, so no one wants to work on it. Yet, no one can avoid it.
So we created Osome to help entrepreneurs deal with exactly that. Today Osome has helped over 6000 small and medium businesses across Hong Kong, Singapore and the United Kingdom to deal with the paperwork burden. We have developed our software which connects to your bank and Xero, a bookkeeping platform.
We recognise invoices and receipts, reconcile them with transactions, and update your documents and outstanding bank balance daily. We support single and multiple currencies, show an actual list of all unpaid invoices and report to you if anything document is missing.
You can interact with our human experts and software through a simple-to-use interface available on desktop and app. At the same time, you will always have access to our accountants, company secretaries, and tax experts for any questions.
Your Own Personal Accountant Without the Cost of Additional Headcount
We help small businesses in Singapore with all necessary accounting services. We prepare financial statements, ECI tax reports, XBRL (full and highlights) and handle daily bookkeeping.
We can apply for GST registration and submit regular reports for GST-registered companies. If your case is special, let us know and our specialists will be happy to help with accounting for your company.
You can keep track of tasks, requests and history of items that Osome's accountants are working on on the Home Screen. This keeps both you and our accounting experts on the same page regarding the statuses of tasks and keeps communication open and easy.
Our solution is built to fit around the work schedules of entrepreneurs, SME owners and startup founders who are busy growing their business. The advice would save businesses time from figuring this out on their own, and save costs by being compliant with the local authority instead of having to pay late fees or penalties which can add up to a huge sum.
"My experience with Osome has been great...I like that I can just post my questions on the chat section any time of the day and wait for the reply, quite unlike having to remember to call someone within business hours only. For startup owners like me who work irregular non-business hours, this helps." - Fiona Lim, Body Own Pte Ltd.
Uploading Invoices Is Easy
Uploading documents is as easy as dragging and dropping a file into a chat window. You can also get a custom email address linked to your account. Simply forward an email with an invoice and the file will appear on the Osome platform within seconds.
The documents will be automatically categorized by our system when it's uploaded. Data from each invoice is extracted via Optical Character Recognition (OCR) on Osome's platform. An expert accountant from Osome double-checks that the data input in the system is correct before continuing with the automatic reconciliation. The solution frees up time for entrepreneurs to concentrate on growing their business as they leave repetitive tasks to automation.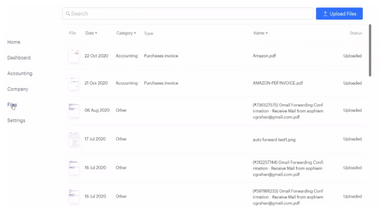 All Paperwork Is Digitally Stored Accessible Anywhere 24/7
Supporting document storage and reconciliation is a big issue for entrepreneurs. Many dread the end of the year or month when they have to search far and wide to find those invoices, bills and other documents before handing them over to their accountants.
With our platform, all documents are 100% digitalised and stored in the cloud, which can be accessed 24/7 anytime, anywhere, through our mobile app or the desktop version of Osome.
Easily Track the Financial Performance of Your Company
Make business decisions quickly through an easy-to-read dashboard that is updated daily instead of waiting for the end of the month to check on their business performance. Clients can get an overview of the business, total cash balance dynamics, balances in their bank accounts, a snapshot of their Accounts Payable and Accounts Receivable. This information is kept updated through the integration of your Osome account with your bank.
An entrepreneur will need timely reports of their business such as General Ledger, Balance Sheets, Profit and Loss statements and Account Transactions. Osome's system automatically provides clients with Financial Reports enabling clients to calculate sales tax, cash flow, and generate an accounts receivable summary and an accounts payable summary.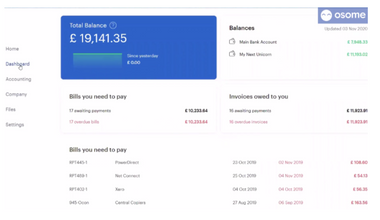 Use It With the Rest of Your Team and Improve Your Company's Transparency and Productivity
As a business owner, sometimes you want to add more team members to see the information on your accounting platform. Good news. You can add whoever they want to the Osome accounting platform, be it internal or external team members, or Osome's accounting and corporate secretary agents, enabling the Osome experts to interact with the relevant persons in the organisation.
Each separate chat conversation can be task-specific and can involve as many internal and external users as needed. No more need for lengthy email chains that constantly get mixed up, reducing miscommunication, poor decisions, and encouraging productivity and efficiency.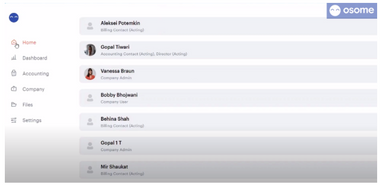 No Hidden Fees and We Charge by Revenue
We tell you upfront what the fees are. Hidden fees? We don't like that for ourselves so we don't hide anything from you. We charge a flat fee that covers financial statements, tax filing, and management reports. Bookkeeping is included, too, so you don't have to deal with it
So how do we charge? Based on the revenue that your company is making. Pick a monthly plan to receive regular financials, or an end-of-the-year catch-up accounting to submit neat reports. All our packages come as they are, no extra charges — simple and straightforward.
We Specialise in Accounting for E-Commerce Businesses
We do reporting & tax filing for multiple e-commerce platforms even though each platform has their own template and statement structure. Take Amazon, for example, it has over 150 types of fees. Lazada sends its financials in its time frame and fashion. Stripe dumps receipts from your website in a different format altogether. We can handle them all.
Recognised by Other Major Players in the Industry
Xero, which is a major bookkeeping software in the industry, awarded Osome with Platinum status in 2020. This means that Xero, the global small business platform, awarded Osome with a platinum partner status. This is the highest level of recognition that Xero offers to their counterparts, with only 3 other companies in Singapore holding the title. The achievement comes just 3 months after claiming the gold partner status, making Osome one of the fastest-growing firms in the field.
Osome was also awarded Xero's Singapore Partner of the Year for Xero Awards Asia 2020. The annual Xero Awards for Asia recognises excellence among Xero's accounting and bookkeeping partners. They also celebrate Osome's role in helping small businesses across Asia thrive which is our daily mission.
Get Perks From Our Partners
We work closely with similar-minded partners to help entrepreneurs grow their business faster.
In the course of our business, we have established many business partners in a range of professions, including legal, international tax advisory, intellectual property, and insurance agencies, among others. Check our partners.
Tip
Psst, if you are a Singaporean or PR with a company in Singapore, you can save S$1,080 on Accounting with Start Digital package, our partnership with OCBC Bank. Get 1 year covered on accounting, taxation, and reporting plus software solutions for bookkeeping and payroll.
Open an Account With Us Anytime, Anywhere
You can get started with efficient accounting done with us simply with a few clicks on the mobile phone.
Want to Work With Us ASAP?
If you're ready to start working with us, drop us a chat and our team will get in touch with you to begin your journey for a fever-free accounting experience.