Is Remitting through Banks the Best Way To Transfer Money?
So you're remitting or transferring money? Ever thought of finding a cheaper and simpler way compared to using the banks' service? Read on here.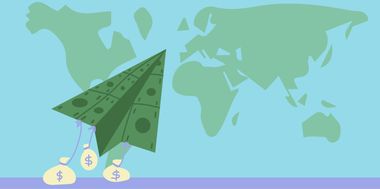 This article is written by one of our partners, MatchMove. We recommend their service to our clients as it effectively lowers transaction costs when moving money around the world compared to traditional banks. We're here to look out for small businesses and startups when it comes to accounting services in Singapore. Drop us a chat to find out more.
When businesses seek to remit money whether locally or across borders, they often turn to banks as a platform to facilitate these transactions. But do they really know about the tedious account-opening processes and the multitude of hidden costs included just for a simple money transfer?
What is the remittance process like with banks?
When it comes to opening a corporate account, banks offer an unnecessarily complicated and impractical process.
Typically, this begins with filling out an online application form and then selecting an appointment at one of the bank's branches. It then requires all of the necessary documents to be completed and then for two of the business directors to physically visit a branch for submission. 7 days later, the company will hear back on the status of their application which will inform the opening of their business bank account.
With the onset of COVID-19 and a shift to increased digitisation, the inability to open a bank account completely online is problematic. Opening an account with a few banks also requires you to make an initial deposit of $1000 - $3000, and requires you to maintain a minimum balance.
What are the costs of remitting or transferring money through banks?
Costs, now more than ever, are at the top of the list of assets that businesses are trying to save on, but when companies transact money through banks, they are often unaware of the substantial hidden costs that they incur.
Firstly, the way banks charge the remittance itself is based on the amount the business is trying to remit as well as the country in which the remittance is being made.
The pricing of this can range from $30 to as high as $200 per transaction (including ⅛% of the telegraphic transfer, cable charges, other commission charges). Apart from it, there are additional agent bank costs that businesses are required to pay. Besides these high costs, banks take an estimated time of 3-5 days for the transaction to go through.
An easier, less painful solution to remitting your money
Fintech companies, as problem-solvers, are introducing new solutions to ease the remittance process. RemitSend by MatchMove Pay is one such product. RemitSend allows you to open an account anytime and from anywhere with their seamless digital onboarding that activates your account within minutes.
Perhaps what is most unique about this platform is their pricing plan offered to businesses. RemitSend charges remittances based on a flat fee per transaction depending on your subscription package of choice. Prices are as low as $8.90 per transaction and unlike traditional banks, there aren't any extra commission, cable or agent charges and the platform offers free transaction tracking as well as free cancellation.
Built on a cloud-based SaaS platform, RemitSend has taken one step forward in addressing the challenges SMEs face with international payments, from abolishing the countless, accreting costs to speeding up the onboarding and transaction timings.
SMEs can now leverage such platforms and can manage their remittances in a cost-effective manner and add on to savings to invest in their businesses. Check them out here.
If you're a small business or startup looking to optimise the costs of your operations specifically in the aspect of corporate management, talk to Osome. We may be able to help you with accounting, bookkeeping and corporate secretarial services.