A First Time Entrepreneur's Guide to Starting a Business in Hong Kong
Want to know how to start a business in Hong Kong? In this article, we illustrate how simple and seamless the process can be. It all starts with an understanding of the basics which include licensing, registration and financial regulations.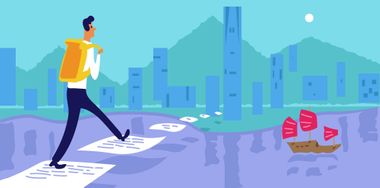 Got your business plan in place? Great. As long as you understand the basics of licensing, the fundamentals of the registration process and are aware of the regulations you're legally obliged to, starting a business in Hong Kong can be an incredibly exciting venture for an entrepreneur like you.
Sure, getting started can seem daunting. The internet is filled with technical (and often overwhelming)  jargon. The assuring thing is that you don't need to be an expert, and you definitely don't need to go on a wild Google goose chase to hunt down details. What is important is understanding the fundamentals of getting your startup off the ground. Let's get into exactly how to do that, shall we?
Why Choose to Start a Business in Hong Kong?
We don't need to tell you Hong Kong is the centre of business in Asia, a hub of innovation and a melting pot of start ups and dynamic economic growth. We also don't need to mention that it offers a competitive edge and some of the world's lowest income tax. And we certainly don't need to mention there are various government initiatives and incubator programmes that support small business. Because we know you already know all this. After all, you're here because you're already inspired to take the first steps in setting up a business in Hong Kong.
Let's explore what goes into starting a business in Hong Kong to give you a clear idea of the process so you can turn your vision into something tangible.
Start with these Four Important Questions
1. Have you got a solid, documented business plan?
This is the foundation of your new business venture. It's your action plan for success. It should cover everything from your business goals to a budget outline and marketing plans.
Even though it hasn't taken off yet, Sam's business plan for an educational toy store gives a clear view of how he plans to scale it over time by introducing ranges for different ages, along with a loyalty incentive scheme. Doing this shows how he's embracing a business niche with a long term structure focused on profitability.
2. What's the name of your company?
Your reputation will be built around this, so give it the proper thought it deserves. You'll need a name that's unique and not in use by anyone else - and it could be in Chinese, in English or in both. But don't worry, we can help with that.
Sam starts by doing a focus group with some kids to get ideas for the name of his toy store, and at the same time he researches other local stores. In the end he settles on "SamS", which is simple and personal. With the help of a designer, he's able to transform this anagram into a toy car logo that perfectly embodies his business offering, regardless of language.
3. What type of business will you be starting?
You see, some businesses in Hong Kong need a special license to operate. If you're not sure if this applies to you, you'll need to check with The Department of Trade and Industry who can help you find out about any permits, certificates or approvals you may need.
Don't worry, this is all done easily through their Business Licence Information Service. There are also government resources that you can check out at the end of this article.
Sam's sister, Winnie, is an avid foodie. She owns a small restaurant which also serves alcohol. This means she would need to get a specific permit to legally sell alcohol to set up her business. As Sam's business only sells toys, he doesn't need to apply for a specific licence.
4. What type of business will you register as? "Type" refers to the legal structure of your business - will you be a private limited company, partnership or a sole proprietor? This decision is important as it will affect your tax obligations as well as the way your business is run.
Sam wants to start a new kiddies educational toy business which is considered to be medium-sized. He wants to register as a limited company. To do this, he needs to hire at least one director and one shareholder so he brings colleagues Lina and Mattias onboard. There is not a specific capital amount so he continues with planning the setup of his limited company.
Hong Kong Business 101: The Official Stuff
There are a few things the Hong Kong government expects every business to have. We'll unpack them in a bit more further down, but here they are at a glance:
Registered address: First things first, consider where all your legal correspondence is going to go. That's right, you're going to need a physical mailbox in Hong Kong and that means having a registered, local address.
Corporate Secretary: Next, you'll need someone to handle any business-related reporting. Their role is to ensure you're operating within the law and adhering to government regulations, as well as to document any structural or managerial changes.
Business Registration Certificate: To make things officially official, you'll need to get a business registration certificate that's updated every year (more about that below)
The good news? We can help you register your business in Hong Kong online and handle all this official stuff for you. The even better news? We can do it all remotely.
Next up, Register your Company
The Companies Registry in Hong Kong is responsible for the incorporation of your company. This is where you'll need to register to set up your new business. Then, the Inland Revenue Department will issue your Business Registration Certificate - a must-have for any Hong Kong business. This important document should be displayed in your business premises and updated every year (this comes with a fee).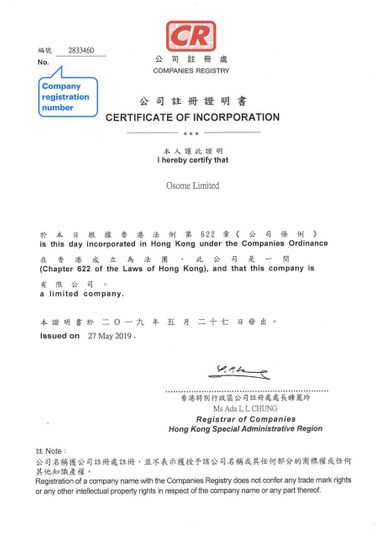 A new business means a new bank account
Now it's time to start managing the finances of your business and that's why you'll need to open a corporate bank account. To do this, you'll need to gather some key documentation (you know, the "official stuff" we mentioned above?) This is where it will come in handy. These include things like your business plan, a registered address, shareholder info and your Business Registration Certificate. If you need to know more on how this works, take a look at these tips on opening a business account in Hong Kong.
Show me the (business) money
You could be a transportation business, a publishing business, a distribution business, even a production company or security firm. The vertical or industry doesn't matter. Every new business should be headed up by an owner who's up to speed with their company's financial obligations. Notice how we didn't say you need to be an expert? After all, there are specialist bookkeeping and online accounting services you can rely on for that.
A solid grasp on key financial concepts (along with ensuring you don't run into any legal problems) involves things like:
Reading and understanding financial statements, which could help you correlate a connection to business expansion if you use insights to optimise how and when you spend.
Being aware of annual filing requirements and the information you need to keep updated, recorded and made available to a Certified Public Accountant (Practising) who'll need to sign that financial statement when you submit it.
Knowing your tax obligations as a business, when it comes to profit tax as well as an employer.
Tip
Profits tax is 8.25% for a corporation's first HK$2 million of profits. Profits above that amount will be subject to the tax rate of 16.5%. No capital gains tax is applied. Isn't that neat?
How to start a business in Hong Kong: A Checklist
✓ Decide on a unique business name, the type of business you'll be starting and find out if you'll need to apply for any permits to operate
✓ Get your company registered, along with that Company Registration Certificate
✓ Open a corporate bank account and understand your financial obligations
✓ Track, measure and report on your business operations easily and remotely by relying on an expert team who understands this exciting landscape
After a bit more detail?
Get more information about the licensing, regulations and registration that go hand in hand with starting a new business in Hong Kong on the official government website.
If you'd like to chat with someone who can unpack all of this in a friendly way, drop us an email!