What Does the Electronic Transactions Act Mean for Entrepreneurs?
What do the Electronic Transactions mean for businesses and SMEs? We go through 4 things that entrepreneurs should take a close look at.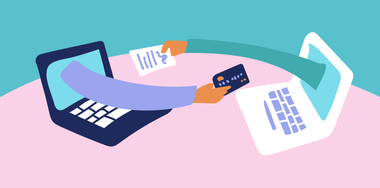 As more businesses turn digital, the Singapore government implemented the Electronic Transactions Act ( ETA) in 1998, a law that addresses issues around e-commerce and info-technology. It provides a legal framework that touches nearly all digital services such as e-commerce, electronic records, electronic contracts, signatures, etc. This article addresses what ETA means for businesses, and the legality entering into an e-contract within the framework of the ETA.
If you are an e-commerce company, your accounting might become more complex. You can do it yourself but you don't have to. Our experienced accountants are here to help.
What does the Electronic Transactions Act mean for businesses and SMEs?
The act provides a legal way to complete transactions made through electronic means, or online. This encourages businesses, especially SMEs, to use digital or electronic ways in their daily business operations, like selling and completing a contract.
The Act can also be seen as the Singapore government's way of supporting the digitisation of services for businesses. It aims to provide better security and a safety net for both your company and the other party when dealing with a transaction, or completing an application with government agencies, reducing the chances of scam transactions in the online market.
4 Features of the Act that Entrepreneurs should take note of:
An electronic transaction here means the sale or purchase of goods or services, whether between businesses, households, individuals, governments, and other public or private organisations, conducted over computer-mediated networks.
Electronic records are recognised and valid
Electronic records include emails, digital images, PowerPoint presentations, websites, etc.
When contracts, records or information in its original form are legally required, an electronic copy is enough as legal proof. The use of electronic communication to create the contract does not affect its validity.
Mary wishes to open a corporate bank account for her company Rivkin Interiors, and is required to submit copies of passports or Singapore national identification cards of all the company directors. She sends soft copies and submits it through the bank's online submission system. These electronic records will be recognised.
Electronic and digital signatures have the same weight as written signatures
An e-signature can be anything from a mouse click to a secured algorithm provided that identifies a person, indicates his or her intention and is appropriate. A digital signature is a kind of electronic signature that provides secure validation and authentication. You can get a certificate from the Certification Authority.
A company can save cost by using electronic signatures as compared to the traditional handwritten signatures. A document can be sent by means of e-mail and can be signed in a few minutes, useful for businesses that have a global presence. This is also how it's possible for companies to incorporate and open a bank account within a day in Singapore.
Cases where companies use digital signatures
With the government agencies: Companies use digital signatures when dealing with the government for transactions like filing forms with ACRA, and filing tax returns.
With partners and customers: Contracts with an e-signature are legally valid and enforceable under the law in Singapore as long as they correspond to the general contract law.
Internally for corporate issues: The Board of Directors may approve a company resolution passed at a Board meeting by attaching their digital signatures to it, or producing any other notes like HR documents and employment contracts. The signature displays the date of signing and is especially convenient in cases where the company maintains all its records electronically.
Read our article here for more on how electronic signatures work.
Government agencies use Electronic IDs for transactions
Companies in Singapore now use CorpPass, a single digital identity that businesses can use for all transactions with the government so long as you have a Unique Entity Number (which is an identification number issued to an entity).
Short for Singapore Corporate Access, CorpPass serves as the one-stop authentication and authorization platform for all the B2G transactions in the city-state. By the way, Osome is an online accounting company and we can do all these transactions on your behalf remotely too.  
Alex wants to file simplified annual returns on behalf of Effer Pte Ltd. Using CorpPass, he can log into BizFile+ and select the "Annual Return by Local Company (For FYE from 31 August 2018)" transaction.
Electronic Contracts are recognised
According to the ETA, all electronic contracts are legally valid and enforceable by law in Singapore.
There are some things to take note of as well with regards to electronic contracts:
Either party has the right to disagree to using electronic records, electronic communication or electronic signatures in any contract
If a consumer or business is not satisfied with or does not understand the online process, either party could opt to perform an offline transaction instead.
UYU interiors found a client John who wants to renovate his new flat. John contacted UYU interiors through their email address and finally settled on a package. The renovation company UYU Interiors sends over an invoice and requests John for a digital signature to accept it. However, John is unable to do this online and requests a face-to-face meeting to sign the contract. John has the right to refuse to do so.
A contract with or between automated message system is valid too
A contract between an automated message system and a natural person or between any two automated message systems is considered valid and cannot be denied just because no natural person reviewed the contract.
Terry Buro sells handbags through its e-commerce shop. When a customer purchases an item, the e-commerce platform sends out the message that Terry Buro has received the payment and will send out the shipment. This happens between the customer and an automated system. It is understood that Terry has received the payment from the customer and will send out a shipment although none of Terry Buro's staff reviewed this contract.
Summing Up
With the ETA set in place, Singapore's e-transaction laws are closely in line with internationally recognised standards, pushing the country towards a smart nation. The Act backs Singapore's move into digitalizing its operations and processes. Small, medium or large businesses are required to follow the Act in order to continue operating by keeping up with the trends.