How To Open a Company and Move to Singapore Under Employment Pass?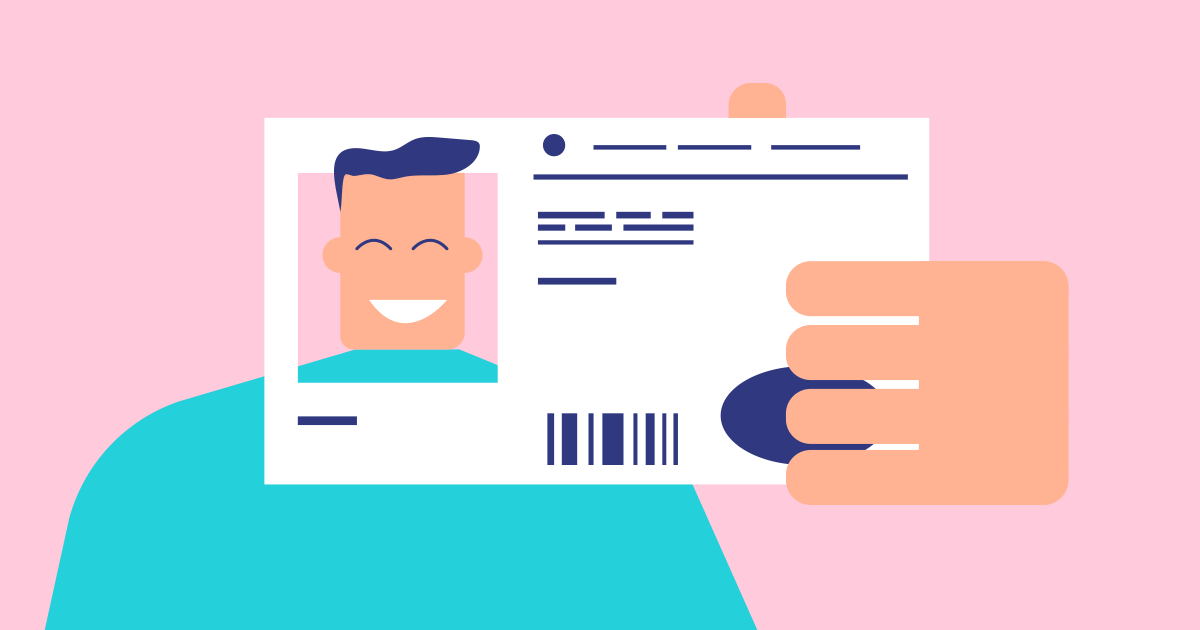 Employment Pass (EP) is a type of working visa issued per specific company so it can invite foreign professionals, managers, executives, and technicians.
You plan to open a business in Singapore (or already have) and want to move there. The most common relocation option is EP — a visa that your company applies for and invites you to work. Find out what it takes and why it's the easiest way in our simple guide.
And if you are looking for even more simple way to do that, we got you covered! Check out our incorporation services in Singapore for foreigners!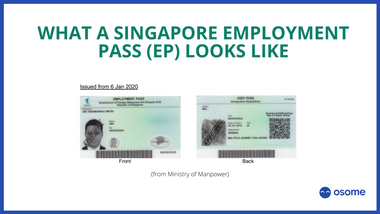 What Is An Employment Pass?
Employment Pass (EP) in Singapore is a type of working visa issued per specific company so that it can invite foreign professionals, managers, executives, and technicians. The Singaporean EP pass allows you to work exclusively for that company, live and bring your family to Singapore. It's valid for 1 or 2 years, and you can apply to renew afterwards.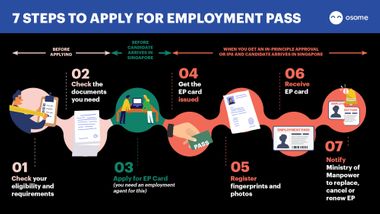 What Are The Various Types Of Employment Pass In Singapore?
Employment Pass in Singapore is usually granted to individuals with college degrees from recognized universities or with strong professional work experience and with monthly compensation packages of $4,500 or more. Older and more experienced candidates would need higher salaries.
Singapore also offers Personalized Employment Pass (PEP), which is specifically designed to facilitate the entry of high earning foreign professionals. It is for individuals earning a fixed monthly salary of at least $18,000/ annual fixed salary of $144,000 or more (or an existing EP holder with a per month salary of $12,000). Another criteria for eligibility is that they should not be unemployed for more than 6 months at any time.
What Is the Difference Between S Pass and Employment Pass
S or Short-term EP and E (employment) Pass are two legal documents foreigners can use to work in Singapore. Here are some key differences between an Employment Pass and an S Pass:
| | | |
| --- | --- | --- |
| Criteria | S Pass | E Pass |
| Who it's for | For mid-skilled professionals | For highly skilled employees |
| Minimum salary | The applicant should have a fixed monthly salary of a minimum of $2500, work experience and educational qualifications equivalent to 1-year full-time study | The applicant should have a minimum salary of $4500, qualification from a reputable university or specialized skills |
| Quota | There is a quota. In the services industry, a company cannot hire more than 13% of its total workforce. In other sectors, the maximum portion of foreign workers cannot exceed 20%. | No quota |
| Who can apply for the individual? | Only a Singapore registered employer or an appointed employment agent can apply for an S Pass. The S pass is connected to the employer, and if the person changes his/her organization he/she must apply for a new S Pass. | Only a Singapore registered employer or an appointed employment agent can apply for an E Pass. If the person changes his/her organization he/she must apply for a new E Pass. |
Is There a Quota for Employment Pass
There is no Employment Pass quota in Singapore. The quota is only applicable to S-Pass. However, if the applying company has more than 50% of foreign workers, it might be required to justify hiring foreigners rather than local Singaporeans.
Why Is It Easier Than Other Visas?
Employment Pass visa requires documents that are easier to prepare. If you apply for EntrePass, a visa specifically designed for entrepreneurs, you have to provide proof of your solvency. To qualify, you need either a government grant, or a business incubator support, or a solid track record of previous successful businesses you had. For an EP visa in Singapore all you need to prove is that you are the type of person your business needs to employ.
What Do I Need to Provide?
This is a working visa so you will be evaluated as a professional and how you fit the company. This is what the officials are looking for:
Fixed salary amount — this shows your value and your capacity to support yourself and your family
Professional experience that fits desired job description. The more impressive your CV is, the higher the chances
Education. A good university degree can get you extra points. If this is not your forte, compensate it with experience and salary
The company business profile and its products description. A reliable employer makes EP easier to obtain
In some cases, authorities may ask you to go through a medical test. This can be done in a day in Singapore or in your local hospital that can provide a medical report in English.
What Level Should My Salary Be?
S$3,600 per month is the minimum Employment Pass salary for University graduates. S$6,000-S$8,000 if you are more mature. If you plan to bring your family to Singapore, the Employment Pass minimum salary has to be higher, up to S$12,000 to support parents, for example. Your age and nationality can also affect the decision. If you are over 50, you have better chances with 15%-20% higher salary.
You can also take a self-assessment test on the MOM website to evaluate your chances.
Do I Need To Come to Singapore To Get My Employment Pass?
You don't need to come to apply — a local agency can submit an EP application online in your company's name. Once your EP is ready, you will receive an IPA (In-Principle-Approval) that serves as a one-time visa to Singapore and is valid for 6 months.
How Do I Bring My family With Me?
You can apply for Dependant Passes (DP) for your spouse and unmarried children under 21. You can bring in your civil law spouse, parents, handicapped children, and stepchildren under a Long-Term Visit Pass. Make sure your salary shows that you can take care of all the people you are bringing with you.
How Long Is the Employment Pass Process?
If you apply from an existing company, you can have your Employment Pass ready in 1-2 months. If you only plan to incorporate your business, schedule 3-6 months for your Employment Pass processing time
How Much Does An Employment Pass Cost?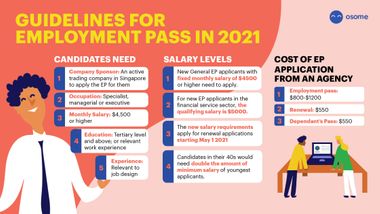 Agencies charge S$800-S$1,200 for Employment Pass application and S$400-S$500 for each Dependant Pass. Check if they refund part of the Employment Pass cost for failed applications.
What If My Employment Pass Gets Rejected?
In case of a rejection, you have 3 months to appeal. It's better to involve a special agency to handle Employment Pass rejection cases: they know typical EP rejection reasons and know how to make you look more eligible to the Ministry of Manpower. The process takes about 1-2 months. If your appeal gets rejected, too, then you need to start the process anew.
Can I Become a Permanent Resident Based on My Employment Pass?
Yes, we suggest applying after 12 months for Permanent Resident status for yourself, your spouse and kids. However, technically you can apply right after you obtain your EP.
Employment Pass Holder Opportunities
An Employment Pass gives it holder ease of travel and access to Singapore's job market. It allows holders to live, work and travel visa-free in and out of Singapore
Can an Employment Pass Holder Be a Director?
As per the law and Ministry of Manpower (MOM) rules, foreign professionals with an EP cannot be a director in a company if they are on employment with another employer without a Letter of Consent from the MOM. An Employment Pass holder is only allowed to be a director in the company which applied for his EP.
Can an Employment Pass Holder Marry Singaporean?
Employment Pass holders can marry Singaporean nationals or Permanent Residents without any need to seek approval from the MOM.  S Pass holders can also marry Singaporean citizens or PRs without any permission.
Can an Employment Pass Holder Register Company?
Employment Pass holders are allowed to register companies in Singapore and are also further permitted to own 100% shares in their Singapore based company.
However, and EP holder cannot work as a director of the company they own without a LOC from the MOM. Also, they must undertake the registration process of their company via an agent.
Can an Employment Pass Holder Start Business In Singapore?
An EP holder can open a business in Singapore. However, you will need to appoint a Singaporean or a Permanent Resident as the local director for your company. To become an additional director in the company, you will need a Letter of Consent (LOC) from the Ministry of Manpower (MOM) before registering on BizFile+.
Can an Employment Pass Holder Work as a Freelancer?
Employment Pass holders can only work for the organization which has issued the EP. Hence, it is illegal for EP holders to take on freelance or any other jobs outside their companies. However, they can form a sole proprietorship (after getting a Letter of Consent from the MOM) and use that to earn an additional income in Singapore.
If you're a spouse or a family member living with a Dependant Pass or a Long Term Visit Pass, then you cannot work unless you get an E Pass, S Pass, or a Work Permit.
Can an Employment Pass Holder Work Overseas?
Yes, an Employment Pass holder can work overseas if the work is for his/her Singapore-based employer. If you are on a Personalized Employment Pass (PEP) document, you would need to cancel your permit if your overseas stay is longer than 6 months.  
Can an Employment Pass Holder Work Part-Time?
All work pass holders (E Pass, S Pass, and PEP) are allowed to work legally only for their designated employer. They are not allowed to engage in outside activities to earn an income in Singapore.
Can You Volunteer On An Employment Pass?
Yes, as an Employment Pass holder, you can volunteer for your favourite charity legally. In fact, for volunteering in Singapore, one doesn't need a special work permit; If you have the documents to reside in Singapore legally, you can work as a volunteer.
Can an Employment Pass Holder Drive a Car in Singapore?
For non-resident professionals living in Singapore, the local guidelines state that:
Foreign visitors, social visitor pass (SVP) holders, short-term pass holders can use the driving license of their country in Singapore.
Individuals with Student Pass, Employment Pass (EP), long-term visit pass and Dependent's Pass can use their valid driving licenses in Singapore for up to 12 months (starting from the day of entry into Singapore)
Work Permit and S-Pass holders can use their driving licenses for up to 6 months (from the date the Pass is issued)
Beyond the prescribed period, the person must have a valid Singapore driving license to drive in Singapore.
How To Renew an Employment Pass
An EP renewal is not as complicated a process as applying for a new Employment Pass. It has to be done by the employer or an authorized agency, and the renewed EP is valid up to 3 years from the date of issue. An EP renewal can be done online via an EP account and can be started as early as 6 months before the current EP's expiration date. The online EP renewal will yield results in as little as 3 weeks, while the postal method can take twice or more as long.
The Singapore EP renewal costs $225 per Pass and $30 for each multi-journey visa (if applicable). It is best to apply well in advance because the MOM expects you to start EP renewal at least 2 months before your current EP expires. If you miss the deadline you will have to apply for a new pass.
How To Cancel Employment Pass
The employer is responsible for EP cancellation within one week from the last day of the notice period of the employee. A cancellation request can also be submitted up to 14 days in advance. If an EP holder becomes a Permanent Resident, then there is EP cancellation requires; it is done automatically.
Once the MOM cancels the Employment Pass, all related documentation and passes such as Dependant's Passes, Long Term Visit Passes, Letters of Consent and Work Permits for the family member will also be cancelled.Before the cancellation of an Employment Pass, the employer must ask for tax clearance from the IRA (Inland Revenue Authority) of Singapore, settle all dues of the employee, help the employee with travel costs back to native country.
How Do You Apply For an Employment Pass?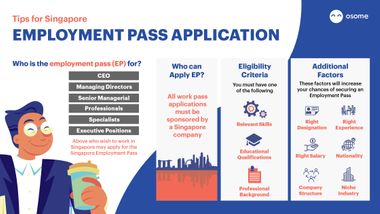 EP applications can be made manually or online; the online EP application process takes around 3 weeks, while the postal process takes twice as long. Employers and their authorized agents can use the EP online portal (myMOM portal) to perform several EP and S Pass transactions such as starting a new EP application, family passes, renewals, status check, cancellation and more. The sponsoring company will have to pay a $105 fee for each application during the application process.
The MOM needs the following documents along with the EP application:
Copies of the applicant's passport showing personal details
Applicant's academic certificates
The applying company's business profile and other company information
If the Pass is approved, the applicant will be issued an IPA (in-principal approval) letter, which allows him/her to travel to Singapore. Thereafter, the applicant has 6 months to get the actual Pass approved.
To get the EP, the candidate must be in Singapore. Along with the fee of $225, the applicant will also have to give information such as:
Passport details
Singapore contact details
Current Short-Term Visit Pass (STVP) or immigration pass details
Singapore residential and office address
Completed medical certificate if applicable
Completed declaration form by the employer
Details of up to 3 authorized recipients to receive the card
How To Check Status of Your Employment Pass in Singapore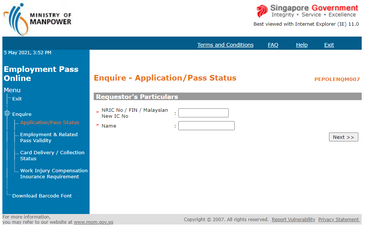 Anyone can check the status of their Employment Pass or status of a new application on the public site of The Ministry of Manpower. You will be required to log in, but the site is available for the public, and there is no need to have an EP Online account.
Apart from applicants, EP holders and organizations, the portal is also used by companies doing background checks on current and prospective employees or by those looking for the EP status of foreigners they are interacting with.
Next steps
Relocating as an entrepreneur is a great opportunity but it's a challenge, too. We make the company registration in Singapore as smooth as possible. You'll do business while we do all the paperwork.