When To Know if a Side Hustle Can Be Turned Into A Full-Time Enterprise
Around 1 in 3 people have a side hustle. And the number seems to keep increasing. It can most likely be turned into a full-time profitable business if you have a side-hustle. But when it's the right time to do so?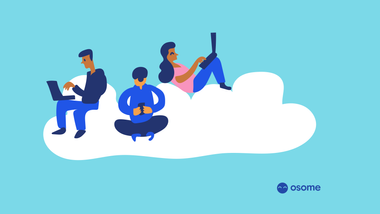 There are other factors too that can be considered while making the decision.
Let's find out what other factors should be regarded while turning a side hustle into a full-time business.  

If you've already decided to set up a private limited company in Singapore and want to start a business, we can help with you that! Otherwise, do read on.
What To Consider When Making The Jump From Side Hustle To Full-Time
It won't be easy to suddenly leave your well-settled full-time job and pursue something that you don't have any idea how profitable it can be. It can be both an exciting and nerve-wracking experience to start something new.
To avoid getting overwhelmed and to help you make a decision quickly, we have narrowed it down to five major points that you should check out.
Determine If Your Side-Hustle Can Turn Into A Sustainable Business
This is the first step to deciding whether or not your side hustle can be turned into a full-time business. You can ask yourself the following questions:
Can your side hustle be turned into a sustainable business?
Have you done enough research to make sure that your business can prosper?
These two are just general questions to give you an idea. While turning your side hustle into a full-time business, you should thoroughly understand it to be familiar with it.
Seeking External Validation From Experts
You know your side hustle is profitable and sustainable. But have you confirmed it with the experts? People who have been working in your field for years might know more about how you can break into your area.
So, go out and talk with some experts and ask for their feedback. While talking with them, note the following points:
Are there any red flags?
Are there any sceptical things that you came across?
Do people think it is sustainable?
How can you grow your business?
Questions like that will let you know where you stand with your side hustle and what next steps you need to take.
Taking Care Of Your Finances
Finances play an essential role in whatever you choose to do. If you're turning a side hustle into a full-time business, you need to make sure that it's profitable enough to meet your needs. While thinking about the finance area, ask yourself the following questions:
Do you have enough budget to go through six months or more without earning any profit?
What about insurance and your retirement plans? Can you work them out?
Hence, before leaving your job, think about these questions and decide.
How Much Are You Interested In Your Side Hustle?
Of course, having a side hustle means it's something you're interested in and you're passionate about.
However, can you do it for the next couple of years without getting bored? If you tend to get burnt out, you should think about it, then what will you do?
What If Things Come In Your Way?
Money and passion aren't the only things that will let you do things peacefully. Other things also play a role, such as family, kids, time, or studies.
You need to think if it's the right time to make a significant decision. If it is, how will you cope with all the new changes? What about personal commitments that can come your way? What will you do in that case?
Significant commitments come up with huge responsibilities. You need to think if you're ready to handle all the significant responsibilities.
How To Quantify Your Decisions?
Asking yourself the above questions was just one way to determine whether or not it would be profitable to turn your side hustle into a full-time business. Now, the next step is to turn those answers into decisions.
But how can you do so?
You can do it by scoring all the points from 1 to 5. With one being more desirable and five is not at all desirable.
This scoring exercise will help you decide if it's feasible to venture your side hustle further.
You can also opt to do a different exercise but ensure that each of the main points are taken into the account.
Creating A Timeline To Hold Yourself Accountable

Now, you have completed your exercise and it seems that it would be favourable to pursue your passion further. It's always exciting to do something new but before you dive further in, have you created a timeline to hold yourself accountable?
As in this new journey, there would be no boss or coworkers to hold you accountable. Here, you need to do everything yourself, complete things on time and make a to-do list that needs to be done weekly, monthly or quarterly.
To hold yourself responsible, you can start by making quantifiable goals. Having quantifiable goals will make it easy to check out your progress. And it could be revenue, the number of signups, or any other metric that is important for your company.
If you're feeling lonely, then you can invite a friend or make friends in your niche to check up on each other's progress or to do a monthly review.
You can also regularly do the scoring exercise to see if your score is steady or increasing. Doing these things will keep you on track, and you can easily focus on your work.
Conclusion
Starting a new business can be challenging, exciting as well as exhausting. Before you start, do a thorough research as it's a big decision to consider.
Also, try to talk with experts to validate your idea further. And keep note of the five major points to keep track:
Interest level
Finances
Life
Sustainable business
Validated with others
Keeping yourself accountable with your friends or ones with the same interest level will keep you on track, and you will not feel alone. It also helps if you get your accounting books in order as soon as you can.
How are you pursuing your side hustle? How long have you been doing it? Let us know in the comments below.