Creating an Invoice When Selling on Amazon
This article helps Amazon sellers who are finding out how to create, access and share invoices on Amazon.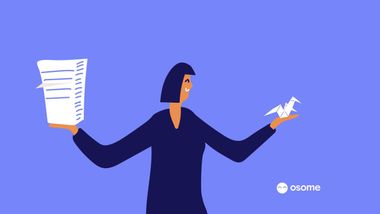 If you're selling products on Amazon, this guide could come in handy. We'll explore how to create, access and share invoices on one of the world largest online retailers and make a big thing out of your small business.
By the way, if you need further advice on how to tackle your accounting tasks on Amazon, you can lean on our accountants for the actual "doing" part. We'll tap into the accounting admin and take on navigating the numbers on your Amazon Business account so you can focus on which products are profitable to sell.
What To Do Before Selling on Amazon
There's value in process and order. To create an e-commerce invoice on Amazon, you need to sell products. To sell products, you need to register your Amazon business account. So, start here. Put in the upfront effort because you'll need to be up and running before we can take the reins and rescue you from a sea of admin and deliver you to stress-free shores.
Here's a snapshot of the steps to get started as an e-commerce entrepreneur on Amazon:
Incorporate your Company
Get your Unique Product Identifier
Sign up for an Amazon account
Verify your identity
List your products
Set up your online payment gateways
To create an invoice on Amazon, you need to know what goes into creating an e-commerce invoice. So let's start with what it looks like:
"Invoice" should be prominent
Unique invoice number
Your official business name or supplier info
Important contact info
Date of issue
Taxation or other registration codes
Your client details (customer information)
Item description
Cost additions or deductions
Details for payment
Sales tax
Total amount due
Any specific T&Cs
Who Can Access My Amazon Invoices?
These are money matters and cyber security is an important consideration. Only specific users can view, download and access your Amazon invoices. Permissions can be granted to designated roles which include Group Administrators, Business Administrators, Requisitioners, Finance Users. They'll need to be assigned by whoever's got group-level permissions (hint, if it's your business, it should be you).
3 Sections on Amazon Business Where You Can View Invoices:
INVOICES: No surprises here! This is where all your invoices are displayed along with info that's directly impacted by or linked to them. It's where you can get a snapshot of all funds linked to your account.

Users with default permission to access: Biz Account Admins, Finance Users

ORDERS: This is where you can also see your invoices, but instead of being displayed all together they're grouped according to their corresponding orders.

Users with default permission to access: Biz Account Admins, Finance Users, Requisitioners

BUSINESS ANALYTICS: Not only can you see your invoices and their Payment Reference IDs, but you can also download up to 45 at a time! Another nifty feature is being able to generate an Orders Report from your account (which is a vital part of your invoice reconciliation process).

Users with default permission to access: Group Admins, Finance Users, Biz Account Admins
How To Download an Invoice from Business Analytics:
Log in to your Business account dashboard → Select "Your Account for Business" →  "Business Analytics" → Select a report type → Choose "Get order documents OR check the boxes relevant to you → Take your pick from your order list → Hit that "Download" button → You're done!
What's "Pay By Invoice"
Pay by Invoice is an invoicing payment method Amazon offers, which is customisable. It's designed to accommodate businesses big and small, across a whole range of industries. One of the main benefits it offers is flexible terms. You get an itemised invoice (along with payment terms and a due date) when an order ships. These free up cash flow to ease pressure on your bottom line.
Benefits of flexibility and on-the-fly insights:
You can manage your preferences under business settings. Here's a closer look at some features "on-demand digital itemised invoices" offer. Receive. Reconcile. Process. Sounds good? Perhaps Pay by Invoice is something that could work for you?
Tracking spend is easy and accurate and with built-in analytics tools, you can generate reports. On-demand. Anytime.
Weekly, biweekly, or monthly. You choose when to receive invoices.
Search by purchase order, transaction amount, and date when you want to download invoices.
Future-proof Your Amazon Invoicing:
Commit to invoicing approach today that's future-proof so you can keep on top of tax records and obligations (or find a trusted partner who can).
CREATE: Know what format to prepare and what important details to include (and no, it's not a cop-out to use a template)
MANAGE: Keep your invoices organised from the get-go and when in doubt, digitise! Find a system and stick to it.
TRACK: Prioritise time to review, check-in and check up on status or request it from whoever's managing that process for you.
There's round-the-clock support for Amazon sellers but when you've got a team who are pros at all this paperwork stuff, it's very likely they won't be hearing from you. And you can feel totally chill about that.
Tip
If you need a little convincing, clarity or even just want to talk to an expert accountant to ask about all these invoicing and tax matters in the UK, we will be ready to chat.