Singapore is a great place to live: it's safe, developed, and always sunny. If you dream to move here, bring your family with you and get passports, you need to start somewhere. We explain the process to become a Singapore citizen.
By the way, you can learn more about Singapore citizenship benefits by reading this article.
What steps do I need to take to get a Singapore passport?
Step 1: Get a Permit
Step 2. Become a Permanent Resident via PTS scheme
Step 3. Become a citizen
Dual citizenship
Is it possible to renounce your Singapore citizenship?
In conclusion
What steps do I need to take to get a Singapore passport?
There are 3 major steps to becoming a citizen: get a permit, become a permanent resident, get a passport.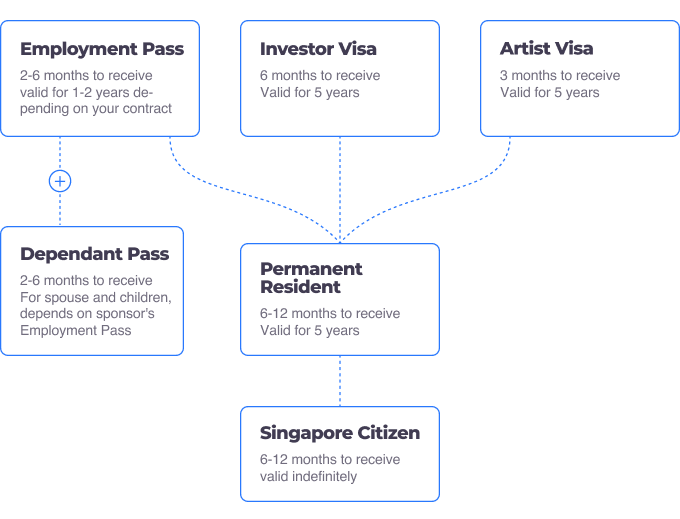 Step 1: Get a Permit

There are three options that enable you to apply for Permanent Residency later: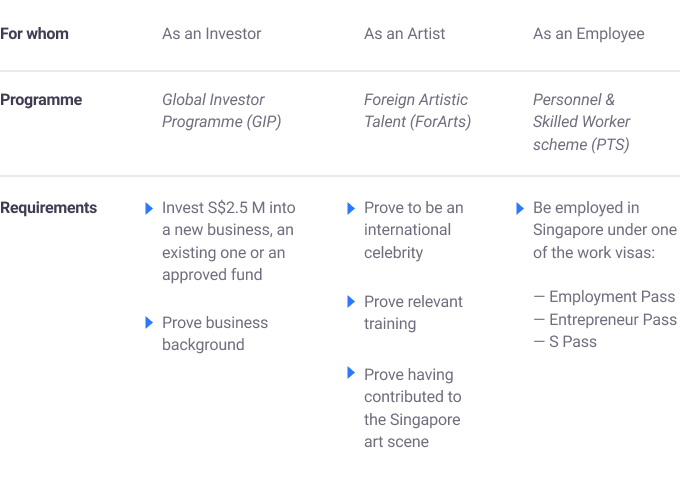 GIP and ForArts schemes are very specific: you either need to invest a lot of money or be a recognized star. So the most common option is the Professionals/Technical Personnel scheme (PTS). It offers relocation under one of 3 visa types sponsored by the company that invites you and your stay depends on your contract.
S Pass is a visa for skilled professionals, that is, mid-level technicians.
Entrepreneur Pass requires you to open a company and either get government funding, or have an investor track record, or prove to have an innovative concept.
Employment Pass is the most straightforward option: you need to receive a job offer from a company for a management position. If you don't have any employee wishing to hire you, that's ok: you can always open a business yourself and use it to process your Employment Pass.
Since Employment Pass is the most likely route to take, let's take a closer look at how to get one.
Requirements for Employment Pass:
A fixed monthly salary of S$6,000-8,000. If you plan to bring your family, it should be even higher, about S$12,000 a month.
Higher Education, preferably from a respected University.
Professional experience relevant to your job description.
Profile of the inviting company.
If you register a business yourself, you will need to prove that your intentions are serious and you can support the salary you'll be paying yourself. Authorities look at your bank account, so make sure you have about S$50,000 deposited on your company behalf.
Timeline: 2-3 months if you get invited by an existing company, 4-6 months if you register a business yourself.
Family: You can bring your family to Singapore under Dependants' Passes: your spouse and unmarried children under 21 years old. Note that the more people move with you, the higher your salary should be.
To apply for Singapore citizenship, it's important to get your papers in order, file the needed documents. The Ministry of Manpower needs to see that both the inviting company is promising and the candidate is a talented specialist that can't be found among those who already live in the country.
We came to Singapore 9 years ago. Back then, it was easier to get an EP, your application got approved in 1—4 weeks. But due to the filing agency's mistake, we waited for 2,5 months. DP is normally issued without any problems provided that the employee's salary is sufficient.
Lena Markacheva
moved&nbspto&nbspSingapore with&nbspher&nbspfamily
Step 2. Become a Permanent Resident via PTS scheme
Permanent Residency gets you all the privileges of a citizen except the right to vote or hold public office. Your male children will even have to serve in the National Service.
Requirements for Permanent Residency:
There are very few requirements for becoming a PR, but in reality, a lot of applications get rejected without any explanation. There is a cap of 30,000 individuals granted Permanent Residence a year, so the waiting list is quite long.
Employer's application also known as Annex A. Unlike Employment Pass, the Permanent Residency is not sponsored by your employer, but this document is a must for PTS scheme.
Salary level confirmation. For PR status, your salary should be about S$12,000 a month, especially if you have a family with you.
Documents, including an application with your photo, Employment Pass, id, birth certificate, marriage certificate, proof of education, salary, and employment. Any document issued in your native language has to be officially translated. If your, family applies with you, they need to prepare and translate documents, too.
Timeline: Technically, you can apply for PR status as soon as you've received your Employment Pass. In reality, it is best to wait for at least a year before you move to step 2. Officially it takes 4-6 months to process your application, but people wait for 6-18 months for a reply.
Family: Your relatives that stay with your under Dependants' Passes normally apply for PR at the same time. They get approved or rejected together with you.
I applied for PR status three years ago on my own. After waiting for 3,5 months, my application was approved. For me, it was quite easy to get residency as I studied and worked in Singapore for a total of 5 years by the time I applied. It might have also helped that my brother is a Singapore citizen, and I was single and young.
Chi Chan Che
lives and works in Singapore
We applied for PR on our own. The state wants the candidate to be incredible, well-educated, possessing a unique experience. He/she should be involved with local life, love Singapore, have a family. It also matters how perspective the company he works for is.
My feeling is that it's easier to get PR for employees of major companies. We waited for our PR applications to get approved while living in Singapore. One can't apply for permanent residency remotely — in contrast with countries like Australia. One has to live in Singapore for at least 6 months to be eligible for PR application, but in reality, it is worth waiting for at least 2 years.
Step 3. Become a citizen
In a way, this step is easier than receiving PR status, but it also takes longer and you never know if and when your application is approved.
Requirements for becoming a citizen:
Submit documents: id, passport, birth certificate, marriage certificate, proof of employment, education, salary, and national service certificate for you and your family if they apply.
Pass an interview in ICA (Immigration and Checkpoints Authority, a government body reporting to the Ministry of Home Affairs).
Pay a state fee of $S100 for each applicant.
Timeline: you can apply for citizenship after you've been a Permanent Resident for 2 years. It normally takes the authorities 6 to 12 months to process the application, but they often take their time, so you might end up waiting for up to 2 years.
Family: your spouse and unmarried children under 21 years old apply with you.
I applied for Citizenship as soon as I could, 2 years after I got my PR, though I heard that the longer you waited, the higher your chances were. Authorities see it as proof that you intend to make Singapore your home. Since I've lived here for 7 years and had family around (my brother), I looked like someone who'd stay in Singapore forever.
Chi Chan Che
lives and works in Singapore
Dual citizenship
The Singapore Government forbids dual citizenship.  Though there are some cases when a person can become a dual citizen:
By naturalisation
By descent when he/she has a foreign parent
By birth in a foreign country
Have a look at the laws of Singapore citizenship in the Constitution of Singapore to know the details.
Is it possible to renounce your Singapore citizenship?
The only way to renounce citizenship is to legally become a citizen of another country. If you want to get all the necessary documents for Renunciation of Singapore Citizenship, you will have to send your full name and contact information to the Singapore Consulate by email. The renunciation takes 2 to 3 months to process and the fee is S$35.
In conclusion
To sum it up, getting a Singapore citizenship is real, but it does take time and persistence (and quite some money).
Expect to get rejected and re-apply a few times for the PR status. In the best-case scenario, if you open a company today, you can get your passport in 5 years' time. In reality, you are likely to spend 7-10 years in the whole process. However, it doesn't mean you have to postpone your dream: you can move to Singapore and have the lifestyle right away, at the same time processing paperwork to become a citizen.
Osome also provides assistance with company incorporation in Singapore. Let us guide you through the whole process!